A decade and a half later, Zuzu isn't in a band, but she is making hook-filled guitar music with appealingly plain-speaking lyrics. "I don't know why I ever let you in," she sings on stomping recent single "Get Off". "I guess I'll have to take this on the chin."
Another recent Zuzu banger, "How It Feels", begins with the ear-snagging opening salvo: "I still think of you – I'll glorify it if I want to, yeah." She has a knack for saying things in a way that's economical and catchy, but still sounds kind of off-the-cuff.
Zuzu is warm and straight-talking during our interview, too – and also quick-witted when she needs to be. When I ask about her unusual "stage name", I receive a playful telling off. "It's not a stage name! It's me name," she says in a Scouse accent that's neither strong nor softened by the time she spent living in the south of England. "My mum and dad have called me that since I was a baby. It's [a character] from It's a Wonderful Life – the black and white Christmas movie.
"And it's not that unusual. There are loads of Zuzus around, you know. I get girls coming up to me after shows saying: 'I'm called Zuzu too.'"
In addition to Blink-182, Zuzu grew up listening to The Libertines and Arctic Monkeys, bands loved by the older brother she idolised, and mid-noughties pop-punk queens like Pink and Avril Lavigne. "I went to see her when I was ten, too," she says of Lavigne. "But even people like Kelly Clarkson had a rockier edge back then, and they were very popular, so it all made me wanna pick up my guitar."
So she got her first guitar when she was 11, a "heart-shaped bass guitar that I still have", and taught herself to play in her bedroom. When her family moved down south the following year, she struggled to make friends at her new school, and music became a kind of salvation. "A lot of the time I was kind of alone and just in my room learning stuff," Zuzu recalls. "So that's really how I started learning music – just by the will of wanting to be able to sing and play songs.
"I was obsessed with all of my favourite songs and it wasn't enough for me just to be able to sing along. I wanted to be able to play the songs, too."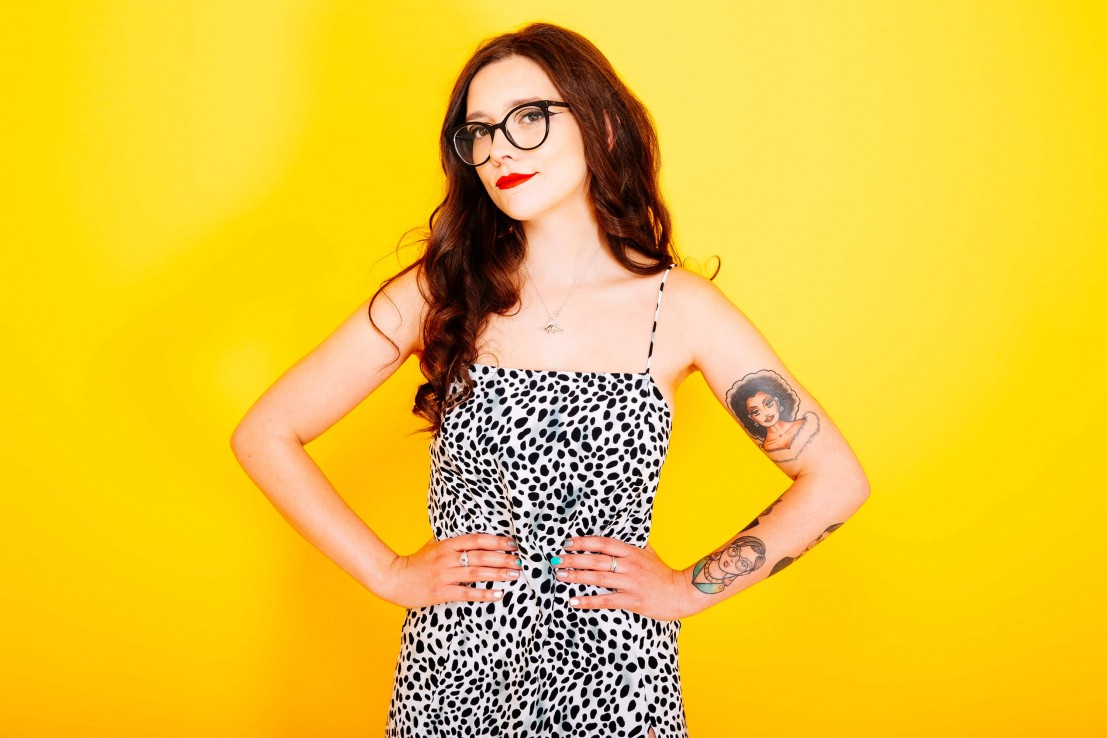 Zuzu was clearly super-talented and made inroads into the music industry pretty quickly, but says she "was still trying to please other people" at this stage in her career. "When I was 16 I was doing some really weird pop-punk songs... and it wasn't me," she continues. "You know, I'd kind of just go along with what [other] people wanted or saw in me. It's weird when you're a kid, because people don't very often, and certainly with me, they didn't give me the opportunity to even know what I wanted to be. They already had this image in their head of what they thought I should be."
She doesn't look back at this period fondly, but she can at least recognise that it helped her to develop a tougher attitude and clearer musical vision. "I wrote a bunch of songs, I played a bunch of songs," she says matter-of-factly. "And it ranged from pop music to prog music. I've been through it all. So now, as a grown woman, because of all that, it's made me more confident in what I actually want now. Because I've been through the eye of a needle in terms of all that."
"There's just something inside me that drives me to do it. Like, I can't do anything else, I don't know how to do anything else."
When I ask exactly what kind of stuff she was doing in the music industry during this period, Zuzu speaks cautiously for the first time in the interview: "Well, to be honest, I'd rather not talk about what exactly went down," she says after a short pause. But she does say that she signed deals with "two bad management companies" before she even had a record contract, and has since had to "buy herself out" of these unfavourable-sounding arrangements. "The managers I have now, I love them so much, because them and my parents helped me out of such a bad space," she adds with palpable gratitude.
When Zuzu realised she was in a "bad space" and had probably been treated poorly by the music industry, what stopped her from giving up? Wasn't it tempting to try a different, safer kind of career? "I've thought about this a lot myself," she replies. "There's just something inside me that drives me to do it. Like, I can't do anything else, I don't know how to do anything else. So it's kind of like pre-determined, you know?"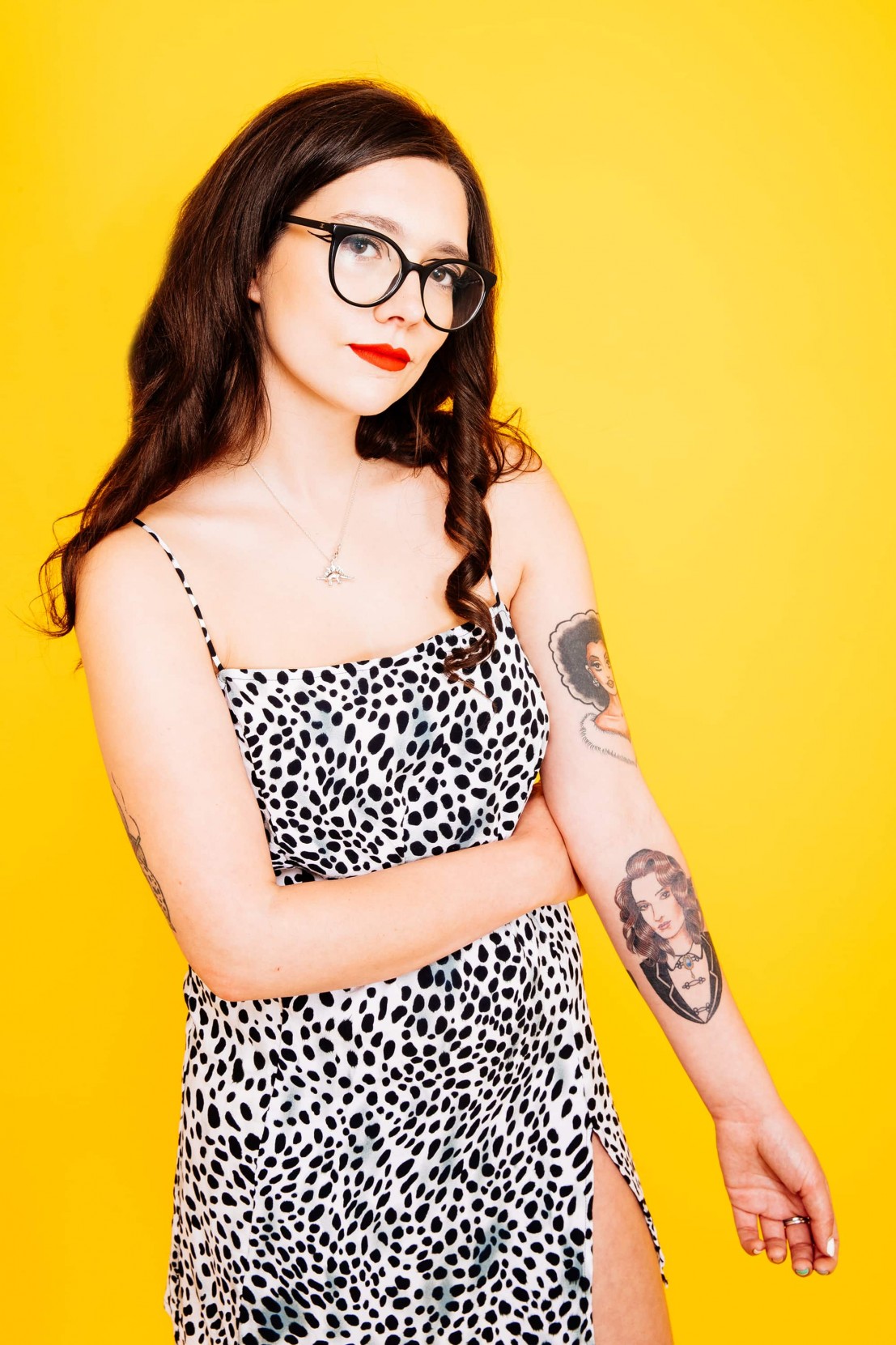 Even though music feels like Zuzu's destiny, it's clearly taken a substantial amount of grit to make that destiny into a reality. "Even in those darkest moments, I was just, like, 'I've gotten this far, so I'm not gonna give in now,'" she adds. "I always had it in me that I gotta turn this shit around. And in a way, I'm glad I went through, like, all that stuff when I was younger because I know who I am now and I know what I want."
Zuzu doesn't sound bitter or even sad about what happens; she says she just doesn't want to re-open old wounds. "I feel like I've forgiven it all," she says. "I'm over it now and I feel much clearer." Still only 25 years old, her focus is very much on the future: she has two singles coming in the next few months, plus a run of solo shows and a support slot with indie singer-songwriter Ten Tonnes.
"I think it's cool to write about what's going on in your own life, but also to write about the people around you."
Though she's been writing songs for more than a decade now, Zuzu says she still "goes through phases" in terms of where she draws creative inspiration from. "When I was younger, I hadn't really lived yet, so I used to imagine a lot and put myself in other people's situations and stuff like that," she explains. "But then later on, I started to draw on my own life a lot more. I think recently I've kind of come full circle again. I think it's cool to write about what's going on in your own life, but also to write about the people around you."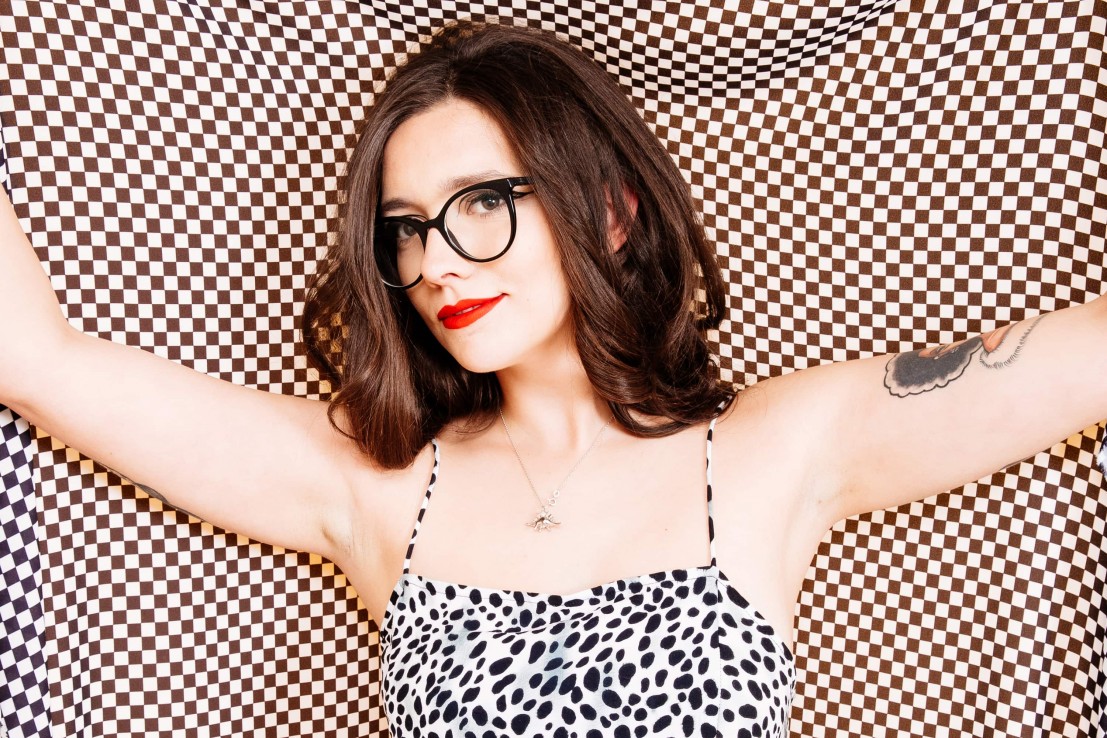 Is she a bit like a sponge with other people's anecdotes and emotions? "Kind of. Things that happen to other people still affect you, you know what I mean? I just like empathising with people. But it depends from song to song. Sometimes I just make things up because it sounds better. And I try not to over-think it, really. I just try to say whatever the fuck comes out of me!"
Though it's not too difficult to work out what might have inspired Zuzu's upcoming track "Money Back", which she's been playing live this year, she's already found a way to make it relatable for fans. "If I'm playing for kids, I always say: 'This one's about paying back your student loan!'" she explains.
"But it could be about anything, d'you know what I mean? It could be about taking a loan and working your arse off to try and pay it back. But knowing you're gonna fucking do it and then some. It's about having some self-belief, really."
Warming to her theme, Zuzu adds: "This song is really about saying, 'Fuck that, we're gonna pay it back and buy so many cats and dogs and live on a big farm and live our best life regardless. Yeah, it's about that."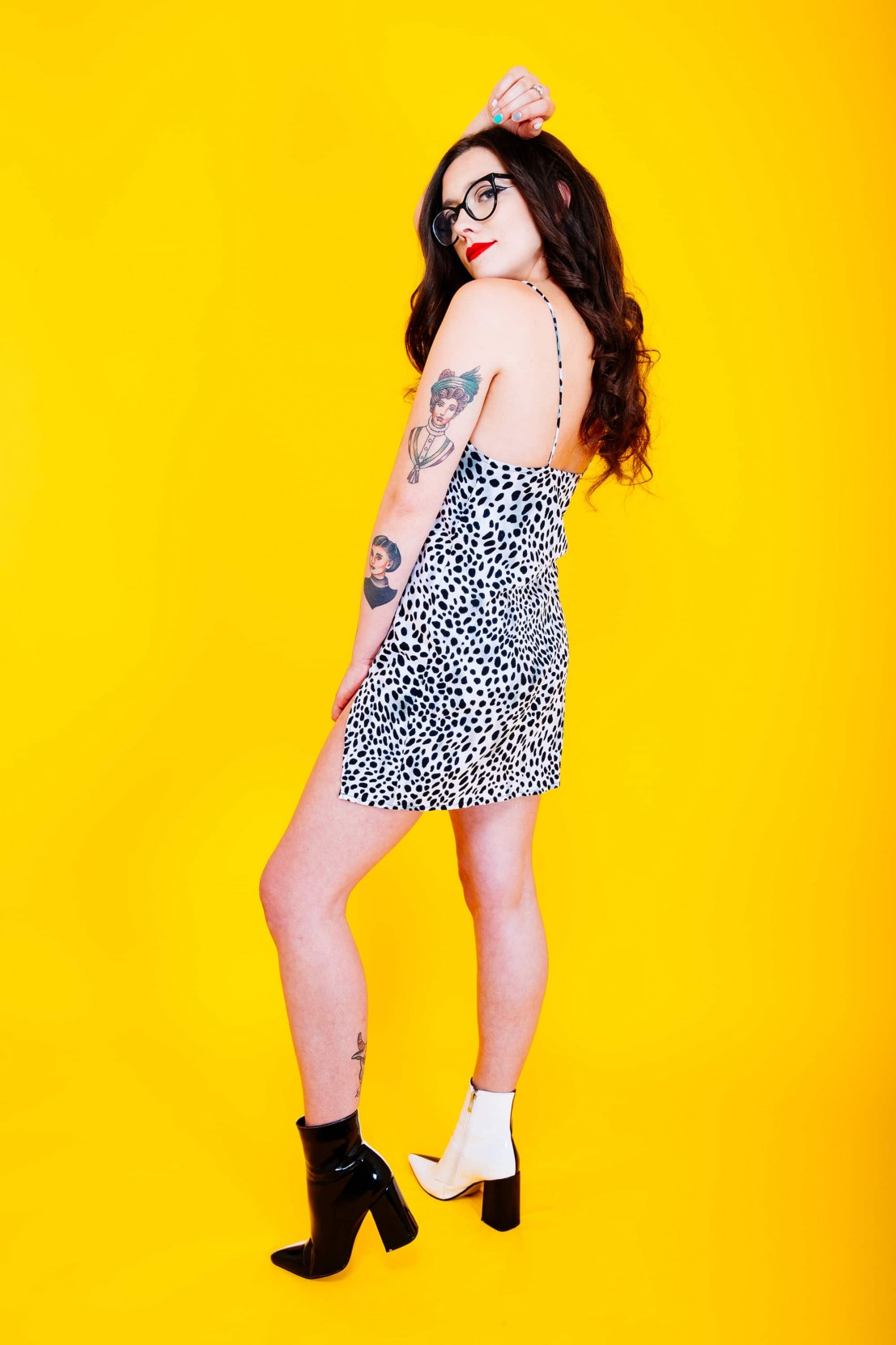 Talk turns to her growing collection of tattoos of iconic women. She now has Diana Ross, Winona Ryder, Cruella de Vil, Emmeline Pankhurst, Audrey Hepburn and, rather touchingly, her mum inked on her body. Next up, she says, will be a tattoo of her older sister, Debbie. "She's special needs and she's the love of my life," Zuzu says. "She's funny as fuck and full of personality. So yeah, I wanna get our Debbie next. Debbie loves music more than anyone in the fucking world. Sometimes I go home and she's playing songs I made when I was 14 and I'm like, 'Debbie, get that off!' It's like listening to a diary entry and it makes me want to vomit!"
Zuzu's tattoo inspirations
Diana Ross: "I adore Diana Ross – she inspires me so much with her stage presence. She's just so fabulous, you know? I love the way that she uses her arms when she performs; she's such an expressive singer and performer. And she has a really unique [vocal] tone which I also love and can relate to. I've covered "Where Did Our Love Go" – check out my Instagram. And I'm dying to see her live. One day soon I'll make that happen."
Emmeline Pankhurst: "She helped to win the vote for women in the UK, so every woman in the UK has her to thank in some way. She starved herself in prison as a protest and they force-fed her – and she was well into her sixties at that point. She's just badass, d'you know what I mean? Who wouldn't want a tattoo of Emmeline Pankhurst on them?"
Audrey Hepburn: "I loved her growing up; I idolised her. I thought she was just the most beautiful, kind, cool woman in the world. And she wasn't just gorgeous on the outside; she did so much good stuff for UNICEF and humanity and animals. She was just a top, top woman."
Her mum: "She's literally the reason I'm here and my best friend in the world. I adore my mum more than anything. And she's so supportive of my music."
Winona Ryder: "She's just cool as fuck, isn't she? She's been in so many of my favourite films – Beetlejuice, Bram Stoker's Dracula, Heathers, Edward Scissorhands. And who doesn't love Stranger Things? She has this kind of weirdo vibe to her that I can relate to, you know? She's not like the classic 'girly girl' type. Johnny Depp got a tattoo in the '90s that said 'Winona Forever' and I was thinking of getting that too, actually."
Cruella de Vil: "It's the best cartoon and the best film. I'm not gonna lie, part of me just gets stressed when I hear that something I love is coming back. All the nerves and excitement just gets to me. But the new film with Emma Stone looks sick. I love how punk she looks in the photo – it's hella rock 'n' roll, actually. And I believe Emma Stone can do the Cruella de Vil thing well. I'm here for it."
With our time coming to an end, I ask what she wants people to think when they hear the name – and definitely not the stage name – Zuzu. "I don't know. What do you want to come into people's head when they hear your name?" she replies with a laugh. "I mean, It's just me name, innit. That would be more of a question for someone who had a stage name."
After a short pause for thought, Zuzu adds: "I don't know, I never thought about that. But I don't want people to think I'm Zazu, the bird from The Lion King, you know?"
Zuzu plays a headline show at The Camden Assembly in London on 18 September