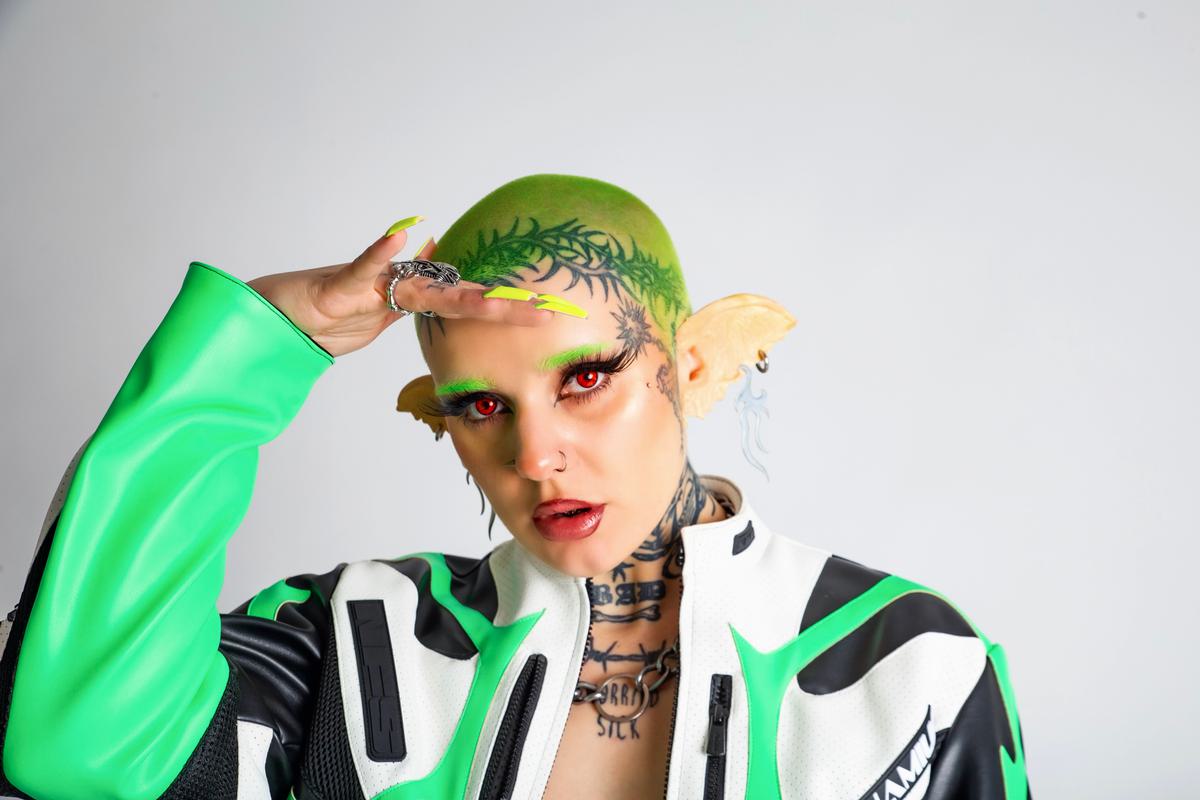 The luminous rage of ZAND
07 September 2023, 08:00
As ZAND releases their new EP, the songwriter/producer tells Alice Browne about how the road to SEWERSTAR has been just as chaotic as one might expect from the pioneer of "ugly pop".
It's been five years since alt-icon ZAND first introduced their brash new moniker and fast-garnered a slew of festival appearances, provocative cover stories, and even an unlikely delve into the world of politics.
I catch ZAND in the lead–up to a hotly anticipated afternoon slot on the Festival Republic stage at Reading and Leeds Festival. It's as much of a rite of passage for relative newcomers as it is a chance to play alongside industry heavyweights, with the likes of Soft Play (previously Slaves) and Mothica sharing the bill. As they contemplate the upcoming performance, ZAND gives the impression of someone both overwhelmed and yet confidently self–assured: "I was like… do I deserve this slot? I don't know, I'm taking it though!"
It's an attitude that encapsulates ZAND's essence quite accurately; a true DIY spirit with a no–nonsense attitude to match. Speaking on Ugly Pop, both the title of their 2020 debut EP and the term they've coined for their "crunchy, genre–bending style," it soon becomes clear that they've always been out to make it on their own terms. "In the midst of my old project, I didn't have any clue of where I wanted to go, I felt like I didn't have a niche," they explain, harking back to their YouTube days as Seafoal. "It started off like I wanted to infiltrate the mainstream in terms of pop music but stay touching on uncomfortable topics." Uncomfortable is one word for the issues addressed, with ZAND's catalogue of tracks spanning topics from misogyny, rape culture, sex work and gender identity. While thematically a darkness endures, sonically they swear they're managing to have fun with it too.
New EP SEWERSTAR's lead single "Deliverance" is a riled–up cabaret anthem, oozing equal parts lust and angst. It feels like a strong return to the near–forgotten art of gothic theatrics found in early Panic! At The Disco, coupled with the raw ferocity of nu–metal icons like Korn. They don't shy away from these influences but, at points, they're not as obvious as listeners might first think. "It's also massively influenced by the Nightmare Before Christmas soundtrack and Hans Zimmer, even cabaret bands like The Dresden Dolls," the songwriter continues, "it's fun to listen to stuff after you've written a song and be like 'ah, I didn't realise that heavily influenced it and I didn't think otherwise before'."
When I compliment this with a nod to my own, moderately embarrassing, past, they retort with a reassuring cackle "Ex-emo? I'm STILL emo!" As this warmth, and the refusal to take anything too seriously, sets the tone for the discussion. ZAND refers to the single as being "so 'Mama' by My Chemical Romance coded," going on to later describe it as a "huge slay." Whether it's these speech patterns, Y2K emo nostalgia, or a wicked sense of humour that runs through the dark subject matters they refuse to shy away from, ZAND feels distinctly shaped by the online sphere. Ever since the development of Web 2.0, alternative subcultures have thrived under its ability to help create and maintain a sense of digital community. Before there was ZAND, there was the MySpace and Tumblr blogs they grew up on.
Whilst the careful curation of an on–stage identity is as old as the art of performance itself, ZAND is firmly part of the digital–first generation. No longer are they subverting the norm by blurring the boundaries between the internet and reality; the boundaries quite simply no longer exist. Acronyms like DTF and references to "posting [their] arse on Instagram" crop up across their tracks, and their trademark look – a slime green-cut and a frequent accompaniment of elf ears – feels distinctly playful and otherworldly, reminiscent of early RPG customisation. The ability to carefully craft an identity has become so deeply ingrained in everyday lives that perhaps many have lost touch with its limitless potential, favouring the pursuit of an illusionary authenticity – but not ZAND. "You are just constantly performing a character so why not put on a show," they emphasise, "whatever you do creatively is just posturing, so I find it fun to just let go and go into this really unhinged character on stage." It's not a particularly outlandish or revolutionary claim, but it does feel somewhat refreshing to hear an artist embrace it so openly.
It's this attentive consciousness toward performance and the celebration of character that really comes through in the creation of ZAND. Describing their songwriting process, they point to the development of various alter–egos, playing with new voices at every step from phrasing to cadence in order to tell their story. Whilst openly fictitious, ZAND is keen to place themself in close proximity to their own narrative. Identity is always open to be played with, and ZAND the human and ZAND the 'Sewerstar' are two sides of the same coin: "you have your own personality which is just you and what you are, and then there's you performing… it's not like it's a fake part of you, just different."
For ZAND, it seems life and performance are a simple case of switching registers; the extra bravado added to ensure they remain in total creative control. There's no particular tension about where the act stops and the real ZAND starts, they're just a performer, constantly in motion. Whilst a testament to their talent, it's a notion that runs deep beyond artistry, informed by their experiences growing up in a neurotypical society. "I'm autistic so I feel like a big aspect is just automatic masking… that performance is just already built within you as a neurodivergent person in society. I guess it just comes as second nature… I just know how to do it in a way."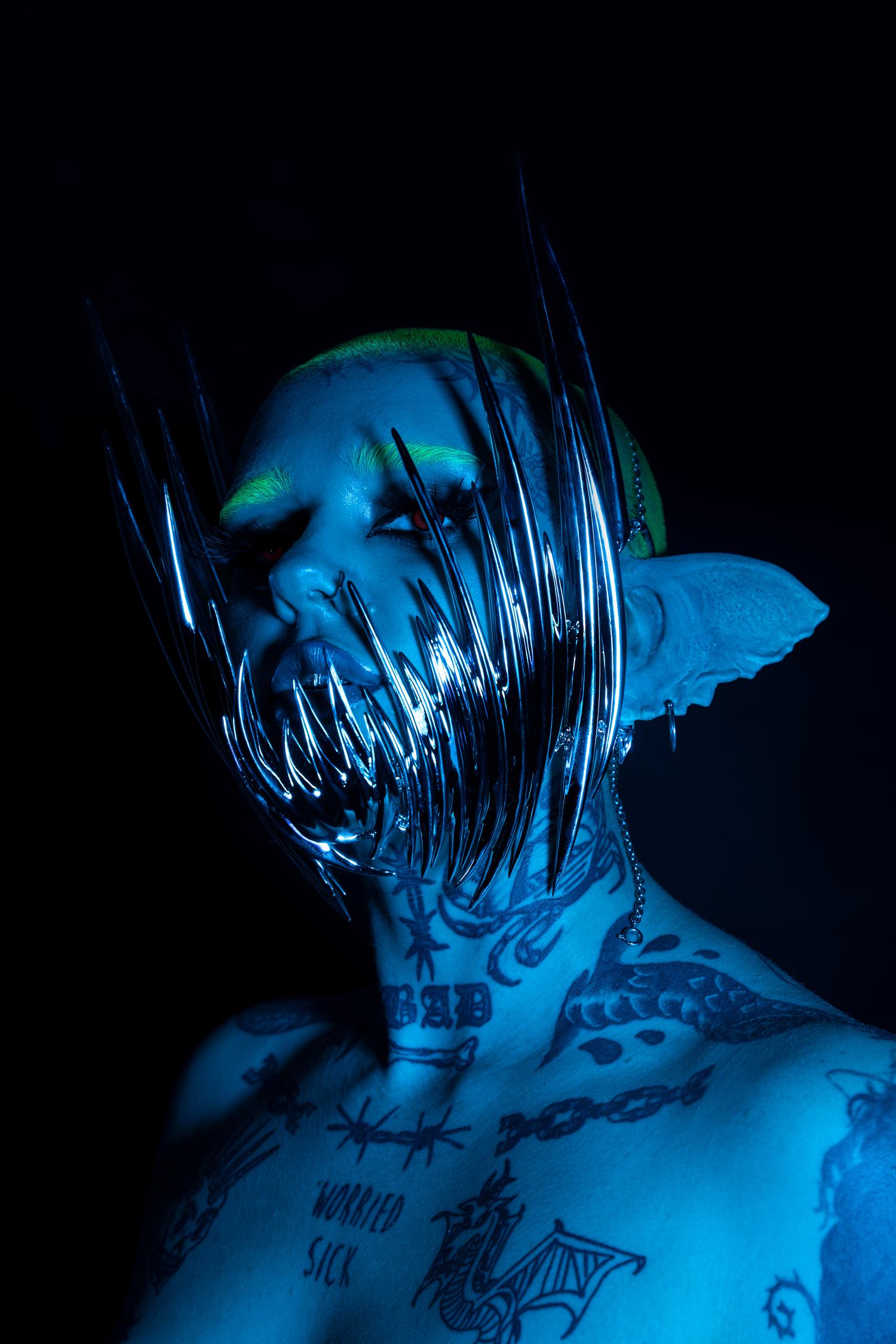 Just as ZAND's music encourages their audience to reclaim a personal rage, they've admittedly followed a similar path on their own artistic journey. Navigating the world as an autistic person, struggling with gender dysphoria and growing up as a self-described 'misfit' bred a lot of resentment and confusion – from bullying to simply not feeling like there was a place for people like them. "The Ugly Pop project I guess came from a lot of unhealed trauma… it's a frustration at the world but [also] just a frustration at yourself." Keeping this anger so righteous and managing to build something so impressive off the back of it is no small feat. In the five year period since ZAND was born or, perhaps, reborn, this internal frustration gave way to unashamed empowerment, the lack of direction became a means to carve out a space for themselves and form a crystal clear vision for who they were going to become.
Empowerment though is a knotty term, and it's something that ZAND embraces and rejects in equal measure. Much like their harboured desire to create a fresh genre and define their own sound, what they give to the world remains entirely on their own terms. "The overarching message is always going to be there, that it's going to be empowering for people who have been through the same stuff as me... it's just that I wrote my music for me, and I'm always writing my music for me, it just so happens that a lot of people feel a lot like me, so they are able to find shelter in that too I guess."
It's clear and often near-painful to see how people find home in their music. Whether ZAND's relatability is coincidental or not, they tear open any last lingering attempts to pacify oneself under the patriarchy with ease – giving a shape and voice to an anger many are often too scared to release on the street. On this, they note that this rage is surely dark, but only ever as much as they allow it to be. "My music will always have this element of sarcasm, satire, I say this phrase too much but it is just that 'in-cheek' feel," they explain. Tracks like "Inappropriate" possess a lucid angst that inhabits a familiar feeling. Surely many have found themselves dwelling in the hours after sexist interactions take place, and wishing that we too could ask a misogynist "Have you heard from your mummy lately? / Does she know that her son is sucking my feet?"

Some twisted irony in the ZAND tale, then, is that some of the most exciting moments in their career have almost been marred by misogyny. Earlier in the year, ZAND's cult–hero status was solidified in the form of a Kerrang! cover – a coveted opportunity for anybody remotely close to the alt scene. The cover itself was stunning, gritty portrayal, but the response from backwards traditionalists? Not so much. "I got loads of shit from metal incels, loads of backlash for pretty much no reason because they didn't like how I looked or whatever… it was crazy." This initial response proved a point though – if ZAND's music is exposing the ugly truth in society, there's still a long way to go before their rage feels obsolete.
As ever, it was ZAND that had the last laugh. "In the midst of all this happening I got a message from Jeremy Corbyn's Peace and Justice Project reaching out in solidarity," they smile, "at first I was like 'this is so funny,' but then they said they wanted me to get involved with something." This soon turned out to be a lot bigger than ZAND first imagined. Since then, the pair have collaborated on the Music For The Many campaign, aiming to save iconic grassroots venues like The Leadmill in Sheffield. ZAND's response to this unexpected partnership? "Okay slay! But also… what the fuck is going on?". It's one thing spitting in the face of the patriarchy, it's completely another becoming besties with Britain's favourite socialist.
Above all else, it becomes clear that what ZAND has been seeking is autonomy – and it seems they've found it. Tearing notions of genre at the seams to fashion their own brand of sex–positive noise pop, it feels like a fitting home as a misfit. "To me, things not fitting is the whole appeal at this point. That's what's so fun about it." Whilst new EP SEWERSTAR boasts collaborations with industry pals Stefan Abingdon (The Midnight Beast) and Bobby Wolfgang (Strangebones), their incessant perfectionism has found itself finally giving way to some pride: "Did I do it myself? I think I did!"
On what's next, they gush "I'm scared for how hectic [the next few months] is going to be… I've got the EP, and then my first two headline tours within a month of each other – one over here [in the UK] and one in America. It's insane behaviour but I'll take it! I'm excited!" Though the singer, songwriting and producer at times may feel like they're only just getting started, what's clear is that they're ready to grab it all by the balls. For all the other misfits out there, the future's shaping up to be luminous green.