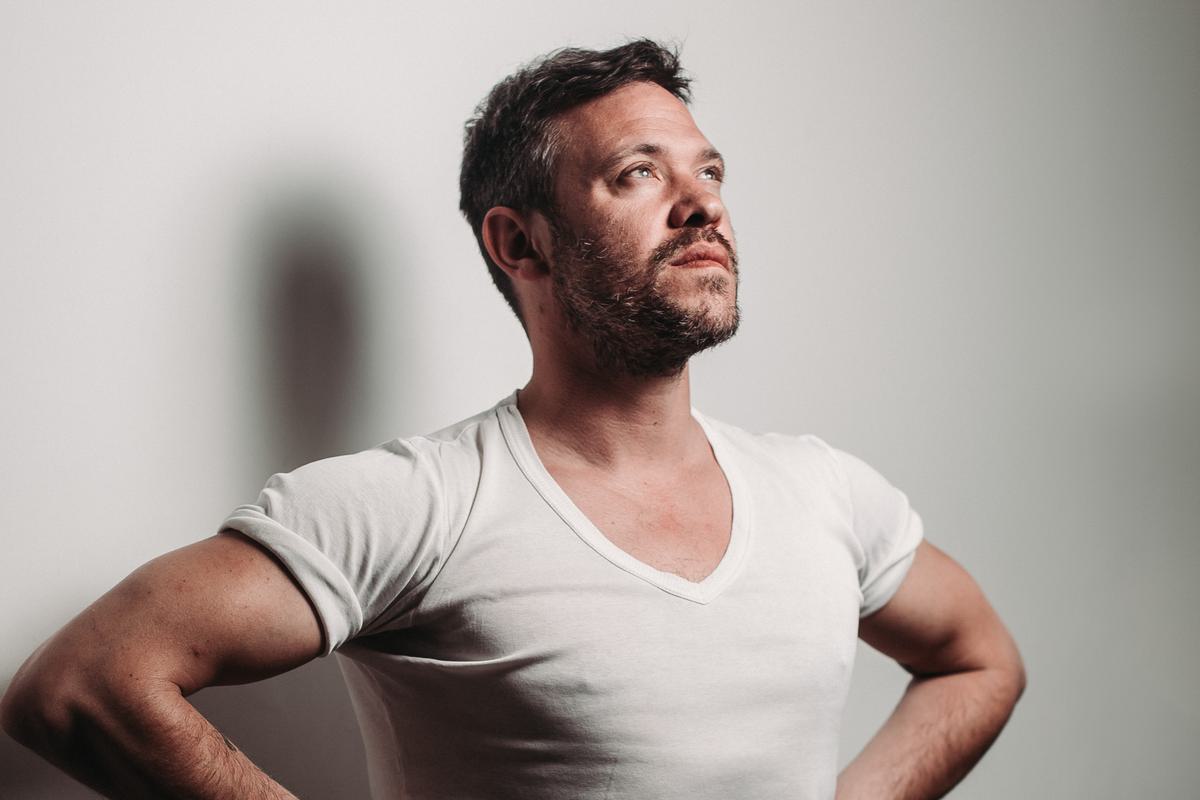 Forever Young
13 June 2019, 08:00
From trailblazing gay pop star to national treasure, Will Young opens up to Alim Kheraj about the creative and personal catharsis that led him back into music on his own terms
Will Young's favourite phrase at the moment is "bum sex". "I think it could be a hashtag," he giggles.
The phrase isn't on his mind because he's having a lot of it – "Hardly ever!" he toots – but because adults in the UK seem obsessed with it. "Just imagine if being gay, particularly with men, was not about bum sex?" he continues. "Get rid of that and how much of a problem would people have with gay people?"
Bum sex, or the public's opinion about it anyway, feels rather contentious in the UK at the moment. It's why we're talking about it. In the time just before I meet Young, the country has been gripped in a debate about whether LGBTQ inclusive sex and relationship education should be taught in schools. There are protests in Birmingham, parents, educators and MPs all spewing their upset that children could ever be taught about the existence of LGBTQ people. Homophobia and anti-LGBTQ sentiment hangs like a smog over Great Britain, seeping into the cracks of a society that for the past three years has felt splintered.
For any queer person, the news cycles and chatter on social media feels unrelenting, like being walloped repeatedly by a soft toy hammer that hardens a little each time it hits you, until you're left with a seeping wound. Of course, homophobia isn't something new, but that doesn't make it less painful.
Will Young is an artist that's more than aware of this. After he won the first season of Pop Idol in 2002, the singer was something of an accidental maverick. Not necessarily because of the music he released - although he has sold over ten million records, won two BRIT awards and two Ivor Novellos. No, Will Young's career is significant because for over a decade, he was the most visible gay popstar in the UK. It's a label that for some years perhaps wore Young more than he wore it. But now, having turned 40 and shifted his perspective on life, things are different. Will Young is more than happy to be a gay popstar.
We meet in a café in east London. It's one of those rare days in May that's absolutely scorching and so we've opted to sit outside. Instead of sitting across the table from me, Young sits close on a stool next to mine, his legs crossed and muscular arms on display, owing to the sleeveless top he has on. We're here to talk about his new album Lexicon, his first record in four years and something of a comeback for him.
"I built my own city with the right walls, the right entrances. I have to look after my wellbeing...if I'm not operating well, the whole fucking city falls apart."
Initially, though, he seems more preoccupied with my life. He quizzes me about what I'm up to and when I tell him I think I'm experiencing something of an existential crisis, he flashes me with a toothy smile and says, "Oh, I love those." He asks me my age. I'm 28, I tell him. "Oh, I knew you were going to say that. You're at Saturn returns. That's the existential crisis period." He's referring to the astrological notion that roughly every 29 years, the planet Saturn returns to where it was when you were born, signalling that you're about to advance into a new stage of adulthood. "Mine was a bit later – mine was 30," he continues. "But yeah, great. It's all happening for you. Brilliant."
He gives me a kind smile. "It's about building your own city," he says with an air of wisdom. "So I built my own city with the right walls, the right entrances and I'm like, 'I don't have to do things like that. I want to do it like this. So that's what I'm going to do.' I have to look after my wellbeing. That's the primary thing. If I'm not operating well, the whole fucking city falls apart. It's so important. It took me years to see that it actually is important and to not feel shame and guilt. Once I really embraced it, [I realised] life's amazing! Like, life is amazing. Work how you want to work. As long as I can pay the bills."
Arriving at this realisation is a journey that Young has been open about. In the past, he's spoken about how years of anxiety, depression, PTSD and addiction left him crippled. He talks to me about how while he was on tour 2011 album Echoes, which went Platinum in the UK and spawned the Number 1 single "Jealousy", he was in the midst of a breakdown. In an interview with Gay Times earlier this year, he said that he also felt shame about his sexuality early on in his career, partly owning to his own issues about being gay but also because he felt repressed by an industry that wasn't quite ready for a explicitly gay popstar. He says he's done a lot of therapy.
Nevertheless, at the end of 2017, Young told the radio station Cornwall Live that he was quitting music. "I couldn't be bothered with all the crap," he sighs. "I didn't like it. There was one thing that happened, which I can't talk about, and I was like, 'Hmm. I'm not sure about that.' Then my uncle died. He had been ill for a long time – he had a motto when he was dying with cancer: KBO. Keep buggering on. I just adored him. When he died, I was on a retreat with Rob Rinder."
He gives off an incredulous laugh: "We were sitting there with our oxygen masks on trying to detox, although quietly I was going up to my room and smoking anyway."
The realisation that he needed to take a break from music, perhaps a permanent one, came as he found out about his uncle's death. "But I was happy that he had died because it got me out of going to the studio," he grimaces. "And I thought, Oh no. The next week I stopped. They asked me, 'Do you want all your things for your website?' No thanks. I don't want any of it."
He looks at me, his almost permanently cheery face suddenly sullen. "Also, I'd been really ill. And I tried to get out of somethings, I did," he says, as if trying to convince me that things had reached breaking point. "I wasn't strong enough to do it. That didn't do me any favours. It was not a nice time at all."
Talking to Young, you get a sense that while he's enjoyed and loved his career, the journey hasn't always been as smooth as he'd have liked. He recalls one particularly traumatic experience during a songwriting session where he was put in the studio with someone he had resolutely said he didn't want to work with. "It was hideous. I cried." He pauses: "I've never said that before. I won't say who the person is, but he was such a cunt. I suddenly turn up in LA – I was on a writing trip – and I burst into tears. I had said that I never wanted to work with this guy and this guy was in the room. I don't know why the fuck my day-to-day manager didn't just take me out of it! She was scared. We were all scared."
Another incident occurred when a publicist he was working with shut down an interview question about whether he was in a relationship; she wouldn't let Young answer the question. However, this time, rather than hold on to the anger – a tip he learned in therapy – Young says he recently met up with said publicist to talk about how distressing he found that situation. "I really needed to do it," he says. "I was harbouring such anger towards someone that I'd worked with a for a long time. But She was brilliant. She actually recommended me my therapist, so she knew her shit. I just needed to say it. She was very receptive."
Taking a step back from pop didn't mean an end to performing. In the time that Young spent away from the music industry he worked in the West End, starring in the stage adaptation of Baz Luhrmann's Strictly Ballroom. During his tenure on the show, he was booked to play a show at a festival. "I really enjoyed it," boasts now. "I liked being around my bandmates and we just have such a great time." With a desire to head back out on the road, Young felt that to gather interest in a new tour he'd at least need a new single to help ticket sales.
Linking up with his friends and songwriting partners, Jim Eliot and Mima Stilwell, he went into the studio and wrote "All the Songs", the track that would end up as the lead single from Lexicon. The process, he says was so easy and enjoyable. "Anyways," he adds, "we don't really work much. We'll do an hour and then I'll be like, 'Oh, I'm just pottering to a bric-a-brac shop.' It's a real pleasure; I don't write with anyone else."
"You say you love LGBTQ people, but how are you going to feel if your son is gay? That's the benchmark, isn't it"
One song turned into four, and by then Young had caught the bug. However, while earlier in his career he had insisted on at least co-writing everything he released, the ease and lack of pressure of creating this time around meant that he just didn't care. "It was so great because I didn't have to stress," he marvels as if he'd discovered one of life's great secrets. "Because my ego didn't feel like I had to write, that was fine. If I was feeling a bit insecure that I hadn't written it I could say, 'I've done that in the past.' And 16 years down the line, I just want to make a great record and find great songs." To do that, he called in tracks from the likes of Eg White, who he co-wrote "'Jealousy" with, Jimmy Hogarth, Say Lou Lou, Tom Walker and his pal Richard X, who also produced much of the record.
The result, Lexicon, is an album of sublime and melancholic Radio 2 ready pop. The songs that Young co-wrote have the electronic lilt of fan favourite album Echoes, which Richard X also produced. Tracks like "All The Songs", "Say Anything" and "My Love" are signature Will Young, shimmering synths merging with wistful melodies and super light drum machines, the lyrics weaving in and out of love found and lost again. Elsewhere, tracks like "I Bet You Call" and "Faithless Love" hark back to the singer's earlier material, the latter a sibling to a songs like "Friday's Child" or "Changes". Then there's "Forever", which takes tropical pop synths and pairs them with a shuffling beat. It's a song that you want to bop around in the kitchen to with a glass of wine while making a risotto.
While the music might not be a major sonic departure from his earlier material, the visuals certainly are. Specifically the video for "All The Songs", which was shot by fashion photographer Rankin. The clip is not only raunchy as fuck, but it sees Young adopt a number of stereotypically gay codes – the cowboy, leather daddy, the sailer – and embrace their sexual connotations. It's the most explicitly gay he's ever been in one of his music videos. Still, people didn't get it. "It was so interesting that people would come up to me and say it was camp," he says. "I thought it was interesting that people thought that because I didn't see it as that."
I put it to Young that despite the fact that LGBTQ visibility has improved in the music industry, there's perhaps a disconnect between the representation and the actual interest from audiences. "I think you're right," he muses. "Does someone want to think of two men rubbing their cocks together?" The figures don't lie. As big pop artists like Years & Years and Sam Smith have become more overtly gay in their music and visuals, commercially their music has suffered.
"This seems petty now, but I danced with a male mannequin [in the video for 'Let It Go' in 2009] and that just blew the record company's mind," he recalls, fumbling around in his pocket for a cigarette. "They lost their shit. I had a theory that as I got more comfortable, I lost more of my audience. I think some part of that was true. And I didn't give a shit. Actually, I did give a shit, but also didn't give a shit."
"Being gay has allowed me to be accepting of all differences in everyone. If I wasn't gay, who knows if I'd have that quality?"
He says that back in 2009, the amount of people who would accept a gay artist expressing their sexuality in their art was probably at 0.1%, whereas now we've reached 23% of people who are accepting. "This is the example I use for queer people," he adds. "You say you love LGBTQ people, but how are you going to feel if your son is gay? That's the benchmark, isn't it."
This is how we got on to the talk of bum sex. Young believes that, fundamentally, we need to broaden out the LGBTQ community to be more inclusive. He also suggests that people in the UK, both straight and LGBTQ, need to widen their understanding of queerness to exist outside of just sex. He says we should start with Pride. "I think Pride is an old model that was based on old, very important things that people needed to achieve. I wasn't in that time and I look at it with huge respect. But I think Pride should be about how wonderful the LGBTQ community is and how diverse it is," he says, before giving a laugh. "Oh, I'm getting excited now."
Indeed, for the past few years, Young has been channelling this excitement into a podcast, Homo Sapiens, which he co-hosts with his friend, filmmaker Chris Sweeney, which is described as "'Women's Hour' but for an LGBTQ+ audience". The podcast has been well received, and on the show they've had everyone from Sam Smith, Troye Sivan, Margart Cho and Lady Phyll, the founder of UK Black Pride. Recently they even won silver at the British Podcast Awards in the best interview category. "That makes me feel like, maybe, we're intelligent," he laughs. Mostly, though, the podcast has given Young a sense of understanding and perspective about his own experiences as a gay man. As has turning 40. "I think it's made me more liberal, more political, more understanding. I feel like we are making some difference, which I didn't expect."
"I'm so happy about being gay because it has allowed me to be accepting of all differences in everyone," he adds. "If I wasn't gay, who knows if I'd have that quality? Being gay, I have to accept that in myself; I have to reflect on it a lot because you're on the outside. You're always looking in. I'm doing this book on gay shame and it's just blowing my mind as I write it."
Despite the fire of queer resistance against a heteronormative and patriarchal society having been ignited, though, Young says he didn't feel that he wanted to incorporate that into his music. Or, as he puts it: "There are better people that do that. Listen to Bob Dylan. I'm a popstar; I'm not changing the fucking world. I'm not a heart surgeon." In fact, he's fairly realistic when it comes to the footprint his musical oeuvre will leave on society. "People aren't going to look back in 100 years and go, 'My God, Will Young's music changed the world!'" he says. "I'm not doing my music a disservice. I'm not one of those musicians and there are very few musicians like that."
This may well be the case (although I'm sure that in decades to come "Leave Right Now", Young's biggest hit, will still get played on radio), but that doesn't mean that Will Young will be forgotten. Instead, when it comes the history of how queer artists infiltrated the mainstream, his name will more than likely be there. "Well, I'm happy to take that," he says with a smile. "Throw it at me. It just inflates my ego a bit. could sit here and go, 'Oh no.' Instead I just think: how lovely."
With this it's time to finish up. Young is about to go and have his photo taken and I think I've had too much sun. But before we go, I ask him one last question. All these years later, is he he enjoying being a popstar?
"Yes!" he says gleefully. He gives me one of those famous Will Young grins, the same ones that charmed a nation to vote him their pop idol back in 2002. "There's something brilliant about being 40 and being a popstar. I love all of it. I love the age where I'm at, I love being a gay popstar, I love being a male popstar, I love what I'm doing creatively and I feel really proud of the whole thing that I've done with this record.
Picking up his bag and flinging it over his shoulder he adds: "This might be a bit arrogant, but there's a little bit of me that wants to go: 'Move over young'uns, this is how you do it.'"
Lexicon is released on 21 June via Cooking Vinyl. Will Young wears Schiesser and Issey Miyake.