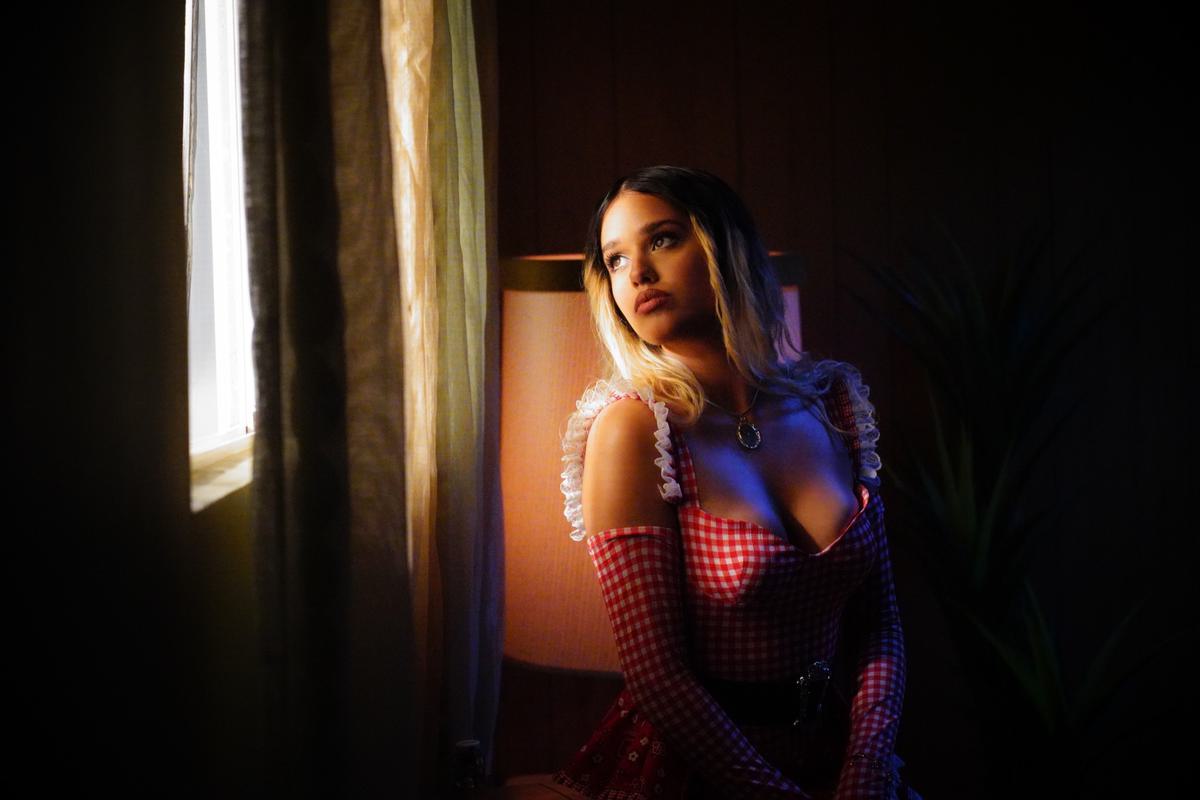 Who the fuck is Tommy Genesis anyway?
21 September 2021, 09:45
In the small hours of the morning, Tommy Genesis laid wide awake. Rather than waiting for sleep to come, she decided to play the object of her obsession: her new album, goldilocks x. As she listened, she knew, at last, that this one wasn't too hard or too soft – but just right.
It's that primal instinct, that unspoken sense of righteousness that everything is exactly as it should be, which is at the basis of everything Tommy Genesis does. As an artist, she knows exactly when to put down her paint brush; she knows exactly how much or how little she is willing to give – and on that, she does not compromise. Relatively little is known about Tommy Genesis; her name itself is a fact of self-creation, cribbed from her birth name (Genesis Yasmine Mohanraj). More than any album, Tommy Genesis is her magnum opus, the totality of every medium she toys with, from music to drawing; from visuals to modelling. She is greater than the sum of her art.
Genesis has created herself based on a theory of art often applied to sculpture: "I always like to make it be something, rather than making it about something," she tells me. "I like to play with what there actually is." She likens the effect she wants to create to being in an art gallery with an installation inspired by light bulbs: rather than looking at a thousand paintings of them, she would prefer to walk into an empty room, look up at the ceiling and question, 'There's nothing in this space, so is the art the light bulbs themselves?'
For that reason, the music is only the first facet of Tommy Genesis. On her track "manifesto" taken from goldilocks x, over a snarling beat that sounds like a glitching photocopier (courtesy of collaborator Charlie Heat) she raps with sniper-like precision: "I mean, you don't really know me / I'ma keep it that way." Her life before Tommy Genesis is something she deliberately consigns to the realm of the unknown, and the details we have are few: she is of Tamil and Swedish descent, having grown up in Vancouver before moving to LA; she is a self-coined 'fetish rapper' and 'art hoe', veiling sex talk under the guise of hip-hop; and finally – and most importantly – if she doesn't feel anything, she doesn't care.
"I was thinking about this the other day," she says, distracted by her fifteen-pound chiweenie (chihuahua wiener) Rumi, "I went to art school, and I remember my teacher saying to me – because I was very into 'fuck you art'… I never listened in art school – and she said to me, 'I don't know if you're going to be famous, or a complete failure.'" Tommy Genesis opted for the former. Moving chameleon-like through the Vancouver art scene, doing DIY shows in parking lots with rap collectives that allowed her to feel out the shape of her sound, Genesis would graduate to the depths of SoundCloud and release her 2015 debut mixtape World Vision which would cement her reputation as underground rap's heir to the throne.
But it was her trap-indebted track "100 Bad", remixed by Charli XCX, which became her true statement of intent; when Tommy Genesis was finally crowned. Belonging to her self-titled 2018 record, the visuals for "100 Bad", which she directed herself, see her sprawled on the floor surrounded by pink tampons one moment, and puppies the next; she smears red paint like blood from a murder scene on a pane of glass, plays with stacks of cash like they're a sex toy, and in the closing shot, pisses on the camera like a person with terrible aim. All the while, she purrs, "And when I'm screamin', he's like, 'Where's my cum?' / I'm like 'Tongue', up and down the stick / In the whip real low in the schoolgirl fit".
"I think it's easy to shock people," says Genesis. "I'm not trying to shock, but I feel like I'm always shocking, somehow. I think I just made people question, 'Why are you like that?' The music I make is very weird, sexual and intimate – but also kind of hard. But if a fetish is a strong feeling you get about something, and you really love it, then I'm your muse – I'm your fetish. I always really liked that feeling." Genesis counts Tracey Emin as an influence on her music just as readily as any single musician: her sound throbs with the same heightened emotion, the same raw, animalistic expression.
It has been three years since her last record, and Genesis sees the advent of goldilocks x as a new era. "I just love to roleplay," she says. "I love to dress up. I think, as an artist, it's a really fun thing to build the visuals around the music you've made. So like, for me, I just get excited to think about, 'Oh, who am I going to be now?' Even though my music is who I am, it's more about, 'What do I want to look like when you listen to who I am?'"
After seeing an old cover of Playboy from the seventies, showing a girl with only her long blonde hair to wear, Genesis was enchanted by the way sexuality and storytime fantasy could intertwine. The artwork for goldilocks x shows her sat, legs apart, with blonde tresses tumbling down to her thighs, with her dark hair creeping through at the roots – she's wearing nothing apart from boots designed, no doubt, to curb-stomp. "I usually have completely bleached blonde hair, so the roots, to me, was that statement of the real me coming through a little bit," explains Genesis. "And then I was like, 'Well, if I'm going to be naked with only my hair covering everything, then I need punk boots." The rationale behind that, she says simply, is: "I just needed to look iconic." She elaborates, "The whole concept started around just a simple, iconic album cover."
The devil is, of course, in the detail. "If you open the vinyl, it's really 'story-time' with a lot of drawings in gold leaf, but on the back, where the track list is, it's almost like Lord of The Rings-porn – like, that's the aesthetic," she says. "It's just, very, like… weird. Like, I don't know, I like it." Genesis is an artist who chooses her words with kid gloves, and she struggles often to crystallise the method behind what appears for all the world to be her madness. "When you create the world in your head, it's hard to translate it into real life, you know?"
In many ways, goldilocks x is a departure from anything Genesis has done before, beginning with the fact that not only has she decided on a name, but that she actually likes it from start to end. "I wanted the beats to be more jarring. I wanted it to feel more like someone was – and that someone being me – was just speaking something new to you. I wanted it to feel like A: you could listen to it alone, and B: you could listen to it turning up," she explains. "I don't usually name things. It's hard for me to name a body of work. I think it's the feeling of knowing that once you name it, you can't change it. Once you put it out in the world, it exists in a space you can't edit – be that on the internet or in people's minds."
goldilocks x is a play on two very disparate meanings, which Genesis delights in stitching together to bring to life an unholy creation. The first is derived from the widely-known fairy tale, but the inclusion of the 'X' was chosen to take the name out of that innocent context that instantly comes to mind and take you by the hand, leading you instead through a door that says 'Adults Only'. "I don't know if I named it right," says Genesis, "but I thought, 'I like it, so I'll just do it. Everyone I sent it to, when I was thinking of ideas, said they didn't like it," she shrugs, "but I did it anyway."
"I grew up as a punk kid, because I just didn't give a fuck. I gave my first fuck very late in life."
Genesis will always have the final word on what she creates, and she needs no external validation to give her music its value: "I'm not thinking about if someone's going to like a song, I'm not thinking about what it's going to look like when it comes out. I'm not thinking about anything but the song, total tunnel vision. I'm up inside the production, I want a say in everything." But approval from herself is a more covetable, and more difficult, prize to win. She can no longer listen to her debut record without torturing herself with self-criticisms about the second half. "It's interesting, because I also draw, and with those, I draw to a point where the composition is right, and then I stop, I frame it, and I never think I need to change it, ever, because it's just right. With music, the line between what's right and wrong is harder to find. I have to sit with songs, and the more I sit with them, the more critical I become. But whenever you think you know how a song is going to work and be received, you know nothing – so you might as well do what you want."
But when it comes to goldilocks x, she says, "It feels bigger than anything I've ever made. I get a lot of feelings when I listen to it. I don't ever get critical of it – I always just enjoy it. Sometimes, I would just send people the album link because I was so excited."
Being creative is not a choice, for Genesis, as much as it is a reflex. She talks about her artistry with nonchalance, like it's as natural and as thoughtless as breathing – like it really has very little to do with her. "It's interesting, because when it comes to my music and my drawings, I just do them for myself." In 2019, she hosted an intimate night in a gallery of LA's downtown arts district called, You Could Be My Mainstream, I Could Be Your Underworld, where, for the first time, she showed her airy charcoal drawings of headless nude forms. "I'm going to eventually put the prints online, maybe sell some pieces. But when it comes to drawing, I just do it anyways. The same with music: I just make music anyways. I grew up playing the piano; I grew up making shit all the time. I just gather certain things and put it out. The making of it is never the hard part."
Another thing she never thinks about is her sexuality. In her music, it's a foundation upon which everything else is built: sexual liberation is one of the sharpest weapons in her arsenal, with her lyrics as rooted in fantasy just as much – if not more so – than in fact. But speaking about it is something that Genesis draws a different kind of line at. "My journey has definitely been a personal one that I'm very private about, but I think in my music I'm very open about it. I always say that anything I would want anyone to learn about me you can learn through my music – it's my way of expressing it and is a big part of how I lived through it."
While her moods and personality are as changeable as anyone else's, when you meet Tommy Genesis, you really meet her, but her music is the only way to know her intimately. "If you listen to my music, you'll get to know me," she says. "But I really don't do anything I don't want to do, ever, and I really don't talk about anything I don't want to talk about, ever. Words, talking… it just doesn't mean as much to me. I've been this way ever since I was a little kid. Being an artist, you can create your own reality, whatever you want, however you want your world to be. That's the beautiful thing about being human in this experience. Whatever you want is what you attract, and wherever you lay your boundaries is where the boundaries are."
Being expected to open up to people, be that to her fans or through interviews, is something she regards with incredulity. "I don't really think about anything," Genesis insists. "I literally just make music that feels good to me, and then I put it out, and I don't think about the rest. I think that's the healthiest way for me to do it. It's so mind-blowing to me that people always ask me questions surrounding how I feel – there's so much pressure in their minds for me, and I'm just making stuff I love. It's still happening, the music is still coming out of me. I can't stop it, you know?"
There is something inherently punk in spirit, something creatively anarchic, about her approach. In a recent interview, a journalist asked her how she felt about her song "fuck u u know u can't make me cry" – a wildcard in her repertoire, with its guitar-driven sound with blown out, half-screamed vocals – being a part of 'the new trend of punk music'. "I was like, 'Punk isn't a trend. Punk, to me, has never been a trend'. I grew up as a punk kid, because I just didn't give a fuck. I gave my first fuck very late in life," she says. "You have a reputation of rebelliousness, but really it's innocence: that moment when you're with yourself and you're so aligned that you don't care what anyone else thinks" – and that, more than anything, is the essence of Tommy Genesis.
goldilocks x is out now via Downtown Records