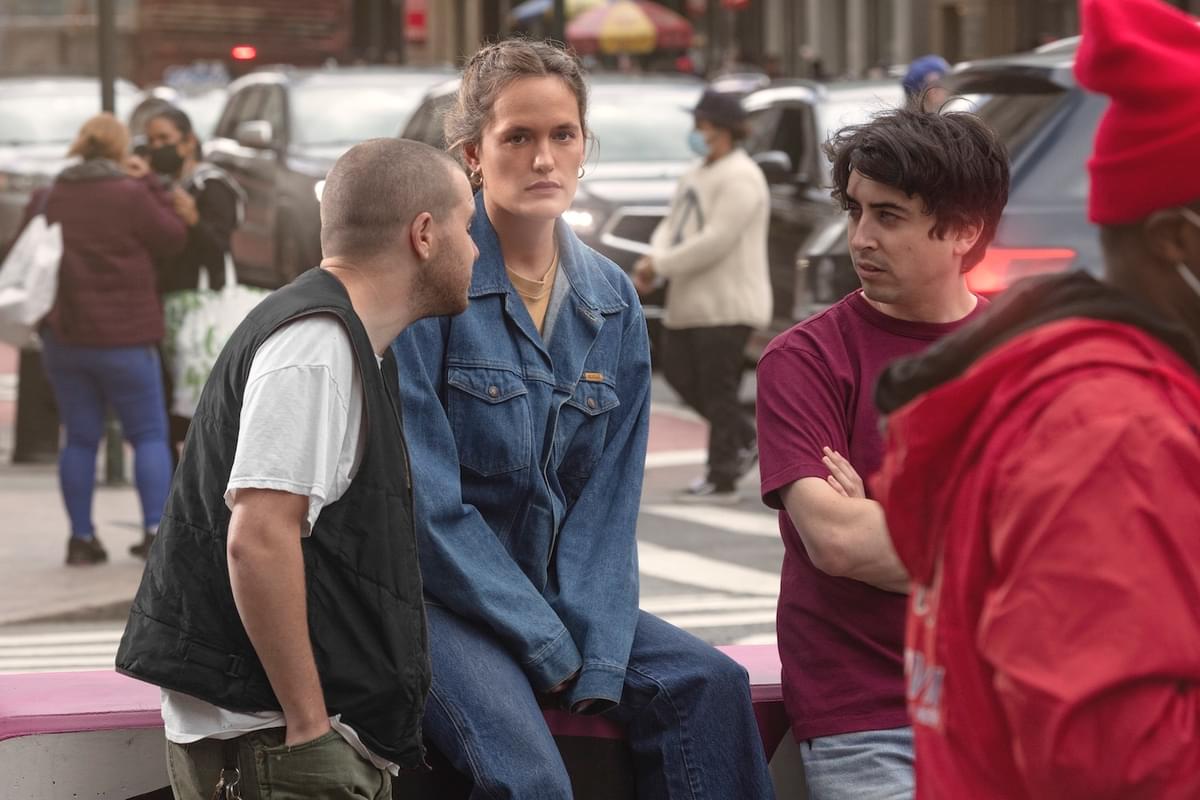 Wet find power in reunification
24 November 2021, 10:00
A month on from the release of their third album Letter Blue, their first without Columbia Records, Wet leader Kelly Zutrau reflects on the band's journey as they play their final show of the year in London.
The band have just wrapped up their first US tour in two years closing with two magical nights in Brooklyn, the band's de facto birthplace. It's been a bit of a rollercoaster for the three-piece getting to this point, but Zutrau assures me they're in a good place as she dodges dogs and tries to find a decent internet connection. Camped out at guitarist Marty Suklow's parents' lake house with their crew of close friends, the last time Wet released an album it was their first as a duo following Suklow's departure in 2017.
2019's Still Run and the stories behind its creation had all the calling cards of a band in crisis, Wet were deep in second album syndrome as Zutrau and producer Joe Valle struggled to find common ground as they worked on the record. "The second album was full of questions and changes," she remembers, "but this time it was more of a return to form, returning to the original place where we made the first one."
"It was like me, Marty, and Joe working a lot together, and then working with some other collaborators that I had become close with over the years," Zutrau explains, "this one just felt a lot easier to me. And it really [sounded] like a Wet record. We've really kind of honed in on some of the sonic themes that we had started a long time ago, and built on what we learned from the first album, the EP and the second album, and in my mind, we found a much more cohesive sound."
The band's acclaimed debut album Don't You arrived in early 2016 after their self-titled debut EP made the trio one the most-talked about bands with fans and critics alike raving about the alternative-R&B of "Don't Wanna Be Your Girl" and "You're The Best". Zutrau's distinct vocals and raw lyrics paired with Suklow's intricate riffs and Valle's left-of-centre production was a winning formula that shone across the record's 11 heartbreaking tracks.
"After the second record being so difficult I really felt like I needed to get in touch with the core of why I make music and what's important about it and if there was going to be another record I wanted to make something I could stand by," Zutrau reveals.
"It was a lot easier to do that without Columbia and the pressure of a major label system, making back the millions of dollars that you owe them and proving that there's a single and which one is the single… We didn't have to do any of that. We just were making music and it was very guided by our own intuition and our own timeline, which is a lot faster."
Regrouping with Suklow and Valle felt like a natural progression too for Zutrau. "I wanted to make something with people I care about and love and have it be like a positive healing process," she says. Describing the process of making Still Run as a "destructive, damaging traumatic experience," adding that to "some extent" it was the same with Don't You. So making Letter Blue became a therapeutic bridge-building exercise that has clearly worked; "let's take what we've learned and have some fun, it's not that serious, it's music. If it can be fun and lighthearted, then that will come through in the music."
Debuting new material to a rapturous chatbox as part of an online BandsInTown Plus performance back in May, it was the first time the band had played together again publicly since Suklow's split from Wet four years previously. At the time, they were still finalising the tracklisting and artwork for the project but songs like the album's first single "On Your Side" were lapped up as fans raved and hypothesised about song titles and themes for the record as they watched and listened to the new music together in unison.
"I started working on it immediately after touring the second record, and then it came together fairly quickly over the course of two years," Zutrau tells me, talking through the process of making Letter Blue. "It felt easier this time… I think that's partly to do with the collaborators we brought in and we had all learned a lot."
Those collaborators include Dev Hynes who produced, and provides vocals, on "Bound", and Hynes joined the band on stage for their second New York show and "people went crazy for it," Kelly says. Buddy Ross and Chaz Bear aka Toro Y Moi pop up across the record too. Bear most notably co-wrote "Far Cry" which feels like a pivotal on the album, and as Zutrau has suggested a real return to form just in the fact that it nods to "Deadwater" from their first album with its opening lyrics.
"I love [it] when other people do that," Zutrau says of her own self-referencing, "I think it gives a little bit of context and deepens the meaning and can pull together different albums," she explains. In the studio with Bear, Zutrau remembers spending a lot of time thinking about "Deadwater" and its meaning. "In a lot of ways it was about me, Marty and Joe and then I was back talking about that so it's about our experience of [Wet] and what we've done together, what our expectations were versus the reality and on a personal level how these relationships have changed over time."
The album's penultimate track "Only Water" was co-written by the band and Zutrau explains "it was the most collaborative between the three of us" and in turn sounds like the most quintessentially Wet song on the record. "It feels like the most confessional and lyrically vulnerable, it's clearly an emotional journey," she says, comparing it to "Body" and "Weak", from the first album, she notes the epic chords in the chorus contrasting with the minimal verse as one of the key things which make up the band's core.
"It's Joe's sweeping transitions of crunchy sounds into these huge guitar chords ringing out with Marty's guitar tone, and it feels those things are some of the things that make up the sound that has kind of carried through from the beginning."
Although, it's closing track "Larabar" which Zutrau has the greatest affinity to. "It's been around the longest," she explains, "I think it's the one I'm the proudest of, it feels like a real progression because it's really experimental, but also catchy.
For any Wet fans who are concerned about the future of the band, the message is don't worry because Letter Blue is just the beginning of a new chapter. Zutrau, Suklow and Valle have all the power, "we're working on the next [album] already," she reveals. Describing the shows they've just played together as "the best tour ever," Zutrau is pensive as she revels in the joy of having Suklow back in the fold. "He knows the songs. So well. He wrote a lot of these guitar parts and it just feels very natural. His presence on stage is such a big part of our live show, and what it was, so it just feels very natural and like a return to form."
Letter Blue is out now.
Get the Best Fit take on the week in music direct to your inbox every Friday