"Come on, Cardiff, are you ready?". It's a stock phrase in the rock n'roll playbook. Insert the name of the town you are in, and ask them if they are "ready to rock". Job done. Except in this case, Joel Gibb and the Hidden Cameras are in the mist shrouded seaside town of Brighton. Oops. Gibb later becomes a victim of geography again, suggesting the further north you go "the more up for it" people tend to be, forgetting the fact that he couldn't be further south. Yet in itself this question acted as a challenge to the crowd, who, though small, seemed intent to have a party. By the time the band see in single "In The NA" with a bout of synchronised poggoing the crowd are in the palm of his hand, and collectively we holler, whoop, nahnahnah and awoo along with them. Freeing himself of guitar duties, Gibb twitches around the stage, climbs on the metal barriers and engages violinist Jamie in an onstage game of chicken. Much like their music, there is something joyous about the Hidden Cameras live show, and the sheer delight they take in playing is infectious.
Prior to the show, TLOBF was able to catch up with frontman Joel on email for a quick Q&A about life with The Hidden Cameras, playing to 100,000 football fans and what the future holds for the band…
Has your move to Berlin changed the way that The Hidden Cameras work? How does the writing process work? Is it all done over the wires of the net, or do you go back to Toronto with a bunch of songs in the bag and see what happens?
Joel Gibb: Although I have an apartment in Berlin, I am so often in Toronto and most of the recording is still done there. Song-writing is a solitary process for me, so it really doesn't matter where I am.
Speaking of Berlin, in 2007 you played "Music is my Boyfriend" before the start of a Bayern Munich football match. It isn't every band who get to play in front of 100,000 football fans. How on earth did that come about? Was it well received?
It was upon the request of one of Germany's most popular and well-respected soccer players, Mehmet Scholl. He has been a fan of ours for years, and this was his final game before his official retirement. It was a pretty interesting experience. He wanted to have something different for his farewell.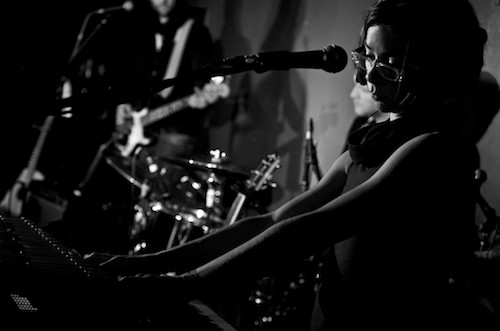 As we've just mentioned you've played some unusual shows: opening football matches, playing with 30 piece dance troupes, If money was no object, how would your dream show go down: who would be in the band and where would you play?
I would love to play with an Orchestra in some ancient theatre outside somewhere in Italy.
Your show in London this week was a special charity show for the Albert Kennedy Trust. Would you like to tell us a little bit about that, and how you came to be involved?
The promoter of the show is a friend and organized the whole thing. I learned a little about the organization since agreeing to do the show and it sounds like a worthwhile cause. It's going to be just the ballads. Then next week in Hoxton we're going to do the full rock show.
Is it hard to keep everything and everyone in good spirits when touring? Your European schedule seems pretty full on. How do you keep everyone sane on the long road journeys?
We have a lovely, supportive touring party and we all keep each other sane. It is much better to be full-on when you are on tour. Once the machinery of a tour starts chugging, you just want to keep going.
Origin:Orphan is a return to the orchestral side of the band- indeed "Ratify The New" starts with a two minute one note drone- was it a conscious statement of change from 'Awoo' or did the time just feel right for something different? It seems the song is very much a statement of intent, strident and forceful. Yet in the NA brings a lighter, playful pop sound….What exactly is "The NA" anyway?
This album is definitely about new sounds and trying out new concepts for my songwriting. "Ratify the New" is the statement of intent. I am always about the "orchestral side of things" though. NA is playing with the idea of meaning itself. It is treated like a poetic variable: like x, y or z in mathematics.
The band has been known in the past for your more sexually explicit lyrics. Do you think that in some ways it has led to you being pigeonholed- like people are looking out for you to say something that shocks them? It often seems like people are trying to put you in a box and say " oh, that explicit band" or "that militant gay band" rather than actually bothering to listen to what you have to say.
My song-writing touches upon many aspects of life: including the occasional sexual image, what is the big fuss? There is a real diversity of themes and images in my lyrics if anyone bothered to notice.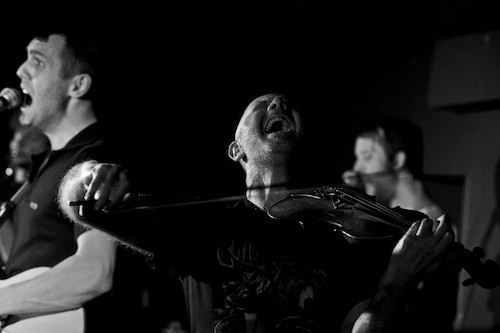 It's hard to believe that it is almost 10 years since 'Ecce Homo' came out now. What has been the biggest change for you in that time, and what do you see the future holding for the Hidden Cameras?
The biggest change from 4-tracking in my basement while I was in University to now? It would obviously have to be the human connection; finally playing with so many other lovely musicians who have brought me and my songs out of the darkness and into the public and making a hobby a career.
And finally: When we last spoke at the end of last year you recomended our readers Kevin Blechdom's "Gentlemania" and Mocky's "Saskamodie" Have you got any other recomendations you would like to share?
Hmm, well I just finished working with Feist for a special Olympic concert last month singing back-up and I have to say her new songs are fantastic. One of them is called "He Was Free" and another is called "When You Comfort Me."
As for something more underground, I am excited to play with this Stuttgart band called Rocket Freudental in Schorndorf next month, I just was listening to them on myspace. There is also this great band from Barcelona called Hidrogenesse, who have remixed 6 songs from "Origin:Orphan" and are releasing them on their label in Spain. Look out for that release in the coming months. The remixes are great!