Esteban seem to stalk me, always being near when I call home at any given time. But it's not as sinister as it first appears, because the band's ongoing Desert Funk Tour 2009 is something of an epic undertaking. With almost thirty shows lined up for August and September alone, the band can be seen – usually for free – in Falmouth, Bristol, Newquay, Bath, Corsham, Plymouth, Cirencester, Derby and London to name but a few. On this particular Saturday though, they were in my hometown of Witney, where they were play at the innocuous-looking and far-from-huge New Inn. Last time I saw them in Newcastle-under-Lyme was great, but I soon learned that this time, they were to play not one but two 45-minute sets with a break in between. Double Esteban! As usual the desert funk was flowing and some new and very interesting songs were played that are to appear on the band's forthcoming third EP, but before all that I was able to talk to Steve Wright (vocals), Muel Gonzalez (drums), Liam Ryan (guitar) and Ricky Houghton (bass) about what Esteban's all about – music, lyrics, aesthetics, mentality.
How are things for Esteban as a band – how's it going right now?
Steve: Very good, very good indeed.
The Desert Funk Tour 2009 is a bit of an epic isn't it?
Ricky: Yeah it is. Whenever we get down to having about 40 dates left we get some more.
Steve: It's been really good. We've just been getting around the places, meeting the people, playing to more people, getting more people involved in the music.
Liam: It's the life we always wanted really, to be on the road constantly.
Ricky: We've always had a hard work ethic and the way to do things is to be out there and be seen, why shy away from it?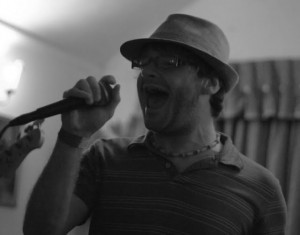 Do you think you've progressed in terms of the number of people you've played to?
Steve: Yeah. There's repeat offenders, if you want to call them that! People we've seen at gigs come back and bring a friend, it's kind of word of mouth.
Ricky: It's all about the live experience, all about the energy.
Liam: We still believe that playing live is the way to do it, the old school way to do it. The MySpace/Twitter thing is a bit of a false economy… I mean we've got 22,000 friends, they're not as big an influence as the people who come to the gigs.
In terms of all those internet things, you're at a bit of a disadvantage because you're not the only ones called Esteban – on Last.fm there's an old guitarist who sells his records on QVC with the same name…
Ricky: Yeah, that guy's just a guitarist…
Liam: There's one of him and four of us!
If it came down to it you could have him in a fight couldn't you?
Liam: Well yeah he's getting on, so maybe one punch!
What has the reception been like to your EPs?
Steve: Yeah, it's steady.
Muel: It's hard for people to take desert funk and say, "we know a lot about this", so it's different. But that's turning into a good thing.
Lots of bands make up these terms to describe their music but there seems to be something different about desert funk, it's more like a…
Steve: A lifestyle choice.
Liam: We've always been inspired by loads of different genres, and when we were youngsters we thought "oh, this is funk" but it's not normal funk, it's not that happy clappy funk. And as for the desert, it gives it an edge which we thought was there in the sound.
Muel: We're using instruments that are all custom stuff, made for us, that's part of it, that's part of the edge to it.
Liam: The vastness as well, of the desert, is part of how we see it. We don't want to pigeonhole ourselves strictly to one genre and the desert offers that vastness.
All those desert images are in the lyrics aren't they, it's almost escapist music.
Ricky: Our music hasn't quite been about being rebellious, or even non-conformist, but having our own path, our own agenda. We live life and play music, always the way we've wanted, and that's part of the ethos of the music.
Muel: It's just having as much fun as possible!
Liam: It's all adventure, experience, having a great time…
Ricky: Music's meant to come from the heart, everything we've done has come from the heart. First and foremost we're all friends, so it's all about what friendship is, this is all one roadtrip with some mates.
Liam: That's one thing about the band really, we were all mates before we a band, so we met each other and became friends before we started playing together.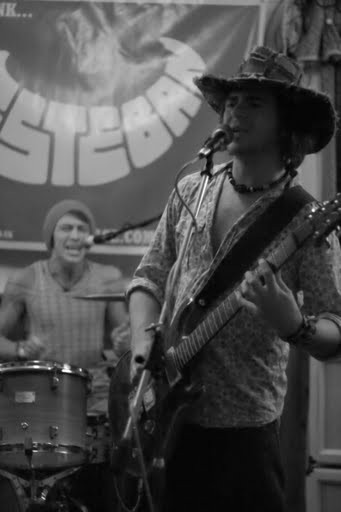 So how did that come about?
Liam: As a foursome we kind of united in Indonesia, backpacking. That was in 2002. We didn't start playing music then, but we found a lot of common ground. Steve then moved up to Derby, we went to uni together in Derby, obviously having already known each other we started doing stuff on the course together. Three of us went to school together.
You always seem like a tight unit. You seem as though you'd be lost without any one of you.
Liam: I think that's true… I don't think any of us would be in another band if this one didn't happen. It is kind of like that.
Ricky: It's more than just, "I play guitar, so I'll play in this band", it's more than that. It's a tight unit.
Steve: We all put in our ideas .
Muel: All the songs have to have everyone's maximum input.
What are your plans for the future?
Everyone: Carry on touring!
Muel: No-one's going to stop us doing that.
You're on a good little label aren't you?
Liam: We've got a good little label, there's no pressure there to change what we're doing, they want more of what we do.
Steve: They're open to the way the business is changing. The business side of it is constantly growing and changing in different directions and they're really looking after us in that respect.
Ricky: They're really involved people, with a real passion for us, that's one of the biggest things, you've got to have people around you who are passionate about what you do.
Liam: The label seem confident in us now, so they're going the extra mile… they do the PR stuff that PR companies are bad at!
What attracts you all to funk?
Steve: We like to see people dancing and having fun, and it's a kind of music that's all about that.
Liam: But weirdly I don't think we've ever sat down and decided…
Ricky: It's just how we get when we're all together.
Liam: We jammed together when we were 13 or 14, and really what we play now is only an evolved version of what we did when we picked up the instruments for the first time. It actually seemed like a natural thing to play, we've stayed true to ourselves and there is a big funk element there.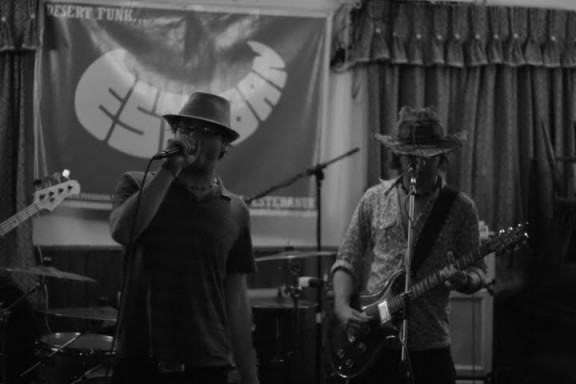 What would you say are your influences?
Muel: Funk, hip hop – had to be old-school, right from Grandmaster Flash. Back to James Brown, Sly Stone…
Steve: Michael Jackson…
Liam: We're more reluctant to say that now, but a few months ago we'd have shouted it out first.
Muel: Also some classic stuff, Jefferson Airplane and so on, that sort of 60s stuff, there's that kind of thing going on.
You're refreshingly out of touch in a way aren't you?
Ricky: It's just that we picked up the guitars this is what we sounded like… we never wanted to be an indie group, or whatever it is. As people we've always been very different as individuals, and I've never wanted to have an edge in that way.
Liam: There's bound to be elements in the music that's bound to trigger some idea of influence from somebody like the Chilis, which was a bit influence early on. By the same token there's Stevie Wonder, Crosby, Stills and Nash, we love the harmonies, Simon & Garfunkel…
Ricky: The music we listen to isn't neccesarily the style we play, amongst us all we could list a hundred names each and they'd all be different, it's all a question of what all goes in the melting pot and what comes out is desert funk! Why cut off certain music because it's in a certain style? Just user your ears, keep them open.
Everything you do seems consistent, like the EP covers…
Liam: Yeah what we do is we each have a sort of 2 by 2 canvas and each of us paints and that makes up the covers. We've recorded the next EP, and we've just finished the paintings too.
Muel: It's just another thing where we come together and we each put something in.
Liam: We'll all do it over a weekend, and then come together on Monday and Tuesday.
Ricky: And it's a thing that's going to continue, it's a way of making sure we each have a say about covers.
Steve: It's always just an expression of who and where you are at that given point.
The lyrics are interesting – how much are they a reflection of the band's ethos?
Ricky: Sometimes they're dark, but as long as the music's upbeat sometimes you don't quite know what you're singing along to, and that can be quite powerful. But yeah it's about experiences…
Liam: There's the art element, the lyrics are less about narratives and more about feelings, moods.
Steve: We're all about keeping your eyes open and appreciating what's around you and what you can do…
Muel: If you're into desert funk, you're into life…
Steve: It's into living. We're into living.
Photos by Stevie Denyer