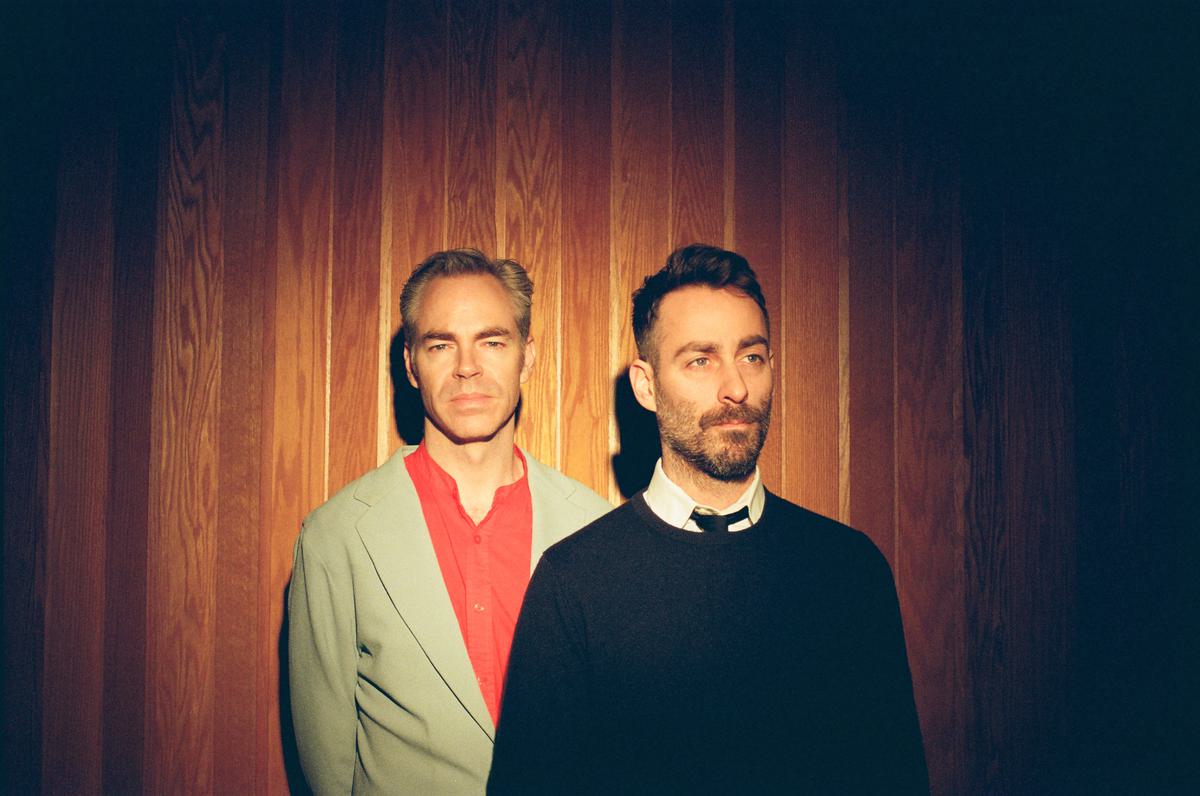 The Truth About LIES
28 March 2023, 09:00
Original Photography by Alexa Viscius & Shervin Lainez
As the members of emo quartet American Football gear up for an extensive summer of touring, cousins Nate and Mike Kinsella sit down with Ashwin Bhandari to discuss their brand new synth-pop duo, LIES.
Building on the rich musical history that Nate and Mike Kinsella have contributed to since Cap'n Jazz formed in 1989, LIES was born with one aim: to make texturally rich songs that didn't quite fit the mould of their other musical projects.
On a cold dulcet Monday night, drummer Nate Kinsella logs onto Zoom with a huge, welcoming grin on his face. As he waits for his cousin Mike to arrive, the starting conversation soon spirals into the perils of congestion charges in London and a mutual love for the Illinois-based alt rock group Hum. With time pressing on and the release of the duo's self-titled debut album mere weeks away, he returns to the main question at hand – how did LIES all start?
For Nate, the royalty-free sample library Splice was his main source of inspiration. "One of the things that they do is called 'rent to own' and there's a plugin for Arturia Pigments," he explains. "I'd spend a few hours every morning just playing around with the presets. I remember specifically one I found and I was like 'oh this is totally Nine Inch Nails', so I would work on something and over time build up a huge collection of stuff, almost just as exercises really."

Almost mid-sentence, his cousin Mike Kinsella appears on the call. "Hey man, looking good!" Nate laughs, as he appears on camera shirtless, fresh from painting a room of his house. They're both in good spirits, as Nate returns to the importance of synths for the duo. He notes that in the past he's had ideas for where they could go on different tracks, but hadn't committed to getting those parts fully incorporated until now. "I just feel like synths fill such a cool space. Not only sonically they can be as big or as little as you want, but they can also float in a sci-fi way where you can't quite tell where they're located."
Elaborating further, he muses, "you can really build them to do whatever you want unlike an acoustic instrument, where every instrument has a tonne of bang from the get go. So yeah, that's kind of what I'm trying to develop, and with LIES I finally got my chance to play around and finesse that sound."
On the single "Camera Chimera", you can hear the 80's pop influences intertwining a muted guitar melody, as lyrics nod to constantly being monitored and watched. Despite this, Mike doesn't attribute the influence of this song to anything specific. "If I had written it 15 years ago it would have been me trying to make some sort of statement, but I've been writing such personal songs for most of my life so this was more of a general sense of uneasiness or unhappiness and then being like 'oh fuck' and realising how social media is such a big part of it."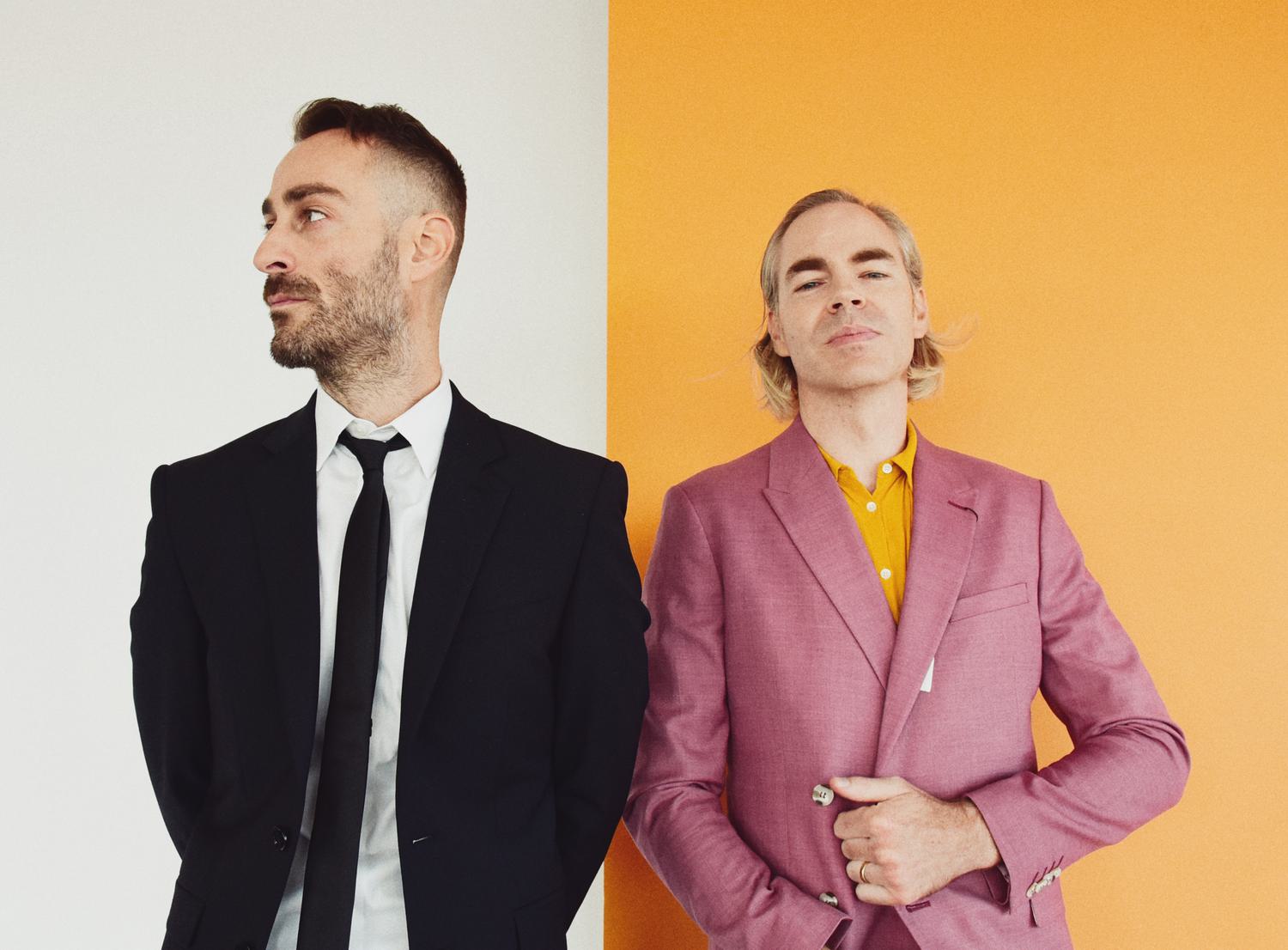 With such a sizeable discography under both the Kinsella's belts over the past three decades, Mike likens the process of being your harshest critic to carving an ice sculpture. "I think a big part of why I keep making music is to correct whatever I've done before. So I'll think to myself, 'well that was a mistake [but] okay fine, I'll make the other side work. Oh fuck, that doesn't work either!'." He laughs, acknowledging that his very early work with Cap'n Jazz and Joan Of Arc sounds undeniably like the work of a teenager. "I hopefully feel like [the songs] get better with age though," he grins, before nodding to Nate's own project. "With Make Believe, I think those records still sound so cool and unique. I would be very proud of those if I was a young Nate."
Interjecting, Nate smiles, "it's so funny you say that because I didn't even think of that project. I don't even think I would be able to play those songs. I've seen a couple of videos of me playing that music live and I'm just like 'what the fuck? Who is that frustrated young guy? Like come on dude pull it together!'." Continuing, he admits, "so as far as that era of music, I don't have a whole lot in common with that energy or where it was coming from. Honestly, if Make Believe ever did a reunion I don't think I would be able to keep a straight face, I would just be laughing the whole time."
"Every new thing you do is trying to patch up something that you didn't do very well in the last one," Nate muses, "which I think is why I've never gotten any tattoos." Mike retorts that for him this is a perfect metaphor for why he has so many. "It gets to a point where as a musician in your 40's, you have so many stupid ones nobody can tell the difference anyway, even if to you the flaws are hiding in plain sight."
In more recent years, American Football have involved female vocalists in their repertoire to create a more ethereal listening experience. Fans were surprised to read headlines that new singles from 2019's third self-titled included Slowdive's Rachel Goswell on "I Can Feel You" and Paramore's Hayley Williams on "Uncomfortably Numb." For Mike, he writes a lot of his music with higher octave vocals in mind, and they ultimately took a chance by asking Goswell and Williams to contribute. "Once they both said yes we were all like 'holy shit, this is happening!' So Nate wrote them verses and they played along with our ideas which is great. Each one is unique and crosses something as a fan off my list."
A notable factor that sees LIES differentiate itself from the other Kinsella projects are the striking photos of animals used on the single artworks, accompanied by the playful visuals featured in the music video for "Resurrection". They manage to accompany the textures of the synth instrumentation perfectly and bring out a true sense of identity rather than just another emo project to add to a long list. "You have no idea what these animals are thinking, who knows? The eye contact feels real to me," Nate laughs. "When Mike and I started to talk about this project we talked about how in our personalities things are either dark and serious, or playful and flowery. And that's kind of how we wanted to put things together."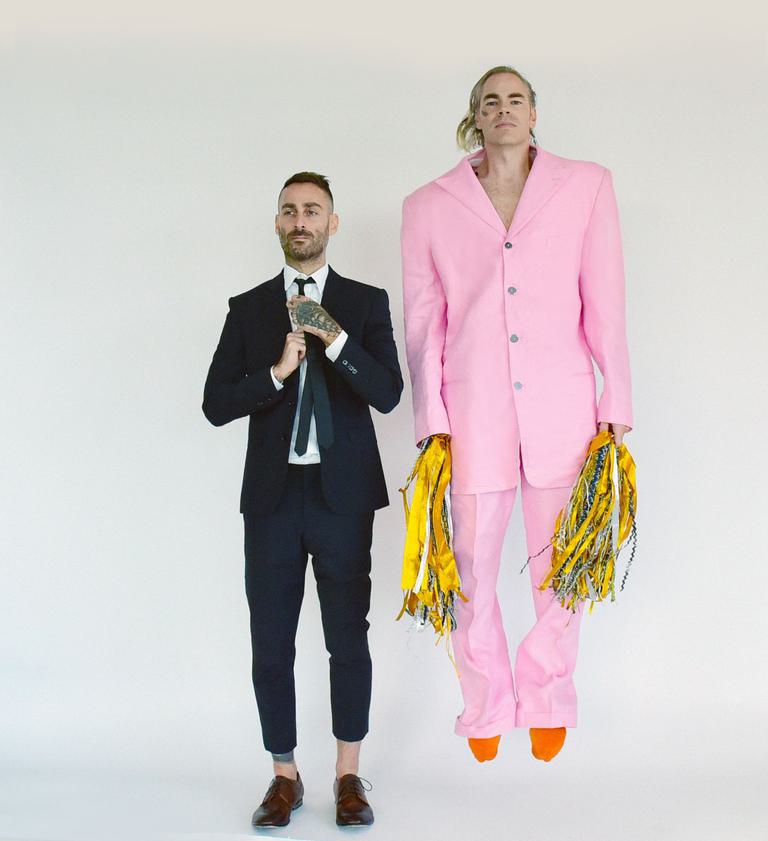 As you dive deeper into upcoming album Lies, it becomes apparent how many bells and whistles the Kinsellas have managed to fit into cuts like "Echoes" and "Blemishes". Once they realised that these songs weren't going to make it onto an American Football record, the songwriting process gave them more freedom for experimentation. Without three or four other members to add their input into the songs, this allowed them to grow into their own identities. For better or for worse, Nate admits his natural instinct is to let musical ideas pile up and overflow.
Delving into this notion, Mike explains "sonically we would add layers to these songs but it would always come back to something simplistic like a kazoo or a child's instrument. So it starts off decorative, and then you think 'oh cool, so how can I push this further?' There's a lot of stuff we're not quite sure how we're going to pull off live, but it's something that we figured we'd just work out later."
Over the past 10 or so years, American Football's reunion saw a huge influx of fans from younger generations become heavily invested in the cult group, most notably due to the oft-memed opening riff of "Never Meant" and the album cover of the first record itself – a white suburban house on 704 W. High St in Illinois. It has become a pilgrimage site for fans of the midwest emo genre and the band admit they're well aware of the building's iconic status.

"A friend of mine texted me the other day and said 'I hate to be the bearer of bad news,'" Mike reveals. "It was 8 or 10 dudes just in front of the house flipping it off. Sometimes I'm not always confident that we're not getting made fun of but you know – as long as they don't start picking on my kids. I think it's just funny, it's all good!"
For this release, LIES opted to go once again with Oxford label Big Scary Monsters who have been putting out Kinsella-related projects since the early 2010's through a recommendation of their friend Kevin Devine. In a lot of ways, Mike and Nate consider BSM to be the UK Polyvinyl. "It's great to have such trust in an overseas label," Mike says. "They're just like Polyvinyl but they like to drink pints and say cunt a lot more than we do, and I imagine they like to watch football."
In terms of what diehard fans of their growing list of projects should expect from LIES, Nate and Mike are confident with how they want to perform everything live. With the convenience of having so much of their instrumentation already programmed, they expect to play to their finessed strengths. "The live shows are gonna be a bit more fluid than what we've done before," Mike admits warmly. "Nate's gonna be playing drums standing up, and he's got this whole wizard world going on with how everything will sound on stage. And I'm going to be wearing a suit. So we're both going to be working hard at it."