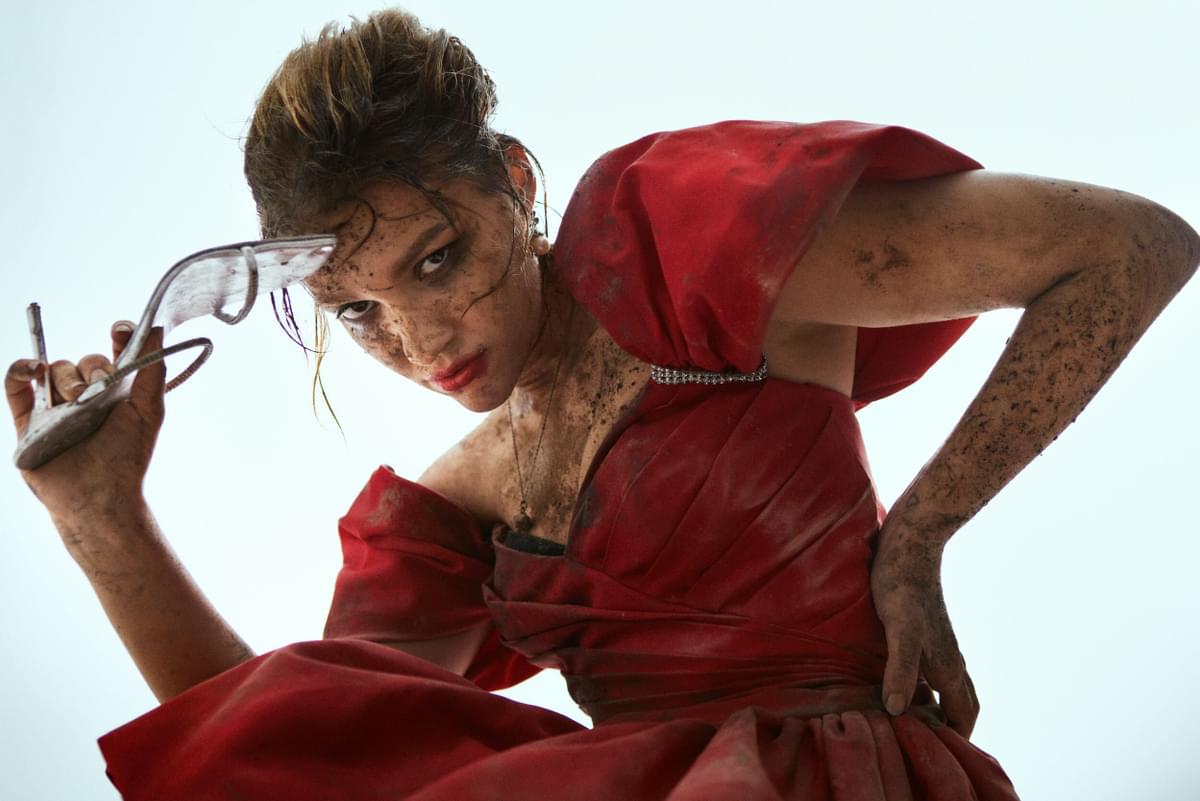 The many sides of Tove Styrke
18 June 2021, 14:30
Swedish pop star Tove Styrke opens up to Matthew Kent as she traces her musical evolution, denounces labels and refuses to be boxed in.
Her first single in three years, "Mood Swings" introduces the beginning of a new era for Tove Styrke, one she is yet to define but is set to hopscotch through genres and inspirations as she explores the complexities of identity. She's found freedom in relinquishing control, sparking new depths to every aspect of her creative process as she ditches her search for perfection.
On comeback single "Mood Swings" the cult favourite delivers a frantic preview of her new project, which she describes as a "happy vomit" of influences from every corner of pop. The punchy verse begins with Styrke stuttering over a percussive synth beat, claiming "I got two sides, one I call Jekyll, one I call Hyde," the new song offers a look into the pop star's psyche once you dig under the surface.
Over the years, Styrke has risen through the ranks to be one of pop's most trusted and consistent artists. Based in Stockholm, and raised in the northern city of Umeå, Styrke gained attention originally thanks to Swedish Idol. Competing in the 2009 season she placed third having performed covers of everything from Kylie to U2 through to Katy Perry. The next year she shared her self-titled debut album which boasted collaboration with Sweden's top songwriters including Lykke Li, Noonie Bao and Patrick Berger.
Styrke's last solo release came in the form of her third studio album Sway, a compact nine-track collection clocking in at just under 30 minutes. Featuring singles "Say My Name" and "Mistakes", it took Styrke all over the world including a run of dates opening for Lorde and Katy Perry. Met with critical acclaim Styrke and producer Elof Loelv's minimalistic approach went on to be replicated and referenced behind the scenes in studios where future hits are conceived. Shawn Mendes even danced to "On The Low" on TikTok.
The process of making Sway was painstakingly intricate. Styrke tells us "with my last album, [and] a lot of my music my M.O. has been spending a ridiculous amount of time, sitting with a headache in the studio." Taking their time to create a cohesive body of work, which was as close to technically perfect as humanly possible, this time Styrke decided to throw out the rulebook and instead of going straight into manufacture mode, she made sure her creative process had added elements of freedom.
Since the release of Sway in 2018, collaborations with RITUAL and Lost Kings have tied fans over, as did a return to Swedish reality TV late last year when Styrke made her debut on Så mycket bättre. The show's title translates as So much better and sees artists reimagine their co-stars' songs. Eurovision stars Loreen and Benjamin Ingrosso were part of the line-up when Styrke appeared, previous notable contestants include Kleerup, Icona Pop and Albin Lee Meldau.
Behind the scenes, Styrke didn't stop either. She's been working on her next project since the completion of Sway, and despite having scrapped almost an entire album's worth of material, restrictions around movement due to the pandemic opened up new virtual doors for the Swedish star to collaborate. During her self-imposed lockdown, she taught herself how to play the guitar, to a level she feels comfortable stripping things back on an acoustic for solo performances.
The mission for her new music has been to open up more, to let fans in. Styrke has nothing to hide. "Mood Swings" tackles elements of her mental health, and other tracks will look at her relationships. An important topic, especially for her LGBTQIA+ fans since Styrke revealed she was dating a woman, who the eagle-eyed will recognise as her touring guitarist.
Arriving with a music video in which Styrke plays eight individual characters "Mood Swings" is in a world of its own. Sonically and visually, this represents a new beginning for Styrke who is "so excited to start existing again," with new looks and more music set to come over the course of the year.
BEST FIT: Welcome back. I can't believe how long it's been since we spoke and you had new music to share. The world has literally completely changed. How have you been?
Tove Styrke: It's been the weirdest. I feel like everything in my life has never been this extreme. Like ever before. Not even going through puberty was like this. And you think that's gonna be like the worst ever? You get a pandemic and fuck, shit got real. Like, oh my god, humanity… we could die.
Before the pandemic hit did you get a chance to take a break and relax before starting work again?
I actually started writing immediately and I was trying so many different things. Then Corona happened. And all of a sudden, there was this shift, none of it really felt relevant anymore. It's not that the new material has anything to do with the state of the world, but this shift of what felt important, made it feel completely irrelevant.
But, I've been working a lot on Zoom and that's one of the things I've discovered that I love. It's bliss and I know a lot of people hate it, but I love it. It's so much more effective and because I'm the kind of person who is really introverted at first, but I could never make stuff on my own, I have to interact with people to feel like I exist.
Going to LA and hanging out for 12 hours [to make a song] takes so much energy for me and being able to do the same session, get the same outcome with the same people and like, make the same song is great. I can go and have a snack. And I can go and breathe in peace and come back with a restored battery. That's so nice.
I have also been able to work with people who are not based in Stockholm because all of a sudden people are actually working on Zoom, if they're in London, LA or New York and that's so so great. Otherwise, you're working with people who are based in Stockholm and everybody's in the same pot, like just rolling around. It's just so nice to be able to be here and still live my normal life and have all these different, creative outlets.
So "Mood Swings" is the first taste we have of new music. How did this one come together?
This one was actually crazy. So I started working on all these new songs and then I got sent a really early demo of ["Mood Swings"]. And immediately, I loved it. I don't usually like taking on songs from other people, but I've actually done that more than just with this song. I guess you go through different creative phases.
I loved the vibe and could totally envision exactly what it was going to be when it's finished. So, I rewrote a bunch of stuff and chopped some stuff off and reproduced it and everything, so it's been a very creative and fun process. With my last album, [and] a lot of my music my M.O. has been spending a ridiculous amount of time, sitting with a headache in the studio. And I just felt like that's not the most, that might not be the best way to spend my time. I feel like it's better to try a bunch of ideas and change things.
Maybe I love it or hate it, but now, I can say let's write a country song and try that. I'm trying things out and I'm less scared of it being shit because I'd rather just keep going. I feel so much more inspired and it's been a more productive way for me to work.
In terms of the timeline for creating this elusive new project, when did "Mood Swings" appear in your inbox?
It was pretty early on or maybe the middle-ish, but I know this was the song where I felt like now I know exactly what it is. From the get-go I had an idea, I had a hunch of where it was going, but this is the one where everything fell into place. But on the other hand, I don't know if this whole project is an album or maybe two albums or an EP, or two, we'll see, but it's so fun. Each song really is a story of its own. They're so different from each other, which I love.
I really wanted to do that, because Sway was so beautiful. But it was such a cohesive album and the sound was so tight. We even used the same sort of synths on all the songs and it was very mid-tempo, I had the same vocal [delivery]. As per usual I really wanted to do the complete opposite... Can we have a power ballad and a really sad song and a super upbeat '80s disco song? Could an emo song with Blink 182 inspirations work next to a '60s pop ballad that sounds like it's existed forever, but it's now, and I can sing 'bitches' in it? Yeah. So it's all over the place. It's like an explosion, a happy vomit. It just feels right.
"Could an emo song with Blink 182 inspirations work next to a '60s pop ballad that sounds like it's existed forever, but it's now, and I can sing 'bitches' in it? Yeah."
It sounds like your process has changed so much since Sway…
I think it's something about this year, I've been so low. I've really been on a roller coaster. And I feel like getting through that and getting to the other side of that in one piece has made me so much more relaxed in terms of making. I really feel like, at this point, there's no use making things, releasing them out into the world if I'm not being completely honest. You can't censor yourself. It's so easy to get into this groove of just trying to be perfect and just trying to be the best. If I wanted to do that I could be a pageant queen or like the talent show singer, well I've been that.
I want music that I make to have a meaning and to be unrestricted and free. Going through all of these ups and downs... I know what it's like to feel shit. I know what it's like to be so depressed and anxious, nothing anybody could think about my music can hurt me, nobody can touch me. What's the worst thing that could happen if I make something that's not good? I don't care, I really don't care. But I think there's the possibility of me making something that's totally amazing and that it can actually touch somebody else. It's so much bigger if you just let go.
You mentioned Sway having this really distinctive, cohesive sound, and it feels like that minimalistic approach to pop was everywhere after you put the record out. Do you feel like it had a big impact on the pop world?
It was so crazy. I can't tell you how many times it happened, that people texted me like 'yo, I'm in a session, and everybody brought your song', because every time you're in a session everyone asks what you're listening to and everybody brought [my] fucking song. People were obsessed with "Say My Name" and "Mistakes". Shawn Mendes was texting me like 'this song is amazing!' He was talking about it for a year after it came out as well, he couldn't let it go. I was like I don't know what is happening, but it's so cool.
I'm so happy that it was successful like that, and that people appreciated it because we spent so much time making it that perfect. I'm so glad that it was worth it. It doesn't really matter how big it got, or how many streams it got because that will always be like a medal for me. It's something I really take pride in and I'm so proud to have that album in my discography. It's such a good album, and it will always be that.
Taking things back to your second album Kiddo, which was the complete opposite to Sway with its crushing, noisy maximalism, where do you see the new material fitting in with that era?
I've learned so much since Kiddo. When I listen to Kiddo now I'm like, oh, did I think that this sounded good? It's cute, but it's so distorted and at the time I wanted to add everything. But that's also why young people make such cool music because they haven't learned enough to hear that something is annoying, and sometimes things have to be obnoxious to be amazing. I don't know if it's bad, but my ears have evolved.
This album, even if it's very all over the place, it's more put together sonically. While it's still not tightly controlled like Sway, it's definitely an evolution. You walk through life and you learn stuff and pick up stuff, but now I'm at a place where I'm like fuck everything, let's see what happens.
"Mood Swings" itself is inspired by your struggles with your mental health, but it's not a typically sad song.
I feel like it's paying tribute to the good and the bad and it's celebrating it, that it's okay. It sounds cliche when you say it, but I've noticed through the years that it's so important to me to feel like there are no boundaries to me. Nobody else, not even me, can decide 'oh this is my box, this is where I am, this is who I am.' I'm so uncomfortable in that place. I've said this before, but it's true. I really need to wake up every day and feel like I can be whoever I want to be, I'm that complex and everybody else is like that too. Let me be this big, this amazing. You know? We're just part of the universe, fucking floating around being something. It's not that important. It's identity; it's complex, it's fun and it's fluid.
" I really need to wake up every day and feel like I can be whoever I want to be, I'm that complex and everybody else is like that too."
Speaking of openness and fluidity, over the last year or so you took a big step and started to embrace your queer identity, at least publicly, for the first time. That's definitely breaking down a barrier, does it feel good to be able to share this with fans?
I've always been completely honest. with who I am. It's just now I'm in a relationship with a woman and I think it's very cool that you don't have to come out, and like I said I hate being put in boxes, I have such a difficult time with labels for me. I understand that they've been so helpful for people, especially in the past, and it's important to have names for things to be able to talk about them. I really respect that. I think it's really amazing that I can come out on my social media and be like, 'hey, this is my girlfriend' and everybody's like, 'oh my god, that's the most awesome thing ever' and in a way, I feel like they're just like relating to me more if they are queer and I think that's really cool.
I was on this panel, a while ago, where we were [discussing] LGBTQ+ experiences in the music industry. I was mainly like listening because this side of things, being openly queer, is new to me. It was really interesting to hear, some of the age differences were so big, some people have been out since the '70s. I was really taken by that, like, so many have fought for people like me to just be here now and be like, yeah, I don't like discussing labels can't we all just love people. I'm so, so grateful for that. So many people have put in that work for me to be able to be as free as I can.
You've channelled some of that spirit into the music video too, which looks like it was a lot of fun to make. It feels like a big moment in its own right, like your arrival as a 'proper' pop star!
Yeah, I felt like it was time to go there. I had so much fun making it and I put so much time into it, planning the whole thing. I wanted it to be even more, but I mean, money is apparently a thing and so is time. [I wanted] 50 different transitions, but [we didn't] have like 25 days. I spent so much time figuring out and finding these different characters because I really look at them as, like other people, I talk about them as other people like, all of them have like backstories because otherwise, you can't really make something that makes sense. Even if you just see them for like a split second and they're performing, the energy still has to make sense.
Do you know what the weirdest thing is? It's the coolest thing, when [I get into character] my personality, regardless of what I want, changes, because I feel your clothes and visual presentation has that much of an impact on how you behave. I've heard so many people, like, who do drag, they talk about their first experience doing drag and they say 'I never felt freer, that was the first time I felt like I could really love myself and be this amazing person and really be me to the fullest,' which if you haven't tried it if it probably sounds weird. I totally get that now, it's insane what it does to how you feel about yourself and it's really cool.
I really love the sad housewife because she's so different from the other ones. I just really feel for that character. I don't know why. And also, I mean, I love the one with the tubes. I call that character Elliot. Some people think that we created an alien, but it's actually not that at all. It's somebody who's really creative, sitting in the room, being all amazing and creating these amazing looks on themselves. I feel like the fashion of that character is the most interesting, it's very Comme Des Garcons, very fashion.
Every little detail has a history and a purpose and I feel like that person puts on their clothing almost ceremonially. It's the whole process. Getting into those shoes takes a long time… you can't try and do it fast because you will sweat to death. It's a meticulously crafted visual representation of a person that I think is really cool. Somebody's that almost created their own subculture, their own religion, their own way of really like, expressing themselves.
The final scene of the video is a big reveal in a way, do you want to offer any insight into the ending or leave it open to interpretation?
I can in a broad sense… I wanted the whole video to feel like you couldn't really trust what you're seeing, like,you couldn't really trust the space. Like, all of a sudden, it would warp and go into like a different perspective, or like going into the mouth of one of the characters, like keep looping and like, or present a new character. I wanted it to feel wobbly in that sense. And since the whole video was played out in like, an undefined white space, it felt important to also bring it out of that. The world that [you're] watching right now is bigger than that. There's another layer. So, that's one of the things I wanted people to take away from it.
I know things are still up in the air, but you must be planning what the live shows will be like in this era. Can we expect anything soon?
I'm playing something, but I can't tell you what it is yet. You know what I really wanna do? Like one-hit-wonders used to go, you go to a festival and perform your one hit like three times in a row. I wanna do that with "Mood Swings" so bad. Go with my full band and have amazing clothes, in character as the grey one, plain Jane, and do this huge intro that promises so much and then do the single. Then you go again, and people think you're crazy, and then you do it one more time.
But drums are gonna happen. I used to hate drums because they're so hard to control, the sound of, in a space, they can take over. You know, me having been such a control freak, I didn't like that. But I've been loving them more and more. So that's gonna happen. And also like, I don't know, I just feel these songs since they're so different. There are so many different vibes. I think the shows are gonna be incredible. it's gonna be so much fun to play them.
"Mood Swings" is out now
Get the Best Fit take on the week in music direct to your inbox every Friday