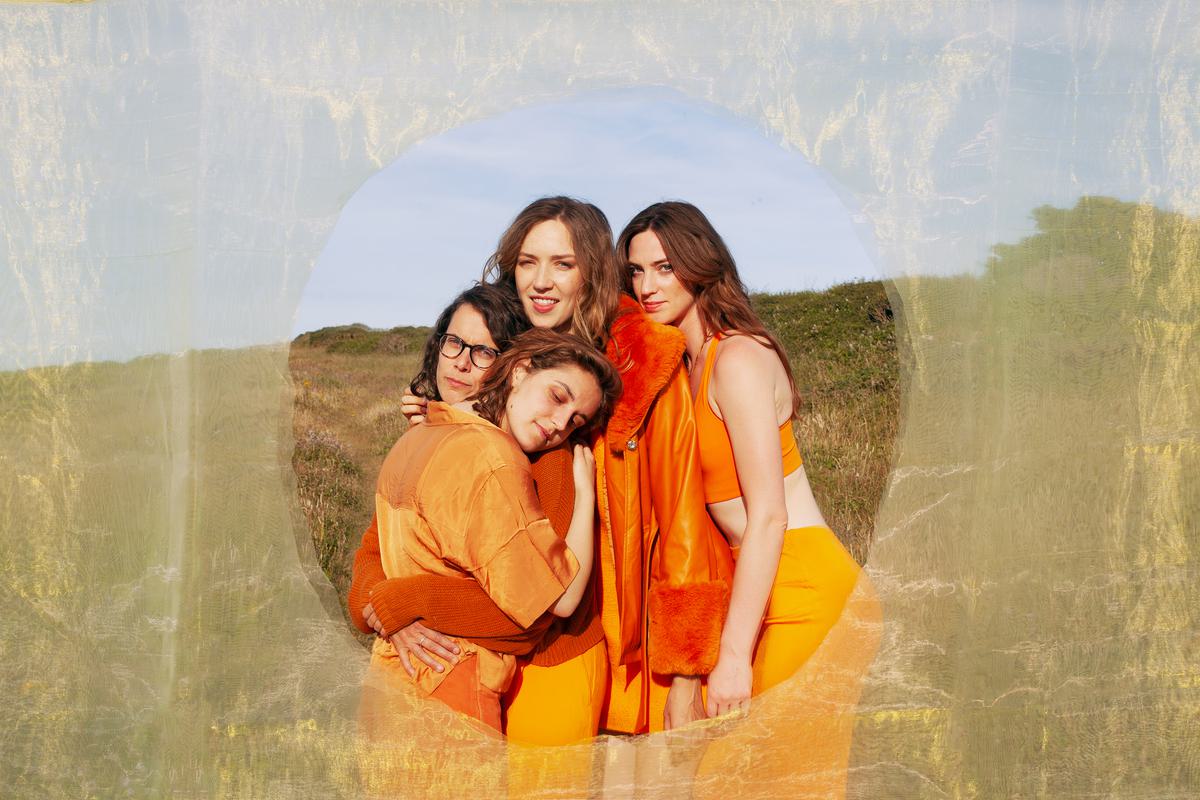 The Big Moon are holding space for uncommon conversations
11 October 2022, 10:00
On third album Here Is Everything, The Big Moon are more united than ever. Juliette Jackson talks to Kate Crudgington about how the challenges of the past two years have brought them closer together.
"I find it so weird that I've written pop songs about this. I'm like, 'What part of my brain did this come from?'"
Juliette Jackson is talking about the inspiration behind the tracks that form The Big Moon's third album, Here Is Everything, released this coming Friday. It's a record inspired by the lead vocalist and guitarist's experiences of pregnancy, childbirth, and early days of motherhood – events that galvanised her songwriting and solidified her friendship with her bandmates Celia Archer, Soph Nathan and Fern Ford.
The last time I spoke with The Big Moon, it was with all four women in a busy central London café. It was January 2020, and they were about to release their second album Walking Like We Do. The band were in good spirits and looking forward to an extensive tour through the UK and Europe that was kicking off in February – a tour they never got to finish after being forced off the road by the Covid pandemic.
During the lockdowns that followed, they each found ways to make ends meet financially, doing delivery jobs and giving guitar and bass lessons over Zoom. They also found time to write and record new songs (twice, after a first try that went nowhere) and, amid the chaos, Jackson became a mum for the first time.
Pregnancy and becoming a parent are life-altering experiences in their own right, but when coupled with a global pandemic, it's little wonder that Jackson often felt overwhelmed and lonely in her new role as a mother. Fortunately, she says, she had her bandmates (and best mates) to support her.
"During the pandemic, nobody really knew what there would be to come back to, so everything just felt very apocalyptic and scary," Jackson remembers. "I think being able to regroup – we keep calling it 'renewing our vows' – and make this album basically saved us as a band, because we've all committed to each other again. I feel like our relationships are really strong at the moment, as musicians, but mostly as friends. The way we support each other is just amazing. I didn't feel like I could love them any more than I did, but I do!"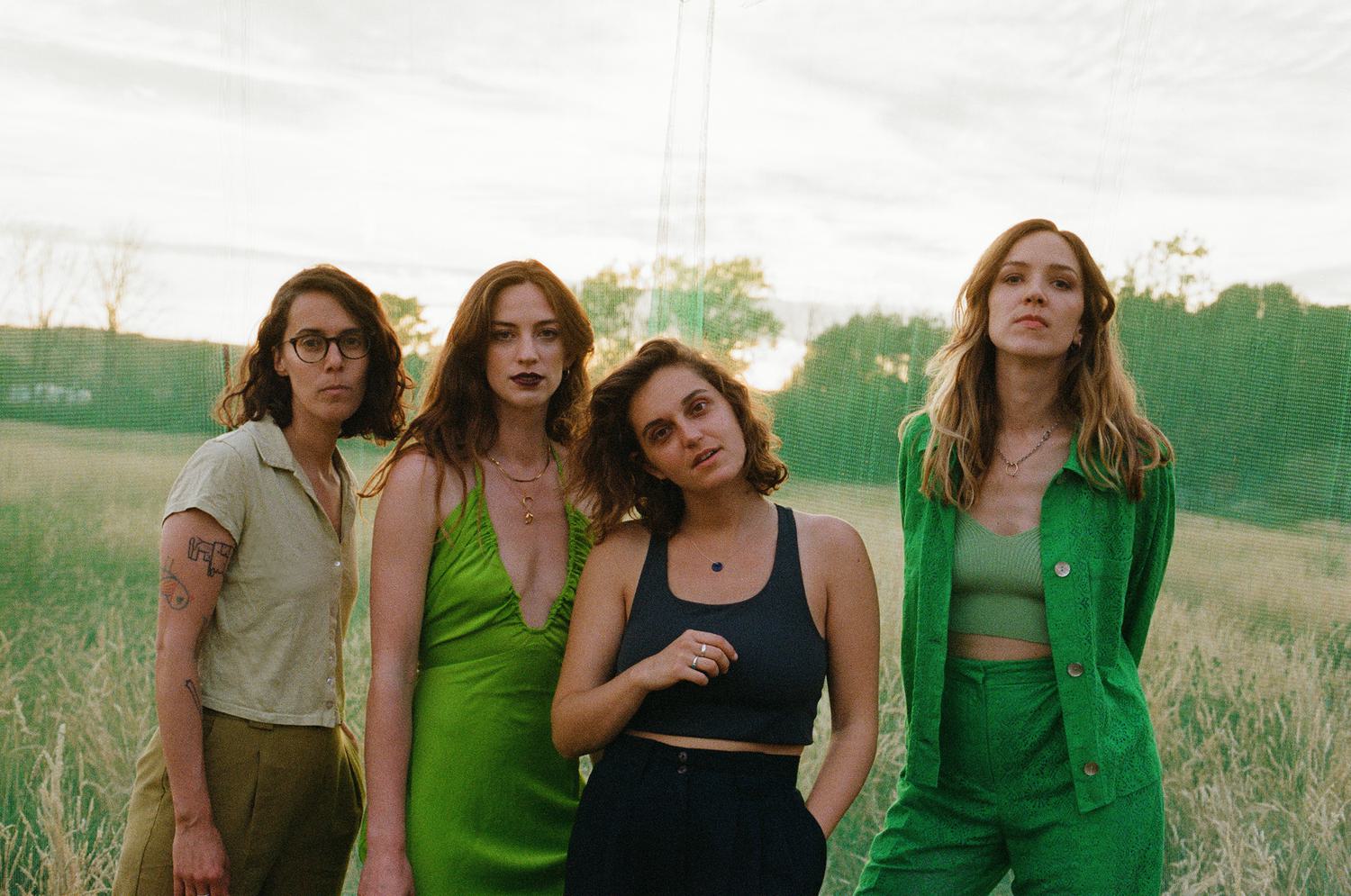 This renewal of vows and energy was a pleasure to witness live at the band's recent headline show at Kentish Town Forum. Their performance radiated joy from the moment they stepped on stage, clad all in white, playing in front of a backdrop of – what else? – a big moon. "That show was at the end of such a chaotic tour," Jackson says, laughing. "I think what you were seeing was relief, as well as us just being really glad to finally be able to do our jobs again."
This genuine, enduring love for music and each other has seen the band through so much. Most recently, some Brexit-related tour drama. As Jackson explains, "We played a festival in Spain the day before the UK tour started. While we were there, our van broke down, which had all of our crucial stuff in: our instruments, all of our guitar pedals, all of the electronics and computer stuff that's really hard to replace. Then we missed our flight by 10 minutes and, because of Brexit, we couldn't split the equipment up and send it back with one person, because of certain import rules. So we sent it by FedEx, and then it got lost. We still haven't got it back."
Jackson and her bandmates took to Twitter to ask friends and fans to help them source the equipment in each town before their shows. "There was a kind of mad scramble to borrow all the things that we needed, but we did manage it every night," she says. "By the end of the tour, we'd replaced the equipment and bought new stuff. It cost us so much money, but the shows were amazing. It just felt so good to play live again. We'd been looking forward to that tour for so long. It was a really special one. We later found out that Mercury was in retrograde at the time this was happening. I don't believe in that stuff at all, but now I'm really starting to doubt myself. Maybe the planets do actually know what's going on."
Despite these setbacks, astrology linked or otherwise, it hasn't stopped The Big Moon from booking their biggest headline show to date. The band will play at London's Roundhouse in May next year and, naturally, Jackson is super excited for the show. "The Roundhouse is the kind of place where you go and see big bands that you love," she says. "I remember going to see Haim there, years and years ago. It's where you go to see real bands playing, and now we're playing! Maybe we're finally a real band? I'm excited to get really big production and lights and stuff, and to hang up our big moon again!"
With the Roundhouse show cementing the idea that The Big Moon are indeed a "real" band, it seems like a fitting time to look back at the work they've put in so far. Work that includes their 2017 Mercury Prize-shortlisted debut Love in the 4th Dimension, the critically acclaimed Walking Like We Do, and endless touring accolades. With their infectious choruses, buoyant guitar anthems and charismatic live performances, it's easy to see why these women are so loved.
On Here Is Everything, The Big Moon continue to offer a healthy dose of joy, but Jackson's challenging experiences of pregnancy and motherhood dominate the lyrics. Roughly half the songs were written while she was pregnant, with the other half written after giving birth, when she was in a cripplingly sleep deprived, vulnerable state and having difficulty with breastfeeding her young son.
"It was a long journey making this album," Jackson recalls. "Initially, we spent two weeks in a really big expensive studio with a producer, and when we came out, it still wasn't ready. It was the bare bones of an album. I think we put a lot of pressure on ourselves after not seeing each other for almost a year because of lockdown and Covid, and we came out with something that was a good starting point but was nowhere near finished."
Abandoning their original plan to complete the record before Jackson gave birth, the band shelved the songs and decided to come back to them later. "I had my baby and took five or six months out," she says. "Then I wrote some more songs, and we decided to self-produce them – and to re-produce the stuff that we already had."
Bringing that second batch of songs to her bandmates so that they could work on the music together felt like a lifeline for Jackson. "I think a lot of parents feel like this, you sort of lose yourself for a while," she explains. "I was completely dedicated to my baby, but I was exhausted being the mum machine. So it's been really important for me to be able to find a space that's just mine, and just for me. I'm really glad that I had music to come back to."
Jackson means space in the physical sense, too. Each day for a month, the band would convene at Ford's house, to work on the album in the drummer's spare-room studio. "Fern's place is really local for all of us," she says. "It didn't cost money to get there, and we were in complete control of everything we were doing. We just needed that safe space. I could also take my baby with me and breastfeed him, too."
Jackson clearly cherishes this precious time. "I think when you're being creative, you need a lot of space to fail," she says. "You need to feel comfortable enough to suggest things that might not be used, so that you can get to the good stuff as well. We just drank tea and made it sound exactly how we wanted. Just the four of us, listening and saying, 'Oh my god, let's sing this harmony on this thing!' or 'Let's add these guitar pedals to that voice and make it sound like an organ!'"
"It was all of the things I think that were missing the first time – the things that make us, us. We've been doing this for eight years now and I think we've finally reached the point where we're like, 'Actually, we've learned loads, we know what we want, and we know how to do it.' There's an amazing freedom in that."
This freedom and feeling of having a safety net explains why love is radiating from every track on Here Is Everything. The closeness of the band – geographically, physically and emotionally – meant that they could take their time and create a record that beautifully blends their collective skillset. With the help of co-producer CECIL, a good friend who the band met while working together on their first album, they've trusted their instincts as musicians and friends and given listeners a wonderful snapshot into Jackson's personal experience of parenthood.
This experience wasn't always as joyful as the band makes it sound on record, though. Jackson speaks candidly about the physical and mental struggles she encountered during her early weeks of motherhood. "With my songwriting, I actually got into a really weird headspace after I'd had my son," she says. "I was so tired, and so physically drained from being the parent of a five-month-old, that I completely lost faith in myself and my ability to write. I just thought everything I wrote was complete crap."
"Eventually, I sent my demos over to the band in an email, and I was like, 'I've written some songs, they're so shit, but maybe we could turn them into something together?' and they all wrote back and were like 'This is amazing. This is amazing. This is amazing!' I just don't know what happened. I was just exhausted. I became really vulnerable."
"I was so tired and so physically drained from being a parent, I completely lost faith in myself and my ability to write."
(J.J.)
This feeling of being exposed permeates Jackson's lyrics throughout the new album. Opening track "2 Lines" (referring to the lines that show a positive result on a pregnancy test) provides the context for a tumultuous journey, charting what happens when "life turns to liquid" and you're going through the motions, writing troubled but heartfelt lullabies about the new life you've created. The heaviness of lyrics like "I wonder which parts of me / my kids are going to hate" on "Satellite" are softened by the band's tender keys and lush synths, and are offset earlier in the record by the uplifting riffs and the amusing observation, "You wake up rolling your bowling ball head" on "Ladye Bay".
"I think the lyrics are really vulnerable, but a lot of them are so full of love," Jackson says with a smile. "I was really surprised by how much I loved my baby. I've never been that maternal, even though I knew I wanted to have kids. I just didn't expect it to hit me in the way it did. I know a lot of it is hormones, but it doesn't mean it's not real. I still can't believe how much I love him. That will never make any sense to me."
"I felt so vulnerable while I was writing these songs, but we recorded them all together as a band, which would explain why the music is so strong," she adds, citing "Trouble" as a perfect example of how the band balanced these opposing tendencies. "Some of the lyrics still make me want to cry when we play it, but the music and the chorus are both pure joy. I feel like I've been able to reframe a lot of difficult memories through these songs."
Jackson talks openly about the "indescribably crazy" period of mothering a newborn. "You think childbirth is going to be the hard bit, but the stuff afterwards is much harder, because you're slightly abandoned," she admits. "When you're pregnant, you're treated like royalty. Everyone's like, 'Do you want a chair? Would you like a glass of water?' Then as soon as the baby is born, you're just completely ragged."
"Obviously, I had support from my family and friends, but with something like breastfeeding, only I could do that. So when I couldn't actually do it, I've never felt so lonely. You become a milk factory, you're so hormonal. The hormones are insane. I would spend hours just crying and laughing at the same time, for no reason. Like, 'What is wrong with me?!' Fortunately, that kind of faded away."
"I think the lyrics on this album are definitely the most honest I've ever been," she adds. "But part of that was me lying to myself, actually. There's a song called 'Daydreaming', which I've always said is about breastfeeding, but I've looked back on it, and it's not at all. Breastfeeding was one of the worst experiences of my life. But in the song I've painted this picture of it being this really cuddly, cosy, rosy experience, and I think it's because I wanted it to be that. I was yearning for that. It's only now that I realise that 'Daydreaming' has nothing to do with my experience of breastfeeding. It's what I saw all my other mum friends doing."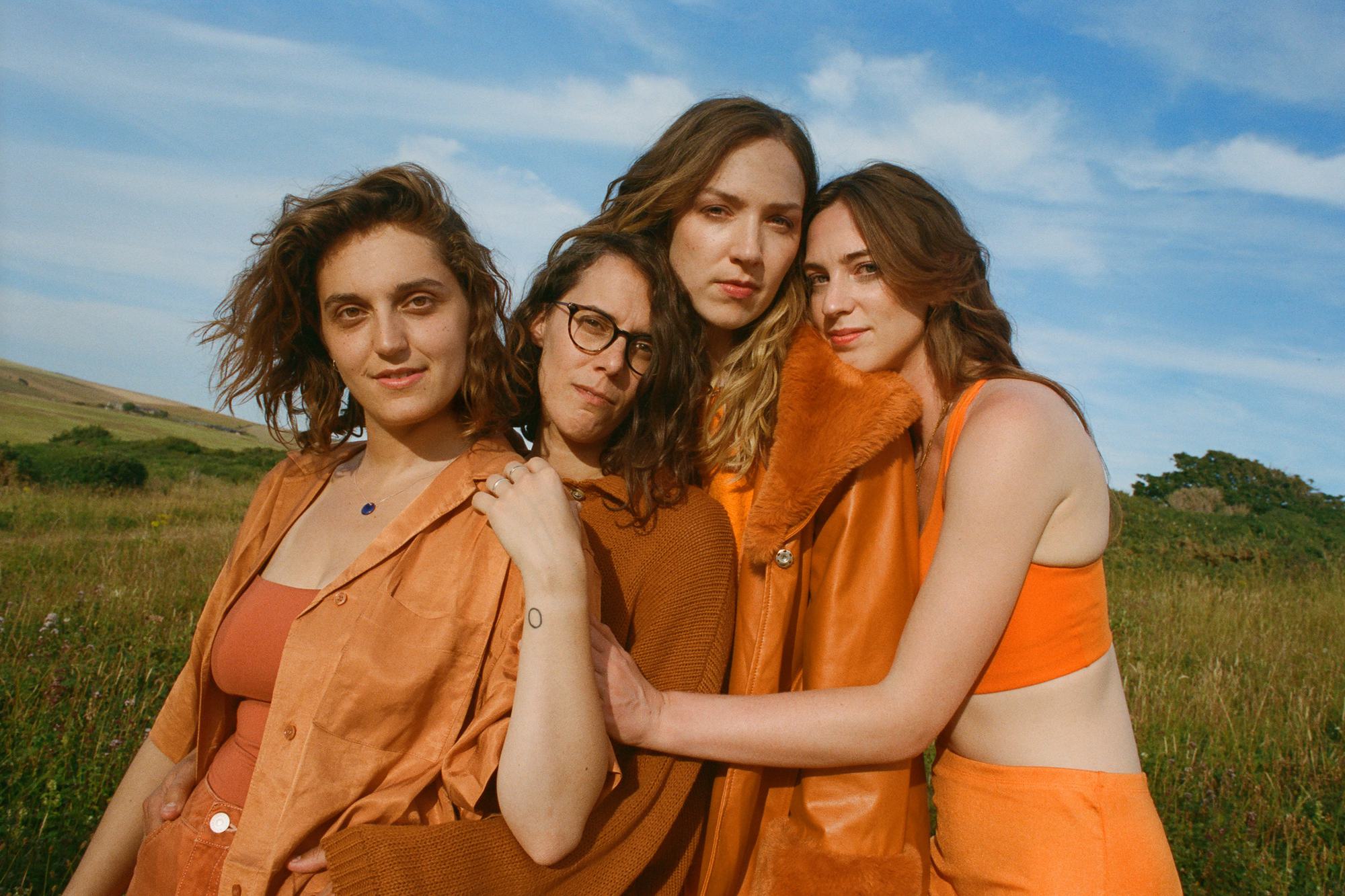 Jackson reflects on the cathartic and unusual way in which she's dealt with her experiences. "I felt like I was carrying the weight of these things around with me for a long time," she says. "But being able to make songs about it, and to talk about the love and the depth of it, has become a way for me to remember it all in a different way."
Here Is Everything feels like an even more apt title now that Jackson has shared these stories. Reframing her memories has been therapeutic for her, to the extent where she is able to listen to the new record and enjoy retracing her transformation from pregnancy to parenthood. "I do listen to this album a lot," she says. "I know that sounds massively narcissistic, but that's not something that I've done with the last two albums."
"I just love listening to the songs from when I was pregnant, because they're all really questioning and not knowing what it was going to be like. And I love hearing the songs I wrote afterwards. They're all just these big, really hormonal, exhausted love songs. They're like the answers to the questions in the earlier songs. I feel really glad that there's a document from that time. It's like reading a diary, basically. It's nice to talk about it. There's so much that's hard to process, and my way of processing things is just explaining them again and again and again. So this is also like a kind of therapy for me."
Jackson's willingness to spotlight both the difficult and the glorious elements of pregnancy is epitomised by the album's cover photograph. Shot by Pooneh Garner, the image shows Jackson proudly displaying her pregnant belly, wearing a green and white striped crop top, orange underwear and a big black hat.
"It just tied everything up in a bow," she says. "When I was pregnant, I found that the images I saw of other pregnant women were often the same – very 'Earth Mother' wearing veils and floating in a pool of petals – and I was like, 'Do I have to become that person now?' I just wanted to wear a stupid fluffy hat, and be pregnant, and be myself!"
"I think so much around fertility, pregnancy, birth and motherhood is just erased or invisible in society," she adds. "It's as if once you become a mum, you don't really see yourself in culture anymore. You're expected to forget who you were before, and just be a primary caregiver. I love my baby, I would do anything for my baby, but I also need space to be myself. Mothers need support, and they need space to love themselves, and we need to be visible in society, at all levels."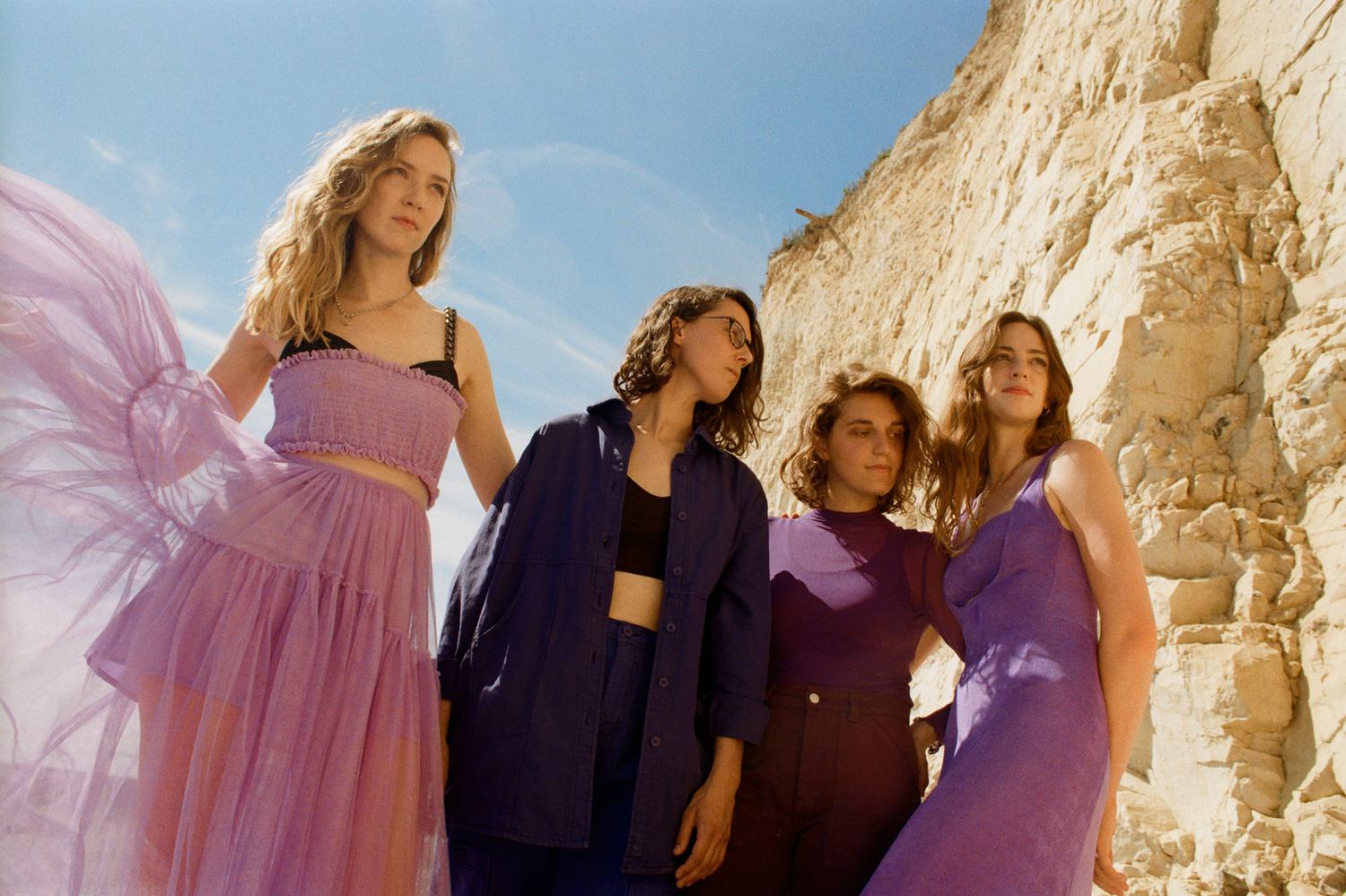 Jackson laments the amount of support that's available for new mums who may be struggling during those first few months of parenthood. "I'm going on a bit of a tangent here but I recently found out that suicide is the biggest killer of mothers in the first year of their child's life, and that's just awful," she says. "I can't believe that's happening, and there just isn't enough support. When I was pregnant and failing to breastfeed, I devoured all the stories I could find from other people who'd given birth and what they'd done. I needed that community so badly. I was on Mumsnet all the time, because I just didn't really know who else to talk to about it."
Jackson's willingness to speak about these struggles, whether via her own Instagram posts or via the platform that The Big Moon has given her, feels more vital than ever. Her experience will undoubtedly resonate with many, and hopefully provide comfort for new mothers going through similar struggles in the future.
Speaking out doesn't just apply to her own experiences, though. Jackson and her bandmates have been vocal about the ways in which the wider music industry takes advantage of bands, most recently spotlighting the unfair fees that venues charge bands for selling their own merchandise at gigs.
"When we played Kentish Town Forum, the venue wanted 25% plus VAT, so basically 30% of our merch sales, which is our whole profit," Jackson explains. "We buy really good quality t-shirts, because we don't want to put crap into the world for environmental reasons, but also because we don't want to sell a t-shirt to a fan that's just going to fall apart. So we have higher costs because of that, and then for the venue to insist on taking 30% of that, it's just really gross and greedy."
"I feel like in the music industry, there are so many leeches and there's a lot that people don't know that goes on behind the scenes. A lot of people don't know that, for a band like us, merch is actually the main way we make any money on tour. It was the band Dry Cleaning who actually played Kentish Town Forum a few months before us, who decided to sell their merch in the pub down the road instead of letting the venue take that fee. We were like, 'That is a great idea. Let's do it and stick it to the man!', and it was so nice to find out how many people were well up for sticking it to the man as well."
It's this kind of attitude that has kept fans coming back to The Big Moon. The band have pushed through a pandemic and overcome personal and professional barriers in order to deliver their most confident and intimate record yet. Openly inviting their listeners to share in these triumphs on Here Is Everything, Jackson and her bandmates continue to shine and simultaneously "stick it to the man" in the process, too.