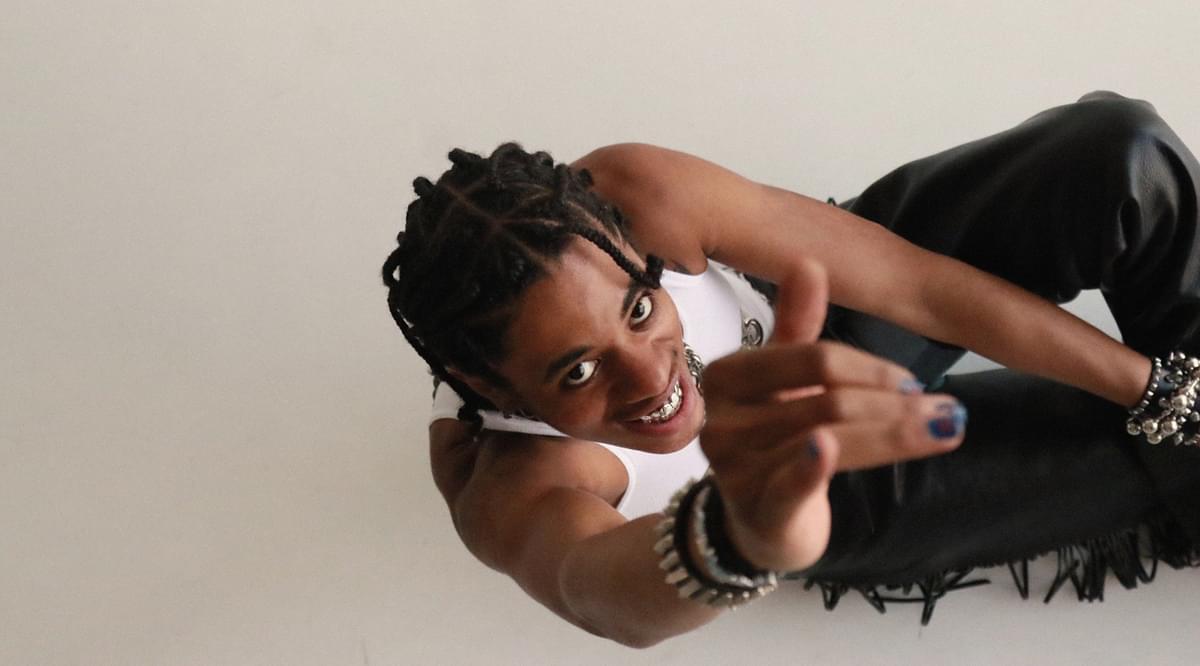 On the Rise: Teezo Touchdown
05 December 2020, 10:03
With looks that include goth cowboy and S&M footballer, Teezo Touchdown might look novelty – but his heartfelt, curious brand of pop-punk is anything but.
'Beaumont' adorns Teezo Touchdown's sweatshirt, the hometown of the Texas native. It's morning when he answers our transatlantic Zoom, smiling beneath a towering metallic hat – it winks, gems flashing.
Behind him is his Christmas tree, and Teezo eagerly adjusts the camera to show me its decor: the star of the tree – the mask he wore in the music video for "Bad Enough" – stares back, whilst barbed wire and chains add to its distinctive theme. It's festive in true Teezo style.
Everything about Teezo Touchdown is unique. He shows me his favourite accessory: a nail, usually threaded between his hair or intertwined in his clothes for extra punk energy. His sound is varied too, blending pop-punk rhythms with trap stylings and soul influence. "I think [genre's] on its way out," he explains. "It's not like 'hey I'm going to listen to hip hop or R&B – I want something to cry to, I want something to dance to." There was a time when Teezo would follow trends, but that's long been a thing of the past. "I had to break out of that, the mundane, and start really expressing myself," he tells me. "I do what I can with what I have."
Now, Teezo is building his own world. Clouded in mystique, he remains somewhat of an enigma. His social media is used to directly communicate with fans, but a large amount is unknown about the Texan magician. "If you have a question about the music or you just want to see if you can reach me, I'm reachable," he adds, emphasising the desire to develop meaningful connections with his listeners – or "champs", as he often refers to them. "I want to be the biggest star in the world but I also want to be tangible as well."
For Teezo, creativity is key. Although his earliest single on Spotify is from 2019, a quick YouTube search uncovers an array of releases dating back years. He's no stranger to the complexities of the music industry. "I feel like the marketing sometimes can be very cookie-cutter because we see what works for someone else and we try to implement it onto the next person. And I think what we're missing is the importance of what makes one person them." More inclined toward idiosyncrasies, Teezo explains that "creativity kind of comes in on the business side where it can mesh well. We can think of new ways to do stuff to kind of break the mode and to be innovative. I think that's the most important part--to be innovative."
Teezo set his sights on the music industry during adolescence. It took a brief stint in football – "I got hit once and never went back; I joined the band the next day" – before he delved further in, following in his father's footsteps and learning to DJ in elementary school. "Shortly after I started doodling with the piano," he says, though it all became much more real after his father built a music studio one Christmas. Seeing a beat machine for the first time, he realised: "I want to make the songs now. I want to actually record. Just seeing it be done; I always thought you had to be in a huge studio. So seeing DIY stuff like that, it made me realise 'OK, I can do it'."
Recognition was only a matter of time. It was in 2016 when things began to flesh out. Venturing into the North end of Beaumont, Teezo became acquainted with its musical hub and began to participate within the local community. "I linked with one of the artists from there and then he kind of brought me in," says Teezo, who was now regularly in the studio. "I think the North end of Beaumont is where I go to create. Or if I'm not home, the North end has a really close spot in my heart."
It was then that it clicked – "the switch hit" – and Teezo realised it was time to fully invest in music after years of gigging and playing for weddings and parties. To fund his career, he began to work as a cameraman. "They had this production company in Beaumont called 2023 and they were like the who's who of video production. One of the guys from there showed me how to shoot videos and I just started shooting videos at a cheaper price." Now, he'll find himself watching videos about cinematography and says he's a self-confessed "film geek" – this cinematic quality translating to his own vibrant music videos.
Texas was the ideal environment for nurturing his creative process. "You have the super duper country where you see the cowboy boots and the cows on the street, but you also have Houston," he says. "I have a good balance of both the yeehaw and the city." It's other Houston artists that Teezo was brought up on. When I ask about the first record he fell in love with, he explains that "in my house, we were doing a lot of mixtapes, so I'd never really heard albums in their completion." One of the earliest artists who stood out was Screwed Up Click's Big Moe: "I remember hearing a Big Moe song and that stuff was so DIY. I would just listen real close and hear him breathe in between takes. It'd be like 'Wow... he's an actual person'."
"I feel like Wiz Khalifa was the first artist who put me on to watching the blogs," Teezo tells me – the blog era and online discovery having played an influential role growing up. "That's what had me hooked: the way the writer told their stories, how good the interviews...." Instilling a studious approach, Teezo now spends hours watching artist interviews, using them as a reference point and as inspiration for his work ethic. "I'm just researching and looking into stuff from other cultures. Just to see rhythmic changes. It's just steady. Like, I'm a huge nerd."
By writing his own narrative, the multi-hyphenate is finding his own way to become the point of reference that he fondly refers to. "They always say that there's nothing new under the sun and I kind of battle with that, I challenge that," Teezo explains. "I feel like what I'm doing used to seem impossible and I'm doing it. I feel like I've just got to try to keep being innovative and dig within."
Along the way, he's learned to accept the good with the bad. At the beginning he would treat small gigs like the VMAs, always pushing towards a greater vision: "I've always just dreamed and thought big and activated." But there are aspects you can't prepare for, such as the negative comments which accompany increased visibility. "I'm so sensitive, I take everything so literally." He tells me about receiving harsher messages, recalling a listener's DM who had warned him to be careful of gimmicks. He's quick to shut this down; the Teezo you see online, vibrant and with a certain swagger, is exactly who he is. "This just happened to be my life, what I was made to do. So for me it's kind of easy."
When I ask if he has any advice for up-and-coming artists, he emphasises this resilient approach. "You just have to make up your mind that you're going to keep going because you're going to hear some disheartening things from some people who are close to you and people who you don't even know," he says. It's important to stay true to yourself and be a vessel for your community. "No matter where you're at, try to help somebody. But don't help to [receive] something back, just be that person to help and then eventually you will find a version of that same person. Be that person before you find them."
This mindset of encouraging and being there for others is partly what's drawn a dedicated assortment of listeners to Teezo. He openly confesses that he's still learning, it's a process of "trial and error", and inspires his fans to grow alongside him--keen to blur the traditional boundary between artist and audience. He wants listeners to know that he was just someone "who had a goal, had a passion and went out and got it" and if his "music somehow ended up with them, maybe it'll make them chase their dreams."
In "Strong Friend", Teezo encourages his listeners to check in with their friends – 'Check on your strong friend / Tell me what's wrong friend?' Written over a three year span, he hopes the song will influence his listeners to have more open conversations. "As far as the topic of "Strong Friend" goes, I feel like it's just one of the hardest things to do. Even I struggle with calling and checking in on people because it's easier said than done," he tells me. "If people gravitate to that song and the message and actually do it, it's super powerful. The most badass thing you can do is check on someone and be there for someone."
Closer to home, Teezo has also been engaging in empowering his neighbourhood. "I understand the power of influence and of working locally," he says. " I'm looking into the future and talking to future leaders... like, who's going to be like the mayor in the next few years. You know, just help where I can because it's a long game, and I'm just trying to affect the future." Last year, he became involved with Albert "AJ" Turner's campaign to run for Beumont's City Council, soon forging a more personal connection with the young candidate. "We never had someone in our actual community run for a position. I saw how important it would be to have someone who's connected to the city in that position". A call out for listeners to clean their neighbourhood, Teezo introduced 'Match A Bag' through Twitter earlier this year. "I don't know how you feel about your hood but I love my hood you dig, and I refuse to have it look like a dump," he announces, "so what you do is, you grab your empty trash bag and you walk around your hood and fill it with trash. And once that bag's full, you call your brother like 'hey brother, match a bag.'" Teezo's positive energy is fervent, both sonically and in the physical path he takes towards uncovering his artistry.
Teezo's most recent single "Social Cues" is a high energy track that unites each of his alter-egos in a resounding message: "you're not alone". He tells me he hopes it will "really talk to the world", and of how the track moved him to tears on multiple occasions. When I ask about the garage – a recurring backdrop to each of his visuals – he's more elusive. "There's a lot more magic that's going to happen there, I can just say that. It's a magical place."
As we wrap up, I ask if he has a final message for his listeners: "If you're reading this," he smiles. "Here's your reminder to check on your strong friend."
Teezo's latest single "Social Cues" is out now.
Get the Best Fit take on the week in music direct to your inbox every Friday