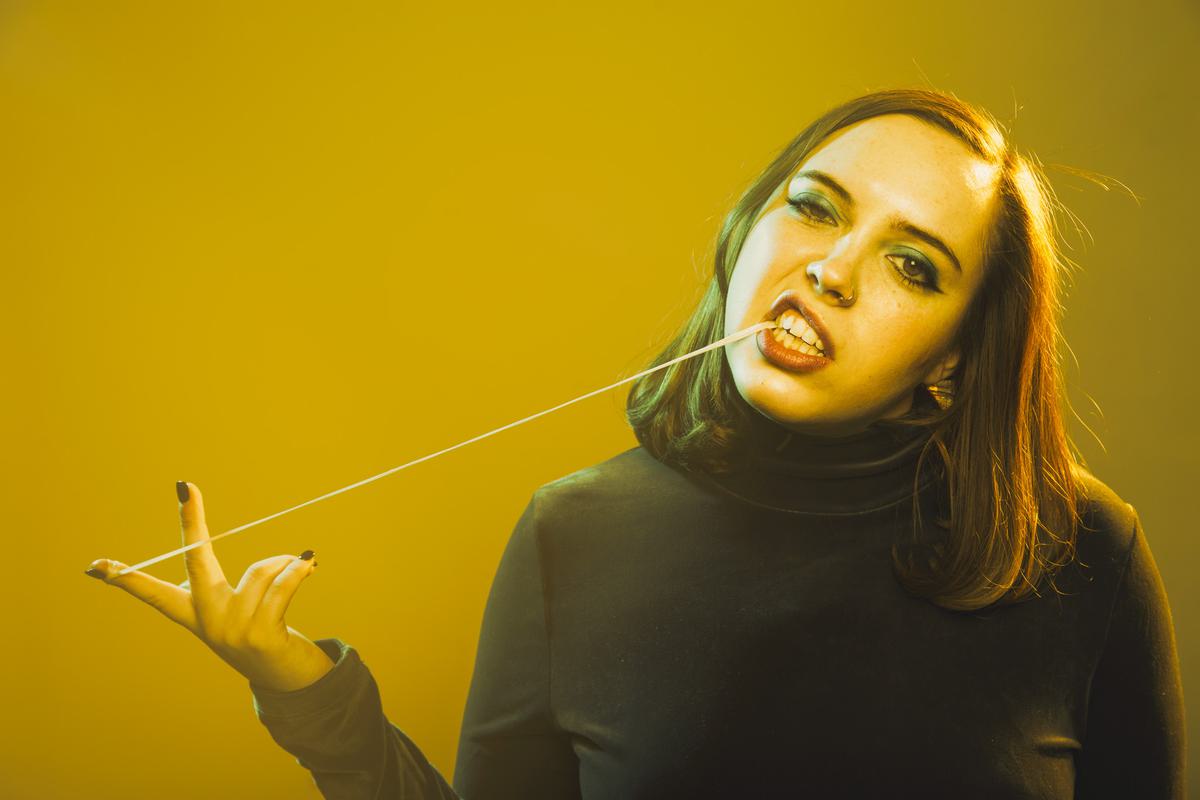 Soccer Mommy is the princess of screwing up
10 February 2020, 08:00
Sophie Allison contains multitudes. An Aquarius Moon: radically creative; a Gemini Sun: where expression is a matter of survival; and a Scorpio Rising: undeniably intense – an incredible force for change.
"That's my thing, my whole self", she says. This particular coming together of the stars gave rise to Soccer Mommy, the alias the then 18-year-old indie rocker dreamed up in her NY dorm room as a way of making the world an easier pill to swallow
Her songs are like dog-eared paperbacks: well-loved, familiar and somehow otherworldly snapshots of the agony and ecstasy of growing up. Allison's plainspoken, conversional lilt has meant that she has become our closest friend, whispering about her secret longing to be cool; to care less when she cares far too much; and the feeling of watching him fall for someone else, knowing they could never love him like she could.
Yet there is some divide between the pillow-talking, teenage torment that defined her 2016 debut album For Young Hearts, and the now 22-year-old woman that sits before me. On the precipice of releasing her new record, color theory, Allison is no longer holding the mirror up to our collective faces - this time she is turning it on herself.
Straying from the bittersweet vignettes of "Cool" and "Your Dog" that have defined her sound thus far, color theory marks a decisive moment where she is no longer coming of age, but instead taking ownership of it. Dauntlessly, she walks into a world where no one is there to hold your hand – but it's okay, for now, because her songs steel her against it: "I feel like I write in this process where I'm dealing with ideas and things that have been on my mind and have been, you know… eating at me, and then I come to a revelation at the end. That's when I know an album's done", she tells me.
Allison asserts her worth fiercely while being unafraid to expose her vulnerabilities. Her latest record is confessional to an extent that is rarely matched, carried out with an ambition that is beyond her years. color theory is divided into three colours – or, as she better describes them: "moods". "Blue is sadness," she explains, "but it also mentions water – it's slower and steadier in some way. It's got this colder mood." ("circle the drain")
"The yellow section is anxiety; sickness; paranoia – it's a little more on edge and tense. In the blue section, it's about depressive episodes and having people hurt you in relationships. Whereas yellow is mostly about my mom's physical illness and, you know, seeing her struggling and being afraid of losing her." Allison's mother was diagnosed with terminal cancer when she was a teenager. While music has always been a conduit for confronting topics many would rather meet with silence and a pair of kid-gloves, it is only until now that Allison has dealt with her mother's condition directly.
"I had a period when I was writing these songs, especially, where I wasn't sleeping at all," she tells me. The hallucinations spurred on a certain "hypertension", she describes, where she wouldn't be able to relax on her international tour, for fear that the time she had left with her mother was slipping away from her. The record's forerunning track, 'yellow is the color of her eyes' illustrates Allison's signature approach: a lackadaisical delivery of searing emotion that will resonate with anyone facing the loss of a loved one. "Loving you isn't enough / You'll still be deep in the ground when it's done / I'll know the day when it comes / I'll feel the cold as they put out my sun.'
"The third section is just about darkness, decay – death, basically," Allison shrugs, with almost comedic nonchalance. "It's a dark way to end it, but whatever. Did it anyway!" she says brightly. color theory, though a deceptively cheerful record, also possesses moments of Allison's wit and smirking, self-deprecating sense of humour. "I'm the princess of screwing up!" she declares at one point.
Allison meets questions about the stories behind her music with an expected guardedness. She naturally resists against funnelling her choice of expression – music – to the page. This "business stuff": interviews, photoshoots and the other trappings of promotion she considers necessary. "I'm like, 'This is something I have to do in order to keep spending time on my passion', rather than not getting to do it for a living," she says. "My passion is to make art, and the rest… that is the job."
The grey section in Allison's triptych of colours is sinister, insistent and pacing. "It talks about when my mom was – she's still sick – but when she was in a more intense state of sickness, and kind of watching that and worrying about her death and then reflecting on my own death in the future and wondering how my life is going to turn out and where's it going to go," she explains, spiralling without a pause for breath.
Beyond that, the grey section is a knowing fall from grace. 'lucy' is a sonic planetarium of curdling guitarwork and hypnotic vocals, exploring the "personification of evil things". "I've kind of promised myself that I'm not going to fully talk about what it's about…" Allison hesitates, "but it's kind of about having an instance with someone where they've taken something from you that you can't get back."
With such a carefully woven album such as this, it's clear that here is an artist who is young and creatively self-assured. Allison revels in the vertigo of not only conceptually pushing herself, but also through experimenting with new territories in production. "The whole idea was that it's showing this decay over time, like when you'd find cassettes with old songs from the early '00s and late '90s, try to put it into your cassette player or transfer it to digital and getting weird warps and electronic glitches - stuff like that. I wanted it to be about all of these things that have degraded me over time throughout my life."
Allison grew up on a dynasty of pop princesses, from the teardrops on Taylor Swift's guitar, all the way to Avril Lavigne's grunge-driven, pop-punk riots. "I wanted to hit the references to early 00s pop because that's what I was listening to back when I was a child – when I was super happy and didn't have all these problems that I've developed over time. I still haven't been able to shake my love of these sounds," she admits.
The music Allison was listening to during the genesis of color theory also had a direct impact on its final sound. The swirling, gothic landscapes of Tori Amos' 1999 record To Venus And Back can be traced, as well as Japanese pop band, Fishmans. Their 35-minute track, "LONG SEASON" is a delirious collage of moods, which Allison cites directly as an inspiration behind "yellow is the color of her eyes". While only seven minutes long - somewhat paling in comparison to Fishmans' epic – it was a risk she felt compelled to take, despite color theory being the first record she has released for a major label.
While Color Theory will undoubtedly strike a chord with disciples of this early-00s era of music, Allison has taken care to evoke not only its sound, but its sense of place in history. "I wanted to bring a more electronic sound too, because my generation specifically was growing up right when cassettes were kind of transferred over to CDs when all this early-00s pop was very much alive. I wanted to reflect that. I feel like this is a thing people are really obsessed with: digital and the modern age – but I'm more obsessed with the simplicity of a time before that, where if you tried to recreate it on a computer, it might not work."
Allison has created this irreplaceable, timeworn sound by bringing her live band into the recording process for the very first time. "The production reflects more what we sound like, now, as like a live act," she explains. "Like, with the band, I feel like the production and everything is more reflective of that than Clean was. I feel like it's more realised."
Thinking back to when her last record Clean was being written - a long way from her Nashville home, trying to find a place in New York City - Allison immediately says, "Oh, it sucks to be her!" Her natural introversion made it hard to build a whole new life from the ground upwards. "But looking back, I realise that I had a lot then that I'm not going to get back. I find doing press… not even just doing press, but having it be out on the internet, and people talking about me and having opinions on me that aren't related to how I am at all as a person. It makes me feel very dehumanised, and I have a lot of trouble having friends and trusting people because I feel like I'm just a robot, sometimes."
"When I think about a song like 'Scorpio Rising', I remember writing that in my dorm room with my guitar and being like, 'I have such a plan for this song. I want to record it in a studio one day.' So yeah, there was a lot more hopefulness when I was writing Clean, but at the same time, I think I've matured a lot. I've just learned things about the world there were there the whole time. Getting to be a human is something I wish I could have again," she sighs, "but I probably can't."
While Allison's instinct is to "write what I'm feeling; writing through it", she says, "I hope whoever listens to this album finds something that means something to them. I hope that it hits you in some certain type of way, no matter which song it is. I hope that it just says something that you recognise as exactly what you've felt."
We talk about the feeling of completing the album and, in a way, of letting go. "Sometimes I feel like I have nothing left to say, and that's a revelation in itself. I don't have to talk about it anymore."
color theory is released on 28 February via Loma Vista Recordings