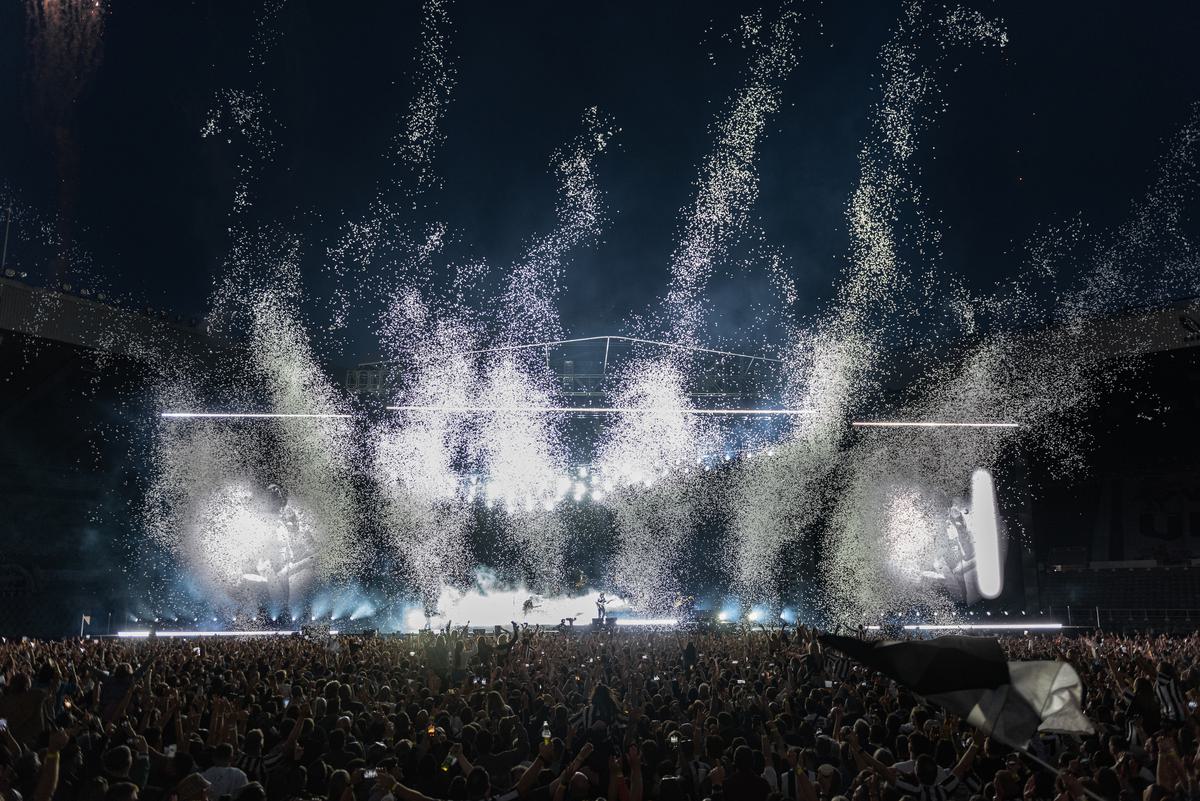 Sam Tozer and the magic of show design
20 September 2023, 09:00
Creative director and show designer Sam Tozer talks Kelsey Barnes through the process of transforming Sam Fender's incredible performance into a live spectacle for 90,000 people at Reading Festival.
In a world where visuals, artwork, and music videos are just as important as music is to an artist's story, ensuring a live show is equal parts entertaining and enthralling is integral. It's why artists like YUNGBLUD, Skepta, and Sam Fender work alongside Sam Tozer to bring their vision to life.
Tozer, who is a multi-disciplinary art director, specialises in live stage productions for artists who want to deliver a spectacle of a show that marries their music with what's happening on the stage.
"Ever since I was very young, I've always played around with theatre lights at secondary school or high school," explains Tozer. "I basically didn't do very well at school to be honest, academics are not for me." At 18, Tozer decided to attend the Royal School of Speech and Drama to study lighting design and eventually got a Bachelors of Arts degree in theatrical lighting.
Looking back, it was a period of time that he needed to explore exactly what he wanted to do. "An 18 year old who's just moved to London, sitting in an arts university, trying to understand what it is that I wanted to do, was quite difficult. I decided theatre was definitely too pretentious for me and ended up falling into this path of lighting rock and roll shows, DJ sets and other musicians. It eventually morphed into the position that I have now where it's a mix of creative design and stage production. It was only until later that the art and the understanding of development came in and I realised everything we did learn when I was 18 stuck in its own way."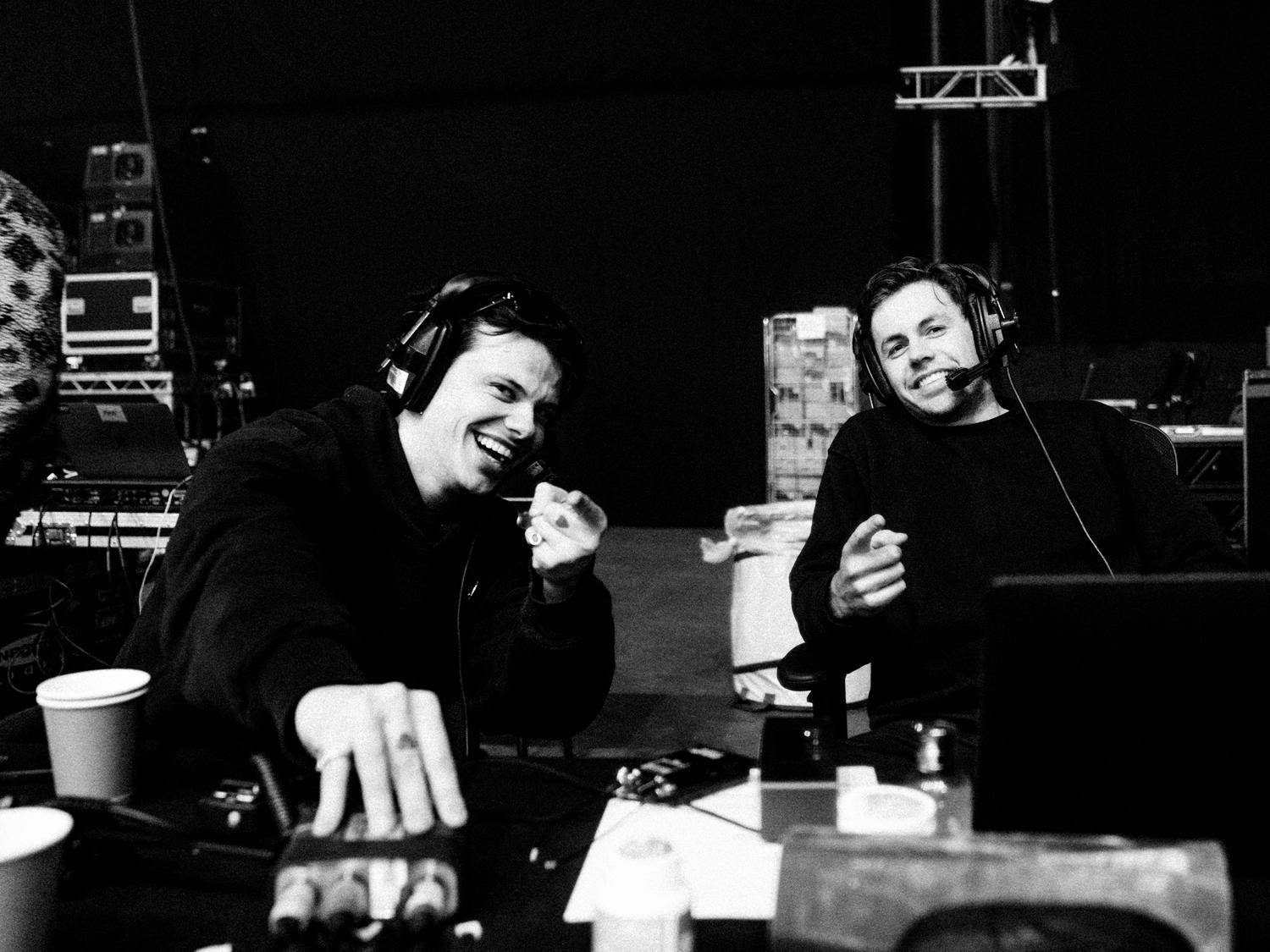 In early 2015, Tozer began Vision Factory, a creative design agency that has crafted live production for acts like Muse, Swedish House Mafia, Little Mix, and countless others. As the creative director, Tozer helps bring together musicians' overall design aesthetics for their shows and experiences. The agency prides themselves on their ability to "transcending aesthetics," something Tozer feels succinctly summarises their work.

"I think a lot of great creative directors speak to the fact that their work is across a lot of different disciplines," he explains. "They touch on album covers to posters to music videos. Vision Factory sits in this very small niche market where we just create shows, live performances, and sometimes TV performances or music videos. Transcending aesthetics represents the continuous revolution or change of an idea."

A project Tozer has been able to see grow and develop over a few years is the agency's collaboration with Sam Fender who they first started working with in 2021. Typically for a new project, Tozer begins by sitting with an artist's story and picking out lyrics. "I started working with Sam a few years ago so I've done the research on his lyrics and I've heard them develop," Tozer states. "I have a great understanding of Sam's songs and I'm probably the only person who knows exactly what beats go where."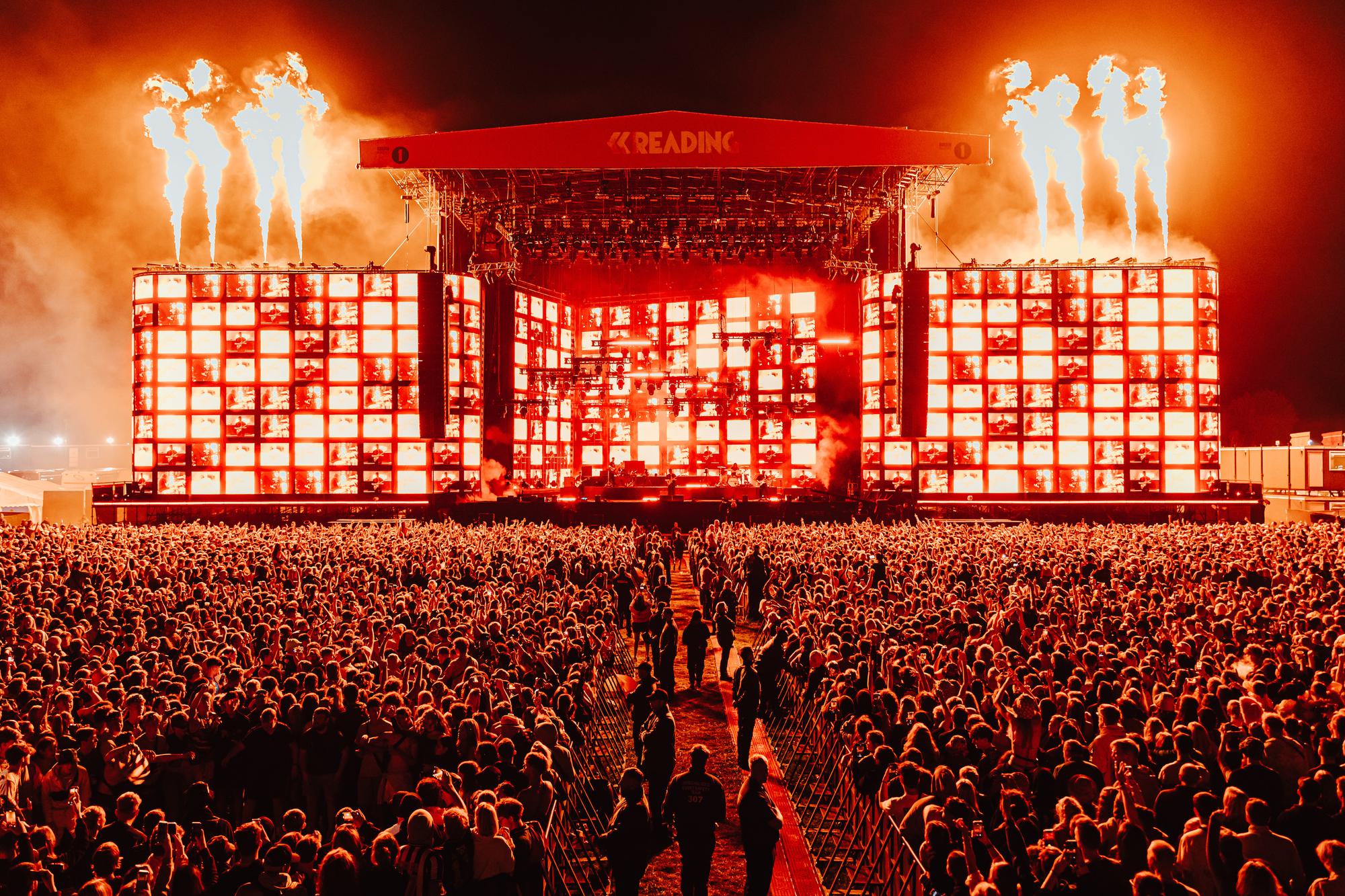 With a partnership that has spanned a number of years, Tozer has been able to chart Fender's own story and growth as an artist and interpret that through the live production and stage design. "We were born two months apart, he's from the North of England and I'm from the Southwest of England, so I think we've got a similar relationship with visuals and references that we both have grown up with. I think that's quite a key thing about the design process — working enough with a team that trust is built on both sides. He [Fender] cares more about the way the sound is and the way his guitar tones are than he cares about what is happening visually on stage, so he gives me an open book of freedom to do what I think is right."
As part of the creative collaboration, Tozer will get a general direction to lean into and sometimes even get specific artefacts to work with. In the case of Fender, a simple nod to his childhood — a Pokemon card — can give a new perspective or context to a song. "Overall, he just lets us create a show for him that he's happy with which is actually quite refreshing and fun because you don't have to always worry about what Sam's going to think or if he's gonna walk out on stage and be annoyed. He just trusts us."

At the end of the summer, Tozer was in charge of directing Fender's live set at Reading. It required shifting from their typical arena production of around 10,000 people to the size of a stadium. Reading, which boasts around 90,000 people frolicking in their fields, meant that scale was a huge factor in Tozer's approach. "We wanted to create something that was not really seen or associated with Sam so far," he says. "So we wanted to go down a more scenic route that had enough dynamic to make the show change and look very visually different from start to finish."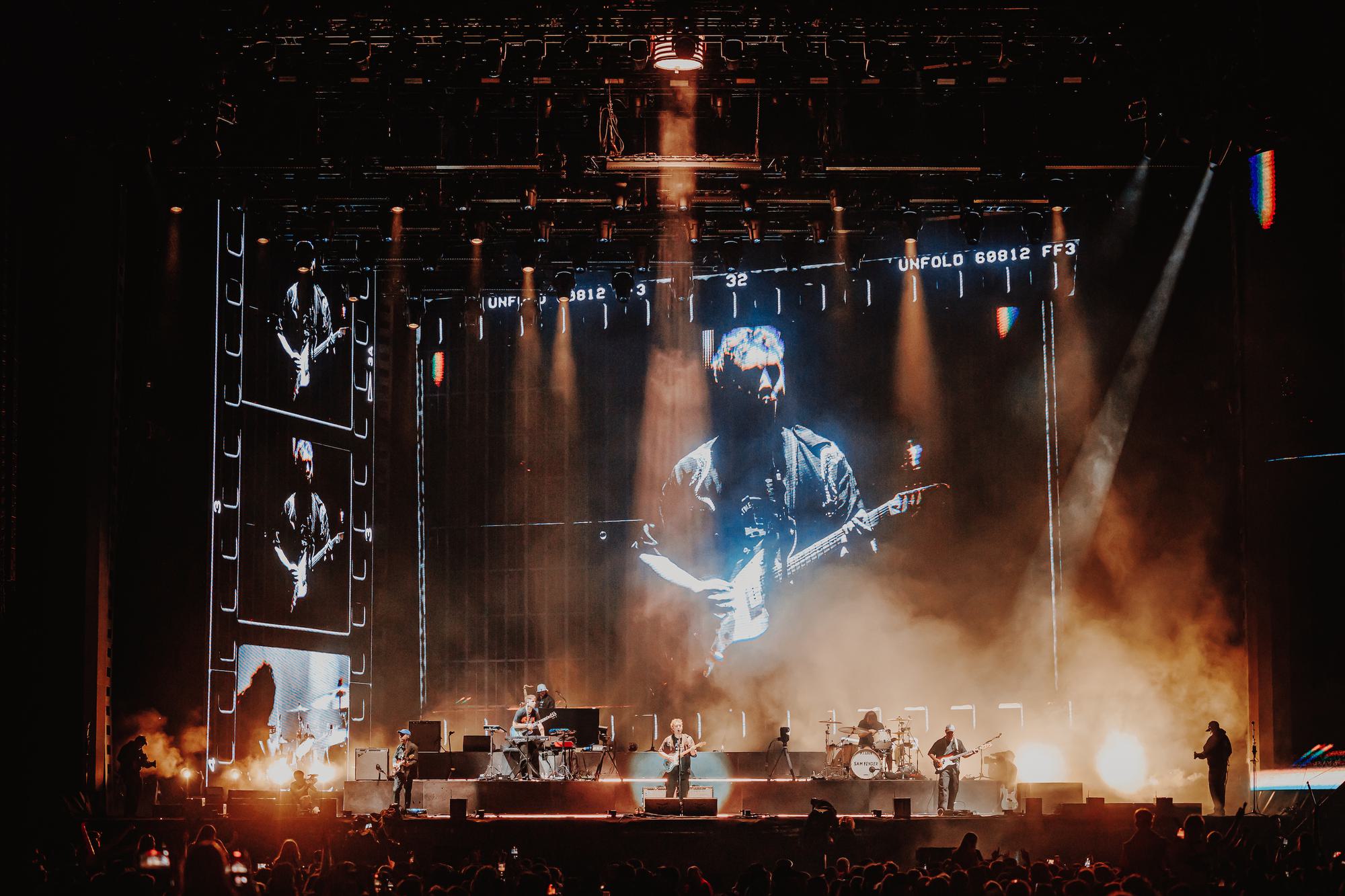 Where some live shows are visually stunning, Tozer notes that he can sometimes find zero connection between the lyrics and music to what's being seen on stage. The goal was to create a communal experience that would honour the connection between Fender and his fans while still weaving his personal experiences through the stage design. "Scale and dynamic were two of the key words we had on the whiteboard," Tozer explains when asked about how they began approaching the set. "With Sam's music, you can't stick with one visual element because his music produces such a wide range of sounds and lyrics."

Fender has a knack for juxtaposing his personal, heavy lyrics with music that is much more upbeat. Attempting to blend the two and honouring both through the stage design was a challenge for Tozer. "That is what I struggle with every single time Sam comes to me with a new show," he says. "'The Borders' is one of those tracks that is quite dark as it talks about his friend taking his own life, but it's actually a festival banger and people really love it because it's very upbeat. It's very much trying to toe the line where you know a song means a lot but people want to enjoy it. I think Sam would prefer people to enjoy his show rather than feel sad. For those types of songs we'd like to play and toy with camera feeds and input a visual on the band or a visual of him playing rather than coming up with some content that might offend or bring the wrong emotion to the show. Sam doesn't want some doesn't want people to come away from the gig upset — he wants people to come away like that was an amazing closing of a festival day. We try to make it relatable to the song lyrics but it's mostly about the tempo."

Whereas venues can feel intimate and personal, a gig at a festival where you're 1 in 100,000 can feel detached and disconnected. It's something Tozer and his team wanted to avoid, especially after Fender recently played to a crowd in Newcastle which doubled as a 'homecoming' of their hero.

"We took the show into a stadium in Newcastle and St. James' Park where we did two nights before going to Reading and Leeds," Tozer states. "That was probably the best test of finding out what's the best and worst things to do. Having 50,000 Geordies all in black and white football tops chanting songs before Sam even comes on stage is an immersive experience, so we tried to bring some of that energy from those gigs into the festivals. We just used a number of special effects, like pyro flames, as far into the crowd as we possibly can. I try to have as many live camera feeds and effects on the band as much as I possibly can so there is no part in the show that you miss. Then I think it's all up to Sam. He does something to the crowd that steps them up to feel like they're involved in the show."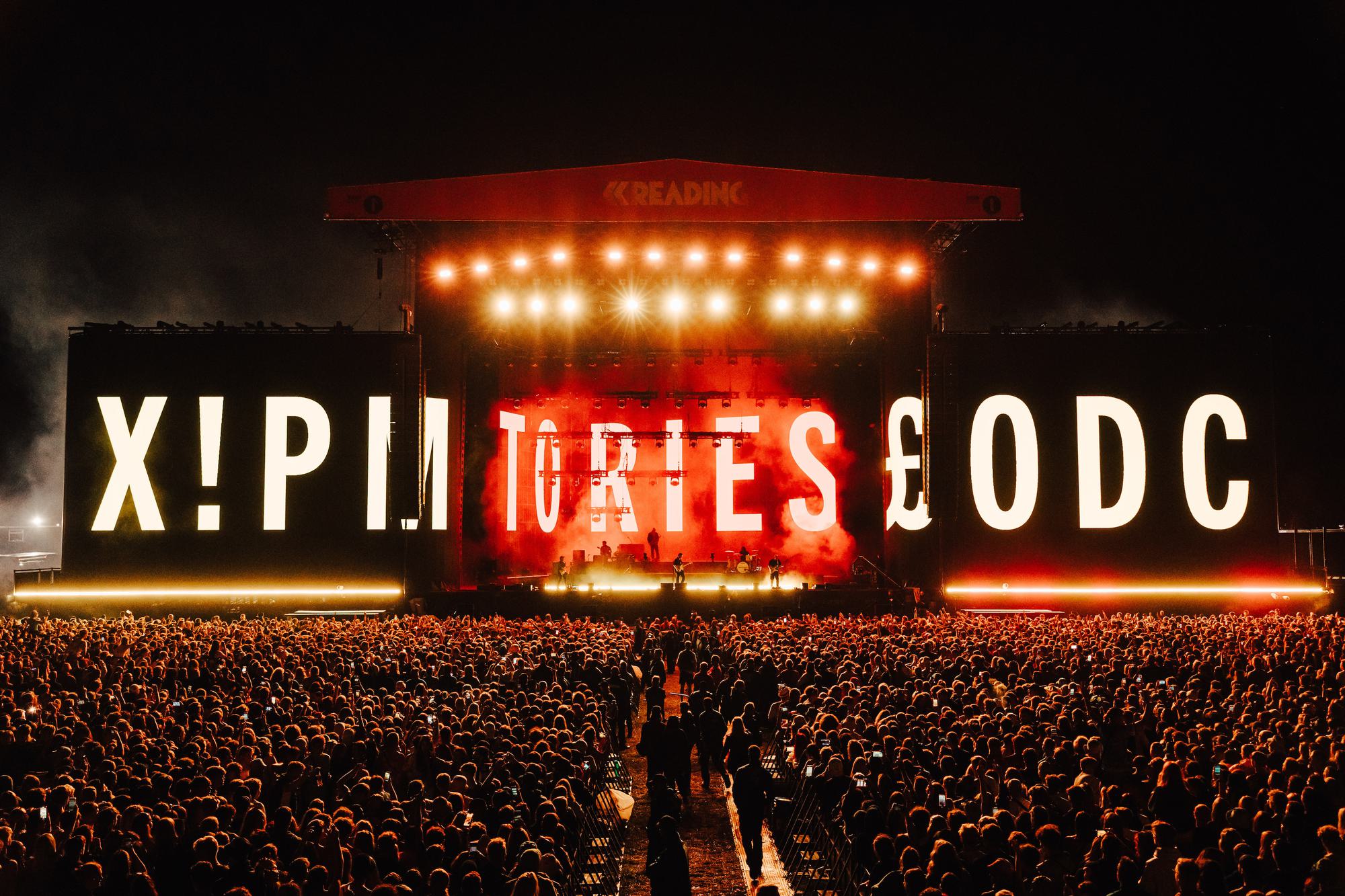 Now that the summer festival runs have ended, Tozer is looking ahead to his next goals — both personally and professionally. To start, he wants to spend less time on his phone and delegate more to other people. "Sometimes it feels like I spend 99% of the time answering emails and about 1% actually designing, so I'd like to start delegating more so I can try to pick up more projects that are really unique. I want to try some crazy new ideas and I don't have anybody to try those ideas out yet."

As his company grows, so do his own dreams of what to incorporate into his next project — he's just looking for the right artist to make those dreams a reality. "I want Vision Factory to continue picking projects we are really excited about," he says. "We have to be quite picky, but being excited about something allows me to have a drive to really push at the ideas that we try to create. If a project comes through and you don't feel excited about it, then I think you shouldn't do it. Your work definitely shows when you're passionate about something, and I want to keep feeling excited and passionate about what I do."