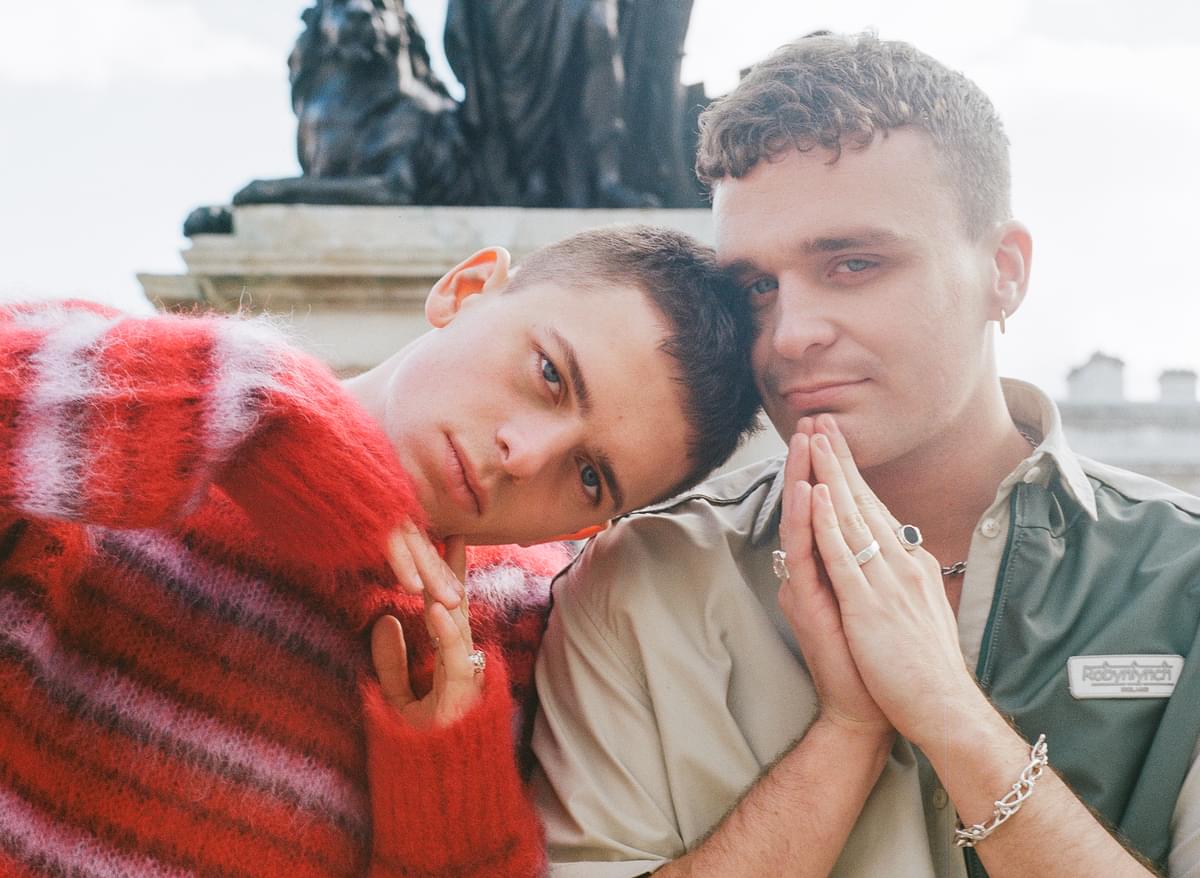 On the Rise

Sad Night Dynamite
09 November 2021, 09:30
Sad Night Dynamite's collaborative sonic dystopia operates in the odd spaces between hip hop, dub and the infinite reaches of imagination.
Walk through genre's uncanny valley, and you'll find Sad Night Dynamite are the last stop on the left. Step into their warped world of contorted hip-hop and see samples - from gun-slinging guitars fit for a Western to stranger-than-fiction synths, all preserved like curiosities in formaldehyde jars. It's familiar yet unsettling; both known and unknown at once.
The architects of this musical netherworld are Archie Blagden and Josh Greacen, and together, their sound is a kind of folie à deux. Having emerged as the world was falling apart with their debut EP SND001 and forerunning track "Icy Violence" for their axis-tipping, self-titled mixtape, the Somerset-based duo established their humour as a grin stretched a little too wide; their sound as a reminder of the feeling of walking up the stairs to your bedroom in the dark, and thinking there's one more step than there is. As your foot falls down through the air, Sad Night Dynamite embody that moment of sickly, dark surprise.
The pair join me one cold afternoon on London's South Bank, bleary-eyed after filming a music video for their latest track "Demon", featuring cartoonish South African artist Moonchild Sanelly, until the early hours of the morning. "I was just looking at you," Blagden says to his bandmate, "and I thought, "'Fucking hell, he looks knackered!'" It was filmed in the docklands of East London's Silvertown, which sounds like the kind of place that doesn't exist, against the bare bricks and corrugated iron of a place you shouldn't be.
Their presence is just as incongruous as their music. Greacen, the duo's impish agent of chaos who is responsible for many their melodic hooks, is wearing a vibrant mohair sweater with trousers re-fashioned from those worn in the trenches which, apparently, still resist wading through water very effectively. Blagden, however, is far more softly spoken, with a hypnotic, hip-hop indebted flow which adds the stealth to Sad Night Dynamite's sound. He wears a jacket stitched from repurposed sports bags. He smirks, "We're not really that interesting – but that's off the record, though" – but when you create nightmares that make David Lynch's stomach curdle, I have a hard time believing that.
Let's begin with the pervading stench of death that followed them around as they recorded their Western-inspired single "Psychedelic Views". The video, set in a dubious-looking motel, is a mesmeric, matrix-glitch experience. Filmed from a first-person POV, it's full of moments like walking through a door and finding yourself in the same room, stumbling upon a goat in the corridor, and being betrayed by your own reflection. ("The goat was the most expensive part. He didn't talk to anyone else – he just stayed in his trailer, shat on the floor. Very method acting, how Meryl Streep of you, Gizmo," jokes Blagden.)
"Now let me tell you, let me tell you…" Greacen says excitedly, as he begins the story of the song's conception. It all started as they were driving down the M1 while Boris Johnson announced the country was going into lockdown for the first time ("You know, in his fucking stupid way…"). The pair were en route to record at an unassuming pub in a redacted location. "We were only supposed to stay a week, but it turned into three months. We actually started living out the weird shit that we talk about in our music."
Enter: the suspicious villagers. "The villagers fucking hated us," Greacen laughs. "We suddenly turned up with these very London-looking people with mullets. The pub was perfectly situated in a place where the whole village could look at us, peering in, wondering what was doing on. Then, there started to be a smell. At first, I assumed it was just Archie," he smirks.
Their first thought was that the smell must have been a rat. "For some reason," says Blagden, "that was way better than a leftover fridge filled with rotting fish, lamb – all your meats, basically – in the boiling hot sun. It started as a smell and then it was, like, a feeling… I can't even explain how disgusting it was." Greacen chimes in, "It would seep into your pores, and it was on your breath. We'd call it rat breath." He turns to Blagden. "I think you got a little bit high off it."
"I'd start pacing back and forth…", he says. "Glazed eyes…" adds Greacen, like a double-act narrating a dark, comedic nightmare. "It was kinda like how you'd react if you went to South America and licked a toad," he shrugs. "And off he went, dreamed of psychedelic views, as the song goes."
It goes without saying that the duo has very bizarre dreams. "Most of them you can't talk about," says Blagden to his bandmate. "I can't," he shakes his head. "But there's a couple you probably could," Blagden shrugs. "I've kept a log of your dreams." He begins with his strangest: a giant roast chicken. "I do love chicken," he says, "but when it's that big and there's all that meat and flesh…" He shudders. It's a dream not so far removed from the rotting meat in their recording studio. Greacen laughs, "That's not that weird, mate. Right then, let me one-up him. I used to sleepwalk a bit. My dad used to have to pin me down because I wouldn't stop throwing tennis balls at the phones and setting them all off. But I had this weird dream, recently – it's all very cinematic, it was so well-composed it was like someone was directing it," he explains. It was set in a factory, and his mind's eye panned down into the factory through the chimney. "I was there, just tossing fucking bodies into a furnace. Who was directing that, though? I guess it was me."
Whether it be the visuals for "Mountain Jack", a twisted fever dream of teeth, or "Spending Money", the tripped-out beat clocking in at three hours long, stuck on the same loop of an animated guy sat in his boxers on a motel bed, crying into the same piece of cake as wads of cash sit on the table, Sad Night Dynamite delight in the overlap between illusion and reality, the blurred lines between time and space.
"We want to put our music into that nightmarish dream world where you have beauty and violence and humour," explains Blagden. "It feels like an interesting place to start, in a world which you can't really recognise and putting the humanity back into it." He points to their debut single "Icy Violence", which begins in a nonsensical world of images and metaphors that lead to nowhere, but ends in a note of sobering reality: "Crack a smile, it's over now / Harbouring those thoughts, you'll drown". "If you don't add that bit of the real world at the end, it's just a fairy tale," says Greacen. "I think humans experience those differences. I love evoking that thing within myself when I listen to our own music. That's what makes my stomach churn."
The white limo, the object of their debut mixtape's artwork and a reoccurring symbol in all of their visuals, speaks to the illusion of decadence stitched into a strange context which underpins Sad Night Dynamite's sense of humour. At first, the pair had no designs on what it would become – they just enjoyed the aesthetic of it, and started to build it out into their identity. "From the outside, you can think, 'Whoever's in there are cunts', but when you're on the inside, you quite like it – it's kind of how we see ourselves," jokes Greacen. "We're constantly thinking of what we're going to do. There's a storyline we want to go with, but we don't want to force it down people's throats. We know where we're trying to get to, and we're thinking a lot about it." It can seem that fans are trained to overthink things, finding red herrings and decoys where there, in fact, isn't anything at all. "That's perfect," he says. "That's what we want. We want to leave a bit of intrigue."
Sad Night Dynamite's trajectory has naturally been just as chaotic as their influences, set against the dystopian backdrop of a global pandemic. Their career, thus far, has been blighted by disruption; their music is their anchor when the rest of the world had been swallowed up. "We're kind of used to it," Greacen shrugs. "We are yet to release a song in a normal way. There still hasn't been a way to really quantify the impact of the first mixtape. Even though we played All Points East and that was the first moment everyone was specifically there for us in a festival setting, there still feels like a gap between us and the people that follow us. It'd be nice to know our fans better than we think we do."
Bringing this strangeness into the third dimension has been a curiosity in itself. "Well, that's the thing, right?" says Blagden. "That's something we're still kind of working on, because for our first show, we had a lot of Josh's friends there, and they came up to us afterwards saying how proud they were. And that's really sweet and lovely, but you don't really want that. You want someone to go, 'What the fuck have I just seen?'" I wonder how they've pulled it off. "We were interested to know!" answers Greacen. "I was wondering if we could even fucking perform. But luckily, it feels easy." Even putting faces to the streams was a disorientating experience for the pair. They agree with me when I say that I imagine they'd look like randomly generated Sims.
Blagden and Greacen have lived together for five years, but their friendship traces back to their schooldays, bonding over their first respective musical failures: Blagden was creating bass house at no less than 130bpm ("which, actually, I still don't mind"), while Greacen basked in the festive glow of turning out a Christmas song each year ("The first one was so well-received. It was the fucking awful second track that ruined it. I had the third ready to go but I didn't feel the world was hungry for it.") Greacen emphasises, "I just want you to understand that literally before Sad Night, everything I ever did was shit. It's so important that you understand that. The last thing I want people to think is that we're some kind of industry plant." Blagden interjects, "People won't think we're industry plants, just fucking look at us."
Sad Night Dynamite, more than anything, is founded on sharing a romance with the same music and all its idiosyncrasies. They idolised Anderson Paak and Kendrick Lamar, but quickly found that their context, as middle-class, white young men from Somerset, meant that their execution had to be reconsidered. "That was a huge problem for years for us," acknowledges Greacen. "We didn't want to lie about our fucking upbringings. It's cringey and it's bollocks. When we stripped ourselves from that, we decided we were actually going to try and be ourselves and have a laugh – and not take ourselves to seriously, which Kendrick Lamar can do because he's writing about real shit. When we do it, it's like, 'Oh god… what do you know?'"
Self-awareness is one of the best weapons in their arsenal. "Even in this interview, with some of the questions, I thought to myself, 'Hm, you're taking yourself quite seriously. It's like, remember!" Greacen says. "It feels like we shouldn't be writing the kind of music we write for a number of reasons. I would say it's right on the line of being culturally appropriating. We can't relate to their stories, but we've grown up with their music. We've got be careful with that, because we aren't hip-hop. I wouldn't want to claim what we were. How can we be respectful of all the cultures that we're drawing from? I think it's justified because it's all we know. It's not like we're looking to tap into it – it's our language as well."
As dream-like as Sad Night Dynamite's signature is, the truth is, their approach is underpinned by a need for unfiltered reality. "Human impulse and reaction is often fucking grim and ugly," says Blagden. "What a lot of music does is, 'I should have done that', when actually, in the moment, you didn't do it – you did this, you did that, instead." Their artistic MO is about removing that filter. "What are you getting with us?" Greacen adds. "You're getting our thoughts without us overthinking them. I guess we sort of have weird brains, a lot of the time, like I'm telling you about my dreams – and Archie's weird in his own way, fucking bizarre…" he jokes. "We draw a lot from surrealism. So yeah, you're getting us, but you're not getting the boring versions of us, which we have as well. You're not getting everything. That would be fucking weirder. I guess what I mean by 'realness' is thinking about impulse. Putting, for example, the sex scene in 'Psychedelic Views', even though I didn't really like it the first time I saw it. But that's the point."
It can seem, for the most part, that Greacen and Blagden operate through Sad Night Dynamite while keeping themselves at some remove. Their method for songwriting is simple: going in the booth and seeing what comes out. "I think we have a pretty good barometer about what is too self-indulgent," says Blagden. "I don't wanna hear Josh's fucking life story, particularly." Greacen chimes in, "Yeah, it comes back to the point that we don't really have anything else worth talking about. Like, we haven't grown up in fucking LA, we haven't lived in the Bronx, or wherever. So why are we going to tell about our little teenage troubles? Which are important," he stresses, "if you're like, Machine Gun Kelly, or something. But that's the complete opposite of what we want to do."
Yet even still, despite their lives growing more and more tangled, picking up velocity, Sad Night Dynamite find their peace in the studio. "The studio is the simplest place for us," says Greacen. "It's easy. I think we're coming to find now that making the music is what makes it all worthwhile. It's hard to keep all the other bullshit out of the door, but that's the best place for us. We're best friends, but we behave differently in the studio. We have a laugh and stuff, but it's like a different language to what you're speaking when you're outside."
Satisfaction isn't something they can yet claim to feel, but the hunger for more never leaves them. "I think you'll know when we're satisfied because the music will be shit and we'll be on a boat somewhere," Greacen laughs. "We're like a quarter of the way through the film." Blagden says incredulously, "A quarter? That's quite far through! We've not made any money yet! We can always make a second film…" But Greacen insists, "I still feel like we're in the same film, still watching the same film. There's a lot more we want to say."
"Demon" by Moonchild Sanelly & Sad Night Dynamite is out now
Get the Best Fit take on the week in music direct to your inbox every Friday