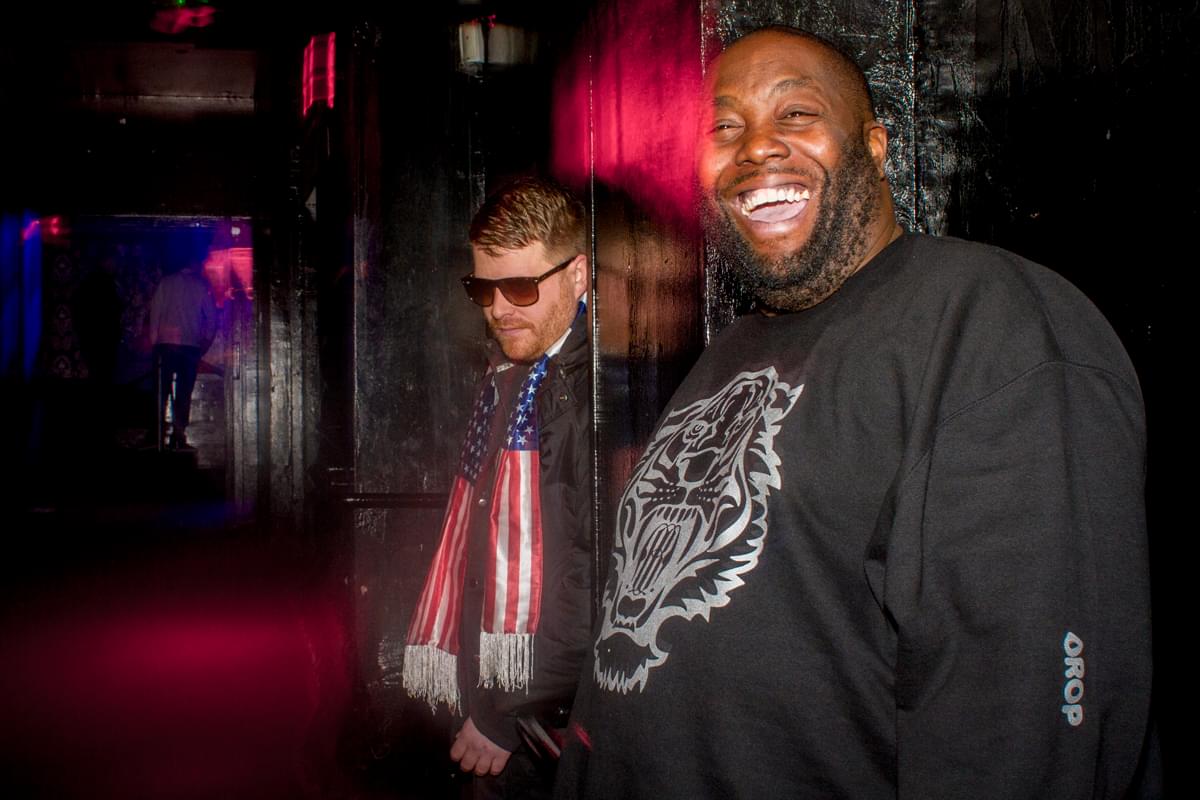 "We're in this industry to do what the f*** we do", say Run The Jewels
29 April 2015, 10:00
"It was never about money, or cars, or any of that shit. I've wanted to be a rapper since I was nine."
Killer Mike - one of the most eloquent men in hip hop - is in full flow. "I didn't even know that you got paid to be a rapper. I just wanted a chance to make dope music, because my idea was that if you made dope music, you got a chance to go on tour, and then you bought fresh sneakers. That's all it was."
Sitting beside him, El-P bursts out laughing. "You basically just described my career!"
Run the Jewels are backstage in Manchester, in the thick of a European tour that'll take them right through to the holidays. The dressing room, on the top floor of the university's student union, does little to suggest that its inhabitants for the evening are responsible for the year's finest hip hop record; a bottle of bourbon for Mike, which he shares liberally, and Grey Goose for El are the only signifiers. Run the Jewels 2 is barely six weeks old when I speak to them but the perfect storm of critical acclaim and wider media attention that's ensued has barely given the pair time to draw breath.
The record's met with unanimously positive reviews. The duo have played Letterman and Conan appearance alongside a support slot to Jack White at Madison Square Garden. The uncannily sharp critique of post-Ferguson society that the album offered proved doubly pertinent given the timing of its release, and Mike, accordingly, appeared on CNN to discuss the grand jury's decision in Missouri. None of this was in the script, not for two thirty-nine year-olds who've enjoyed little in the way of mainstream exposure to date.
But here they are, and here's Mike, within seconds of us sitting down, pouring out whiskey and regaling me with the tale of yesterday's epic journey through a freak storm to Glasgow from London. "It was a Greek goddamn odyssey! Jason's Iliad or some shit! We were going for that motherfucker; ten hours on the road, and we pulled up at the venue and ran straight on stage."
El, in his customary black denim and shades, joins us. "Did you say Jason's Iliad? I don't think I've read that one."
"Jason's, Homer's, whoever the fuck's it was, I don't know, but that was some real mystical shit!"
This is entirely typical of their back-and-forth over the next hour or so; they dovetail so perfectly in purely musical terms that it's easy to forget that the most basic connection between the two is that they're both intellectuals. There's clearly a special alchemy that occurs when they work together, but this entire project has happened at such dizzying pace that it's hard to pinpoint exactly what it is that makes them such a neat fit for each other - even for the pair themselves. They've tapped into something, though, and the result has been a slew of end-of-year accolades for RTJ2, the significance of which hasn't been lost on either of them.
"We're in this industry to do what the fuck we do," says El. "If you're not on those lists, then it's a bummer, because it just means that you're not getting exposure for the record. I'm just gonna say it, it's that real. To have it happen is great. Would it stop us if we didn't get it? Would we be despondent? Would it affect the way we think about the work? Fuck no, but we're happy to be where we are right now. We haven't come out of the gate with a big budget. All we have is that people like the record - that's all that's ever driven either of our careers, the music and the vibe that people get from it. The truth is, if we didn't care about what people think, we wouldn't be doing this as a career. I'm sure there's musicians who'll say, "aww, fuck that shit, none of that matters," and on a raw philosophical level, they're right - none of it does fucking matter - but, you know, having had it both ways in the past, having had good press and having been shit on, this feels pretty good."
For Mike, meanwhile, the fact that the praise has transcended the hip hop community and thrust the duo into the alternative mainstream - capitalising on the inroads that both his R.A.P. Music and El's Cancer 4 Cure made in 2012 - is particularly exciting. "It feels like we've crossed over, and I'm appreciative of that. I like where rap music stands amongst the other musical giants. It doesn't have to apologise for being rap; it doesn't have to put on any acts or airs, and if we're the curators of that, then it makes me proud - that's what I've always wanted to do."
"A lot of people have always seen rap music as something different to other American music; I never have. It's an extension of dope American music. Look at what Run-DMC did with rock; I looked at them with the same awe my dad looked at Aerosmith with. Straight the fuck up, when I met DMC, I was speechless; I didn't know what the fuck to say, just like my old man was when he met Steven Tyler. We make music with the same approach and seriousness as a bunch of kids going into a garage and forming a band that later becomes Nirvana, you know? I want to break the same ceiling as Outkast broke, and it feels like, with the attention this record's been getting, we might be a little closer to that."
For El and Mike to each be approaching two decades in the business before finally finding their ideal creative partnership seems unlikely enough in itself, but for it to actually leave them on the brink of a very real mainstream breakthrough would've seemed positively outlandish even a couple of years ago, when the plaudits were flooding in for their last solo records. "I'd always been very clear that what I'd wanted to do, if I could, was just put in really good work for as long as I could," explains El, "with the romantic notion that it could pay off in a successful career. I always thought that you could create success around something genuine, without compromising. There was a review that talked about everything that's happened this past year or so being bittersweet for us, but I just never allowed myself to be bitter. There were times when I felt confused or questioned the path I was on - you don't want to be on a hamster wheel - but I never let myself be that guy who feels like he was owed something, who let his ego get the better of him. So, for something like this to happen now, at thirty-nine, I feel like I just re-upped another ten years. I'm like Pac-Man when he gets the power pill, you know? And shit, it's cool!"
Unlike Mike, too, El has first-hand experience of staring this kind of potential in the face before; in the early nineties, as one-third of Company Flow, he saw greatness beckon, then slip from his grasp. "Well, we made it to a second fucking record this time around, so there's that!" he laughs. "It's true that Company Flow was primed to blow the fuck up; we sold 200,000 records independently, which was a big deal, and we were on the verge of something bigger; I think if those kids had known what they really were, and hadn't cracked under the strain of all that shit, of not being able to handle the group dynamic, we probably would've gone on to blow up. So, you know, I've lived through that. I've seen it, I've stood on that precipice and seen it drift away, but it never fucked with me. I was always on for the next shit. When you look at it just as music, and put the career aspect out of your mind, all you can do is grin and be happy that you're doing this shit every day."
Over the course of the conversation, they both reiterate the fact that touring is opening their eyes to the success they've achieved; as Mike puts it, recording is the hard work, and hitting the road is the payoff. "Figuring out the songs, mixing, mastering, El producing, all that shit; that's the tumultuous part. We enjoy it, but that's when you've gotta get the product done. When you get out here, that's when we reap what we sowed in the studio; what we're gonna do out there tonight? That's the best shit in the fucking world, man."
As he sees it, though, it's not just the interaction with the fans onstage that brings home to El the impact of Run the Jewels. "What's been amazing, and really touching, has been seeing the people who have been following myself and Mike our entire careers, and seeing them genuinely happy for us that more people are starting to pay attention. There'll be a lot of people out there tonight who won't have much idea of what we've done before Run the Jewels, and that's cool, but speaking to somebody who's like, "yo, I was there for Company Flow, and I'm so legitimately happy that you guys are fucking getting yours"; that's rare, man, and it's moving, because you know those guys realised we were genuine, and trusted us. They trusted us to take another step up and not lose our goddamn minds."
It's certainly massively refreshing, as a fan, to see two guys on the cusp of their forties so utterly in love with life on the road; it's become commonplace to hear little other than complaining from bands about a lifestyle that's challenging, but hugely rewarding at the same time, and when I mention the sacrifices involved to El, he sounds almost dumbfounded. "Sacrifices, yeah, but..." He pauses for about five seconds, which by his own standards is an unnervingly long time. "This is all we've ever wanted to do. We're the kids that wanted to do this. It's a joy, it's a pleasure."
"Obviously, I get that," offers Mike. "I'm a husband, and a father, and I've got real responsibilities. The only tinge I get is, like, "alright, you're still somebody's dad - don't forget it." You gotta make sure you hit Skype when you get back to the hotel room, and you can't go out drinking and partying like you used to. My kids came out to a show last year, and I brought them out on stage and man, we all ended up crying. My wife and children give up a lot to give me to the world, and I honour and respect that. This group has enabled me to be a better father, because I can prioritise my life better. When I'm out here, I'm here to capture the prize, but when I'm back home, I switch that off, and I'm nothing but a father again. I'll Skype my wife and text my kids tonight, and when I'm home I can totally dedicate myself to my family again, because I know I can come back out here and live this fantasy again like a twelve-year-old kid."
Plus, he knows first hand how the insincerity of the artist can affect the mindset of the fans. "I'd be an asshole to sit here and complain. Like, I'm an Outkast fan, and when Andre said that he basically felt like a sellout on stage at those reunion shows, it hurt my feelings a little bit. When I get home, I'm gonna call him and say, "you know what? That hurt my feelings as a fan, but I'm glad you did it - I'm fucking glad, because my kids got a chance to see the legend I always told them about. I'm so fucking happy about that, but I've gotta tell him that I hope he never says that again, because as fans, we love you. So I understand that our fans love us, and I'd be an asshole not to reciprocate that with appreciation. That does not mean I wanna stand in the fucking mall and talk to you about your demo, though!"
Run the Jewels 2 is scored through with that kind of humour, equal parts wit and vulgarity, but there's a much darker side to the record, too - as evidenced by the intensity of the post-Ferguson reaction to the album. On the night after the grand jury decided against indicting Michael Brown's killer, Killer Mike delivered a devastating speech on the issue on stage in St. Louis. The record itself is never so specific as to deal with Ferguson directly, but there's clear nods to the case; mistrust of authoritarian figures, the calling out of institutional hypocrisy and a simmering sense of anger and confusion are all present and correct on the album, and none of it is in any way denigrated by the flippancy with which El and Mike dismiss their targets as 'fuckboys'; in fact, that level of ridicule only serves to make their point more sharply. All that taken into account, though, there still seems to be a level of serendipity about the timing of the release in relation to the political events that came to frame it.
"Exactly, man," says El. "That's the word, to a degree, but also, the reality of it is that this is stuff is always a part of what me and Mike are about; it's always in there. Sometimes, the circumstances line up, and right now, the way I see it, this just feels like yet another part of this crazy energy we've managed to catch. This whole record, like you say, has been like a weird series of serendipitous alignments of ideas, and I would just say, "right place, right time", except that this isn't some kind of freak occurrence. Mike and I - this is part of who we are as writers. It's just that our record was probably the only record at the time that legitimately was saying something about that shit that wasn't in reaction to that specifically, but to the million other fucking injustices that preceded it."
"But it's been incredible, because we've had the amazing reality of Mike being able to be there in the public eye - this guy who I know is so impassioned, and articulate, and who would've been able to talk just as eloquently about this shit ten years ago. Thank god he's here, man; before, it was like a fantasy. Like, if only I could get Mike up in front of these motherfuckers! It's a reality, now, but it still feels totally surreal the way things have lined up. I suppose that, because we were always saying this stuff, we were always going to be ready for when something happened in the world that we could shine some light on."
Mike chips in. "It's like Suga Free says: if you stay ready, you ain't gotta get ready!"
"Suga Free is just a fucking fountain of knowledge, man. He's incredible."
"Really, though, I think people just know we're honest," says Mike. "It's easy to hide from the truth; you just go to the mall and buy shit. With us, you're always going to get an honest answer, because frankly, hiding away from it is too tiring."
To further illustrate his point, El talks about how his paranoia-laden debut, Fantastic Damage, was widely interpreted as being reactive to 9/11, despite having been recorded beforehand. He's interrupted, though, by their tour manager, with a reminder that smoking is banned inside the venue; breaking the rule might lead to payment being withheld.
Mike: "Tell them to pay us first, then. Then we'll fucking smoke."
El: "[holding his lighter a couple of inches from the unlit cigarette in his mouth] Let's play chicken! Tell them I'll light it! Where's my fucking money? I will light it!"
It'd be disingenuous to say that they won't make money off of Run the Jewels 2 itself; it's on iTunes and out physically and Mike predicts that they could "see a million" from the project in general. It's been available as a free download since day one, though, and it's also worth pointing out that no advance copies were made available to the press. "The truth with that is that I ran a record label for ten years," elucidates El, "and this is not a universal condemnation, because obviously not everybody is doing it, but every time we sent an album out to the press - three months ahead of time, or whatever - that's when it would leak. If it was an anticipated record, it was just the fact of the matter. It's like your kids waking up before you and Christmas Day and opening all their presents without you; it's still the same gift, but you just wanted the pleasure of seeing the expression on their faces. By giving it to everybody at the same time, we were creating a moment, I think - bringing everybody together."
"It was a total experience, that's what was so cool," adds Mike. "I was quiet about this at the time, but I had my own reason for supporting that decision; it gave the audience the chance to decide what they thought about it on their own terms. I know I make decisions about records that are swayed by the article I read in Rolling Stone, or whatever, and that's fine, but I was happy we were able to take the prejudice out of it. People could have conversations amongst themselves about the songs, rather than go straight to the internet to see what the critics were saying."
"And, you know, love to the critics for being so supportive of us, but another good reason for making that decision was avoiding any controversy in advance, especially with 'Love Again'. I saw Luke and the 2 Live Crew fight for the first amendment rights of rappers - to be able to make any kind of art that they wanted, whether it was considered as pristine as the Sistine Chapel or as vulgar as Lenny Bruce. Between the pristine and the obscene, there's this whole world of opinion, and I valued the intelligence of the audience to get the joke with that song. The hook is grotesquely perverse, but it's essentially a love song - at least, it is until Gangsta Boo shows up and makes us both look like schoolboys. But with the fans getting the record first, they could validate that track for us, without the critics feeling the need to be politically correct about it in advance and castigate us for it. People got to enjoy that little filthy moment on the album, the same way I came up enjoying some filthy moments, the same way your parents have some filthy records, and the same way humans have been doing since Romans drew cocks on the sides of buildings. Nobody had to immediately marry themselves to an opinion about it."
As we wrap up, I grab some quickfire status updates. The Meow the Jewels Kickstarter project? "In the works. It'll be later in 2015, probably." Run the Jewels 3? "We're definitely going to get in and do a couple of jams, early in 2015. We might do it in two week bursts, and we'll need about four months' worth of those to get it really working. It'll take a while, because we have a year of straight touring ahead."
In amongst that is their Reading and Leeds debut in August; they were amongst the first acts announced. "That was fucking hilarious!" laughs El. "The first announcement, Run the Jewels and Metallica!"
Mike's similarly effusive. "I wanna see that shit! Straight the fuck up, you know I'm gonna see Metallica!"
"That's classic, though. The guys who hate downloading, and the guys who gave their record away for free."
"They hate downloading," says Mike, "but I saw their documentary, and going by that, they fucking hate each other, too! I wanna see the Jaime Meline version of that shit - free downloads and we still love each other!"
And they do. It's blindingly obvious that these guys really, really enjoy each other's company, and perhaps that's why Mike feels so confident in making ambitious forecasts for the future of Run the Jewels. "We figure we're looking at a decade of music," he says excitedly. "I challenge people to look at it like it's Snoop and Dre, you know? Like it's Cube and The Bomb Squad, or Cube and P. We're making music together, whatever happens; even if you hear a new Killer Mike solo record, you're gonna hear El-P rap - you're always gonna hear our ideas mixed. I've waited a long time to say this; I've always loved music, and I've always loved moments in music, but I'm honestly in love with this crazy motherfucker. I'm in love with the records, I'm in love with the shows, I'm in love with the crew we run around with - I'm in love with this shit. I'm just gonna selfishly say it: we're having the time of our fucking lives, and I hope you show up."
Run the Jewels 2 is available now at runthejewels.net and via Mass Appeal. The duo play Field Day and Reading & Leeds this summer.
Get the Best Fit take on the week in music direct to your inbox every Friday