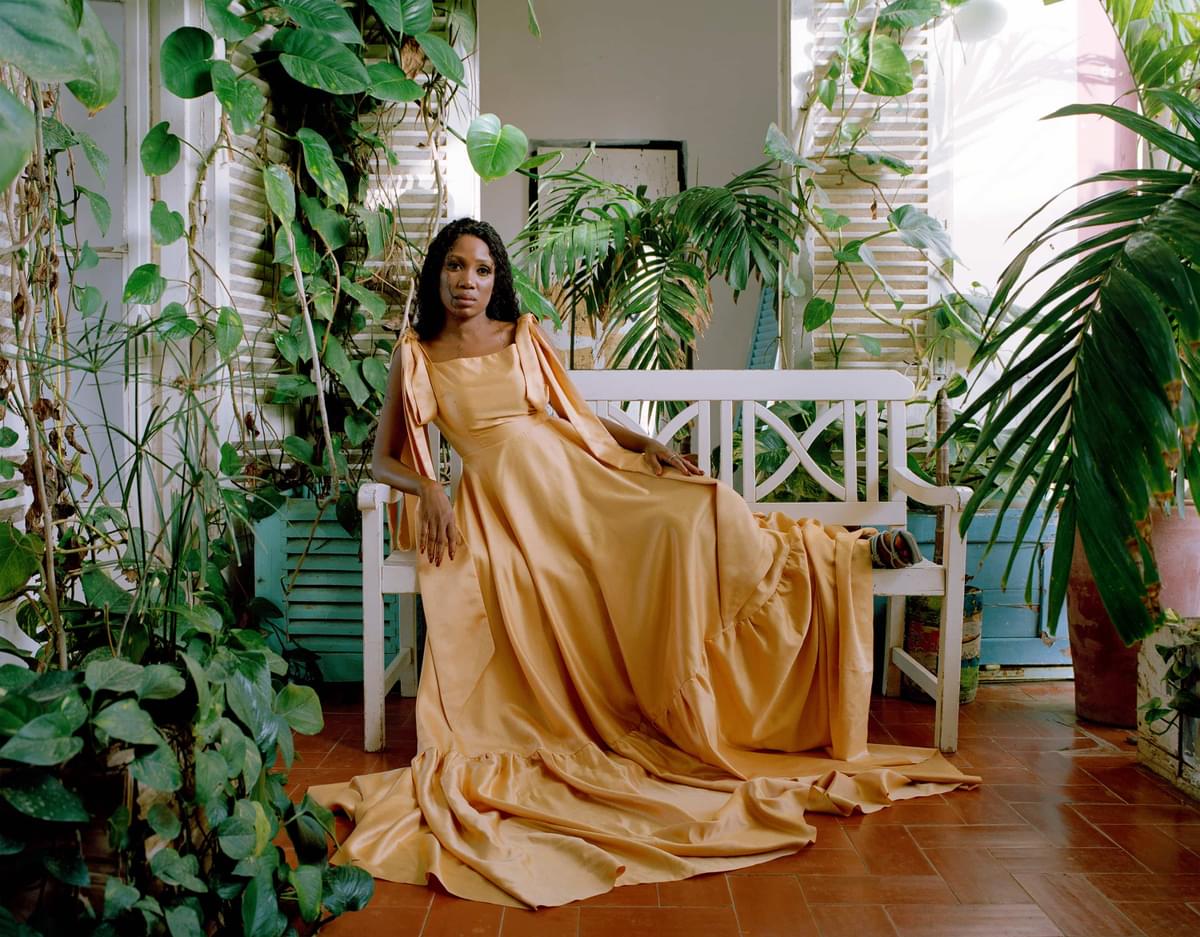 How Rokia Koné and Jacknife Lee achieved the impossible
21 March 2022, 08:00
There is the breadth of the Atlantic Ocean (and some of the Pacific, if we're being particular) between the West African country of Mali and the shores of California: a continent's worth of unfathomable divide. For the two to be on the same page – let alone the same book – would require Herculean effort when neither of them shares a language. And yet, somehow, they have done it.
He is the architect behind the defining pop and indie records of the 21st century, drawing up sonic blueprints for Taylor Swift's Red, a trilogy of Bloc Party's defining albums and the alchemy of Crystal Castles' debut – not to mention working extensively with U2, The Killers and Snow Patrol. The presence of the name 'Jacknife Lee' on a record evokes an instant assurance of quality, a calibre of stadium-sized greatness. Glance at his track record, and for all the world, you'd think there is nothing he has not done.
She is one of Mali's most beloved singers, lionised as 'The Rose of Bamako'. Her performances in the city's local marquis clubs are said to last hours, and due to demand, her shows happen with a regularity that borders on an eternal residency. The thrill of performance, the dizzying rush of the stage, is what draws her back every night, and her presence has brought her around the world, singing alongside pan-African feminist supergroup, Les Amazones d'Afrique.
Musically, culturally, linguistically, they are quite literally worlds apart, and yet together, without having said a word to each other - let alone being in the same room - they brought to life Koné's debut album, BAMANAN. This unlikely collaboration has weathered tumultuous circumstances: a Malian coup d'état borne from a decade's worth of political upheaval, a global pandemic, but also moments that seemed so fortuitous that it felt like it was written in the stars and in the lines of her palms. This record is a testimony to the magnetism of expression: the physical law that like attracts like, talent attracts talent – and talent always finds its audience.
There are 2,000 miles between Rokia Koné and I. There is also an interpreter between us, bridging the divide between language and the subtle shades of expression which can so easily be lost in translation. We're on a carefully coordinated call, hanging by a thread as the volatile Malian signal dips at whim. To reach a point of understanding, we are counting on a logistical miracle.
But when Koné's sings, there is no distance at all: miles melt to nothing. Over buoyant Bambara percussion – she hails from Segou, the capital of the ancient Bambara Empire – her voice stands sharply as the most powerful instrument of all, prone to bouts of joy and fragility as any other. Yet, among soaring melodies, there is her rasp: a reminder of a certain rawness, vulnerability and unwavering insistence, holding a universal meaning that transcends language.
In the visuals for her single "Kurunba", she is a vision in white, an apparition in a London nightclub, projected like a deity of the dancefloor. There is oneness to be found in the universal reaction to its rhythmic joy: a need to dance, to move together. But the sound belies a greater story that demands to be told.
At the core of BAMANAN is a homage to the Bambara people, and in particular, the tradition of hereditary griots, the praise singers who were foundational members of Malian society. "It is the role of the griot to perpetuate the tradition," she says. "To remind us of our origins, our culture." In that sense, Koné herself fulfils the griot's duty. Across the album's ten tracks, she delves into the legacy of the ancestors, particularly with the groove-led, psychedelic "Anw Tile (It's Our Time), which celebrates the golden era of the Bamana Empire in the 17th century. Her lyrics call on the characters and events of the Epic of Bamana Segu, one of the longest epics ever recorded in Africa, authored by the Bambara people in the 19th century.
So in depth is Koné's relation of her heritage that BAMANAN becomes more than an album: it's an imperative historical document of a story carefully-preserved, and almost entirely unheard of in Western culture. It's a product not only of its own time, but the Malian traditions passed from the mouths of mother to daughter which have unwittingly served its creation.
Much of Koné's lyricism, in the vein of tradition, draws on metaphor and symbolism. A kurunba is a large boat which Koné figuratively spins to represent 'the enemy'. Smuggling cultural taboos through infectious beats like a trojan horse, her song of the same name is really shedding light on the way that women, in some patriarchal societies, are treated by their husbands as if they have an expiration date. After raising his children, the wife's familial role is diminished, and she is cast aside while he finds a brighter, shinier plaything to assume the title of co-wife. If she protests, she could be branded as 'crazy', shunned and isolated from her community.
"'Kurunba' tells the story of a particular woman who was freed from her isolation," explains Koné. "On the day of her daughter's wedding she sang this song, and the same people who had tried to lock her up were transformed into dogs and flies. It's like a curse, and a cry for help against people's wickedness and intolerance towards other people." I'm told every time she tells these stories, a previously unheard detail is woven into the picture, building a richer tapestry.
At intervals, Koné disappears from the screen. The interpreter apologies about the noise: "We're right in the middle of the family living room here, and a little child had just run inside trying to get attention" - because she is a mother, too, and like all women, she contains multitudes. The person nursing her child on her knee is the same as the one wearing a resplendent silk dress, gliding through a beautiful house on the Senegal coast for her music video for "N'yanyan".
"I call on men to get involved in works that protect and make women happy." – Rokia Koné
Elevating the voices of women through the medium of her own has been the foundation of Koné's career. After being a backing singer for Alia Coulibaly, one of Mali's most beloved stars, she ascended to top billing as a solo artist in her own right. It was in 2016 that her performance mesmerised Valerie Malot, founder of renowned French booking agency 3D Family, who invited her to join Les Amazones d'Afrique. Through a blend of pan-African styles and shades of contemporary pop, the collective campaign for gender equality and the eradication of ancestral violence that women in their communities are forced to contend with.
"We cannot list all the problems women face," says Koné." "Lack of access to education for girls, conjugal violence suffered by women in households, rivalry amongst co-wives, and more besides. I call on men to get involved in works that protect and make women happy."
The creative sisterhood fostered in Les Amazones d'Afrique elevated Koné to the international audience she deserved, having collaborated on several songs for the band's 2017 debut album, Republique Amazone, performing alongside them on Later… with Jools Holland the following year. Her song "Mansa Soyari" also appears on their record in greater depth, which stands at odds with the traditional griot songs that detail the stories of male heroes of Mali's past. In this song, she chooses to invoke influential female singers who have been her progenitors, making them the heroines of the narrative.
Nevertheless, despite the joy working in a group brought her, Koné harboured a desire to release an album of her own for a long time. "It's not an easy feat in Mali to release an album," she explains. "You might have the talent and the musical inspiration, but releasing an album is hard work here. You're quite exposed to piracy and all kinds of difficulties when it comes to releasing it, so it doesn't really give you the willingness to work hard for it – it's too much hard work for what you gain at the end." But working alongside Malot and Les Amazones d'Afrique meant that an album of her own was at last within touching distance.
"Rokia's music is based in improvisation," says Malot. "It's very instinctive and passionate. She gives everything when she sings. But in order to do this, she has to make herself vulnerable, and that demands trust. Eventually, we found a great way of working together, and she wanted me to help her make a record of her own that could appeal to audiences beyond Mali."
The embryonic stage of what became BAMANAN was made possible through seized opportunities: a recording studio in Bamako had an unexpected vacancy; there was a free stop-over day in Paris while on tour with Les Amazones d'Afrique; a jam session during a band rehearsal in Mallorca – and, perhaps most crucially, a pandemic. It was in 2020, a year of sudden, enforced calm amidst the chaos, that Malot dusted off a hard drive titled, 'ROKIA'. A start was made, but they needed help to finish it.
Enter: Jacknife Lee, who, with a shock of electric blue hair and arms heavy with ink, is calling from an anonymous college town in the States on the way to his native Ireland. It was again the calculation of fate that meant that he would be a judge on a remix contest and found himself mesmerised by Les Amazones d'Afrique – in particular, by a Mande guitar part mixed into a rework of their song, "Love". The competition was sponsored by the group's label, Real World Records, who put Lee in contact with Malot, who told him that the guitarist's name was Salif, and that he played lead for a singer called Rokia Koné – and, actually, now you come to mention it, she's working on an album but they're struggling to finish it. She played him "Anw Tile", and Koné's voice left an indelible impact.
"For quite a number of years, I had been interested in music from places that I wasn't," he shares. "Not because I'm tired of the music that I'm surrounded with, but because I'm tired of the kind of utilitarian, functional aspect to a lot of music today: it's supply and demand, almost. The impulse to make music, I recognise, is very different [in Mali] than it is for the white, western world – they have a compulsion to do it, like a spiritual need. And it's less based on 'cool'," he shrugs. "I think punk rock music is one of the worst things to happen to music, in that aside from being totally numbskull-ian, it put the emphasis on 'cool', as opposed to communicating something. It was more about hiding more than revealing yourself."
As someone who is a central figure in modern rock as we know it, Lee can talk at length at the warp-speed evolution of music with a calm, almost jaded detachment. The course of punk rock today, he remarks, is "perverse, to me, and counterintuitive", in the way it's so cultivated and accessible. "The initial reasons for its existence was to make a noise and to almost add an inherent defiance in the sound." Neatly packaged sounds raised under hothouse lights and tied with a Instagram-worthy ribbon dominate western culture, and so he began, instead, to embed himself in Brazilian music, African electronic music – anything he didn't already understand.
"I deliberately listened to music where I didn't understand the language, because I find it really refreshing," says Lee. "I'm able to see words – it's a bit like when you're looking at a wooden floor, and you start to see familiar shapes, like faces, and abstract images." By embedding himself in these sounds, with the likes of Mali and Senegal being in many ways the birthplace of rock and roll, when he heard Koné for the first time, the chance to collaborate with her on completing BAMANAN was the musical challenge he was searching for.
Historically, pan-African music has developed its own ecosystem independent of any outside intervention – and so, for a white, western producer to be step in, it invites the question of how he could do so without indirectly colonising Koné's sound, drowning out her creative expression in favour of representing his own. It was a feat most producers would find too great, too delicate, to pull off, but Lee practises tasteful restraint and, more so, respect, which has earned critical acclaim.
"I knew the way I wanted the record to sound, which didn't feature me as an ego," Lee explains. "The artists I've worked with: Crystal Castles, Neil Diamond, Regina Spektor – that's a big breadth of work, but fundamentally, everyone's drinking from the same, tiny pool. I felt like I had something precious here, like holding a hummingbird. And I was given the task of trying to be useful to her."
The central force of the music, and what attracted Lee to it in the first place, was always Koné's voice. From that, he never strayed. "When people get to that skill level, certainly in the west, it becomes about pyrotechnics and parallax, and all these things. Singing competitions and training has really destroyed the character of people's voices here. So she just had this incredible voice that's pure and true – it's raw, you know, you can hear her voice crack."
He recalls a session with Nicole Scherzinger, and he played her Elizabeth Frazer from Cocteau Twins and This Mortal Coil. She told him that she loved Frazer's work, and together, in one take, they recorded something worlds apart from the gleaming pop of Pussycat Dolls. "And then she said to me, 'I love this, but I will never be allowed to use it. Someone's going to make me re-sing the vocal and stack it all up, align it, and I'll sound like everybody else' – and that's exactly what happened." Lee feels that in the western approach to music, it seems that there is no appetite for hearing people as they are. "My interest stems from that: I'm trying to get those feelings, rather than working on the equivalent of Photoshopping music."
Loyally, every choice Lee has made on BAMANAN was in service of enhancing Koné's voice, and only fleshing out the underlying structure she and her band had already recorded. "I didn't want it to feel jarring or gimmicky, or tokenistic, when I introduced other stuff. I was trying to make a record that didn't sound like it was from any particular time. There's bits of 70s noise stuff, Japanese 80s music, a bit of Talking Heads, all the way up to the present with a bit of Burial, and stuff like that. There's a long tradition of electronic music in Africa, so I wasn't just introducing electronics that people hadn't heard before – there was already a Minimoog on Rokia's recording. There's something about the contrasting tones in there that just highlight her more, I think, than what was happening before. That was my goal: I wanted her voice to be the main thing."
Nowadays, Lee prefers to work with artists when they're absent. There have only been a handful of exceptions in the last twelve years, including REM and Catfish and The Bottlemen, where Lee felt he was only "facilitating or documenting their songs" without any major transformations. The majority of the time, the studio is a place of discovery, where his mission is to shake artists up and push them out of their rigid expectations. But through those hours of tinkering, drawn-out processes of sampling and Lee's own creative process of making mistakes, artists tend to get bored. "If I do that, and somebody is there, they might think, 'What the fuck is he doing? This is really shit' – and in those moments, I lose people," he says. "Then their flow stops, and my flow stops. It's really about having trust in me." So, with Koné thousands of miles away, Lee had the space and flexibility to improvise and experiment in the same way that she and her band did, joining the same freedom of thought and spirit of play.
"I'm getting older, and I want to be the crazy, fucking lunatic 90-year-old man who is still making crazy, brilliant records." - Jacknife Lee
For most of the process, Lee had no idea whether she even liked his work. Malot would send him a track, he would accept the challenge, and then after he'd returned it, she would send him another. "I felt compelled to finish it, and I just kept working on it until we'd run out of Rokia's recordings. I can appreciate that it was probably difficult for her to understand what I was doing. She was probably like, 'Who the hell is this guy?' – but something in it must have connected with her. It must have been odd to have heard her voice in such a different context, and that's what she got the initial shock. I hope that she felt her intention was still intact."
I posed Lee's hope to Koné: "Well, the sound changed a lot in the album, because the way we think here and the way things are done outside are not necessarily the same. I wasn't sure about how Jacknife changed the sound and added electronics – I was a bit sceptical, but the more I worked on the album, the more I understood how it worked on his side. I'm glad I took part in it because it allowed me to learn a lot, musically, and to gain more experience. I learned to think another way: adding different sounds and instruments can only be beneficial to my own repertoire. He brought a lot of value to the album, and people have given me a lot of positive feedback, as well." Now, during her shows, people ask her to perform the music as it appears on the album, and she can do so seamlessly.
For someone as established as Lee, he insists that the creation of this album was another great learning curve in his career. "I'm getting older, and I want to be the crazy, fucking lunatic 90-year-old man who is still making crazy, brilliant records. I don't want that slow decline into mediocrity. I want to work with extraordinary people and keep firing on all cylinders."
The track that crystallises the intention of Koné and Lee on BAMANAN is, undoubtedly, "N'yanyan". The vocals were recorded in Bamako on 18 August, 2020, the night of a coup d'état which marked another period of instability for Mali, which has been troubled by severe political unrest for almost a decade. Koné delivered this vocal performance in a single take, before the power was shut off and a curfew was imposed on the city. The meaning of the song is elevated by this turbulence, and only underlines its philosophical strength.
"'N'yanyan' is based on a very old song created by our ancestors, acknowledging our limits and our mortality," she explains. The meaning of the word is unfathomable: it can't be known, touched, or understood by the common being. It's said that no one will ever truly know it's meaning until the day they die, because it takes a lifetime's experience to capture its essence. It's about coming to accept uncertainty with grace – and that, in turn, is the essence of BAMANAN itself. "I sing it for all human beings," says Koné, "to tell them that we are in a middle ground, and all this will end one day."
BAMANAN is out now via Real World Records
Get the Best Fit take on the week in music direct to your inbox every Friday