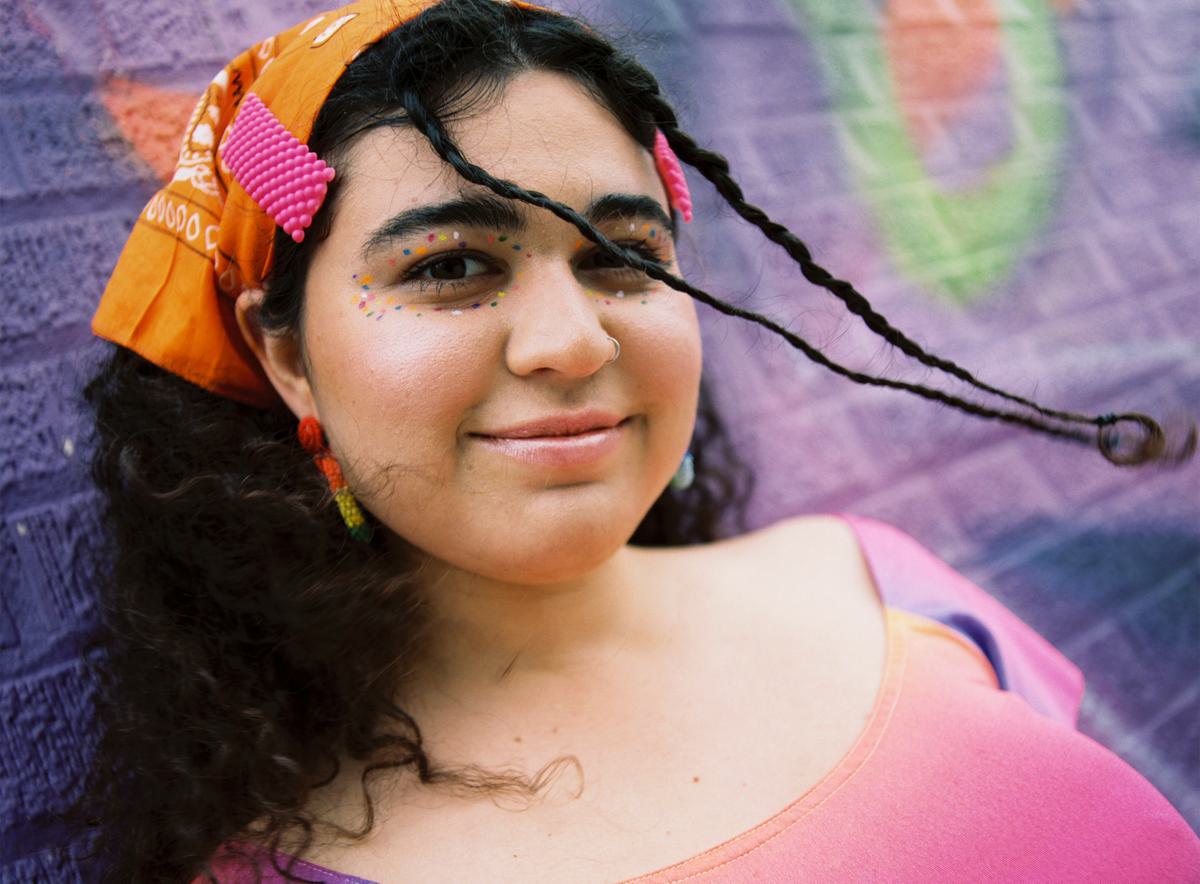 On the Rise

Remi Wolf
24 June 2020, 09:00
Taking absurdist inspiration from kids TV and adding her own slice of originality, Remi Wolf's music is a joyride to the outer realms of pop.
Remi Wolf's dog has just done a poo on the floor. "I already walked him and he already pooed," she muses over a faltering video call. Juno Jameson is still a puppy, a little french bulldog who frequently features on his mum's social media. Wolf's debut EP in 2019 was titled You're A Dog!, and the follow up which lands this week is I'm Allergic To Dogs! As with all that Wolf does, there's a lot to unpack here.
The 24-year-old Wolf was born and raised in the Bay Area of California, just outside San Francisco in a place called Palo Alto. "It's kind of where the whole technology dot com boom started. It's like, Silicon Valley," she explains. What was once an area rich with culture has become an area full of, well, the rich. "Yeah, it actually sucks. I hate it," she sighs. "Like Palo Alto, it's a different city than it used to be when I was growing up there, it's just flipped completely on its head, there's so much new money. Whenever you go out to a bar it's literally the same dude over and over again. And then when you talk to each one of them it's just like, 'I have no idea how to make myself dinner'.
"It's so crazy, like I've had so many unwanted conversations with those people."
Listening to Wolf's music, it's unlikely she'd be sidling up to the next Zuckerberg; these are the kinds of jams AI can't replicate. Thick in pop culture references with lyrics that jarr then amaze, they're lush, saccharine melodies warped with pinball production. Wolf's music comes wrapped in a layer of dizzy, surrealist imagery and topped off with humour so knowing you're not sure if you should laugh.
So when it says in Wolf's bio that the Californian was on track to be an Olympic skier until age sixteen, you can't help but wonder if it's another aside to navigate. "No, that is true," she confirms. Wolf trained at Lake Tahoe, even attending a ski-based boarding school. However, her passion for music was always running parallel to her athleticism. "I've kind of just loved performing for people since I was really little," she smiles. "There's so many little baby videos of me doing the craziest, weirdest shit for my parents. I was on this grind since I was ten."
Wolf started a band called Citrus with her friends Chloe and Tatyana, performing a capella at various events and parties. "We would perform literally in matching outfits and we would do little dances and it was really embarrassing," she laughs. "I learnt how to sing, I learnt how to harmonise, I was developing my ear and it was really fun."
After Citrus disbanded, Wolf and Chloe began writing music together. "We were inseparable all throughout high school, pretty much. We hung out every day just writing songs." She continues, "Then we started performing, performing at school, performing all over our city and adjacent cities and just expanded and became this band that people knew."
At the age of seventeen, Wolf's singing teacher put her forward to audition for American Idol. "It was very random but I got through a bunch of rounds, went to Hollywood week, did the whole shebang, and I think what I realised was, show business is crazy," she explains with reticence. "The curtain was pulled back a little bit for me. I realised that it was not the way that I wanted to pursue music. I just knew that it wasn't my thing."
Instead of chasing post-reality show stardom, she decided to forge her own path. Perhaps partly inspired by the culture-shift in her hometown, or as a reaction to the faux-creativity of her TV experience, she felt the need for authenticity, however idiosyncratic it may be. "I've always had this urge to do something very different than what is going on," she explains. "I don't know how to explain it but I've always been like, I don't want to dress like all these people, I don't want to fucking do the same thing all these poeple are doing and if I am, I want to do it better. I've always had this urge to be individual and just seek my own truths."
It's evident in everything that Wolf does, from the mind-warping visuals to the sugar-pop melodies that coat lyrics like, "And the dentist always tellin' me to floss my teeth, and I'm running out of Oxycontin." Tracks like "Woo" and "Photo ID" have so many layers, sonically, lyrically and referentially, every listen should unearth a new discovery were it not all so utterly blinding.
"It's all very natural," she smiles. But it's not just the music, Wolf's world is a multimedia affair of clashing colours, post-tumblr memes, and mind-bending animation. "For my visuals, it's all very intentional," she counters.
Working with artist and director Agusta Yr the two pull on the surreal and wonderful thematics of movies like Spy Kids and Charlie and the Chocolate Factory. "I used to watch all these stupid, crazy kids TV shows because I'm the oldest of four," explains Wolf. "So throughout my entire life there's just always little baby shows playing on the television. I think that I unintentionally got really inspired by kids shows and I just like the silliness of them and the colours and just the absurdity of them."
But when it comes to the lyrical content, the influence may be something a little more adult. "I really like to paint pictures and I think my mind just naturally goes to weirder images," she starts. "For a lot of the music as well, I was smoking a lot of weed and doing mushrooms at times so I feel like maybe that plays into it a little bit because it kind of opens your brain and you see different things and you share different things."
All of a sudden it makes sense. The Remi clone army clunking through her videos, the hyper-expansive range of tracks like "Disco Man", 90% of her Instagram posts. It's not an underlying urgency to escape the button down shirts of big tech, Wolf was just high.
"I'm not always high!" she laughs in a half-mock protest. "But there is a mental liberation sometimes when you are high. But I can go there sober as well. Also, I think there's something inside of me that pushes to create different images than are classically portrayed in pop music and pop poetry. I really do want it to be different. For the most part it's just what comes out. If it's weird and it doesn't really make sense, it's fine for me."
I'm Allergic to Dogs! is out now via EMI/Island Records