SCUM was Cardy finding his feet. Despite the record being released on a major label (a perplexing feat given his anti-establishment stance) Cardy had made his intentions clear. "When I signed up I said I wanted to retain control," he says. SCUM was Rat Boy's proper introduction to the world – and on his own terms.
Since then, the soloist has broken free from his Chelmsford home and toured the country, roaring through it like some bespoke punk/hip-hop political freight train.
"I think the first mixtape (The Mixtape [2014]) and 'Sign On' [from SCUM] – everything up until mid-2016 – was very focused on lyrics. And then I drifted off into making hip-hop beats and shit, with Get Over It [2016 EP] and stuff," he says. Speaking with his soft Essex accent, widening his eyes, and leaning in to the conversation, he adds: "I don't regret it because I learnt a lot, but I don't think that music is saying that much. On this new record, I feel like the music is talking more. The whole way through the record is more lyrical to me."
Internationally Unknown, the 22-year-old's second full-length outing, is an accurate statement given that Rat Boy is yet to play a show in the country that's played home to him and his band of merry-muckers for a month: the United States of America. "That's quite funny," Cardy says, "because everyone says it's a sort of British sounding thing."
'British sounding' has resolutely been Cardy's music to date. SCUM may have harboured a vast range of genres haphazardly tied together with comedic skits à la Grand Theft Auto radio stations but the underlying voice was that of a disenfranchised British youth calling for "revolution" or lamenting having to "sign on". Yet on Internationally Unknown, Cardy, with the help of an unlikely pal in punk icon and Rancid frontman Tim Armstrong, has tread into American territory. Where once his music was hip-hop flavoured with punk, now it's resoundingly snotty, '90s punk with modern hip-hop.
"The first album took like four years to make. It was self-produced; that one was just learning how to use Logic – the recording software– and just making lots of mistakes with it. This second one took a year, so it was more about writing songs. The first one feels like it was experimenting because it goes to different places. I feel like it doesn't really flow like a record [whereas] this one feels more like a body of work."
He continues: "That's why I did the skits in [SCUM] because I felt like it was a bunch of random songs from different eras or whatever. On this second album, me and Tim did 18 songs, and we had to cut it to 12. I wanted [this album] to be a long one as well, but we've kept [some songs] for EPs and stuff."
"And stuff" seems to be Cardy's prerogative in being a creative creature; there's always something else in the pipeline before the current project is even on shelves. Upon the walls of the Shoreditch flat that we are chatting in, Cardy has attached some of his art from a well-worn and loved sketchbook. Later, he trawls through an iPhone with a cracked screen, displaying a handful of unreleased projects each with its own dedicated album art. Cardy might appear as your stereotypical slacker type. He has long, untamed hair that's an unwanted shade of pink (formerly red but has since pared down) and wears oversized clothes. But he's in fact an incredibly hard-working musician.
As he skates around the flat's surrounding rain-soaked streets for a photo shoot, it's clear that Cardy knows precisely who he is and how he wants to be portrayed. When asked to hold the skateboard for a photo, he declines politely because it's something that he's seen Justin Bieber do. On the surface, he's a wildcard; an internationally unknown representative for a generation he unabashedly speaks up for. Beneath this, he's astutely aware of who he wants to be.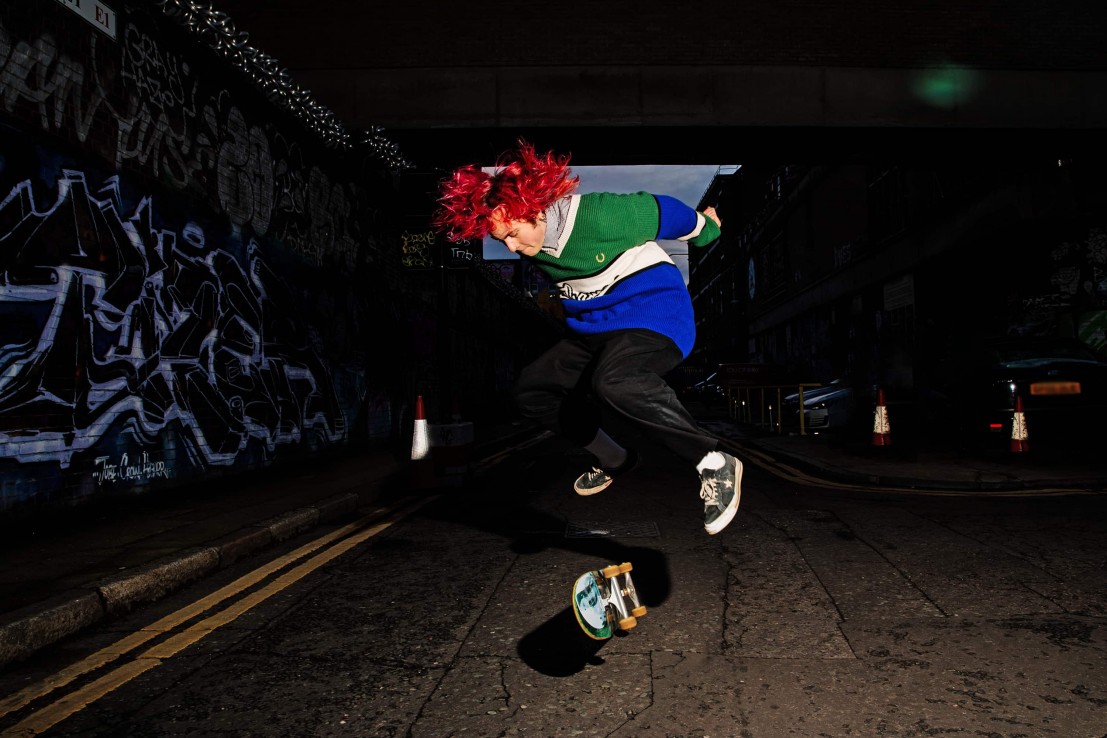 Cardy's answers during the interview seem timid, as if he's holding something back. It's either through fear that his words can be turned against him or turned into gospel for the generation that he is said to be influencing.
As such, he's hesistant to broach the subject of being a spokesperson or saying anything that could be construed as "charged". Rat Boy, he explains, has only ever been about expressing himself and his art. Charged connotations are a by-product of thoughts delivered on a placid basis, or as he succinctly puts it: "Nah - I just write how I'm feeling, and what I'm going through. I write music about my life, and my friends lives."
Instead, Cardy is far more receptive to discussing how he made Internationally Unknown away from home, as opposed to what the record represents for both him and those disenfranchised listeners. It makes perfect sense. Cardy is a child of the '90s – albeit the latter end – and his new music recalls the influences that flowed through his formative years. For him, it was all about the American pop-punk invasion. He had even picked up a copy of Armstrong's punk/hip-hop collaborative supergroup The Transplants from his father's record collection.
"The first sort of music I ever got into was early Rancid records, and like Green Day stuff," he reminisces. "I've listened to [those] records throughout my whole life, and I just wanted to try to experiment with that. On the first record, I think it has parts of that, like 'Knock Knock Knock' and 'Left 4 Dead' but it was more electronic."
"I just write how I'm feeling, and what I'm going through"
On Internationally Unknown, Cardy and Armstrong have harked back to the seemingly simpler times of the '90s with their modus operandi. "We were tracking as a live band through tape and chopping it up like it was a sample, so it started [with] whole songs, then layering [Roland] 808s and stuff. And that's so much more fun because I found if I recorded with samples, like on 'Get Over It' [the titular track from his 2016 EP], you can never move from the sample because you're chopping a recorded piece of music, but there's no song written there. It's a programmed beat that is a line of music that just loops. But this one I could move [things] around and chop it."
Cardy is a knowledgable musician – and is even wiser now that he's had this experience. It's a far cry from years ago when he would be sat in his room messing around with recording software. But he's always known what it takes to get magic out of a moment.
"It was definitely way more fun," he says of recording Internationally Unknown, "because to start with, you're tracking in the room and you get different vibes that you wouldn't get from other recordings like 'Don't Hesitate' and stuff. That was all made in a room live and then chopped up after."
"When I'm doing stuff over here [in the UK], on my own making stuff, it can be uninspiring"
Cardy's time in America also offered him the opportunity to write about a life that he was removed from, which opened up a new realm of inspiration.
"When I'm doing stuff over here [in the UK] on my own making stuff, it can be uninspiring," he admits. "But we were skating everywhere in LA, just going out, having fun, and recording and always writing. It's a fun place to be."
The final track on the album, "Silverlake", is a rousing homage to the hipster stronghold in LA where Cardy wrote the new record with both his band and Armstrong. Living together for a month, skating around the city, and just generally loving his time there sparked Cardy's creative synapses. The true essence of the life force that flows through him has flourished. Internationally Unknown is a more focused record than his previous in sound and ideas. And it still feels as fresh-faced as its creator.
A more obvious '90s influence in both musical style and aesthetic comes from the Beastie Boys. "In the '90s they were releasing a few hardcore punk EPs like Check Your Head, Ill Communication, and I love that they were experimenting with stuff all the time," Cardy says. "If you listen to Hello Nasty, [it's clear] from the start of the '90s to the end that they developed that sound – that hip-hop live mix. It's cool. And [I love] bands that keep releasing music. I like people who don't sit still – who just keep making stuff."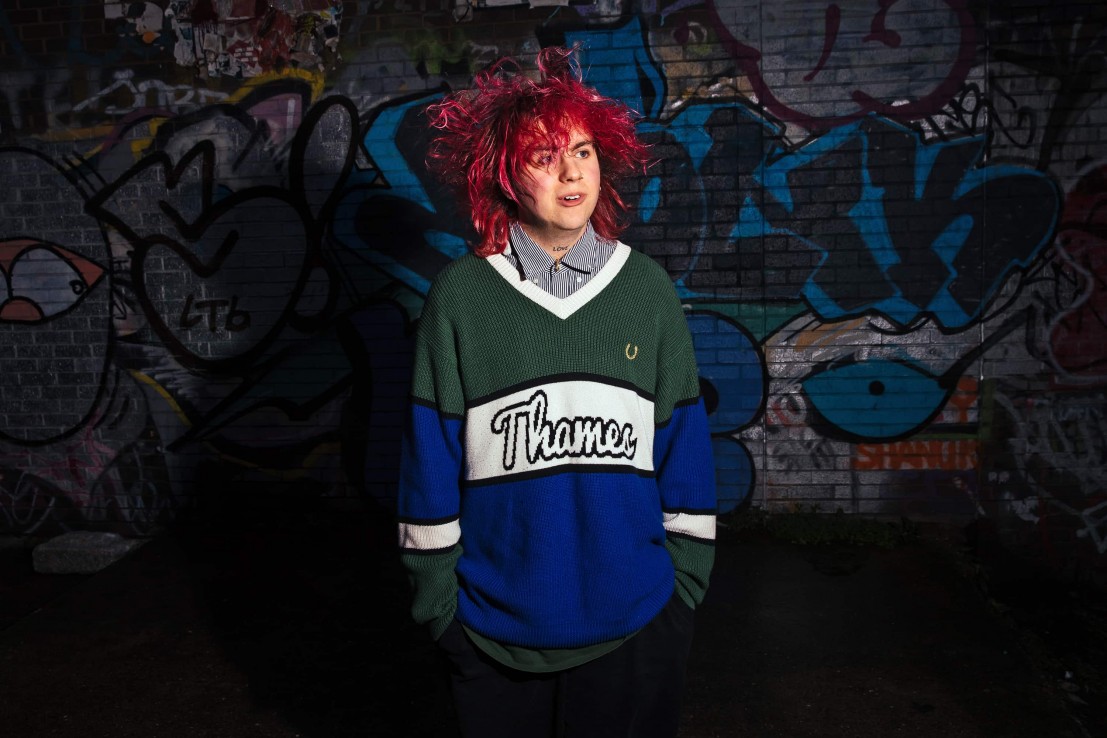 Again, the mention of "stuff" brings us back to Cardy and his unstoppable flow of creation. The artwork that's spilling out of his sketchbook and adorning the wall next to us soon becomes the topic of conversation.
"I'm working on an idea for an art show at the moment," he says, explaining his plans outside of the musical world. Art was Rat Boy's first love. "It was an art thing before it was music. Rat Boy was something I did for college, and I made the music after," he says. "My Dad's a fabricator, so he works on cars, and I've been drawing up these ideas, incorporating my drawings and ideas into 3D things, and bigger pieces that I can paint on."
After our interview, Cardy reveals a portfolio of designs for his forthcoming fashion line, SCUM. One item is a shirt with 'Fuck School' written on the back and a photoshopped image of school kids writing 'SCUM' on the front. Cardy has toyed with screen-printed shirts before, just not successfully, as indicated by his smirk. Second time's always the charm.
It would appear that the Rat Boy of 2019 is one of many guises. He frequently flies to LA to write and brainstorm ideas with his childhood music icons ("I've just been back out with Tim to keep writing stuff"). He also designs clothing, and his sights for the future are set on art galleries.
Cardy considers the world to be a blank canvas: one that can as easily be drawn upon as it can be skated and painted. While he may now be traversing the globe, the same boy who uploaded his first tunes to SoundCloud in his Chelmsford bedroom will always be at the helm.
Internationally Unknown is released this Friday, 25 January via Parlophone (Hellcat/Epitaph Records in the US).