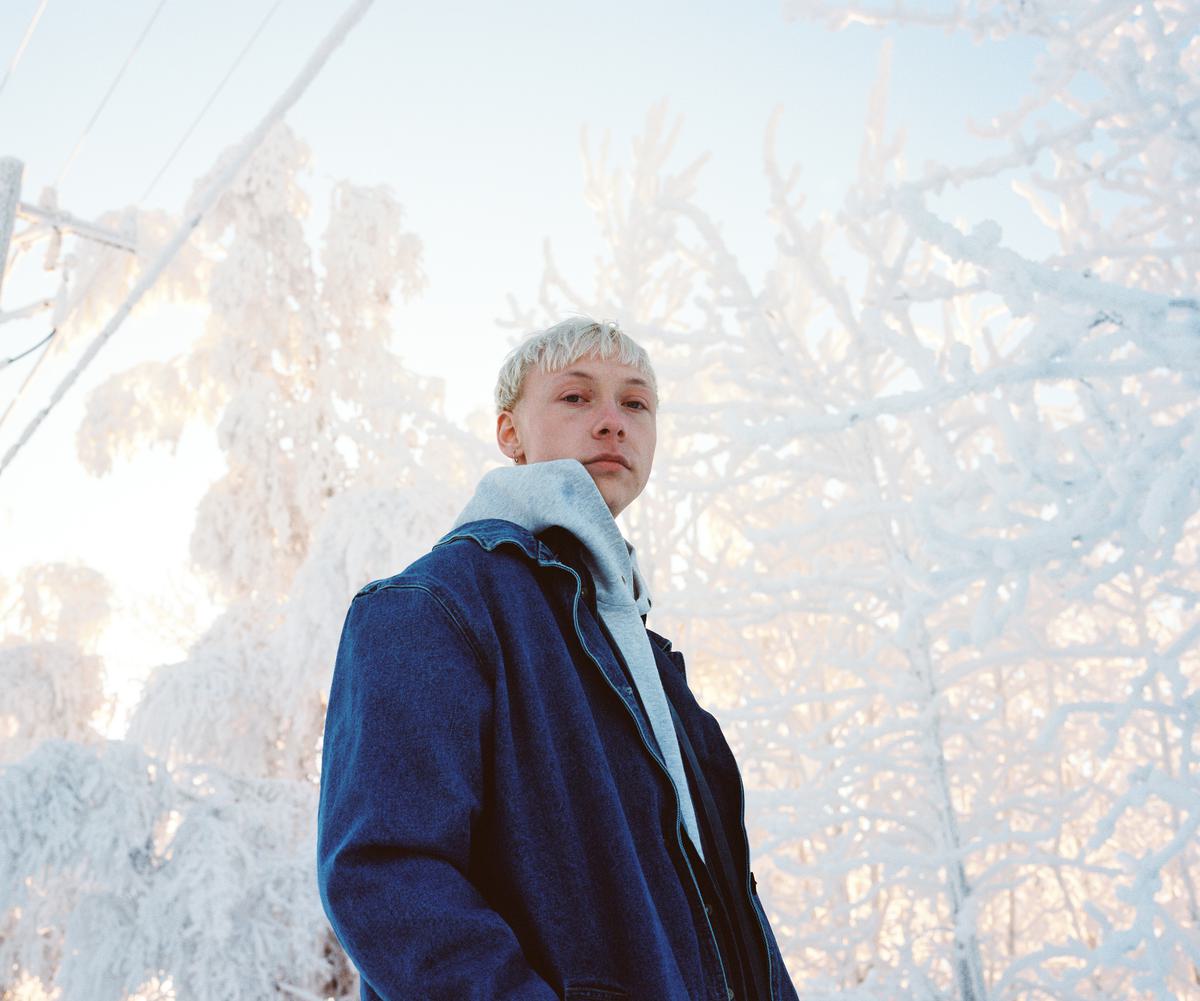 On the Rise

Quinn Christopherson
06 September 2022, 11:00
Original Photography by Emma Sheffer
Rooted in a culture of storytelling, rising Alaskan songwriter Quinn Christopherson is channelling the power of vulnerability.
The youngest of four, Quinn Christopherson grew up in a family of native storytellers.
Born in Anchorage, Alaska, it's a place known for its expansive wilderness, where droves of tourists arrive to witness its cerulean glaciers, famed national parks, and towering mountain ranges. It has minimal sun in winter and too much in the summer, but to Christopherson, his home is a place grounded in sustenance; "food, family, culture, berries, fish," he reels off with a smile.
He joins our call from an empty room in his East Coast hotel, bar the ping pong table and arcade machines lining the back wall. It's days since his 30th birthday, and he's currently in the midst of a US tour in support of Julien Baker, Sharon Van Etten and Angel Olsen. It feels a fitting lineup for a singer whose early years were soundtracked by strong female songwriters. "My mom loved Sheryl Crow, Celine Dion, Alanis Morissette," he explains. "Just really powerful women's voices... I love them to this day."
As a child content writing poetry, he'd never considered music as a career until his father, a wedding DJ responsible for imparting a love of pop music onto his son, gifted him his first guitar. This transition, he explains, wasn't easy, but felt like a natural progression. "I wasn't structuring poems as you would songs, so some of my first songs kind of still sound like poems," he muses. It's an ample description: music that sounds like poetry, perhaps most evident in the track that led Christopherson to his breakthrough moment.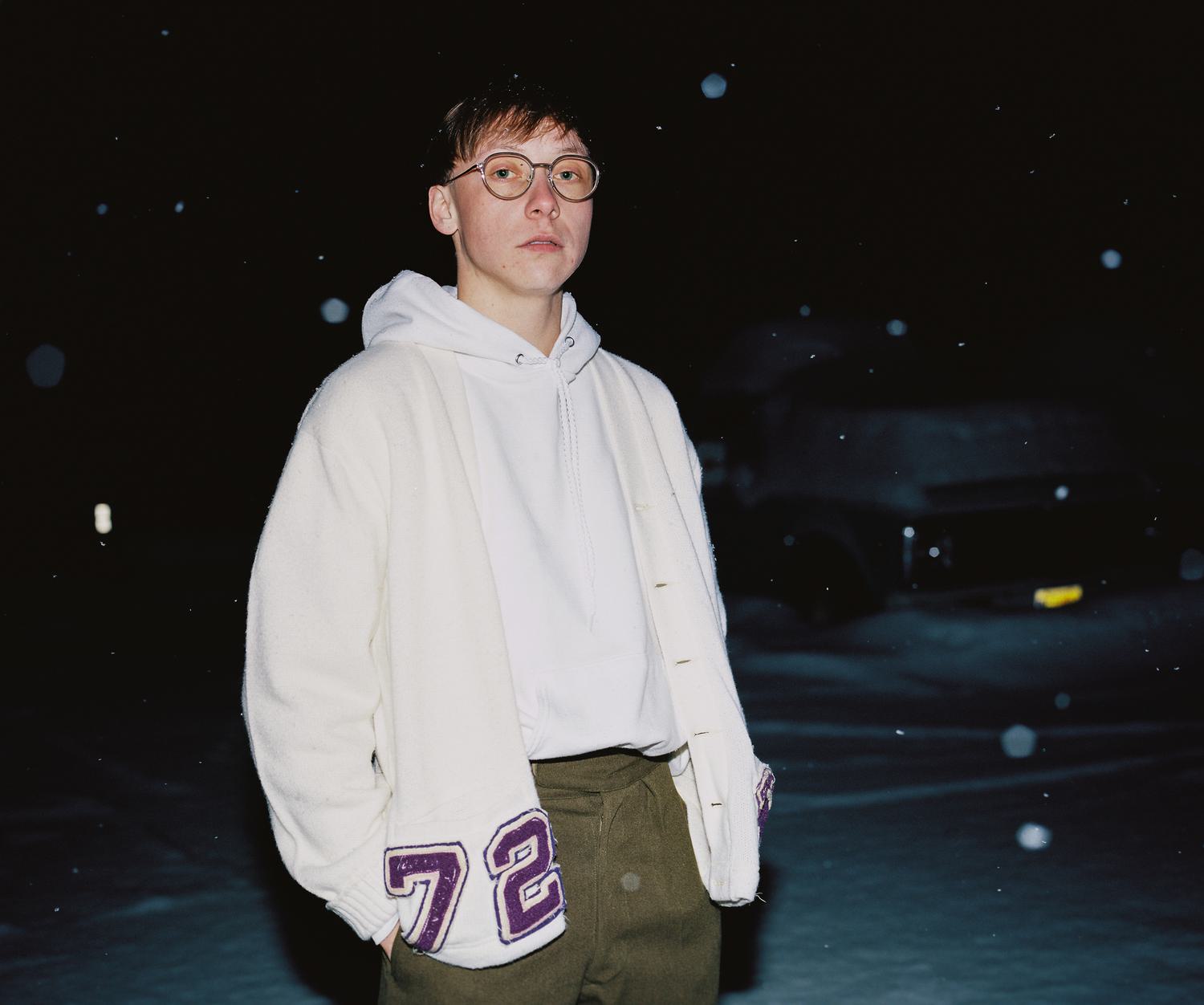 In 2019, he entered and won NPR's Tiny Desk Contest with the beautifully minimalistic "Erase Me". Deeply personal, the track explores his emotional turmoil as a trans man, decorated with poetic musings as he confesses his confusion in dealing with newfound privilege. "That was huge for me," he reflects. "I always thought I needed to do more, or I needed to have a full band and more pieces and parts to my music, and then finally I won that contest… it was a huge lightbulb like 'OK, I guess this is enough. I am enough.'" With only one track released, the win was the confidence boost he needed, taking him off with NPR to perform outside of Alaska for the first time. "I loved [going on tour] and seeing what goes on in the music industry because I would say that there's not really an industry in Alaska. There's not really examples of what you could do in the music industry, it's just not there."
At the time, he was working as a councillor for Alaskan Native youth, but as music took up more of his life he came to a difficult decision. "I kept my job for as long as I could because I loved [it], but then it came to the point where I was touring too much and they told me I had to choose one or the other," he admits. "I thought, 'well, I may as well give it a go in music' and I'm so glad I did, because once I was able to do music full-time… I was able to write through all of [my] emotions, instead of focusing on one because I needed to."
Having used storytelling as a cathartic outlet, there's an emotionally charged nature to Christopherson's songs. With lyrics seeped in pop culture, he retains a relatability that leans on wit without being overly comical; pacing through both his own life experiences and those of the people around him. Touching on drug addiction, alcoholism and imperfect family relationships, when questioned on his inclination to share so freely, he replies: "There is a certain responsibility I carry being a storyteller. Stories are inherently vice versa… I know that if I tell a story wrong the first time I can always go back and write another song."
This self-awareness of growth and shifting perspectives is perhaps what lends his narratives so much warmth, even within songs that explore darker subjects. "Nothing is ever cement, especially stories," he continues. "We tell them, they happen, and five years later I could be wiser and have a new perspective and learn from that situation and think 'wow, I need to go back and retell this story from a different perspective, or with newfound empathy'... I'm never afraid to go back."
Now preparing for the release of his debut album, Write Your Name In Pink, he reflects on the juxtaposing character descriptions he's offered across his slew of tracks. "Celine", in particular, echoes with the heart-warming tale of his mother's confidence at a karaoke night, sharply contrasting with a line in earlier single "Raedeen" where he confesses his mother "checked out" of his upbringing. "I have a song about my Dad being an amazing Dad – I did it on NPR's Tiny Desk, it's called 'Glenn' – and I also have lines about him not being the best guy in a song called 'Bubblegum'," he mulls. "What I think is strong about writing is that we get to show these characters being human. You know no one is fully good and no one is fully bad, and writing should be able to showcase that." His clarity on the subject reveals a songwriter and storyteller still learning but securely finding his feet, with a rising confidence in himself and the people around him.
While he admits to struggling with self belief in the past, he brings the conversation back full circle to his recent birthday. "I'm 30 now, it's crazy. I feel like my 20s were such a struggle in so many ways, and I think a lot of people say this, but yeah, it does feel like I'm done struggling now". On this mindset shift, he recalls recording with producer Nathan Jenkins on the new album. In a moment of self-doubt around his musical ability, Nathan explained "that chords are just chords and there's only so many of them and what I have to say is important. That was just a huge breakthrough for me."
Amidst the narratives swimming through the record, underlying Write Your Name In Pink is a shining self-confidence in his own ability that returns to an admiration of his mother. Taking its name from a line in "Celine", he's found power in putting himself front and centre. It's "having the energy and confidence to go and sign up for karaoke," he concludes. "It's so vulnerable, and just to know that [my Mom] was doing that and how strong it made her feel just felt like me finally making this record and recording these songs for the first time. I was also feeling that strong and writing my name in pink." He pauses and lets out a breath. "It's a good feeling."