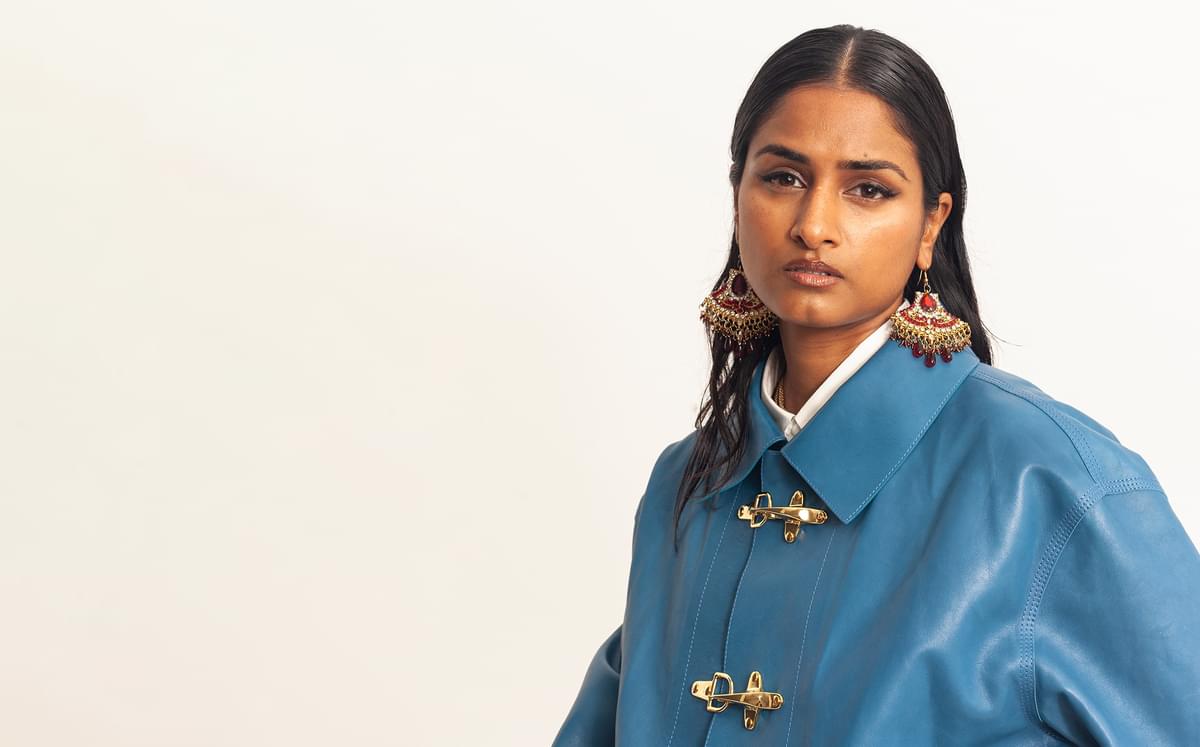 On the Rise: Priya Ragu
05 February 2021, 12:00
Tamil-Swiss artist Priya Ragu is making uplifting R&B that explores her independence and remains true to her heritage.
If ever an artist could be described as having both a slow and meteoric rise, it would be Priya Ragu. Now aged 35, she's finally broken out of the musical backwater of Switzerland, not known for its exports. Yet over the past two years her career has exploded, spectacularly sudden support from the likes of Rolling Stone India, BBC Asian Network, and even Vogue leading her to being named one of the most hotly-tipped artists in 2021. While the music industry at large was faltering during the coronavirus pandemic, Ragu actually found herself securing a major label, signing with Warner Records in October. She only has one main previous single, "Good Love 2.0", yet it has already been remixed by Honey Dijon, Hot Chip's Joe Goddard, and Little Dragon. "They came about through a management team," Ragu tells me. "They suggested a few artists do the remixes. Imagine me, a nobody, and then these people are remixing your song and you're just like 'oh my god!'"
Her whole life is a product of such curious contradictions. Ragu's story, for one, starts at the confluence of two starkly different cultures. She grew up in Switzerland after her parents were forced to flee from the Sri Lankan civil war in the 1980s. They were understandably strict growing up. "My parents were very protective," Ragu concedes. "They just wanted the best for us. I wasn't able to do the things that my schoolmates were able to do." She's wryly self-deprecating about it in conversation now but as one of the few Tamil families around, her childhood presented challenges. "I was a loner!" she laughs. "I didn't have many friends, I was just doing my own thing. They were able to do sleepovers and I was never allowed to do that, so of course they would leave me out."
It was a family trip to Toronto that first opened Ragu's eyes to her own culture. "That was the first time I was able to really live that side of me (Tamil)," she recalls. "There's way more Tamil there than in Switzerland. Seeing Tamil restaurants, Tamil shops, even the bus driver was Tamil!" Trips to South India - particularly Chennai - ensured that she remained in touch with her heritage as much as possible: "Chennai is also Tamil Nadu so the culture is more or less similar to Sri Lanka. My parents are very spiritual so they would take us to the temples. It was almost like every second year we flew down."
Tamil music was a frequent soundtrack in her early years, particularly the composers Ilaiyaraaja and A.R. Rahman. Forever grappling with the tension of her two cultures though, it wasn't until discovering The Fugees that her ears were opened to the possibilities of Western artists. "I think it was Lauryn Hill's voice," Ragu explains. "It just connected with my soul, the way she sang the melodies and her emotions that were seeking through her voice. I just felt really connected when I heard her for the first time." When she lists her current musical influences, they remain wonderfully varied: "I've been listening to a lot of Snoh Aalegra (the Swedish singer/songwriter born in Stockholm to Persian parents) and Anderson .Paak. I've been listening to old soul music too, like Stevie Wonder. I also like Common, Mos Def, The Roots."
Her musical talent was first explored at the age of 10 when she joined her father's little band. "I don't think you can call him a singer but he loved to sing, back in Jaffna," Ragu remembers. "On weekends we had jam sessions at our house, we had family members coming over and friends, my brother would play the keys and people would sing songs from Kollywood movies (Tamil cinema)." Her father became friends with the owner of an instrument store and soon they were using the store's rehearsal room once a week to practice their songs.
It was confusing, then, when her father and mother were strongly against their daughter pursuing music as a career. Instead she left school and found a typically robust and resourceful Swiss career as a technical purchaser buying aircraft parts while still performing at open mics. Raised in the sleepy town of St. Gallen, Ragu moved to the relative vibrancy of Zurich, Switzerland's biggest city, in search of greater opportunities. "Generally speaking, the music scene there was big for Switzerland. It's so difficult to get out (of Switzerland) though. I never thought that one day I'd be able to achieve that."
It wasn't until 2017 that she finally invested everything into her passion. "I thought 'this can't be my life, this office job, it's secure, it's a safe life but there has to be more'. So I risked it," she confides. Ragu left her comfortable job, collected her savings and moved to New York City for six months. The US city represented a blank canvas, neutral ground, for Ragu to explore her creativity. It would become a seminal experience but not in the manner that she expected. "I just wanted to give myself some little space to see what I could create. I didn't know many people there, it was difficult to connect with people. I was just really locked up in my room, trying to write songs with my brother over Skype."
She might not have been swept up by the energy of the place but these quiet virtual sessions in the middle of New York's chaos inspired her in other ways. "When I did the New York thing, I was finding myself. I was meditating a lot. I was able to connect with myself more when I had that space. So the songs are about finding myself and believing in that inner voice. Sometimes you ignore it, I did for the longest time. Sometimes you just have to risk it and go for it."
Similar to Billie Eilish and her artistic partnership with Finneas, Ragu makes all of her music with her brother, Japhna Gold: a musician himself long before she started, he now handles the production while Ragu mainly controls the lyrics ("We really complement each other"). Working so closely with a sibling could be fractious but not so with Ragu and Gold. "Our relationship has become way stronger," she enthuses. "It's a path we're taking together and to be able to celebrate all of these little successes that are happening with your family member, that's the coolest thing." The sound the pair have forged through this happy partnership is an intoxicating blend of modern R&B and powerful South Indian beats.
In 2019, they were honoured to perform together at a Tedx event in Zurich. Initially scheduled to just sing some songs, the organisation then asked if Ragu would also speak at the event. "I thought it would be fun to connect both and tell a story. Then I was so nervous because we had a rehearsal with a speech trainer. I had to perform the whole thing and the seats were empty and I had a blackout! I didn't think I could do it but then when I was in front of the people, the audience were cheering me up. I was so proud because it's not something I'm comfortable with, to speak in front of so many people."
It's interesting to watch her entrance at the Tedx event: she steps onto the stage wearing a sari and immediately breaks into a smooth and soulful R&B vocal, confounding the audience's expectations; it's emblematic of her commitment to blending the modern and traditional always. "My style reflects the music," Ragu agrees. "It's a fusion of both worlds. It's really something I'm passionate about."
As we discuss her vision for her music, it increasingly feels like this is Ragu's time. When the biggest boy band in the US are South Korean and Spotify's most-streamed artist of last year was a Puerto Rican rapper, this global landscape is perfectly suited to her story and sound. Endearingly calling her music 'Ragu Wavy' (soul and R&B with a hint of Ragu sauce), she's open to post-genre expression: "For us, it just comes down to whatever we listen to and whatever we grew up listening to and the result is a mix of everything. It's up to other people whether they put us in one genre but I don't really understand why it's necessary to do so."
Her new single - from a first full-length album planned tentatively for 2021 - is the wonderfully-named "ChickenLemonRice" and it's the most encapsulating song to come from Ragu yet. "It's a really uplifting song, it motivates everyone to let loose and to also embrace diversity and different cultures," she says happily. "It's just about embracing your culture or background." When I then ask if her and Japhna incorporating their heritage helped her parents to finally accept their decision to pursue music, Ragu recalls a touching story: "They're very proud that we mix our background with the music. When my father heard one of our songs, he said that A.R. Rahman brought Western music to South India and we are doing the opposite." Priya Ragu may be on an assured path to wider fame and success now but no matter how long her career continues, this acknowledgement from her father will remain one of her most treasured moments.
Chicken Lemon Rice is out now
Get the Best Fit take on the week in music direct to your inbox every Friday