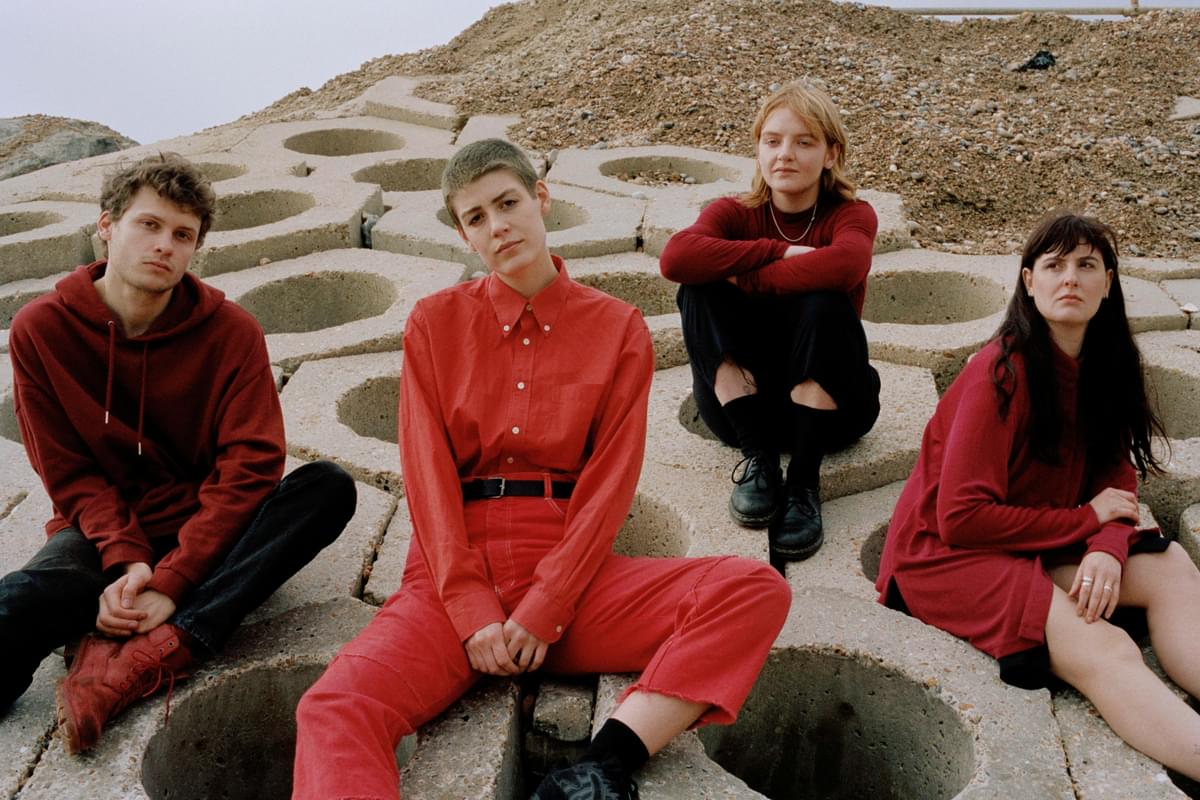 Porridge Radio are developing in real time
04 December 2019, 11:00
Porridge Radio aren't just a band - they're also a creative support network that is learning by doing.
They have always been prolific, but this year saw the release of two singles - the gritty delight that is "Give / Take" and the explosive "Don't Ask Me Twice" - that came as expressions of a band that are ready to up their game and go from being underground indie favourites of the DIY scene to one of the most exciting up-and-coming bands around. A third single, "Lilac", which also announces the band's signing to Secretly Canadian, has just landed.
With a whole bunch of new tunes up their sleeves that are just waiting to be unleashed, 2020 looks like it could well be the band's biggest year to date. We caught up with the band's chief wordsmith Dana Margolin to talk about her lifelong passion for writing, how she's learnt to practice patience with the creative process and why the importance of being vulnerable lies at the core of the band's message.
"Really embarrassingly, when I was a child, I wanted to be a poet," laughs Dana Margolin, the brainchild behind the genre-defying, London-via-Brighton outfit Porridge Radio. "That was the job that I wanted to do! I have this really, really funny folder of poems at home from when I was about seven and they're in little plastic wallets and they are so funny. They were all illustrated as well." For anyone who has listened to Porridge Radio's intense spurts of genre-hopping confessionals, the revelation that Margolin has always been a dab-hand when it comes to words should come as little-to-no surprise.
In any given song, Margolin has the innate ability to delve into myriad emotions that we, as humans, often leave untapped. Margolin ventures stealthily into terrain that might not always be comfortable, but, in many ways, for her it is a necessary exploration as she further explains how her songwriting helps her to process and digest her own emotions, and most of the time she doesn't even realise that she's doing it: "It's so funny, because I will write a song, and I generally write in a real stream of consciousness kind of way and I will listen back and be like 'God, that is absolute rubbish,' and then I will leave it for a bit and then come back to it and then realise that I thought I didn't understand what I was feeling."
Despite the fact that the whole band had been out until the early hours at a house party the night before our chat, Margolin is considered and thoughtful with every answer as she continues to explain how the act of songwriting has a further personal purpose for her. "It really helps me process and understand and makes me feel that I can reconcile my emotions with myself," she says, describing how the process is almost an act of self care. "And then I know there is a version of myself out there that knows me and knows I'm feeling that thing. And I feel very affectionate towards the past me, and I feel like past me is there for future me."
Even though the songs are personal to Margolin, it is her insistence on honesty that means that they become instantly relatable. As she works through her thoughts or her conflicting emotions, there is there sense that she is just trying to figure it all out like the rest of us. Whether it's the rapturous "Bark Like A Dog" or the frustrated brilliance of "Eugh" where Margolin's screams "Don't be a jerk..." at the top of her lungs with explosive energy, her microscopic inspection of the human psyche is what has made the Porridge Radio project go from strength to strength.
Porridge Radio are by no means the new kids on the block. Originally a solo project born out of Margolin's bedroom, the wider band first came together when they were all living in Brighton, meeting through tenuous links via different mates and forming the band through a shared desire to simply make music. Pondering on the band's beginnings, Margolin explains: "From the beginning I guess I was much more in charge. But I've never been that confident."
She then explains further how she found her confidence through sharing and working alongside her bandmates and ultimately they have supported each other and all improved as a musicians as a result. "I only learnt to be confident playing an instrument or singing or leading a band by doing it. At the beginning we were all there - except Sam, who had done it before - we were like 'ok, how do we do this?' Maddy had to learn to play bass… so I would come in and be like 'this is how the song goes,' and Sam would then be like 'well I play drums and understand songs so let me help shape it."
The whole affair of bringing Margolin's bedroom recordings to life is wholly a group effort and everyone has their role to play in the process: "I definitely rely on the others to let me know if a song is good and to be like 'we should do this and we should make this special,' and then everyone adds their ideas. Without everyone else, the songs would not have the power that they have."
The band have always been based around a core idea that they are there to help one another, as Margolin explains. "The main objective when we started the band was to create a support network and to be able to look out for each other and there's something about having a band and being creative. You can really be vulnerable."
This vulnerability is also key to Porridge Radio and something that Margolin tries to dive into and is something she is constantly looking to harness and refine and the band's strong supportive atmosphere means she can do so without her of judgement: "I guess I can see that within my own life and with my family and my friends, the more open and vulnerable and honest you are with people, the more they are with you, and the less you fall out and the more you can actually help each other. I think it's about learning how to be open and honest about how you feel and it's really hard and I've tried really hard to do that with music."
This quest to find support in each other is evident in everything Porridge Radio stand for; they are a band that come as a solid unit and have evolved together. As they have developed their sound, Margolin explains in more detail how the band has also come to play an increasingly important role in their life "[being in a band] gives you a kind of purpose and something to really do. For me, at least, it really gives me a sense of purpose; you're there with your band, and you've got this amazing support network, and you've got something to do together and you work together and you are creative together, and I think that's really special."
The quartet have spent much of the last four years working together to hone their craft and racking up a reputation for their electrifying live shows whilst also releasing an extensive array of EPs and singles, with their first album Rice, Pasta and Other Fillers, being released back in 2016 on London-based Memorials of Distinction - a DIY label that the band have had a part in running alongside the label's founder.
The fact that they have been so consistently prolific has meant that in many ways they are a band that have grown up and developed in real time; publicly defining and refining what it means to be Porridge Radio. It's meant that their audience have been able to follow they development in minute detail, seeing the creative leaps forward that the band have made year-on-year. "I really like to share everything that I've made, because I like showing people part of the creative process and showing people - and the reason I released half of that stuff is that I didn't really record any of that stuff properly and I really want people to see the development of these songs, because there are a lot of songs where I released one version, then another version, and then another version for the first album that we did."
The word prolific gets thrown around a fair bit these days, but Margolin epitomises that prolific mindset with an enviable vivacity. There isn't a moment where she isn't writing or recording her new ideas, but there came a point where it became apparent that if Porridge Radio were to take things to the next stage, they needed to change the rate at which they were releasing new music and slowly learn the subtle art of holding back. Like so many musicians before her, there was an understandable impatience to just get things out there so people could hear it straight away: "At first, I was just really frustrated with it and the way you have to hold it off for ages...
"I've slowly been trying to learn how to hold back on not giving away so much maybe before the [final] version… but I guess that no version is fine," she says before adding that she's learnt to look at the act of exercising patience from a new viewpoint. "I think part of it is about holding back because you want people to be excited about the things you release that you think are the best and that you are the proudest of and if you release too much stuff, you lose track of, you want to whittle it away and you end up just wanting to show people the best bits of what you've done."
It was this newfound patience and confidence that meant that birthed this year's two standout singles. Both "Give / Take" and "Don't Ask Me Twice" mark a substantial step forward for the band and their increased efforts didn't go unnoticed. When asked about what it is about these songs that really caught the attention of taste makers (and - rumour has it - record labels throughout the land), Margolin pauses and reflects in typically modest fashion on the new stance the band have taken towards the recording process: "I think it's the fact that we recorded them properly, we got them mixed properly, mastered properly. They were made with time and care and patience and they're part of this bigger body of work that we've been working on for ages."
Margolin is tight-lipped on when we might expect to hear these new tunes with plans being discussed and put into motion behind the scenes, simply adding "I'm really proud of what we've made and there are a lot of songs that I'm really excited about." If the two tracks we've heard this year are anything to go by, however, then we are in for an absolute treat. As they continue to develop and explore new terrain, there is seemingly no limit for where they will head to next and there's little doubt that the young girl who filed her poems in plastic wallets would be pretty impressed with where she ended up.
Porridge Radio play our new music festival, the Five Day Forecast, next month alongside Disq, Just Mustard, and special guests TBC.
Tickets are on sale now
.
Porridge Radio photographed at End Of The Road 2019 by Rachel Juarez-Carr.
Get the Best Fit take on the week in music direct to your inbox every Friday