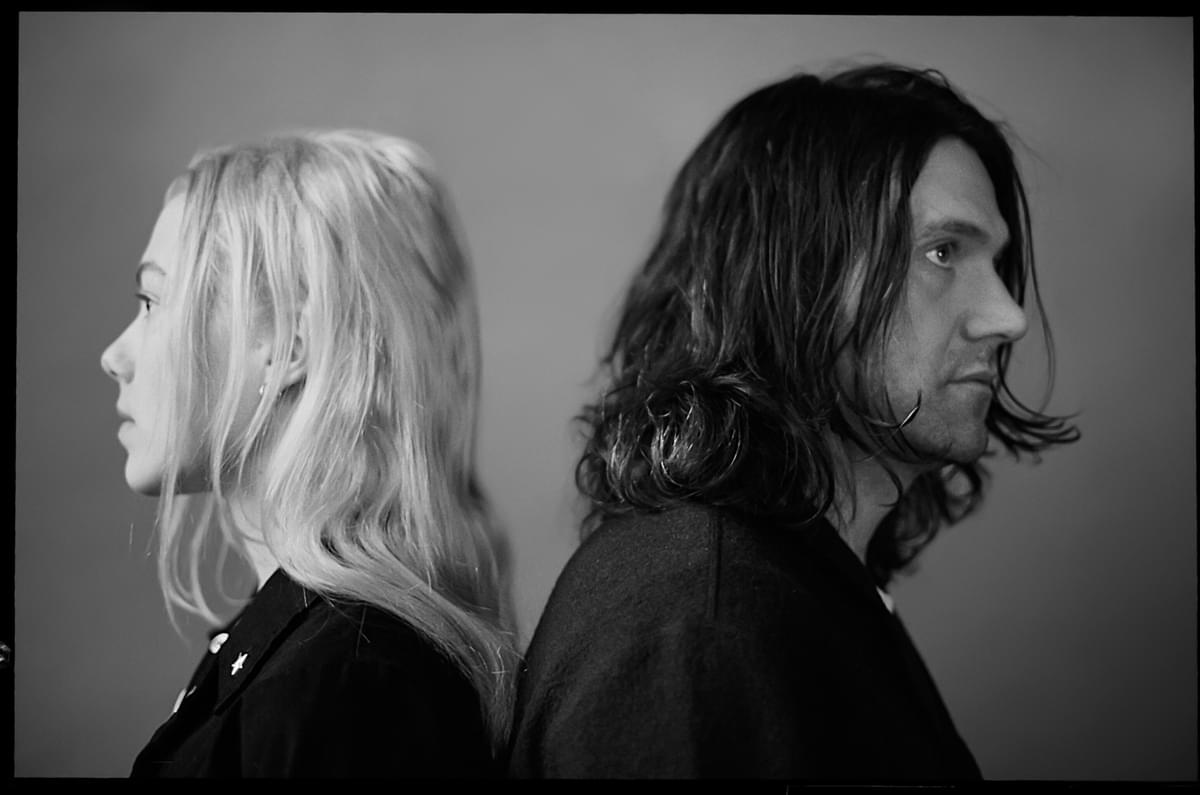 Living in Oblivion
24 January 2019, 05:00
Sometime at the end of December 2018, the name Better Oblivion Community Center began to float around social media. If you were to head to their website, you would've been invited to enter your address to receive a mysterious '2019 program guide'.
If in the early days of this month, you happened to pass by the corner of Sunset and Alvarado in LA, you'd also have seen a bus stop advertisement, not too dissimilar from the numerous Scientology ones that are synonymous with Hollywood, and a phone number. Callers were met with a voice message from an ominous sounding reverend, referring to an upcoming symposium.
And then, if you happened to be in London around the middle of the same month, you may just have sighted two progeny songwriters - Phoebe Bridgers and Conor Oberst - the clandestine brains behind this ominous sounding consortium.
No strangers to collaboration, Bridgers and Oberst have individually been forever working hard. Oberst has held his own as an indie icon for the best part of two decades, while Bridgers has skyrocketed her way to becoming an icon of modern songwriting with three albums under three different guises in as many years. Now, two of music's most precocious minds have put their figurative heads together for a record no one, surprisingly, saw coming.
So what's the deal with these two minds coming up something so…not them? When I meet the duo, they're more than happy to divulge the secrets behind their new band-cum-cult. "We definitely wanted to avoid an overly acoustic, folky, thing" Oberst instantly observes, leaning forward intently heavy dark green beanie, long, scraggly hair pouring out beneath it. "When we were in the studio recording, I was trying to follow each of the songs to their own conclusion - whatever that was."
"'Exception To The Rule', for example, we had had a demo that we had made on our own that we struggled with a lot. We weren't even sure if we still liked that song when we started recording it…" Bridgers swiftly interrupts, laughing. "We're both fucking awful engineers! We made it a horrible sounding demo, and we thought we hated the song…"
Oberst continues; "And when we were in the studio with our friend Andy LeMaster, who engineered it, we took it in a totally different direction - with the pulsing keyboards and all that…it felt like it brought that song back to life. Then we got excited about it, and it's one of my favourite songs. It's always interesting when you're making a record [like this] because you never know what it's going to turn out like."
For two artists both known for their blatant vulnerability and refusal to bury anything deep down, instead, allowing it to rise to the surface for all to hear, the process of working together was, naturally, rather easy. In fact, in case you weren't paying attention, they've been collaborating together sporadically over the last couple of years - guesting at each others gigs, and Oberst appearing on Bridgers' debut Stranger In The Alps - but this is the first fully formed offering from the pair, and it's not just two songwriters swapping stories and playing guitar.
A wholly imagined band effort with notable appearances from Yeah Yeah Yeah's Nick Zinner, Autolux's Carla Azar, and the Dawes percussion team, Better Oblivion Community Center also broaches into a multitude of territories. Songs that will evoke precisely what you think these two names getting together would - "Chesapeake", "Service Road" - site comfortably alongside songs that will wrongfoot the listener. "Exception To The Rule" features no guitar, but instead is filled to the brim with airy electro elements; swirling, haunting vocals from Bridgers, with both her and Oberst sitting high above the heavenly electronic foray below.
For the two of them, along with the team of cohorts who helped to build Better Oblivion Community Center, learning as much about each other as they did themselves came as a natural part of the process, a closeness made evident by their constant gesturing toward the other, and piquing excitement when recalling the sessions.
"It's always interesting when you're making a record like this because you never know what it's going to turn out like" - Conor Oberst
"When you're co-writing with someone, it does help…for me…" Oberst begins unpacking, "...to get out of my own head. For better or worse, something that seems real understandable to myself when you're forced to then articulate it to the person you're writing the song with…all of a sudden you have to be like this is what I mean'."
Bridgers adds; "This happened a couple of times…where he'd be trying to rewrite his own lyric, he'd be like 'well that's dumb' - 'Why?' - 'It's too obvious. Clearly, I mean this'," she swiftly adds in a dramatically bemused look. "Like, I did not pick up on that at all. Wow!"
Stemming far beyond realising their own pitfalls of recycling self-admittedly safe melodies the project offered Oberst and Bridgers the opportunity to get inside the mind each other - with its own set of consequences. "I actually feel…" Bridgers pauses tentatively, smirking at Oberst, "...it's kind of hard to write without you now, I'm realising. I feel like I got a little bit lazy because it was easy to write with you and I would be like 'oh I have this sort of idea', and he would solidify it."
"Perfectionism can get in my way. I can get frustrated if something isn't what I imagined it to be, so I'll end up working on a song for like fucking eight months sometimes, which is not necessary."
Fortunately, the songs that make up this multi-faceted effort were written sporadically over a year and swiftly recorded in the space of a month which meant that the cogs for this clandestine release could get turning very quickly. Seemingly a Bridgers' brainwave, the idea of surprise dropping has brought its own set of insecurities, which she divulges early on. "It could either come across as I intend, which is I want people to hear the record as a record, and I want it to feel like 'A Thing' that we're not making a big deal out of…but…this side of it," she says, motioning toward the interview. "Can feel like we are making a huge deal out of it…do you know what I mean? Like 'oooh, we're so fucking cool, and it's going to be a secret!" I want it to be the opposite of that."
However it's received - the bus-stop advert, mysterious phone message, even posting physical brochures to fans - it's certainly proved that the duo can always keep us on our toes. The kindling to this indie-dream wildfire came from the social media messages that got internet tongues wagging modestly. But it wasn't really up until last week that any real evidence of the surprise record began hitting the Internet.
"It's kind of hard to write without Conor now, I'm realising. I feel like I got a little bit lazy because it was easy to write with him and I would be like 'oh I have this sort of idea', and he would solidify it." - Phoebe Bridgers
The first single "Dylan Thomas" is a rollicking number that delves in and out of references to literature, death and a litany of other dark themes - and seems both logically and illogically the correct choice. "Which is funny because…what's the Tom Waits quote I like?" Bridgers pauses, before smirking. "'Beautiful melodies telling me terrible things'? It's kind of got a 'doo, doo, do doo doo doo' melody going on, but the lyrics are like heinous. I remember writing it and being like I never really get to say shit like this so it'll be fun to play over and over…it's the most dissimilar to my own music I think…as far as the speedy words [are concerned]" Which she emphasises with snapping fingers.
Of course, these two songwriters are undoubtedly used to their lyrics being carefully examined by their faithful to uncover the hidden truth - which, more often than not, is a manifestation of their personal need, as opposed to delivered intention."My Mom sent me an excerpt from Genius lyrics about my song 'Smoke Signals'," Bridgers tells me, "and it was someone dissecting every little line and being like 'well…pelicans…in ancient cultures are actually a symbol of death' and all this shit, where I was like 'No?! you have no fucking idea what you're talking about!'" She leans back, laughing.
While it may just have been a perfect storm of ideas that produced an album rife with promise, despair, hope and meaning, it was, most of all, a necessary personal sanctity for the pair. "I was all stressed about finishing a second solo record for me," Bridgers remembers. "And then Conor was like, 'why don't you just do what's fun and happening right now?' And I think that that's like really the only way that I, as an artist will stay sane…is if I do a thing, and then put it out. There was too much time between when I finished my solo record, and then when I put it out. There was too much time." She says matter of factly.
"I remember having this conversation when we'd already written the songs, and we were about to make the record," Oberst says to Bridgers. "We were talking about when it's going to come out compared to like her next record, and I was like, basically, are you going to want this record to come out three years from now? Are we going to want ever play a show? The answer's probably not."
Following this train of thought, Bridgers muses. "Also when you do stuff you like, anything that I've done that I was hesitant about or whatever, and I show it to someone, and they hate it, I take it so much more seriously - it really affects me - but if I do something I like and someone hates it…I don't care…does that make sense? Like…I don't know if you've ever done anything you're embarrassed of?"
"Absolutely!" Oberst exclaims loudly with a deep cackle, reclining triumphantly into the couch, before turning to a whisper. "Many, many things."
Bridgers continues. "If I've shown someone a song that I'm not 1000% on, and I don't know if they'll like it, I take it so much more personally…[but] when I like something, and I get a shitty youtube comment or something, I don't care. Because you're like whatever, it doesn't matter…"
"And it's not in like an egotistical way, but I think having confidence in what you have made, that's kind of all…" Oberst says, briefly considering his words while pouring water into his glass. "I mean after that, art is all subjective, and it's all just peoples tastes. If people don't like it or you get a bad review or whatever, it's like, 'well, you just don't have the same taste as me'."
"I feel like I learned that from you too, you have to have a level of confidence…" Bridgers adds. Oberst almost immediately bursts out; "Like U2?! the band U2?!"
To which she retorts; "Yeah, U2! Just non-consensually putting their music on peoples iPods. It's great. A great business model!" And with the pair both laughing at this ridiculous, but truthful, notion, the Better Oblivion Community Center begins to make more sense.
Perhaps it's an idea that encompasses being a part of something much greater than you could have ever perceived, even just through happenstance. Maybe it's the urge to find sanctity in the insanity you've found for yourself in after the spotlight burns too bright. Or, more than likely it's just "words that we thought sounded cool together."
Better Oblivion Community Center is out now
Get the Best Fit take on the week in music direct to your inbox every Friday