From basement demos and talent show performances to a Reddit post hitting number one on the site's homepage, Sloan's talent for writing took her LA where she found herself as an artist, wrote the one song she couldn't give away and it's now the place she now calls home. One of the most exciting voices this year, her debut EP sad girl is an in-depth self-examination of moments of acute and sweeping sadness and anxiety. A song she co-wrote - the emotionally charged Camila Cabello cut "Never Be The Same" - has just been named the USA's Top Pop Song of 2018 so far, according to the RIAA.
But it all began in Boston where Sloan grew up, schooled and started writing her first songs. With a tattoo of the city's skyline, she's never far from the first place she called home, but now, three years later she's all about LA. For Sloan home is somewhere "where you know everyone", she tells me. "My family is still in Boston, but I've been in LA so long I have a different family there". The main difference? Probably the weather, she quips "I miss the seasons more than I miss my family."
"The first song I ever wrote, which will never ever be heard by anyone besides my mom, was called 'Pitter Patter'" Sloan laughs. Written at the age of ten, she performed it at a fourth grade talent show after some persuasion by her mum, who Sloan says "was lying to my face" when she told her the song was "really good". "It was just about crying" she says, "the worst song on earth."
There's always crying somewhere and Sloan admits "pretty much nothing" has changed in terms of her songwriting - which is definitely a joke - but tears are still ever-present in her songwriting.
Her mom obviously saw something in her early ideas: Sloan recalls how her mom taught herself the basics of Garageband so she could then pass the knowledge onto to a 12-year old Sasha. Making music became almost ritualistic to the point where she'd come home from school everyday, sit in her basement and record ideas. Some of those ideas made their way online via a now inactive Soundcloud page. "Thankfully I didn't put everything on [there]," she says, "otherwise that would've been really bad." Early support from friends and family was crucial in building her confidence as a writer: "That encouraged me to keep songwriting instead of just doing karaoke".
Sloan's grasp of sumptuous pop melodies and simple lyrical hooks hasn't always been her focus nor was it the genre in which she first began working. Take her original karaoke song for example; Aretha Franklin's "(You Make Me Feel Like) A Natural Woman". Just one of many soulful influences alongside a fraught relationship growing up listening to a lot of Amy Winehouse, it led to her studying jazz piano (alongside music business) at Berklee College of Music back home in Boston although she now tells me "jazz is definitely deceased to me." Her current go-to karaoke song Crazy Frog's undeniable cult classic "Axel F". "In all honesty, it doesn't work" she says, "it's just really funny that's why I do it."
"Working with way people who are way better than you just makes you better"
The magic and hard work that goes into pop music is often overlooked by your average radio listener who probably doesn't care who wrote or produced the song that they're singing along to - yet songwriters and artists from more culturally revered genres can also exhibit a snobbery that comes from its inherent simplicity. Sloan's move to LA opened her eyes to the complexities of making something simple work. "I was always a little snobby about pop music" she explains "because it's so simple and jazz is really complicated, but to actually make a simple pop song that's good is so much harder than making an overly complicated jazz piece. So when I figured that out I got so much more joy from writing pop songs and then you just become obsessed with the craft of it."
A move to LA might be an obvious one, a right of passage for pop songwriters but it was a viral Reddit post which helped her demos get noticed - not something many songwriters can claim as the nexus to their career."I posted that photo with my house and the dork sign on it and I woke up the next morning and it was number 1 on the front page of Reddit" she explains. "I'm such a Reddit nerd and I was freaking out, I think I peaked in that moment." Going against the number 1 de-facto rule of no self-promotion she added a link to her Soundcloud in a comment and a week later Steve Lindsay, who signed Bruno Mars, reached out offering Sloan a publishing deal.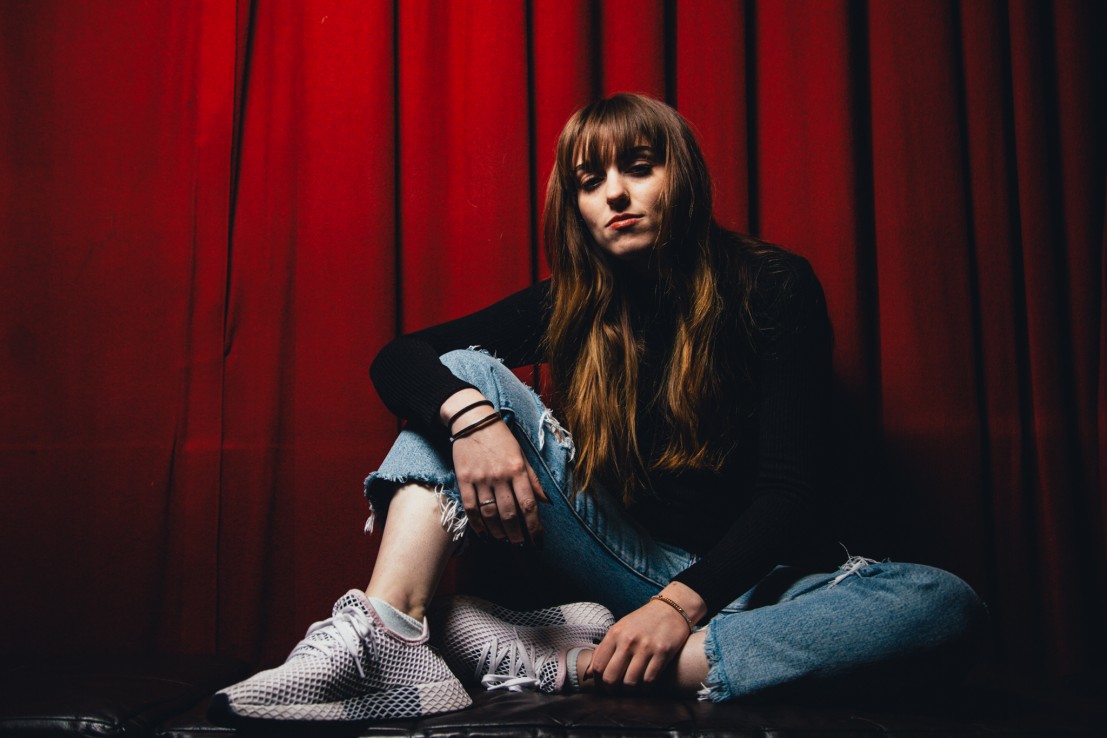 Collaboration is key for her: "Working with way people who are way better than you just makes you better," Sloan explains. Settling in LA took its time though. "It was actually my living hell up until six months ago," she explains, "figuring out life as well as the business, how to pay my bills, drive a car in Los Angeles, rent an apartment." It was through a period of waiting - or inadvertently not actually waiting for anything - that birthed her highly personal debut single "Ready Yet", a song about her relationship with her father. "I just felt like I couldn't give it away" she adds, "and there were a couple of big artists, who as a songwriter I'd have died to cut that song and they were interested, but I had to put this out."
"For me to connect to a song it has be real and I think being sad is real to me"
The sad girl EP is just the beginning, but when it comes to sad songs don't expect Sloan's writing style or content to change dramatically - at least for now. "I forget who told me that, but the whole point of making music is to create emotion" she explains "whether you're happy, you wanna dance, you wanna cry, so I think anything that makes me feel something is dope and I hope my music does that for other people too." That personal connection is so important and something Sloan has now managed to experience first hand with her own fans at live shows: "You see all these streams, but it feels like they're bots, I don't know why" she explains "but you don't actually see to people actually listening to your music...it was crazy to see people looking me in the eye [playing live] and really connecting with it and that was really gratifying. I didn't know people were actually going to be there."
Sloan's relationship with songwriting will never be as simple as the songs she writes are perceived to be, but that's not important because making music is not just a job. "Even if I quit music" she explains "I could never stop making it, it's just something I love to do." As a process of escape, and documenting reality, tracks like EP highlight "Normal" contain a level of relatability that resonates on a deeper level. Profound even when talking about being on the outside, and the struggles of fixing yourself to fit in when you're younger, she drops the lines "I think the older I get I don't feel normal / But I just don't care."
Being normal is overrated, being normal is boring, but being real is key. For Sloan that genuine authenticity is something she brings to her music, "for me to connect to a song it has be real and I think being sad is real to me" and sad girl Sloan's songs sure are sad.