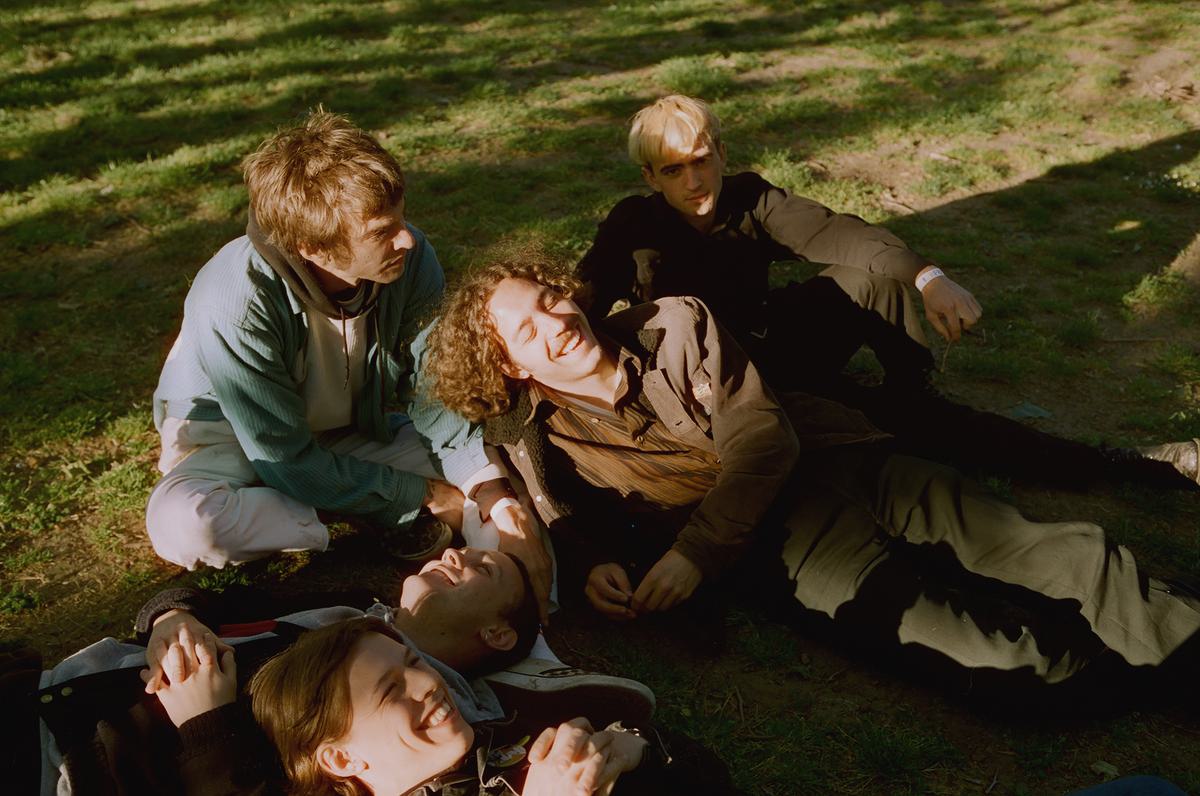 On the Rise

Pottery
09 July 2019, 09:00
With a raw and scratchy live energy that reflects the direct and jangly textures of their recordings, Montreal's Pottery add a well-needed sense of youthful fun to the realm of post-punk
Before I meet with Pottery, the latest contribution from Partisan Records' seemingly endless pool of buzzy acts, they have but three singles and news of a forthcoming EP to their name. Though it seems the apt moment to lock in some time for an a feature charting their rise, their PR manager - perhaps acknowledging a slight lack of research material - assures me enthusiastically that these five friends from the UK and Canada will be happy to talk about anything.
As we sit on the steps of Brighton's Unitarian Church sharing some tins ahead of their Friday evening performance at The Great Escape, I realise he wasn't lying. I sit in the middle with them circling around me as they vye like brothers for the opportunity to speak over each other about any topic I introduce. There's guitarist and vocalist Jacob Shepansky and keyboardist Peter Baylis, who both peer over at me with wide, charming Cheshire Cat smiles; frontman Austin Boylan who has a focused gaze as he talks to you; and bassist and drummer Tom Gould and Paul Jacobs, who although wearing a more relaxed temperament still look happy to recount the most random of anecdotes. The feeling is that of visiting your favourite incorrigible cousins, but without the condescending connotations.
As they tell me of their beginnings, I get the impression their remarkably open nature helped their own genesis and progression, but they're keen to emphasise the importance of Montreal as their hub has played. "Montreal is like the place in Canada where everyone goes, you know?," notes Jacobs. "Yeah," Shepansky agrees, "If you need a member for your band, there's enough people in the music scene; it's a city where you can meet enough people and it grows naturally and organically. I grew up in Vancouver going to shows, and it was very... the scene is just different. It's not very inclusive at all, it's very gritty, and people are very rude to you if you're not really cool or associated with their scene. It's not as inclusive as Montreal."
"Everyone's looking for new people to play in bands with. It's like a swinger's scene," Jacobs continues. Accordingly, Pottery was the amalgamation of its members looking for new additions to their own projects, becoming centre in Venn diagram of different musical projects. At one of their first shows they caught the attention of producer Renny Wilson, who approached them and expressed his desire to record them, as long as they did it live. They were more than happy to comply.
"He was looking to do small sessions," Baylis explains with his ever-enthusiastic expression, "he was tired of doing big, long albums. He wanted to do two day sessions quickly and super cheap. It was like $400 for two days and you get a hundred tapes. We never got the hundred tapes, but no shade though, haha. It was a really great experience, it was like the opportunity came to us and we had these songs so were like 'let's do it.'"
The product, their debut EP No. 1, has the direct energy and natural synergy of their live performance that Wilson first saw potential in. It's opener "Smooth Operator" ebbs and flows as if they're all looking round each other ready for the next drop or passage. "The whole song is completely transformed by us just playing it live together and fucking around with it you know?," Boylan notes. "Even with the songs on the EP there are parts that we do differently every time, or parts of the songs that we just jam out or whatever. With track-by-track, at least for me, I feel super uncomfortable because I'm alone and I'm not able to look at anyone; that's a big thing for us, looking around and feeding off each other."
They take it turns to agree, as if its the first time they've thought of it, so natural was the process to their aesthetic and energy as a group. "Yeah it's funny," adds Shepansky, "it's totally different playing the songs with each other and then track-by-track, because when we're with each other I don't really think about the bars and everything, it's more of a feeling…" "I wish you would," Jacobs dryly adds to the others amusement.
Their banter is pretty fraternal, each seemingly having their own roles within the dynamic. To convey their back-and-forth accurately, it's easiest to present it in dialogue:
BAYLIS: "I guess we're all kind of different in a way, but somehow us working together works out. Like we're all different in age too. Paul you're…"
JACOBS: "I'm 29"
BAYLIS: "And Jacob you're like, what, 22?"
SHEPANSKY: "I'm 21."
JACOBS: "You're 21?! You've been saying you're 22 for so long!"
SHEPANSKY: "I'm 21, I've never said I'm 22!"
JACOBS: "Well... I've been saying you're 22 then!"
SHEPANSKY: "...Whatever'
Everyone: [laughter]
The band's impulsive and honest approach to record is present at the writing stage, too, as Austin explains. "I've tried and tried to set aside a time at home to sit down and write music but for some reason I'm not the kind of writer that can do that, I'm almost polar opposite to that, where I'll be like walking down the street or shopping or working or something and then all of a sudden I'll have an idea. I never write about personal experiences, or have a reason to write songs, it usually just comes out of nowhere."
"Lady Solinas", the band's leading single, a swinging guitar anthem that sits somewhere hazily between The Rolling Stones and David Byrne, focuses loosely on the story of Valerie Solanas, who shot Andy Warhol in 1968 after he repeatedly rejected her play proposal. "I just liked the story and kind of used and compared to it mental illness and, I don't know, the effects of obsession, pop culture and the pressures of being an artist. I liked the story but wasn't trying to write about it; I used that story and kind of made it something else."
"There's also the other aspect of her giving Andy Warhol her script for her play or whatever it was," Shepansky adds, "and then him just shrugging her off and just what that does to your mental capacity. You never want to meet your idols." "Unless of course they are actually IDLES," Gould wittly chimes in.
Joining ranks with breakthrough success stories such as IDLES and Fontaines D.C., the latter of which they will join on a US tour in September, I wonder how they've fitted in whilst the spotlight is still hot on Partisan. "It feels like family," Baylis assures me. "Always at first your parents are like 'be skeptical, watch you're back' all of this, and they grew up in that era you know? But with Partisan the people on the label and the other bands, we're all friends and it feels natural in that sense".
Shepansky tells me passionately how their label will help with something way beyond their jurisdiction if needed: "They do all they can to help their artists. And we're the small artists of the label; we're obviously not paying their bills but they're still treating us just the exact same as they would Fontaines D.C. or IDLES. They're still attentive and they're there."
Also, which at this point I give a jokingly feigned surprised expression, Baylis adds: "we have a weird energy when it's all five of us, and when we get together it's hard for people to deal with sometimes, we're all talking at the same time, it's like scrambled eggs. Like, scrambled...eggs." It's an accurate image, and I feel pretty frazzled after keeping track of so many simultaneous lines of conversation. But it's an energy that is doing them favours, and, with the understanding and familial guide of Partisan, has them bound for success.
Pottery play at this year's End of the Road Festival which runs from 29 August - 1 September. Find out more at
endoftheroadfestival.com
.