Two years ago on her birthday, Montreal-based rapper Naya Ali decided to change her life.
"That was my goal. More than a goal – it was a reality. And every day I had a mantra: change your mind, change your life. Because I'd spent a long time putting a lot of energy into other people's lives, dreams, companies. And I asked myself, what if I put all that energy into myself? I have so much. Let's see where this takes me."
Naya describes her plan with a steady self-assurance. That's probably because it worked: her new EP Godpseed: Baptism (Prelude) is a polished collection of bewitching trap and hip-hop, which walks that Weeknd-esque line between dancing and crying in the club. She's also been the unlikely face of Parcs Canada, and has had giants of her country's scene clamouring to collaborate: veteran Souldia just graced a remix of her hit "Get It Right", on which she spits the affirmation: 'I'mma get it like I already have it.'
Change your mind, change your life, indeed.
Naya describes her determination as a product of her upbringing, which, though abundant in love, was a little under-resourced. Born in Ethiopia, she spent a year in the States before moving to Canada and settling with her brother and sister. "I grew up with my mum," says Ali. "She was a single mum. Anything I wanted I had to get it for myself. She did her best but I paid for my schooling, my car... It's good because it gave me character. But I always had to work hard, ten times harder than a lot of the kids around me."
"So if I don't have it, I have to get it. I have to push myself."
Whilst her sound is indebted to a few generations of rap – beats-wise, she spits over very 'now' trap and electronica, but has the elasticity of Golden Age rappers – Naya came up on, of all things, country music. "I had this channel called Country Music Television here," she grins. "My mum had it on all the time. Like Shania Twain, Garth Brooks…! But I feel like that opened my ears." I have a vision of her in steel-toe boots at fourteen. "No no no not fourteen!" she insists. "I was a lot younger. I still secretly like it, though. A little sprinkle."
Naya's keenness for rap fell out of a love of the East Coast greats ("the bad boy era… Puffy Daddy, Pac etc"), but her first bars were poems. "I used to write as a teen. I think my first one was about Africa or something… I dunno," she laughs. She remembers rapping to her best friend at 18 or 19. "She was like 'It's dope it's dope'. It was not dope."
It's unclear whether it was this glitch in her self-belief that was behind Naya's decision to quit aged 23. "I just didn't think I could do it full time," she admits. "And at that point I didn't know myself. So the music I was putting out, I didn't feel it was generally going to have any movement or create any buzz or anything like that. So I stopped and I focused on school."
Naya studied a BA in public affairs and Spanish, and then went into PR and marketing. It's a move that gave her an unexpected string to her bow when she picked up art later in life.
"I love marketing," she says with alarming enthusiasm. "I love PR, and communications. I love putting the package together. WIth my music, I treat it like a business. I invest in it, the packaging has to be right, the marketing has to be right." I mention that, with the traditional industry machine becoming increasingly obsolete, the power to do things 100% DIY has never been more important. She agrees it's something that gives her an edge.
"As artists, you just wanna make art – you don't necessarily see the business side. But that's when we get screwed over. If you wanna make a living out of your art, you gotta be the CEO of your own start-up. I'm more business-minded, and that's something I got from Jay Z. I do see people doing it bootleg, which is fine. But if really wanna make a living out of it on a major scale, you've gotta treat it like a business."
Aside from business savvy, there are a few things that make Naya a bit of an outlier in the Quebec hip-hop scene. The first is that she raps in English: when you look at the region's biggest hip-hop acts – Loud, Fouki, Alaclair Ensemble – they're all Franchophone. Naya says she's "making her own way" in that respect, and that the French media have been very supportive. "Growing up there was a scene in English – but it wasn't at the level of the French scene. [But now] people are more receptive. It's a little challenging to get the attention … but once you've got it..." – she flashes me a smile.
I also noticed that the scene seemed awkwardly white: an unusual inversion of the colour balance outside Quebec. Naya is very conscious of this, too. "I mean, just look at Toronto. That scene is very diverse, everyone that's coming out from there is very diverse. But hip hop is still pretty new in Quebec, it's still in the foetal stages. So I'm not sure they're ready for…" she pauses. "They want something that they can relate to, that's more familiar. But they don't owe us anything: we carve our own lane. Just like Drake did for Toronto, we'll do it for Montreal, for Quebec. It's a challenge, but I accept it. Like I told you, nobody owes me anything in life."
I say I can't help but feel Naya and other non-white artists should expect the same embrace from the general public. But she insists: "Hip hop is unfamiliar to Quebec, especially at the scale it's growing at. People still need comfort in something familiar."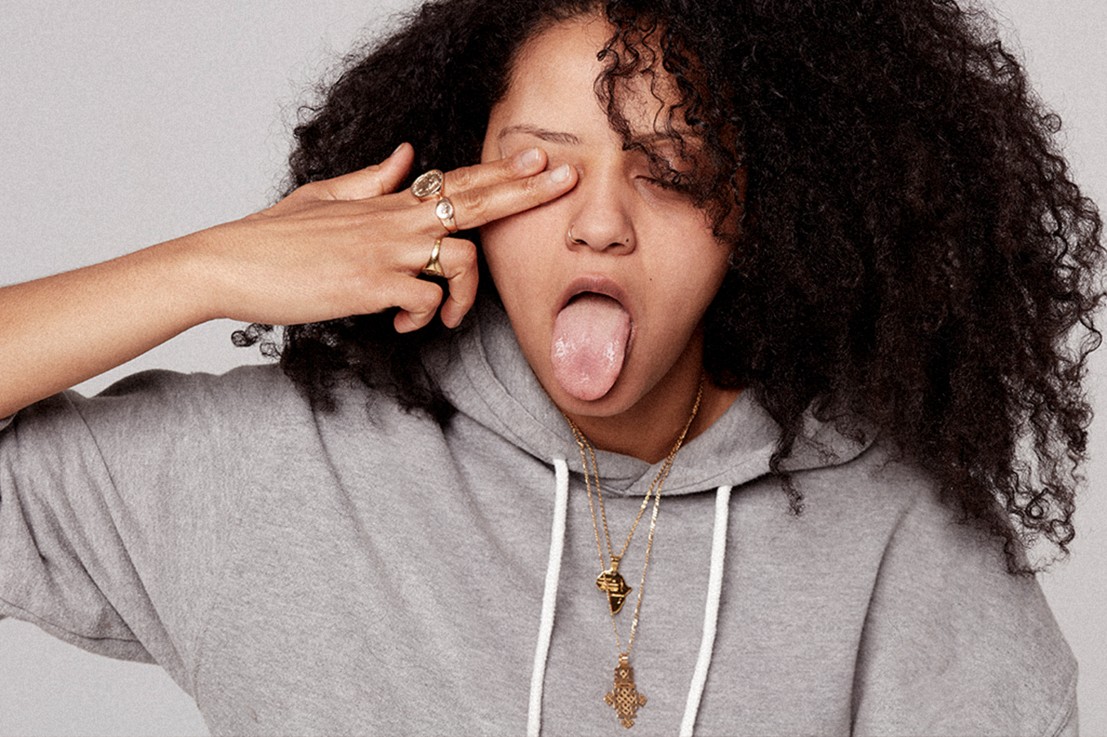 We come to the new EP, Godspeed: Baptism (Prelude), something Naya describes as an "introduction" to her album. As to whether it's rap, she's unmistakably old school in her beliefs. "Hip hop is the artform, rap is just the medium," she says. "Obviously I love rap, but I'm more than that at the same time. I like to consider myself a complete artist, from the sounds to the visuals to the performance of it."
In the record's daedal production and psychological landscape, you can hear Naya's more current influences – "Kayne for innovation, J Cole for very simple and real lyrics, The Weeknd is for the emotion of the sound". She also matches Kanye and co in her seriousness: this is not a 'light' record but a therapy journal cracked open.
"I'm revealing different layers of the onion," she says. "I love to create honest music. It has to come from … everything I create is from me. I don't like to put myself on a positive pedestal. I mean, I'm all about positivity obviously, but I'm also human. We all have that balance, that dark and that light side."
"And production-wise I'm very picky. I don't like to receive beats like 'Hey here's my beat bag!' The best thing for me is to start in a session with a producer and start something from scratch." As with all the other aspects of her music, Naya would happily cover production as well if she just knew how. "Maybe down the line I'll learn. But I like to be 100% at things. I'm very particular. So if I'm not at that level, I'm not going to throw myself into it."
With the EP released during Montreal's long-ass winter, Naya was prepping to launch it in the snow – though recent restrictions on movement mean that didn't happen. This was, perhaps, a good thing. "It's crazy. I never get used to the cold. I was almost born here, but I never get used to it. And about three years ago, I developed an allergy to the cold, like my skin starts to swell up… like a physical reaction to it." When I caught her at Rouyn Noranda's FME she was dressed as a sort of sexed-up stormtrooper – I wondered if this was related. She laughs: "I gotta cover myself to my eyelids."
With a trademark nonchalance, Naya quips that the perfect outcome of the next six months "would be to make one of the greatest albums of the year". But a laugh betrays her. "Hahah … no. Of course recognition is always great, but it doesn't matter at the end of the day. Like, I get these messages from people that say my music helped them through depression, helped them change their minds, and their lives… and when I'm touring the cities in Quebec I've been able to meet people from different places, different backgrounds. You can see how you've impacted someone's life, even for 40 minutes. And that for me is the real recognition. That's what gives me joy."
Godspeed: Baptism (Prelude) is out now.