As a child Zietsch lived in Lismore, Central New South Wales. "It had classic small-town vibes," she tells me from her home in Melbourne, one day before the city's latest COVID-19 lockdown is expected to end. In the strict religious household, she was raised in, which Zietsch is reluctant to disclose, the insular town was reduced in size even further. "I was not permitted to socialise with people who weren't part of The Religion, unless I was trying to get them to actually join," she recalls. "There was a really small group of people that I could connect with in Lismore as it was anyway. I didn't have a lot of time outside of religion to do my own thing."
Away from going to church several times each week, Zeitsch seized every meagre opportunity to experience a sense of normality. "School was the best because that was when I got to hang out with whoever I wanted. I got busted a couple of times because I would sneak out for stupid things, like a friend's 16th birthday. I literally snuck out of the house to just hang out with a friend and do a normal activity!"
As we speak of this time in her life, there is barely any flicker of anger or ill will; rather, you get the sense that this suffocating experience has made her into the person she is today. She was 14 when she finally left the religion, followed one year later by her mum. "My mum was constantly challenging The Religion," she tells me fondly. "A lot of my mum's family were entangled in it as well so it was very difficult for her to leave. Her standing up to it inspired me to do so too."
I question what access she would have had to the outside music world during this time, and she tells me she found ways. "We had Limewire on our shared computer at home, so I'd download music from there as a kid. I also remember buying CDs from people at school. I paid $1.50 for a 50 Cent CD, which was a good deal!" Her personal music taste didn't develop until she could really use more of the internet though. Classic folk singer-songwriters such as Nick Drake and Joni Mitchell soon formed an impression, Sharon Van Etten too: "I had to take the ferry home from work in Brisbane and I used to put on Tramp and listen to it while looking out from the ferry and having a moment. I listened to it solidly for months, you can confirm that with my old housemate."
Zeitsch remained with her parents for three more years after departing The Religion, moving north to Brisbane at the age of 17. She worked in a restaurant to save up money but her path, as it usually does for artistic Australians, quickly drew her back south to Melbourne. "I just remember going to so many gigs," she laughs. "There were some weeks where I'd go to five or six gigs a week. It was great but I got to the point where I was exhausted."
Before finding the Maple Glider persona, Zeitsch was in a band, Seavera, alongside producer Daniel Pinkerton, but that project came to an end in 2017. "We were veering off in different directions," she admits. "We'd known each other for years, since we were young. It was fun and interesting, but I felt disconnected from it." I ask if the song "Friend" is about Pinkerton, and she confirms that it is. "We're still good friends though. Our relationship just stopped working for a bit and we both needed time to process and reflect. We're both in much better spaces now."
A break from the tight-knit Melbourne music scene, then, felt required. The hemisphere-crossing trip to Europe has become a pilgrimage for Australians, a youthful rite of passage. They come over for a few months at a time - a requisite given the supreme distance - and aim to make the most of it all. But Zeitsch's version was born out of necessity rather than temptation. "Moving to Europe was timely because I had just got into a relationship with someone whose visa expired in Australia," she says. "And also, I needed a break from music." After travelling through Asia, she settled in Brighton, purely because it was beside water (perfect for an Australian) but it "turned out to be fucking freezing!"
"It was nice to let go of this idea that I had of myself from a young age, essentially subconsciously choosing to be a musician"
Brighton became the central place where the songs on her debut album, To Enjoy is the Only Thing, were written. "We moved there in winter, so it was quiet, and I had heaps of time," she remembers. "I also didn't have any friends yet, so I had lots of time to focus on writing." While she had always wanted to travel internationally, it also served a deeper purpose. "It was nice to let go of this idea that I had of myself from a young age, essentially subconsciously choosing to be a musician," she considers. "Having the opportunity to open myself up to different versions of myself was healthy then. It really helped to solidify that music was in fact what I wanted to work on rather than just floating through life."
Zeitsch returned to Melbourne, her SoundCloud filled with songs capturing her time in Europe. Back in the Southern Hemisphere, there was a lot of work to do to feel at home again. "I had taken for granted what it feels like to really nurture relationships in one place," she ponders. "I can be pretty terrible at communicating when I'm far away from people, so it was hard for me to get back into that space. I had to learn about everyone's lives again - in my mind they were still exactly where they were when I'd left which was so stupid! I hadn't communicated a lot of what I was doing when I was away either."
After finally settling back into the city's community, Zeitsch joined with Tom Lansek, who she'd previously worked with during the Pie Eater competition with Seavera, to produce and record To Enjoy is the Only Thing. It's a collection of deeply personal narratives, intimate vignettes of her travels in Europe. Whereas the production in Seavera was decidedly electropop, here she's often accompanied merely by a tenderly strummed acoustic guitar, which allows her songwriting to transfix.
In the melancholic "Good Thing", she sings "I guess that's how we learn / By setting fire to things that bring us life / Before we've got to watch them burn," a line that reflects on a temporary relationship she once found herself in. "Both of us were aware that it was temporary," she says. "It got to a point though where it could keep going or just stop and I wanted it to stop before it got too messy. That made me think back on past experiences where I've also held back instead of being vulnerable."
I tell her that the song title "Be Mean, It's Kinder Than Crying", with its surprisingly caustic assertion, immediately jumps out to me. "It's about this time a person was really angry at me, and I appreciated that anger rather than tears," she explains. "It's a horrible feeling to see someone upset because you've hurt them in some way. Sometimes you just want someone to be angry at you and feel their rage."
The achingly raw "Baby Tiger" discusses her cat offering solace in the throes of a difficult period in Zeitsch's mental health. "I was feeling really outside of myself. It's a song about accepting where you are and that you're not in a good space. I was spending a lot of time in bed and Coriander (who stars in the video for the same song and is a true beauty) hates closed doors so she was scratching the door. It's just funny how little things like that can help when you're in a bad headspace."
What you notice when talking with Zeitsch is her innate down-to-earth-ness. Authenticity is a fraught subject in music, but it virtually bursts out of her; there is no pretence, no hint of insincerity. Her bubbly personality is noticeable in her music too. "Swimming" is an almost-love song, created when an ex-partner asked her to write him a love song. "I tried but it didn't really work out", she tells with an awkward titter. "I played him the song and he was confused. It was very close to the end of the relationship anyway. It was just funny to me that we broke up and this was one of the first songs I recorded afterwards."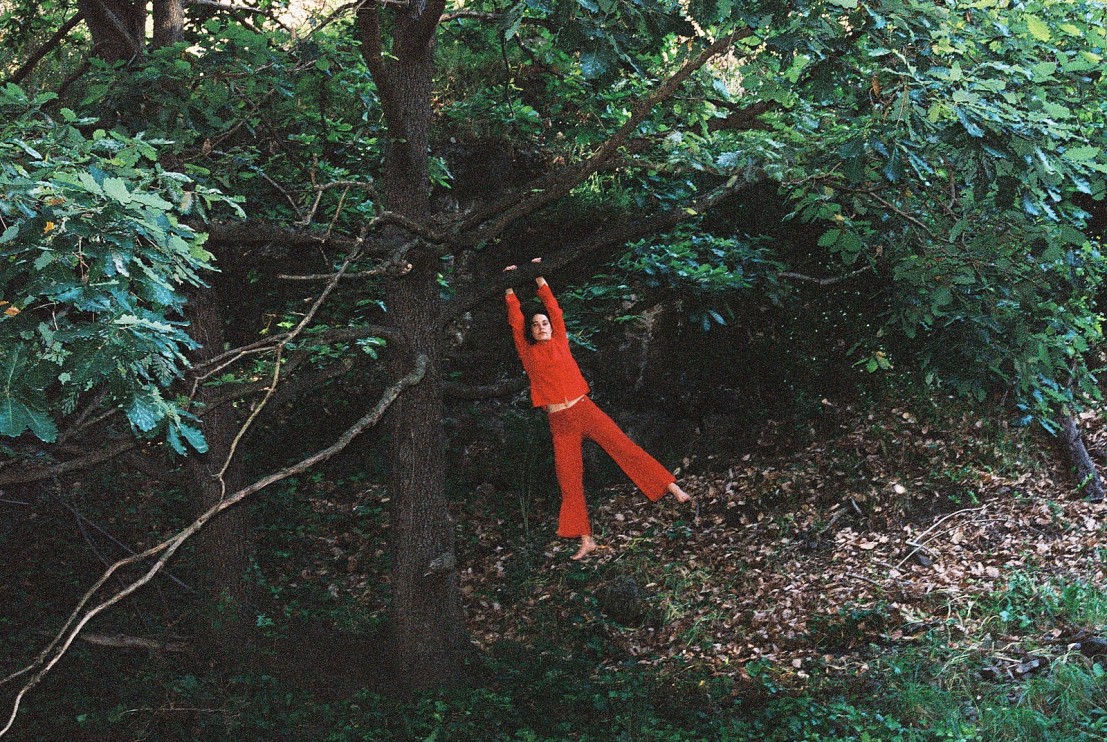 The name Maple Glider has suitably light beginnings. "It came from Sugar gliders (a small gliding possum)!" They're the coolest, they just glide through the air and it's really cute." She almost recoils when I say that I've never seen one and I'm implored to look up videos of them later. "I wanted a fun performing name and I think Sugar gliders are very adorable," she continues. "I just really wanted something that wasn't very serious."
Even the music videos exude her balance of seriousness and irreverence, particularly the black-and-white "Swimming"', with Zeitsch swooning around a country landscape with a skeleton. "I decided that it should have a comedy horror feel," she explains. "It was taking the piss while also reflecting the darkness of the song. We even researched the hell out of finding the right skeleton partner for it (laughs). It was just so much fun." Zeitsch didn't need to look far for someone to shoot the videos, asking her friend and housemate, the film photographer Bridgette Winten. "It's just been the two of us for all of it. The first video was shot one day after lockdown so the concept had to be a party at home! It was the first video Bridgette had ever made (a surprising statement such is the quality of the shots). We just went to the two-dollar store and got lots of supplies for it and wore silly clothes."
It's why, above all the tales of heartbreak and loss, Zeitsch believes the album is a hopeful one. "Writing these songs was about acknowledging feelings and experiences that I've had and then letting go of them," she says. "And to me, that's a really positive and uplifting thing. There's nothing more revealing than looking at your own perspective on something and then choosing to share it with other people through music."
To Enjoy is the Only Thing is out now via Partisan Records.