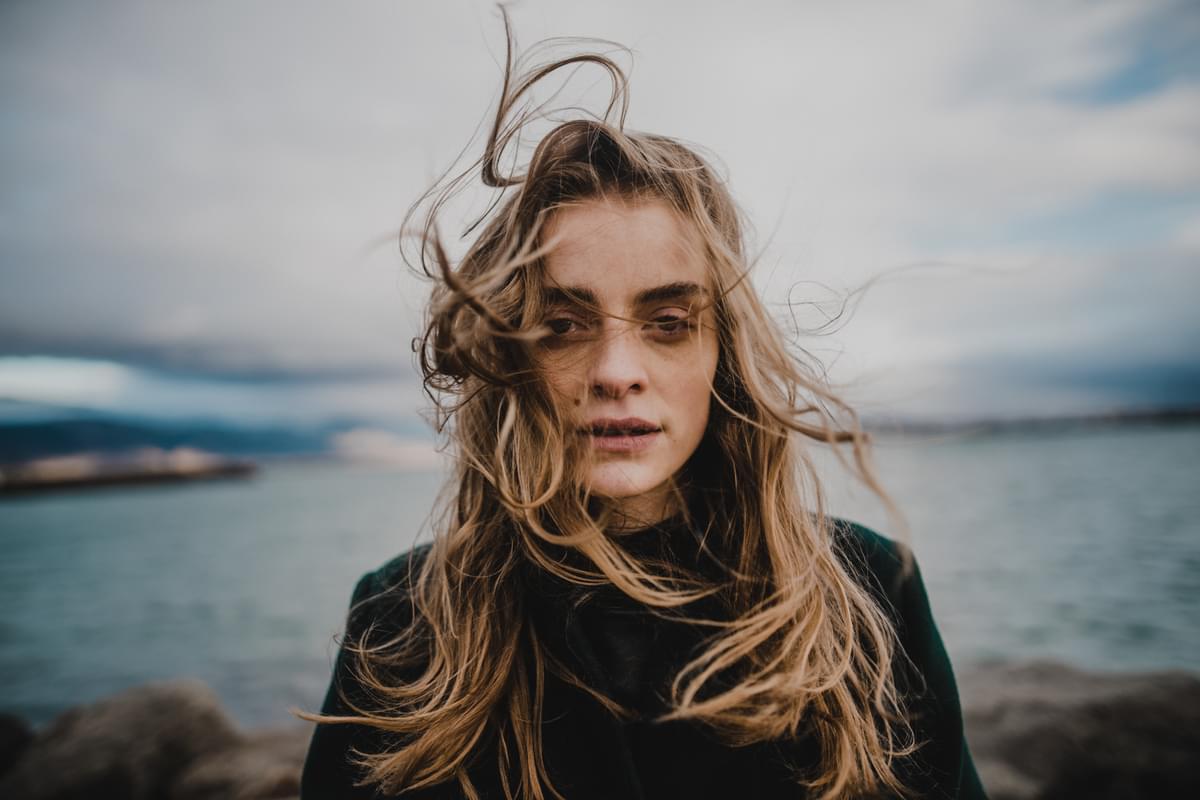 On the Rise

Eydís Evensen
10 November 2018, 14:00
NYC-based Icelander Eydís Evensen creates post-classical compositions that urge us to look at the natural world around us.
Eydís Evensen grew up in Blönduós, a small town in the north of Iceland. With a population of around 800, she and her four older siblings were immersed in spectacular nature, encouraged by their parents to explore – as long as they were back "some time after sunset". She and her family lived right by the ocean and Eydís would sit in the backyard, soaking up her surroundings and the salty smells for hours, meditating and observing the world around her. Often, there'd be a snowfall of around three meters, blocking their front-door and shutting off the electricity. "You'd have to stay inside and play cards on those days," she says, laughing.
Most days, her parents would put on some Led Zeppelin or jazz, sometimes treating the kids to a bit of metal – Eydís' brother even went on to join Icelandic metal band Svartidauði ("Black Death"). For Eydís' though, she started reaching for the piano as soon as she could stand up. "It was always about music when I was growing up," she explains. "All my siblings had lessons and I wanted to be just like them so I started with recorder lessons just to learn the notes and then as soon as I started learning [piano], I was in my zone completely."
She went on to compose her first piece age seven. As one of the biggest storms during the wintertime raged outside their home, Eydís' sat down at the keys and wrote 'The Storm'. After her teacher encouraged her to play the piano how she wanted to play it instead of simply following the typical classical route, Eydís wrote more and more. "Having a teacher who is so strict, especially with hands can be very damaging," she says. "Piano was and still is my voice, in a way."
Once she turned 13, Eydís recorded her first album at her local school. Her parents helped her to fund the album and as this was the first time she had experienced anything close to a studio experience, she says she was too shy to do more than one take for each track. "I didn't know what I was doing. Every song had a bad note because I was too shy to ask for another chance." She then took the album door-to-door, selling the CD to raise money for a local children's charity, ABC. "I was so excited to sell it but it is truly awful," she adds.
Thankfully, Eydís is more confident in her work these days. While still hugely influenced by nature, her post-classical compositions have grown into works that are immersive, delicate and intensely emotive. With track titles like 'Vetur Genginn Í Garð' (Winter Walk in Garden), 'Af Jörðu Komin' (From Earth Come) and 'Stormasamt Kvöld' (Stormy Evening), there's still inspiration from little Eydís' fascination with the natural world but now, she's able to mould them into a sonic journey that'll stick with you long after the last note is played.
"Composition is...definitely about getting everything out. There's always a really specific feeling or thought behind it."
"When you hear certain melodies and different harmonies, you feel a certain way when you hear those chords, she says. "I relate to different chord progressions a lot and I've been exploring how different chord progressions. I relate so much to the darkness. A new composition usually starts with a little feeling or notion and the best thing is I can't really force myself to sit down and write. It has to be something that I need to get out so I would try and find a piano and maybe I'd start with a minute of something and I'd improvise and record everything and just flow around and listen back to the recording and think 'maybe I can work with this part' and then build on that and develop it. It's definitely about getting everything out. There's always a really specific feeling or thought behind it."
At age 19, Eydís packed her bags and travelled the world, stopping in the UK, South Africa and more before settling in New York, where she now resides with her fiancé. Living out a suitcase for five years was tricky when it came to writing new compositions, so Eydís would visit local music stores and hire out their rehearsal space. "I was actually really lucky to be able to find places where I could practise. In every different city, I had to find a piano and practice and write otherwise I would go crazy."
"I feel very meditative when I play or write music so I'm just hoping to have people on that meditative journey with me and reflect on something for themselves"
"I've had an interesting emotional journey by travelling so much and just living by myself in my suitcase," she continues. "There's one specific song in G minor, that explains when your mind is going into a spiral and you're in a loop of constant thought processes, it could be very dark. It's sort of just finding a way of explaining that your mind sometimes goes into that place… where you don't really know how you feel but you still feel heavy and you feel tension. In that specific song, it then changes into a way of actually now I know how I feel, it evolves in a peaceful way. It's emotional confusion or feeling lost by travelling a lot and not having a grounded home and then striving for stability again."
Now writing for strings (and performing live with a string quartet), Eydís is excited to share her story-telling with the eventual release of her album. "I've now written and added on different parts to the demos. There's more a storyline now. For example, C minor reflects well in E Flat major so it's like the two chords that go well together will go next to each other on the record, so it's sort of like a key journey. I recorded stuff for the album here in Iceland and in New York too. We had string players from Juilliard in our living room and had a little concert and recording session."
As for new listeners, she's hoping to put people in a positive and reflective mindset to be able to enjoy the music, even if it's in the background. "A peaceful time," she says. "I feel very meditative when I play or write music so I'm just hoping to have people on that meditative journey with me and reflect on something for themselves."
Get the Best Fit take on the week in music direct to your inbox every Friday