"I think I use music as crutch to deal with the shortcomings of moving around all the time," Abhi says. "A lot of people would like to believe that the style of music and the artistry behind it is directly correlated to travelling, but I think it is only in a way that you wouldn't expect it. Music was the only consistent thing for me growing up."
At first listen, Abhi the Nomad's brand of bouncy, horn-backed boom-bap has a lightness about it, in the vein of Murs and other State-side alt rappers. But peel back the layers, and the themes it explores – an absence of belonging, environmental apocalypse – are anything but.
At 26, Abhi has relocated more than most people would in a lifetime. The son of an Indian diplomat, he spent many of his early years living in six countries across Asia and America. This sense of constant movement – of re-adjustment and saying goodbye – has affected his creativity in more ways than he could have anticipated.
Having now finally found a place in Austin, Texas, that he feels he can call home, Abhi is planting roots in the local music scene. He cuts an intriguing figure: if you watch his recent music videos, you'll see him dressed in hazmat suits, blending together indie-esque guitars and old school hip-hop bass. But what really grabs you is the lyrics. His astute reads on society and politics, heightened by his own experience as an Indian American, are insightful and forthright in their delivery. The song "House of Clocks" from his soon-to-be-released new album, Modern Trash, is a perfect example, with the line, "Plastic in the ocean / Absent when it comes to votin'/ I have no devotion," and the chorus, "Cause God ain't gonna fix it / He would've done it by now."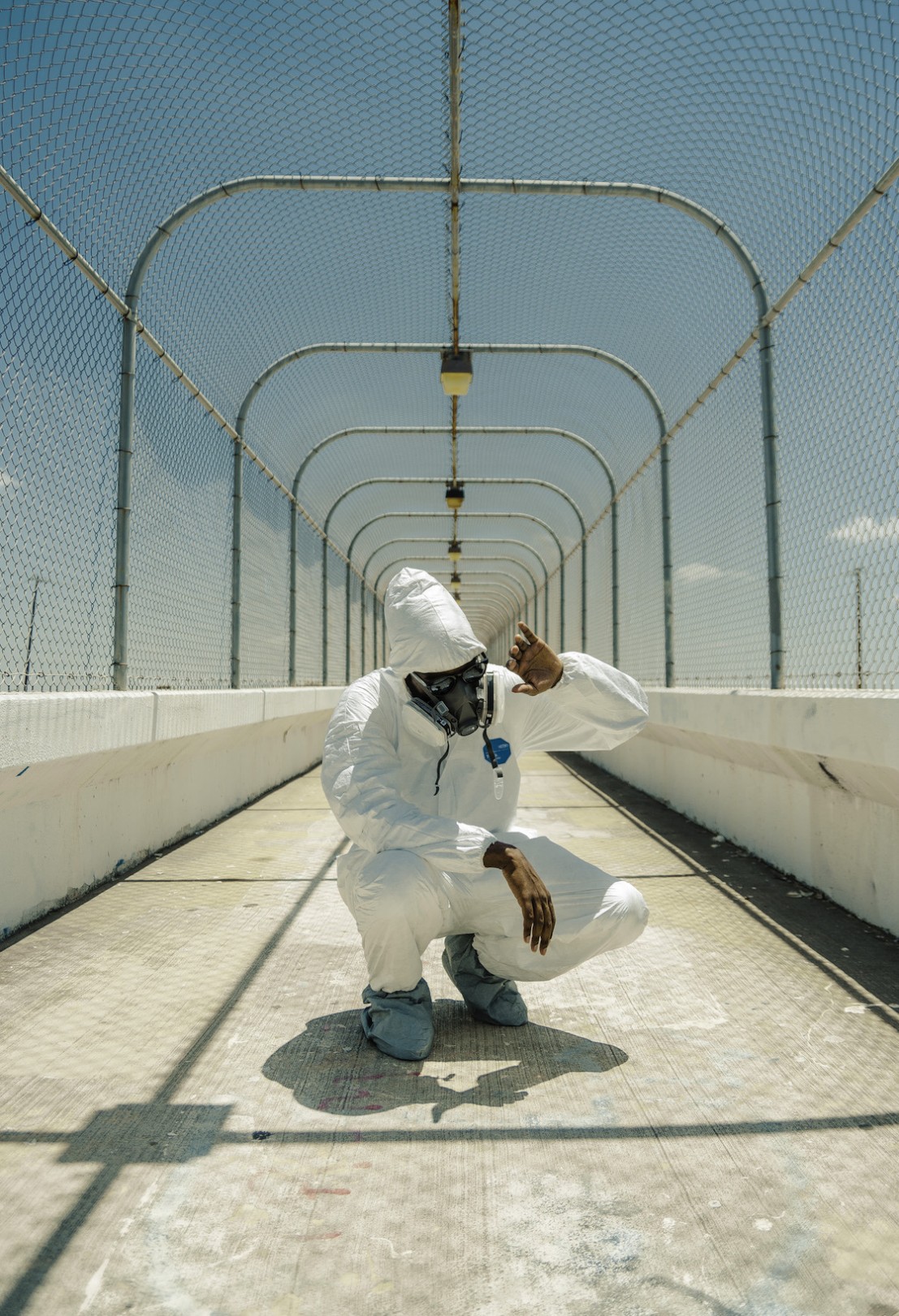 Having been raised agnostic, Abhi was aware of the chance his lyrics could shock some, but it didn't deter him. "When I see fucked up shit, I don't think to pray about it. I don't feel super hopeless either. It's just really a matter of fact for me," he explains. "I wanted to shock people a little bit. And startle people and just wearing the [hazmat] suit. Before I put the suit on, I was a brown guy. Now I feel like I have something that cements me, you know, he's the guy who raps in a hazmat suit or something. I thought that was a cool aesthetic."
It's easy to assume that someone who raps about the climate and voting while wearing a hazmat is going to be pretentious when you meet them, but Abhi is far from that. In fact, his decision to make music full-time is only fairly recent. "I think I always knew that if I put my mind to it I could pull it off, but I never thought that it would be a viable career option," he explains. "Because I didn't even understand how things worked. I was just releasing stuff on SoundCloud, Bandcamp and stuff like that. And then the first Spotify release, I threw it out because I was like, 'Oh, it's just like a legacy thing to have your stuff on Spotify and iTunes' and people started listening to it. That was in 2015. And then in 2016 or 2017, I felt like I could do something with it."
Having started making tunes on Garageband as a teen, it appears as though music has always been a safe haven for Abhi, which both helped and hindered him when he was younger and moving around so often. "I guess you could say it made me feel alone, more detached from things," he reflects. "I write about that a lot. But I don't think that those different cultures affected and impacted the music, culturally speaking. I think the act of moving around affected the music emotionally, and what I write."
There are, of course, other things that have affected what Abhi writes. As he reflects on the artists he listened to when younger, he paints a vivid path of influences that would result in him creating the distinctive bend of indie and hip-hop that his music leans toward. "[I listened to] rock for a long time, like Linkin Park. And then when I grew up a little bit, it was a segue into rap. I got into hip-hop through Kanye West, then I got into everything else that was currently popping at the time, like 50 Cent and G-Unit. I used to listen to a lot of gangster rap," he explains. "And then a lot of the older stuff I got into a couple years down the line, like Mos Def and The Roots and everything.
"It was really just a backtracking for me, I started with what was popular and then I fell in love with the stuff that was released in the 90s. That's kind of what brought me here, I think."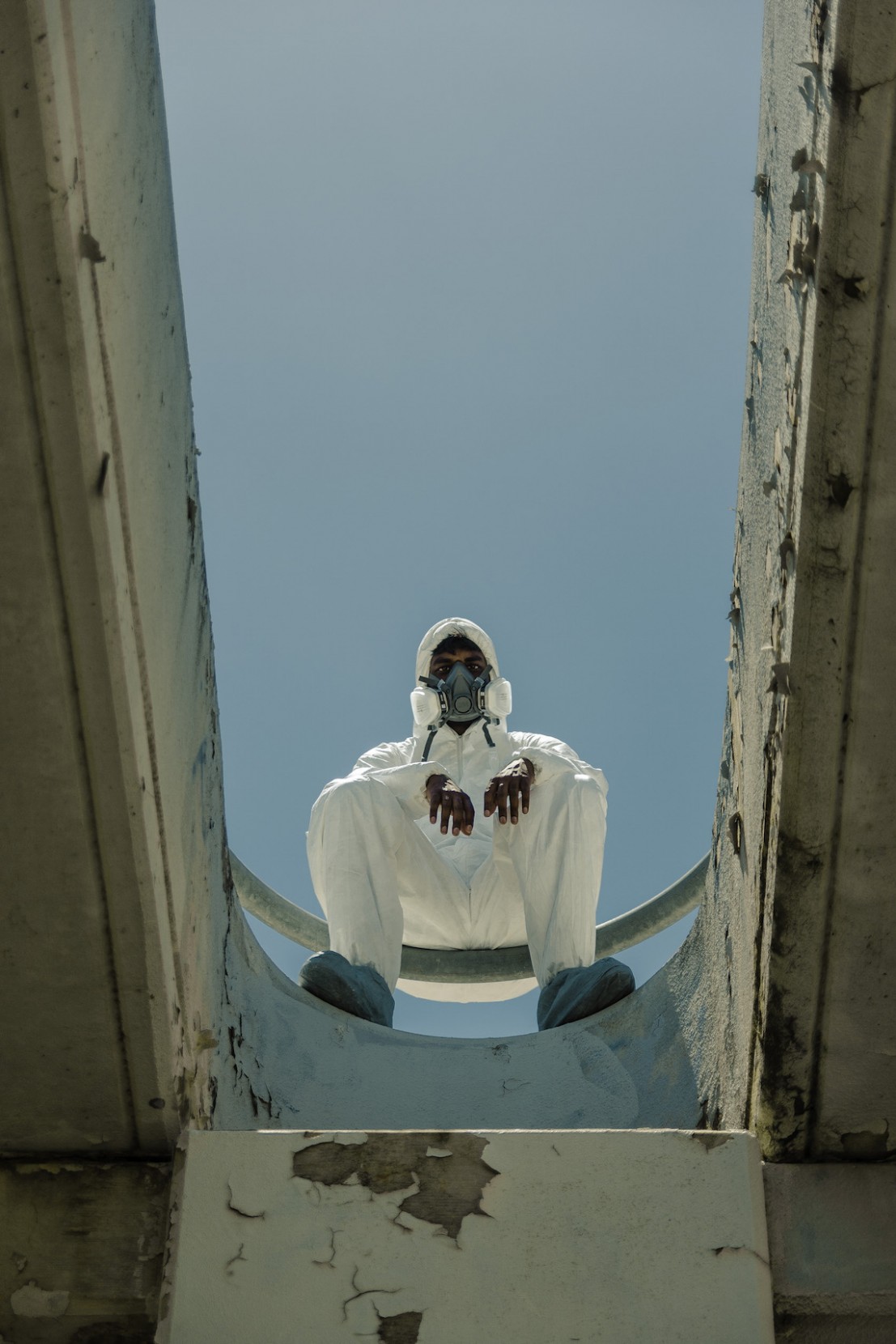 Abhi's set-up has come a long way from those initial days of playing around on his Macbook. Now, his 'home studio' is a room filled with guitars, a keyboard and various other instruments that contribute to his eclectic sound: he creates through an organic process of just trying things out until something works, he explains. With this is mind, I ask how he feels his writing has changed between the last project and Modern Trash.
"I feel like evolution is just kind of necessary for anyone creating, because the world changes as you exist. So, you can't just be the same all the time. I think the biggest thing for me was not polishing everything so much," he explains. "I also like a lot of music that's a little rougher around the edges. And I think I'm getting more and more to that point of it being a little rugged and a little more edgy, so to speak, but not so much that it deters from what I'm about."
This sense of grit is evident in the track "Me No Evil". Centred around the topic of addiction, Abhi draws attention to the normalisation of alcoholism, and uses personal experience to illustrate his point. "I was never really a full-on alcoholic but when I did drink in College, or when I knew people around me were drinking a lot on a regular basis, I saw how it affected them and me," he says. "They were in denial about where they stood with their dependency on something that's as normalised as alcohol, which is why I wanted to write about that instead of drugs."
Abhi is able to identify these sorts of social issues, analyse them and present them back to listeners with a critical tone. His depiction of diaspora is particularly striking in "Modern Boi". The line, "too foreign for the white kids / too vanilla for the Desis," reads like a reflection on his experiences travelling. "I felt like I needed to say that at some point, being someone who moves around a lot," he says. "American Indian people who live here, grow up here and happen to have accents like me, and look like me, are surrounded by people who don't accept them the way they are. I think it can be difficult for them the way it was difficult for me. That's a weird situation, because it wasn't that normal until somewhat recently. It's an awkward existence to be Indian in America. That's something that I resonate with to the core."
Having only done a Sofar Sounds show in the UK last year, Abhi is itching to get back and bring the full show to an international audience, hazmat suit and all. "I want the crowd to feel like we're all in it together but then go really, really hard," he says. "They're really high energy, not really many low or slow moments – which I'm trying to create more of, so I can like, make someone cry – everyone can get emotional together."
With shows planned for October across the States and hopes to visit the UK in due course, it's only natural to ask what's coming next for Abhi the Nomad. "No clue. It's like asking an 18 year old what he wants to do. There's just' no, nothing, nothing, I don't know'," he says. "But there will be lots of things. I guarantee you, by the time all the tasks are completed there will be like 50-100 other things to do." For someone whose music seems so vivid in its image of destruction, it's reassuring that Abhi is still looking to the future – however uncertain.
Abhi the Nomad's album, Modern Trash, is out 4 October.