Five years on from the release of her breakthrough, altogether beguiling debut, Við Og Við, Iceland native Ólöf Arnalds continues to occupy a singular domain in the vast, often derivative world of singer-songwriting. With her third studio album Sudden Elevation (her first recorded entirely in English) soon set for release, the multi-instrumentalist's reinvention of sorts is a welcomed re-invitation to discover her curious and universally acquiescent sound.
Despite being musically active and cutting her touring teeth with Icelandic experimental collective múm since 2003, Arnalds began pursuing her very own brand of folk-inflected indie pop circa 2007, coming to prominence, predominantly in the US, via the high praises of up-market fans including Björk and the odd overtly doting press piece. All of a sudden, Arnalds' wistful, gently bewitching craft became a matter of certain interest, her delicately strummed acoustic odes propelled, rather than marred, by the coursing sentiment set loose from her – to most of us, at least – impenetrable mother tongue.
Now, half a decade since her debut album and three years on from its exceptional follow-up, Innundir Skinni, Arnalds aims to pick up where she left off. "I have just finished my next solo record, Sudden Elevation, which was produced by Skúli Sverrisson, myself and a few others," she says. "It was recorded in a cabin by the sea in Hvalfjörður and at my house in Reykjavík, with a few overdubs and mixing in Sundlaugin." As ever, Arnalds' craft is borne from her homeland, a world she agrees is beyond parallel: "We've little music tradition as instruments were not commonly owned in Iceland until the early 20th century. Having to invent as we go along is what Icelandic music is."
With Sudden Elevation promising to be an exclusively English affair in terms of lyrics, how does Arnalds perceive the so-called language "barrier" in regards to writing and performing music? "I am born and raised with Icelandic as my mother tongue", she reveals. "It has a very deep meaning to me and is important. My mother was born to Icelandic parents in London and brought up there until her mid-teens, so she would speak partly to us in English and also sing to us in that language. Playing so many shows to non-Icelandic speaking people, singing mostly in my native language has helped me to confirm what I learned from my English singing teacher, Ruth Little – later Magnússon – who always said that if a singer strongly feels and visualises every word, a lot of their meaning get across. I enjoyed experimenting with this."
Certainly, it would seem Arnalds believes that music transcends the objectivity of language and commonly discernable narratives. The permutations, however, are something to be explored. "I enjoy singing in Icelandic without explanations, explaining what the songs were about, singing my own songs in English, singing songs by others in English and experiencing different responses from my listeners within every show. With Sudden Elevation, I challenged myself to write in another language and tried for the first time to sing everything in a language that the majority of my listeners understand at least a little."
With "writing about deep friendship, love and communication," serving as her primary aspiration in song, Arnalds' latest "challenge" is a clear-cut resuscitation of the musical progression wonderfully exhibited over the course of her two previous albums. "I think Við og Við was very clear artistically," she admits. "It had a unified sound and conceptual clarity. There was less of that on Innundir Skinni, where the arrangements were more diverse. I was working with many people in a very playful way in many separated periods and it was a bit of a miracle that from the 21 songs I started out with that I managed to cut it down and make a record that sounds relatively coherent. I'm very happy with Sudden Elevation. I think it combines elements from both."
It would seem, then, we are set for a well-rounded realisation of her previous full-length efforts, conveyed in a more directly understandable manner for the masses. "My approach to music is intuitive, so it is different every time," Arnalds claims. "But as a result I must admit that I can't play any instrument very well." Such is the outright humility underpinning Arnalds' increasingly endearing approach; one that is likely to recapitulate her into the indie limelight as a precious and unique songwriting mainstay of Icelandic heritage.
Despite being rather lazily lauded as her country's answer to Joanna Newsom, certain comparisons to the latter can be made. Projecting her sweet, slightly off-kilter vocals just above her bewitching folk pop craft, is there a method to the majesty? "I usually write songs completely in my mind before I start executing them on instruments," she reveals. "I compulsively write music, whenever no other music is playing. When I listen to music I analyse it, or wonder why I can't, and imagine new parts to it. That's why it's sometimes hard for me to hold a conversation that makes sense while I have music playing at the same time, especially with someone that I don't know very well. I can imagine that I must come across as pretty weird in social circumstances with loud music. Then, it's safer to just smile and nod!"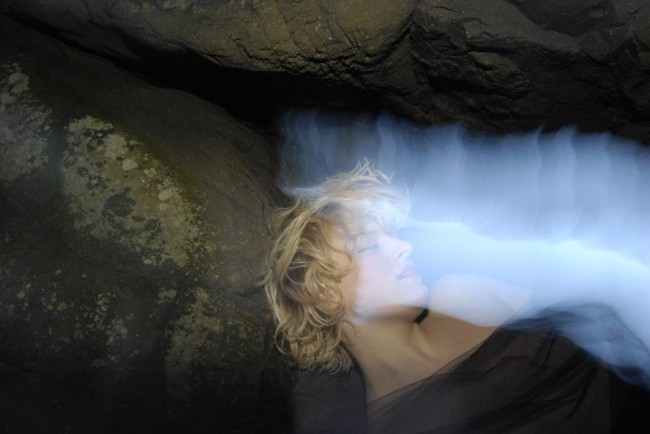 Having been lauded as an exponent of so-called 'freak-folk' – a would-be genre with altogether tenuous connotations – Arnalds is nonetheless open to the attribution. "I think it's very interesting, because a lot of the music that appears to belong to that genre, I hadn't heard or at least hadn't heard until I released my two solo records," she explains. "I have never followed any style in what I do, since I don't see making music as an act of putting together pre-decided elements. I don't consider myself a folk musician and my music has nothing to do with Icelandic traditional music. The "freak" part I don't have a clue if it refers to the music itself or the ones who play it. I wouldn't mind either. Generally it doesn't concern me that much how my music is labelled. I first heard Devandra Banhart's music about a year ago and I really liked it. I've seen Joanna Newsom play and I think she's magnificent. Maybe it's best that I take this as a compliment."
Genres and the parameters of language aside, having toured with the likes of Blonde Redhead, Dirty Projectors and Jeff Mangum, Arnalds has travelled far and wide. To what extent does touring and the mere act of travelling inform her music? "I find it very relaxing to travel," she says. "Some of my best song ideas are born when on the move from A to B. Performing live is, in my mind, the most important and gratifying part of what I do. On stage is where I develop my output the most. While I have not been active in múm since 2008, which is a year after my first solo record came out and the year my son was born, I had a great experience touring with them for 6 years, which was a great school in many things. They are very good friends of mine and we still spend time together, exchange ideas, listen to what's being made etc."
On the cusp once more of being recognised for her uniquely enchanting talents and evermore enthused about new challenges and horizons by way of quietly entertaining intimate, huddled crowds across the globe, it's a genuine relief to know Ólöf Arnalds is still on a musical mission; willfully and happily ensnared by the need to create song and send it on its way. How is she feeling about touring, namely coming to London to perform at the forthcoming Ja Ja Ja showcase? "Very happy! It's been a while since I played outside of Iceland, so I'm looking forward to it." You and us both, Ólöf, you and us both.
Ólöf Arnalds will play the Ja Ja Ja showcase on 25 October at London's The Lexington alongside Norway's Mikhael Paskalev and Finland's The New Tigers. Tickets have sold out, but a very limited number will be available on the door so make sure to arrive early. For more information about the showcase, head to the Ja Ja Ja Facebook event page,