"We just happen to love playing music on stage and all the other stuff that comes as a result of that is cool but certainly not a goal for us. Neither of us set out in this world to be a pop star," West tells me as the pair shiver in a South London-rehearsal room
"I certainly see myself as a songwriter, first, and then an artist. Which is weird because my job is to be an artist," agrees Gutch.
This isn't a turn of events they regret. In fact, the duo - who started Oh Wonder as a side project to their solo careers seven years ago - can't imagine the alternative anymore, a realisation which plays into their overriding indebtedness for the path their lives have taken.
"Now that I have become an artist, I can't imagine what it would be like to write a song and then have someone else sing it - and to have no plan for it," Gutch tells me. "Being the lead singer of your own song is an amazing feeling. But that also means that you're the product. You are what people are buying into.
"Obviously, some people think they are weird and funny and engaging and worth everyone's attention, but we certainly don't. We are normal humans and find it weird that our fans are genuinely interested in us. It is a massive privilege but also a very odd concept."
While the London duo's third album No One Else Can Wear Your Crown doesn't break radically-new ground for their tried-and-tested brand of minimalist pop laced with synth textures, it does come with a subtext of authenticity, and a ethos of self-determination.
Conversations with Gutch and West are propelled by a fiercely romantic, in-sync rapport: one of the two gushing ideas, and the second supporting them, elaborating and adding colour. We chat for almost an hour between rehearsals for their tour and a Radio 2 session: "We're doing a cover of You've Got a Friend by James Taylor which I think is one of the best written songs of all time," Gutch tells me in her breezy, zealous tone. Their tour kicks off next month, with stops everywhere from Glasgow to Denver to LA but the duo are no strangers to non-stop travel. As we speak, they've just returned from a showcase in Bangkok: "It's amazing - album releases are the craziest but incredible time," beams Gutch. "You've just got to be grateful that people give a shit, you know?"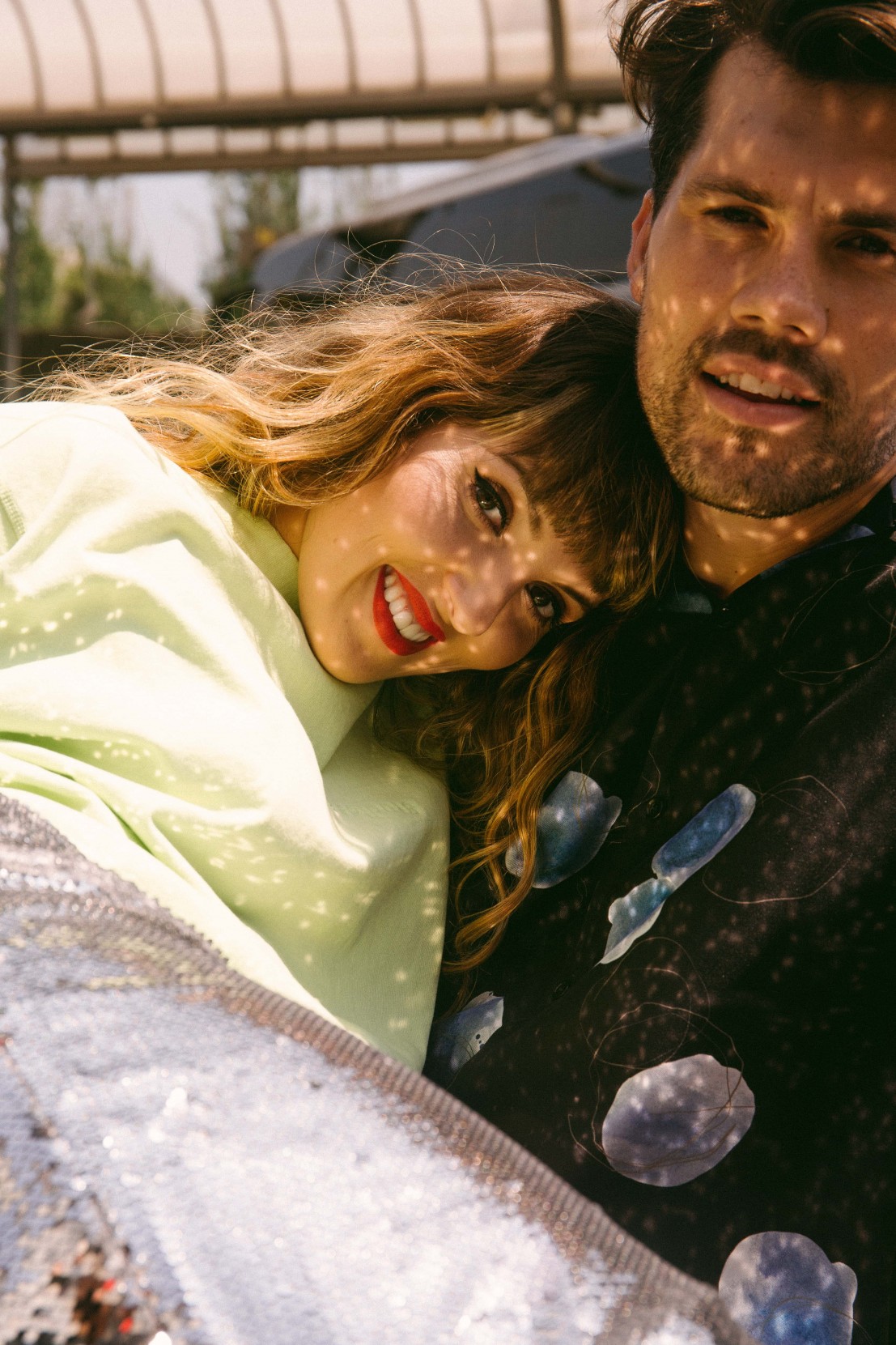 Gratitude is an ongoing theme for the pair, who have a lot to be thankful for. After meeting at one of Gutch's gigs seven years ago, when both were solo artists, they started Oh Wonder as a side project to their solo careers. Initially, the band was a simple means to get a publishing deal for the aspiring songwriters. They released the co-written "Body Gold" in 2014, prompting them to publish a track per month on Soundcloud to create a professional portfolio of their work. It all backfired as a drip-feed of slow-rolling love songs won them a fanbase across the UK. "People started listening to the songs and asking us if we could play in their hometowns," Gutch explains, "[so] we released the album a year later and then went on tour with it and found ourselves in a band. We had no plans. No press photos. I used to make all the artwork on Microsoft Word." Silence falls as they revel in this spectacular journey. "It was very DIY, in a lovely naïve way," Josephine adds.
"You've just got to be grateful that people give a shit, you know?" - Josephine Vander Gutch
While No One Else Can Wear Your Crown doesn't break radically-new ground for their tried-and-tested brand of textural, minimalist pop, it does come with a subtext of authenticity, and a ethos of self-determination. The record poignantly explores these themes lyrically and ideologically, which Anthony and Josephine are clearly impassioned about. It's a bold attitude which sets them apart from their pop-singing competition with their press-release politics.
Having written the first two records under the immense pressure and chaos of being a rising star, Gutch and West chose to tackle No One Else Can Wear Your Crown under a veil of peace and reflection, allowing them to explore identity, romance and a life on the score, in a way their lives wouldn't previously allow. "It's weird because we made all these songs at home, so the release is like giving away your children in a way," West tells me, while Gutch, aghast, remarks, "It's probably the most personal record we've ever written so in a sense it's harder to let go of."
We talk more about the newfound vulnerability that bleeds into the new album: "I guess, when we were writing the first album, we had been together for about a year, and to be that vulnerable with someone so early on is a challenge," Gutch explains. "You've got to preserve a bit of yourself. Second album: I don't think either of us were in touch with our feelings because we were in the middle of a very long two-year word tour. Now we've just had a year off and done a lot of reflecting and processing everything that's happened to us, which has been amazing.
"I think we are just ready as people to be more vulnerable with ourselves and therefore more vulnerable with our music. There is power in that actually.'
Undoubtedly, this vulnerability is written all over the record – be it in "Happy", a song written about the moment of closure when you are glad an ex-partner has found new love, ironically written about West's ex-girlfriend and sung by his current one; or in "In and Out of Love", a buttery love song which articulates the juxtapositions of their relationship. They agree, speaking of record highlights which embody these sentiments for them. West: "In 'Dust' the opening lyrics are, 'When people try to get you down / Remember that I'm here for you /No one else can where your crown/ It's yours. Just yours' It kind of echoes that whole sentiment of not letting anyone impinge your freedom – emotionally, mentally physically. Then 'Nebraska', which closes the album, is about our own relationship. It asks, 'what is this? Is it working?' Concluding that it is but accepting that within a relationship it is never going to be completely brilliant all the time. That's what life is, I guess."
And, perhaps, that's what music is? A soundtrack to people's highs and lows? "Yeah," Gutch adds without hesitation. "You seek music when you are euphoric and when you are in the pits. You look to it as an antidote. I think music is so important to people's wellbeing. You see it in the industry and playing gigs around the world. You see what a force music is and what a powerful way it is in bringing people together. It is so universal."
"If you stop comparing yourself to everyone it's far easier to be happy and to work harder" - Anthony West
The duo excel in writing songs that explore the complexities of human experience but that it hasn't been easy to pull off. "Along the way, there have been people who have said, 'you can't do this, you're not good enough, don't bother trying, being a successful musician is a one in a billion thing, it's not worth it, go get a proper job'," Gutch tells me. "We've heard that so many times from so many people, but somehow both of us never gave into those naysayers. So, we are giving ourselves a pat on the back I suppose, in a non-arrogant way. To say yeah, well done. The album is a message of perseverance and encouragement, hopefully for other people too, to encourage them to wear their crown, essentially. You can be your own king and queen…" It's a sentiment echoed in album track "Hallelujah", with its anthemic chorus of defiance to the naysayers.
In an industry which struggles to be modest in itself, and to allow confidence and self-admiration where it's usually perceived as arrogance, it's a real accomplishment that Gutch and West not only feel proud of themselves, but can promote that in their music. "We as a society aren't willing to give ourselves praise, which I think is actually how you get through life,' Gutch tells me with her partner agreeing earnestly.
"If you stop comparing yourself to everyone it's far easier to be happy and to work harder," West adds. "Just accept that you can never be someone else. You will never be that person winning Grammy, but you can be yourself winning a Grammy. You have to do it by being yourself."
Gutch whistles the same tune: "I agree but extend it to what the album talks about – you accept yourself but also accept that you're not going to be brilliant and able and perfect all the time. Like you know what, some days I'm going to wake up and feel like I have no friends and I'm really bad at my job and I'm ugly, and I'm not worthy of anyone's companionship. And then the next day you can wake up and think, 'bloody hell I'm so fabulous!' That's how life is – it's up and down."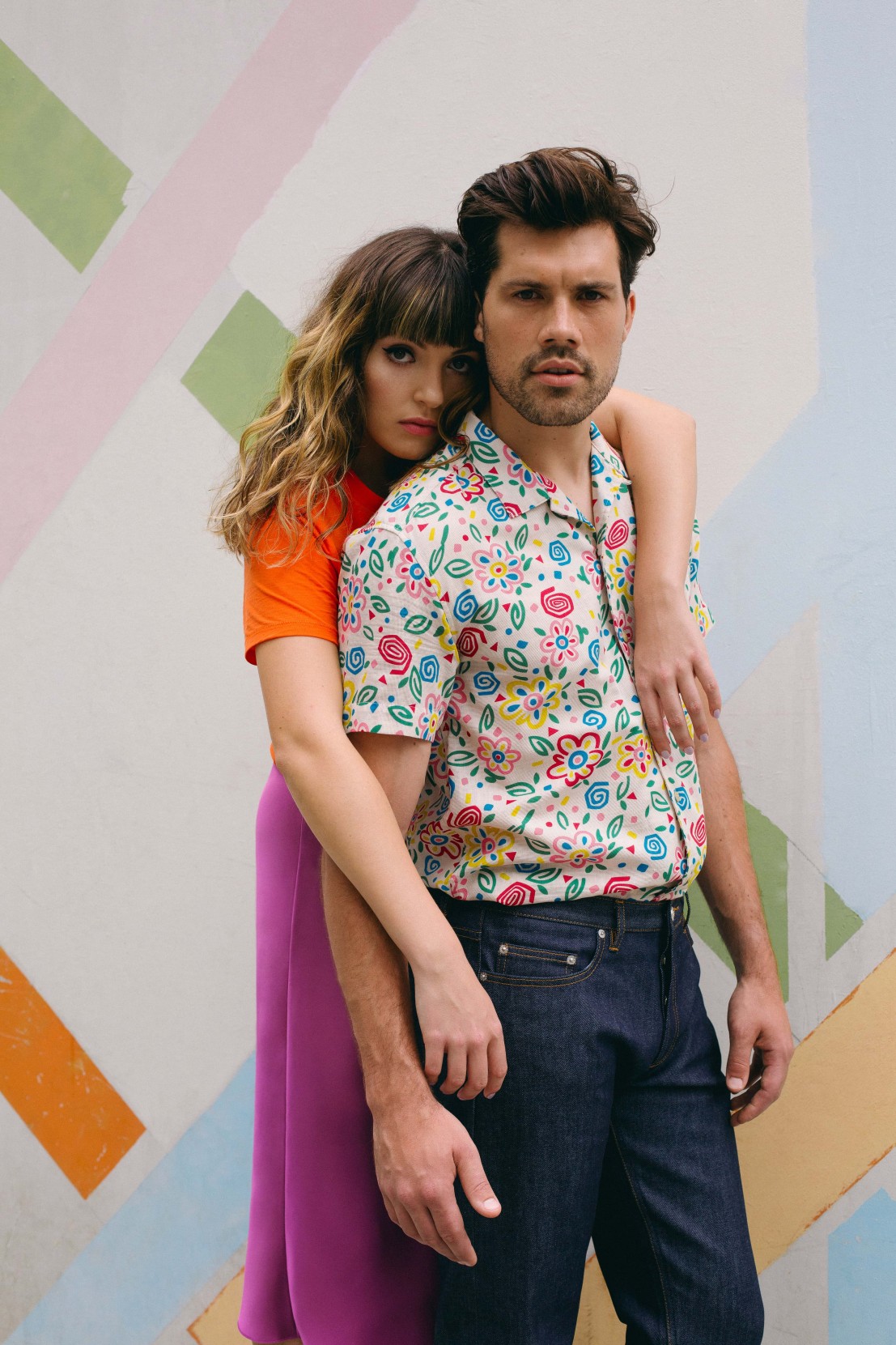 They're not afraid of nuance: where music often gets caught up in trying to pedal one belief system really hard, the pair have tried to confront the ramification and intricacy of happiness and self-worth with playful, nostalgic strings and breathy vocals. On the new record, they tackle the importance of affirmation and self-belief but acknowledge the challenge of believing in yourself every day. They tell us to ignore the cynics but still remember all the times they've been put down and had to dig deep to carry on. Putting the microscope on relationships, Gutch and West identify that love is always there, but sometimes you have to work on it, some days you feel it less than others. Be your own cheerleader, they urge, but allow your partner to wear their own crown too. Because, as their intricate, sophisticated, entanglement of tender music tells us: no one else can wear it for you. It's yours, just yours.
What do you want people to take away from the album? "For me, I hope people find strength in listening to our music," says West. And, ever colouring-in her partners words, Gutch adds: "Also, to find strength while listening to your own heart and head, instead of anyone else's. Once you start loving what you do yourself and not needing anyone else's input, that's where actual contentment and joy can be found."
As our conversation concludes I ask Oh Wonder what they're most looking forward to this year. In a beautifully poignant moment that couldn't sum up their message better, they tell me that they're excited for what's to come, but are most looking forward to New Years, when they can pour a glass of bubbly, lean into each other, and think, "wow, aren't we so lucky to have just had this year."