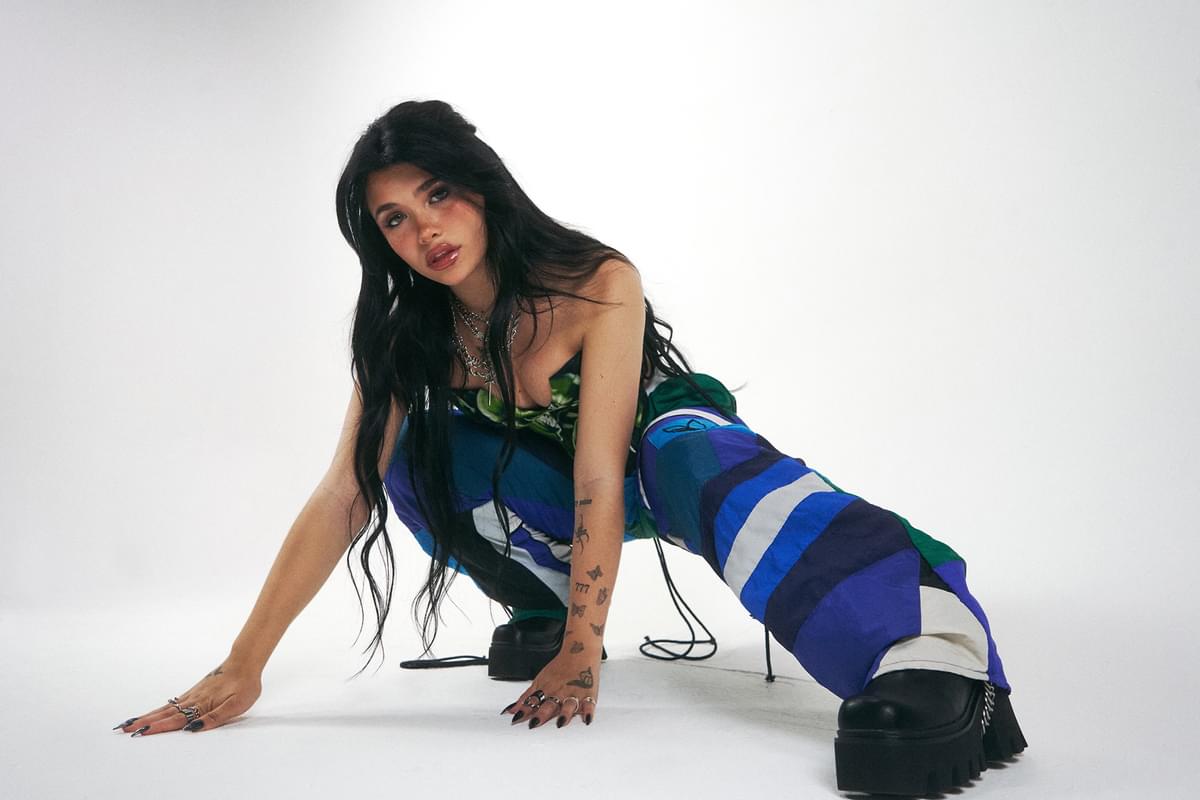 On the Rise

Nessa Barrett
25 June 2021, 07:30
Resilient, ambitious and self-aware, Nessa Barrett is finding her feet as the pop-star she wished she'd had growing up.
There are a thousand things you don't know about Nessa Barrett, and what little you can claim to know is built on a foundation of fifteen seconds. Look at the YouTube comments on the 18-year-old's single, "La Di Die", and they will all run in a similar vein: "I can't believe a TikToker actually wrote this, but hey, it's good". But Nessa Barrett doesn't need you to throw her a bone: with "La Di Die" - produced by Blink 182's Travis Barker and generating almost 50 million streams and counting - she is the architect of her own, grunge-indebted netherworld, leaning into the pop-punk revival close enough to brush shoulders with it, and yet retaining an extraordinary sense of self that belies her eighteen years. This is no coincidence. Through Barrett's lyrics, listeners are in communion with a girl who, otherwise, lives in a world of smoke and mirrors. The music is the only way of getting close to her.
What you know about Nessa Barrett is she has 15.9 million TikTok followers and 5.5 million followers on Instagram, but what you might not think about is that all those eyes are watching her grow up. Her rise to fame has been nothing short of meteoric, downloading TikTok as a teenager in New Jersey in 2019 to placate the boredom of her life confined by the city limits. Lip-syncing to snippets of songs and creating neat, imitable dance routines was all it was: her phone screen acted like a bedroom mirror. But she is quick to stress that while her name gained traction on TikTok in the space of a year, she was a 'TikToker' by coincidence, not by intention. "I never tried to be a 'TikTok star', or a 'TikTok Sensation'", she says, "I never tried to use it as an influencer. But the one thing that I've always wanted to be was a singer, a musician and an artist. A lot of people don't see what your whole life is wrapped around: your dreams, your aspirations. All they see are fifteen second videos of you. It's hard for people to look beyond the surface."
The 'TikToker' label seems to latch itself onto her like a deadweight, leaving her talents as a musician to come as a constant surprise and a source of reluctant acceptance for listeners. Yet, she acknowledges, "If I'm being honest, no, I wouldn't take anything back or wish that they saw me as an artist first. I'm just so grateful and thankful for the platform I was able to grow before I shared my music – it made my transition and growth fairly easy. My music reaches millions of people because of it." Barrett uses their doubts as a kind of motivation: "I want to show people how dedicated I am to music. I'm just so invested in every single detail, because I want to be looked at as an artist and not a social media influencer."
"La Di Die" is a bittersweet ode to her relationship with fame, which has been both her liberator and persecutor, offering her freedom with a tall price to pay for it. In the music video, Barrett flinches at every touch of a makeup brush as she walks away from a shoot, unclasping the pearl and diamond trappings in her hair and around her neck and wiping away the makeup which masks her tattoos. "As a little girl, I would sing in the shower and pretend I was performing in front of millions of people," she remembers. "It's something I always fantasised about and prayed for. But once you get into it, I never really thought that when people know you, that also comes with millions of people hating you. The judgement and the fear of doing something wrong hangs over you constantly."
Battling the public's perception and trying to appease their expectations is a losing game: "La Di Die" is Barrett's way of refusing to play it. "Everyone glorifies fame, that it's so amazing and what everyone wants, but what they don't tell you is you'll lose a lot of friends, and that you'll cry almost every night reading your comments and what people say about you," she says. "You can walk on the street and everyone recognises you and judges you – you can just tell it in their eyes. It sucks, it does, but it has made me stronger."
Jaden Hossler, her collaborator and now-boyfriend who, like Barrett, has used TikTok as a leverage to breathe new life into the pop-punk scene under the name jxdn. In the music video, he appears behind her in the mirror: his tattoos creeping through his collar, his ruffled shirt and smudged-eyeliner gaze are an invitation for a different life that weaves mistakes into their craft, rather than cropping them out of the picture. With his inimitable, unpolished vocals that groan like a rusty switchblade, Hossler is a protegee of Travis Barker, who signed him to his label, DTA Records last year. His voice is visceral and hard to swallow, and lends Barrett's honeyed tone a far darker, haunted quality that together, creates a kind of gothic paradise lost against to LA skyline.
"Everyone glorifies fame, that it's so amazing and what everyone wants, but what they don't tell you is you'll lose a lot of friends, and that you'll cry almost every night reading your comments and what people say about you."
But 'La Di Die" was a distinct shift in sound for Nessa Barrett. Her debut single, "Pain", was a confessional ballad that saw her sat alone in the dark, bare-faced, without the playful smile we've come to know. Her first song was a bold statement of intent: an admission of vulnerability that has become a blank cheque in her music. While "La Di Die" was her first foray into pop-punk, worlds apart from the stripped-down nature of "Pain". She explains, "As an 18-year-old girl who is growing and finding my voice through music in front of the eyes of so many, I always fear judgement and how people are going to react. But I think the biggest thing for me is that I don't want to hold myself in a box when it comes to genres and put titles on the type of music. I want it to just resemble how I'm feeling in the moment and almost create a genre of my own."
The music Barrett creates is merely a reflection of the broad spectrum of the music she listens to. Hers is the next in a lineage music pioneered by artists from XXXTentacion and Lil Peep to NF, who create a weapons-grade cocktail of nihilism, heartbreak and honesty to find universal resonance. She also leans towards guitar-driven music, with the likes of Arctic Monkeys, The Neighbourhood and Lana Del Rey being the soundtrack to her own coming-of-age story. While their sounds might be disparate, what unites them all for Nessa Barrett is their own vulnerabilities which they play to as a strength.
Her upcoming EP offers insight into her world that she fiercely protects. "It's massively personal," says Barrett. "I like to keep my music up for interpretation so people can relate to it no matter what's going on in their life, rather than relating it to what's happening in mine. I always hate saying what everything's about, but I've been through so much recently, you know, like a break-up and a new relationship, and my mental health struggles. I think everyone can relate to those things, and I want to be able to give them something to enjoy and feel less alone."
Her private life – and her relationships, in particular – have been the internet's favourite pastime, dissecting posts for meaning with drive and precision that is almost surgeon-like. Trivial teenage dramas can feel like the end of the world when they're yours, but for Barrett, her choices and mistakes are magnified on an inconceivably larger scale. People's assumptions breed ignorance, and it's easy to forget the humanity of a person when their lives are seen as fair game. Barrett says, "I wish people would understand that I was the kid who was bullied throughout school, just like them. My family wasn't financially stable and we struggled. I had terrible mental health problems, and I've dealt with suicidal thoughts and depression. People just assume that I have no problems and have nothing to cry about. Just because I have followers, I'm not really seen as a human – I'm seen as an object, just a name. I wish people would understand that we aren't so different: there are a lot of things I deal with every day, just like them."
Her affinity with music, though, has been the only constant in eighteen years of turbulence. Her parents' makeshift studio in her hometown in New Jersey, which started as a microphone in a tiny coat closet, expanded as she grew up to accommodate a desk with a computer and a few speakers. "I recorded my first song with the help of my dad when I was four years old," recalls Barrett. 'It helped me to become comfortable and familiar in the environment of recording and making music. I remember coming home from school and going straight to the studio to write and record my own songs that I wrote while I was in school."
Until Barrett turned to TikTok, she wondered if she'd ever outrun her hometown. Having grown up in an apartment and then having to move into her grandmother's small rancher because her family could afford a place of their own, she always felt a sense of inferiority compared to her school friends who lived in big houses and seemed to take to the school yard hierarchy like a duck to water. "In New Jersey," she shares, "you had to fit a standard. I felt so trapped. Before all of this, I was in high school, struggling and crying every day because I had no idea how I was gonna make it out. I knew I couldn't do college – I wasn't very fond of school, and I knew I didn't want to do anything that anyone else was doing. I just wanted to get out. It felt like I needed some kind of big break to leave, and that god I was given that. But if I didn't, I don't know where I would be right now… probably still the same small town I grew up in."
Nessa Barrett didn't move to LA. She ran away. "I had this gut feeling that I had to just leave," he says. "I ran away and flew cross-country at, like, 4am. I just kept telling myself, 'I'm gonna do everything I can to make it and follow my dreams'. And I think that feeling is always with me. There have been so many times where I could have been knocked down and discouraged – completely given up – but I haven't and the risk I took has been my biggest motivator, in a way."
Those first days in the city were the loneliest of her life. "I didn't really know many people out here, but I just tried to fill my life with the work that I came out here to do. Ever since I moved out here, I was constantly in the studio every day for hours, working nonstop," she says. It took several attempts to catch Barrett for a call because she would be in the studio at all hours, finding it hard to disentangle herself from the drive she has to exact her vision. "It helps me so much," Barrett adds, "I stay focused on why I came out here in the first place. There is a lot of hard work to be done, but I just have to get off my ass and do it."
Barrett not only raises awareness for mental health through her platform, but also channels those experiences through her lyricism to prove that mental illness acts indiscriminately, and that all of us – even musicians, models and 'TikTokers' – are not immune from it. "I've been in therapy since I was six, for generalised anxiety disorder," she shares. "And then I've been to family therapy throughout my life, quite a bit of times. I started going to therapy again when I was about 12-years-old when I attempted suicide and had to be hospitalised in a mental ward for a while, and I had to deal with that. Finding out what was wrong with me was my biggest thing."
"I just want to be the person I always wished I had at my lowest points."
Barrett had been misdiagnosed with Bipolar II Disorder, which derailed her progress to mental wellbeing. Now, at 18-years-old, she was finally has been diagnosed correctly with Borderline Personality Disorder (BPD) and Post-Traumatic Stress Disorder (PTSD), alongside a generalised anxiety disorder and depression. Throughout her teenage years, doctors had been toying with the chemistry of her mind with medication. "It's been pretty hard balancing out the right medications and trying to find the right diagnosis," she says. "The mental health system itself, in general… I know it's hard and being open about it is so hard. And that's why I want to be a voice and an advocate for those that live with it every day. So many people do, and don't know where to start and feel ashamed of it. I just want to be the person I always wished I had at my lowest points."
Right now, she's been making progress. "I'll be honest, there was been a time recently where I fell into a hole that I couldn't get out of, but I've been getting into reading a lot of books about my diagnosis and I've started going to therapy again, getting back on my meds and actually doing things to better myself," she says, before pausing for thought: "Actually, I don't think I've ever been happier in my life."
With the release of her latest single, "Counting Crimes", another chapter extracted from the EP and a song of defiance against the wrongs done to her, Nessa Barret has never felt closer to herself than she has been right now. "The only person I've ever wanted to be was me: myself," she says. "I've been able to reinvent myself as someone who is the more 'me' than any person I've ever been. I think that changing is just a part of life and growing up, and I will probably continue to change – but there's a core of who I am that will always be a part of me, and I think that is the most important."
"Counting Crimes" is out now via Warner Records
Get the Best Fit take on the week in music direct to your inbox every Friday