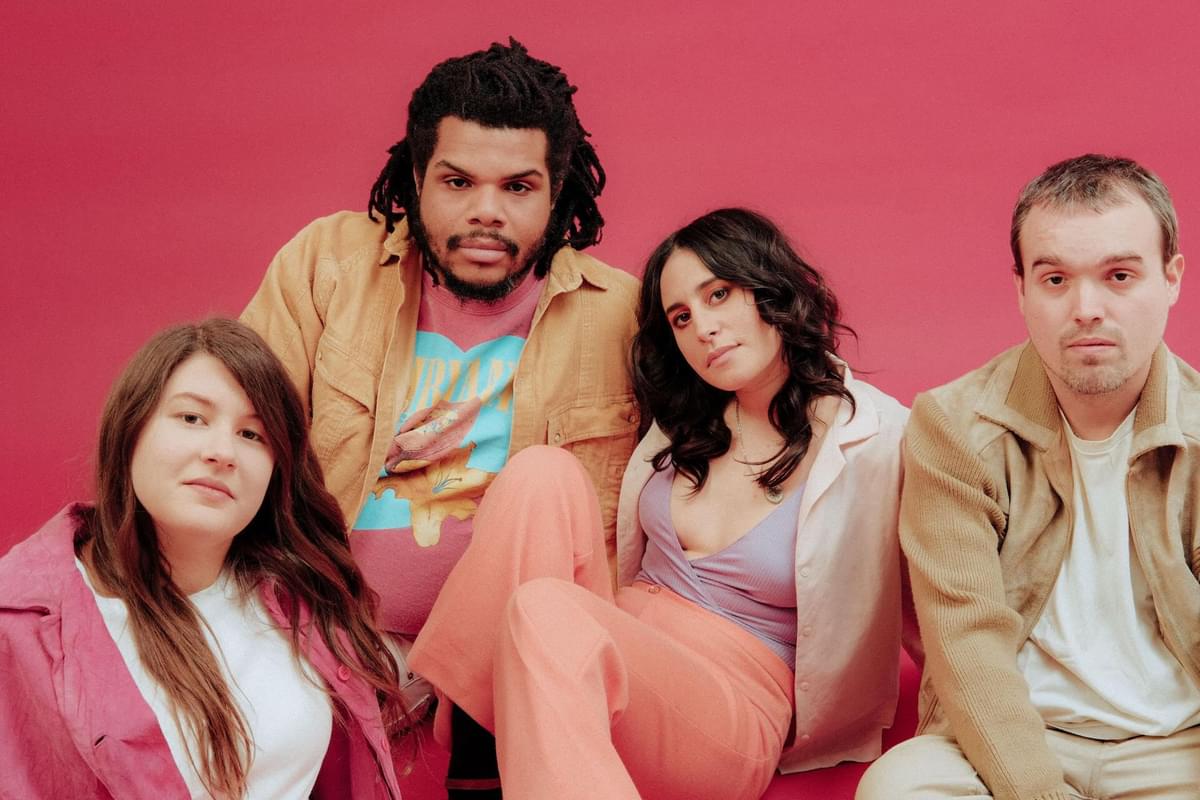 Philly foursome Mannequin Pussy continue to breed beautiful art from ugly circumstances
24 June 2019, 12:00
Marisa Dabice woke up a few minutes prior to picking up the phone. She and the rest of noise-rock quartet Mannequin Pussy had a late night playing a one-off in VICE's Brooklyn office, an experience that was musically and financially beneficial, but spiritually off.
"It was in the same building as Death By Audio was," explained Dabice of the beloved Williamsburg DIY venue with a vibrant history, "and that was where we played our first ever show as a band and now we were back in the building that took over." It's a sad fortune, but it's a testament to the circumstances suffocating New York's creativity as of late. Good thing Mannequin Pussy are based in Philadelphia.
"I was born in New York," confesses Dabice, who ended up being raised in Connecticut. Living in the shadow of the city instilled in her some inevitable hopes of one day residing in the very myth-like wonderland that is New York City and being able to call it home. "But when I got older, I was like, 'Wait a minute, I don't think that this is actually that great of a place…'" In deciding where to bring Mannequin Pussy, Philadelphia was the obvious choice: she would move from CT, guitarist Thanasi would move from NY, and drummer Kaleen would move from NJ. Though New York was an option, its creative life felt off. "I felt like the majority of conversations I had with people there were centered more on money and hustling and who has this gig and who has what rather than the act of radical creation and trying to push ourselves as artists," explains Dabice. "So, I was kind of just searching for that creative community that just never really presented itself there."
After taking a year to plan the move to Philly, it paid off. "Definitely the timing was right. We had a lot of friends who were already playing in the scene, and as soon as we moved here, we were getting asked to play house shows almost every week," said Dabice. "And we kind of, for a minute, were playing as much as we possibly could." It was a special, self-motivated artistic liberation and dedication sans the music industry buzzkill with "'radius clauses' and 'saturating the market,' those are terms that come much later in an artist's career," mentioned Dabice dejectedly. Philly's DIY scene was full of support purely from people's own desire and instinct to be creative. "There's a lot of artists who are doing their thing here, whether that's in music arts, visual arts, performance art, or comedy," she raves. "So, I feel like we've been very lucky."
And they have been. Thriving in Philly's community was a big deal already, but after years of nonstop touring and the recent release of singles "Drunk II" and "Who You Are," they've pushed the boundaries of their DIY identity and are becoming a widely known band. The unveiling of their third studio album Patience, out June 21 via Epitaph, will surely propel them even further into stardom, especially because the record was recorded in Studio 4 with the one and only Will Yip. "I feel very blessed that Will came into our life," says Dabice, "because we actually recorded the album twice." In the warehouse where second studio album Romantic was brought to life, the early stages of Patience came to fruition, but not the way it was originally envisioned. While the four were driving around in their van, someone asked, "So what does everyone think of these recordings?" and the collective response was that something was missing from it, and it resembled their old material in a way that felt derivative and dissatisfying. "I think the main challenge of every artist is: How do you show an evolution?" ruminated Dabice. "How do you show how committed you are to progress within your albums?"
Not much could be done at that point because a tour with Turnover was ahead. All they could do was return to the problem when they got back. However, Dabice happened to gossip with Turnover about wanting to re-record their album, and word got back to Will Yip, who happened to attend the Philly show because of his involvement with Turnover. "[He] hit us up and then invited us out to Studio 4 to check it out because he really liked our live show," said Dabice. "And just from that, he was like, 'I want to work with this band.' There were a lot of pieces that fell into place before Will came into our lives and took it upon himself to capture what we really wanted to with this album." Just like that, Mannequin Pussy transitioned from a big warehouse in which residents walk in and out frequently and the place reverberates with a "punk-Philly-DIY feel" to a different environment with no distractions and complete isolation. "This album feels like it has a lot more courage and depth," says Dabice as to the need for change. Despite her appreciation for Romantic, things were different this time around, and Patience demanded a new, quiet setting to cultivate. "It kind of scares me in a different way. There's a lot of things I sing about on this record that I've never even told anyone. It's strange to think about how honest you can possibly be on something and you forget that part where some people actually hear you say this."
"There are a lot of things I sing about on this record that I've never even told anyone. It's strange to think about how honest you can possibly be on something." - Marisa Dabice
In relation to Romantic, Dabice laughs as she sincerely quips that Patience is its cooler older sister. It becomes truer as she sheds some light on some of the meanings from the album, contemplating, "Why is it that you feel so comfortable to say something in a song that you can't say to your lover or your friend or whoever?" The experiences and ideas floating around in Patience feel connected to Romantic, but in a way that showcases a matured, deeper understanding than before. She continues, "Sometimes when I'm caught up in emotional hurricanes and I'm actually in a present situation with someone, I find it very difficult to articulate the way that I'm feeling or how this person's making me feel. Or if someone's asking, 'Are you okay?' and I'm like like uh-huh, meanwhile everything that I say on this album is going through my mind."
The product, though it was born from these sad circumstances, is a testament to the beauty of uncensored vulnerability and sincerity. "Drunk II" was written when Dabice retreated home after a night out with friends and was feeling heartbroken. Instinctually, she picked up her guitar as she cried until four in the morning. "It was that perfect storm of the right amount to drink that it made me really sad but also took out all these words from me that I had been wanting to say for so long," explains Dabice. "I think, for the most part, you write songs in one of two ways, which is: that kind of experience with "Drunk II", where you are just with your guitar, or whatever instrument you're using, and something just pours out of you like this complete thought. And then the other way is that you beat your head over a song for months trying to figure out exactly the right way to stylize something." It's very evident that "Drunk II" came naturally, with the first verse feeling like a lost love letter, "And do you remember the nights I called you up? / I was so fucked up / I forgot we were broken up / I still love you, you stupid fuck."
"Drunk II" received an influx of praise and love for that reason, and because of the refreshing new sound that distinguished the track from Mannequin Pussy's previous material. It's not raging with the typical statisticky screams and reckless instrumentals; it's controlled and dreamy, but still outlined in a crisper recklessness. "We're just always gonna be the band that makes music, however, the fuck we want to," admits Dabice, "and I can't be beholden to sound a certain way in every song." She writes songs on her own, so not every one makes it out to be a Mannequin Pussy song, and "Drunk II" almost didn't make the cut. "Then, when I finally brought it to practice I was like, 'Oh my god, I'm so fucking stupid.' Anything can be a Mannequin Pussy song if we put the time and effort into making it that way." Not being tethered to a genre has given the band a world of opportunities to pursue, and the best part, she claimed, is "no one can ever accuse us of abandoning our roots, or whatever the fuck that is."
Where Mannequin Pussy might go next is a mystery, both to fans and the band. However, Dabice expresses amble intrigue for escapist albums, examples being Radiohead's In Rainbows or any My Bloody Valentine album. "It feels like you're immersed in a warm bath while you listen to those records," she raved. "I think that albums are often things that put a magnifying glass on universal experiences and happen to all of us and are a way for us to collectively deal with our grief, or they can be an escape from reality where you're able to create this new world where a listener can have that experience of just being taken away from what life on earth normally feels like." Mannequin Pussy, up to this point, is very much the former, but she is interested in the challenge of transcending the earth's limits and taking an otherworldly adventure for the next musical endeavor.
On each album, they include what they think of as outlier songs, and it indicates to them what direction they might want to explore next and it lets them have control over their sound. On Patience, "High Horse" and "Fear/+/Desire" demand attention with their unexpectedly slow melodies and whisper-like vocals. The songs come abruptly, mixed in with hardcore jams that remind everyone that Mannequin Pussy are still angry. "Unfortunately, I don't know if the anger is ever gonna go away," admits Dabice with a laugh. "If you're clued-in at all to things that are going on. It's hard to ignore that side of yourself." At the same time, as vital as the aggression is, the soft vulnerability and sadness are as necessary.
"We're just always gonna be the band that makes music, however, the fuck we want to." - Marisa Dabice
Patience goes through the emotions as any person does, and Mannequin Pussy make sure to emphasize each and every one. When the calmly depressed "Fear/+/Desire" is followed by the unabating, merciless "Drunk I," it feels like a human process, especially in the context of abuse. "It's such a fucking merry-go-round of emotions every day for when you're still processing and dealing with things," she grieved. "Like one day you're on the fucking acceptance horse going around and you're like, 'I'm fine, I'm gonna be okay,' and then the next day, you're back on the angry horse and you're just so pissed off at everything and everything is an emotional trigger and it's hard to get through the day and then one day, the denial one, you can just be like, 'It didn't happen to me,' and you pretend like it didn't happen. Unfortunately, I don't really know when that merry-go-round stops, but writing songs and writing records like this really makes it easier for me to function." And to Dabice, the rest of Mannequin Pussy, and probably almost every artist out there, that is what makes art worth it. To breed beautiful, comforting art from ugly circumstances is truly worthwhile.
In addition to an emotional process, Dabice uses the sequence as an opportunity to formulate a three-act play. "So, at the beginning of the play, setting up the stage, setting up the emotions and the characters," she explained. "And then, as you get into that second act, that's when you start to get into your darkest hour with a lot of the emotional storms and bigger outbursts and things like that. And, in the end, it all works out, you hope, and has a more optimistic [view] of things being resolved." The finale, "In Love Again," definitely colours everything in a pleasant hue and exudes relief and contentment, as Dabice sings, "I'm so high, / I want this forever." It is satisfying and tear-jerking. Although it's bittersweet to arrive at the end of the record, you can always click repeat and relive all of the chaos.
Patience is out now via Epitaph
Get the Best Fit take on the week in music direct to your inbox every Friday