Comprised of Lins Wilson on guitar and vocals, Tom Hudson, who delivers vocals and basslines, and drummer Nestor Matthews; the three musicians have been making waves in their hometown, with a view to drawing in support further afield.
Following a period of work on other projects that were less focused around guitar music and punk, Wilson says that she "started to get really desperate to be playing in a guitar band again." Discussing a passion built up over many years, she enthuses: "It's my main instrument and what I fell in love with as a teenager. It's evolved over a slow process. But we all knew we wanted to work together."
Even though Magick Mountain isn't yet a repeated, recognisable name, it should not hinder curiosity or exploration. With a music network as nuanced and detailed as it is in Leeds, it should come as no surprise that they are industrious, expert musicians who come with a wealth of hands-on experience and knowledge gained in various other band ventures.
Grammatics, Pulled Apart By Horses, Sky Larkin, Menace Beach, Mother Vulpine and Dinosaur Pile-Up are some of the Leeds bands that connect them. A cynic might deem the number of crossovers in personnel too elaborate, but a counter-argument would highlight the full extent of the community.
Following some extensive global touring under numerous guises, the idea of first connecting with home crowds seems fitting. A handful of local live shows under their belt— including shows at the iconic Brudenell Social Club— have provided a substantial starting point. This local focus demonstrates the band ethos.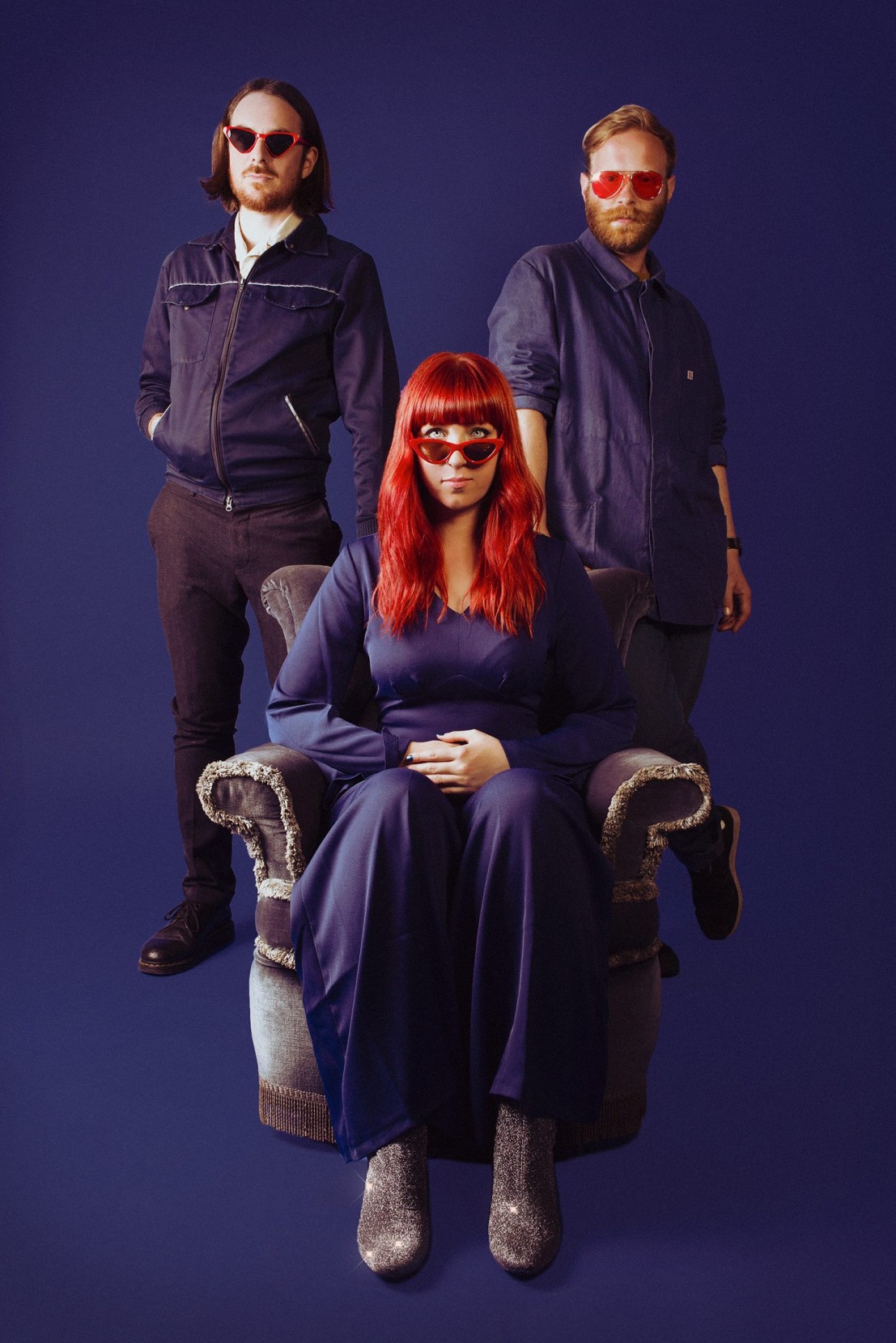 Originally from North Yorkshire, Wilson grew up in the "middle of nowhere" without a network of like-minded people around her, in a village with no shops; just a pub. "I think out of boredom, I was looking for stuff to do and just started to fall in love with music, heavier stuff," she says. "At the age of 14 I got into classic rock— that's all that I knew at that point. We did have NME, but I didn't have the internet until I was 18. I was getting into proper rock bands such as Led Zeppelin and Jimi Hendrix."
So, she taught herself Hendrix guitar solos. "The only band I played in when I was younger was a cover band at school," she adds. "We played Queen and Hole songs in school shows. That was the main type of gig I had been to until I joined Sky Larkin with Nestor in Leeds when I was 19."
Hudson personally credits his parents for bringing music into his childhood. Originally from Birmingham, he was just 12 when his father started introducing him to the world of alternative rock. Bands such as Nirvana, Rage Against the Machine, Neil Young and Led Zeppelin were always on rotation and a part of the reason why, despite already owning an acoustic guitar, he bought an electric guitar for a mere £20. "I had guitar lessons with this hippy dude who smoked a lot of weed," he recalls. From the age of 15 onwards, he started "messing around and recording songs" with friends at school.
Drum tutor Matthews is the only member who is actually from Leeds. Whilst he was an admirer of Queens of the Stone Age, his father was really into minimal electronica, so electing the drums as his instrument seemed to represent a rebellious streak. "I was heavily influenced by that, even though I was thinking I was rebelling against that by listening to loads of shouty loud music," he reflects. "I started Sky Larkin with Lins and our friend Katie Harkin, and that became my thing. I deferred university to do that."
Together they build on a love of punk and the production of sounds at the raw, heavy end of the spectrum. Recorded over 18 months, the ambition to reflect their live sound in the recordings has been a success— one that really shines through on Weird Feelings. The studio work with producers Margo Broom and James Kenosha embraced that principle, with rushes kept instinctive and free-flowing; any temptation to overproduce remained dormant.
"We're coming from a very live-heavy background. That's what we're all about," maintains Wilson. "To have gone processed wouldn't have worked for us. It was interesting working with Margo in the first week because she definitely pushed us to think in a different way. One of the main things was how to sonically create a narrative and create more dynamics because, with the songs, there's a lot of heavy riffs and distortion going on. Trying to create more dynamics per song for the whole album was something that we really took away from working with her."
With Hudson's vocal techniques from Pulled Apart By Horses being so recognisable, they were keen to approach things differently. New vocal sounds were created with Wilson singing mid-register, and Hudson aiming for a falsetto range. While she has been writing some of the vocal melodies and harmonies, he has been focusing more on lyrical content and artwork for the album.
"I had in my head a vague idea of what I wanted," he says. "I go with my gut quite a lot. I don't do sketches, I have to throw things around to figure out what I want to do. The first single 'King Cobra' took longer because I was thinking of how the rest of the artwork was going to follow and fit together." With a view to creating a series of digital collages that would work individually and together, he pulled in images from books, National Geographic magazines, relics, and artefacts from the '70s.
Written over a period of five years, their songs depict intricate themes, a route of escapism for those who desire it or an injection of punky energy to others. There is also the use of metaphors and a wish to provide a positive narrative, exemplified by "Cherokee" and "Infinity X2".
Determined to do things differently, Magick Mountain were keen to own the rights to their music, to not be in debt to anyone. While this has meant more work, it has been rewarding and worthwhile. With some support from the ReBalance initiative and Help Musicians, they received funding to cover recordings and business sessions.
"We've stayed in control of how we're releasing the record, the money and the creative decisions," Wilson says. "It's been loads of work, but for this record we're putting out, we don't owe anything to anyone, that's a good feeling. Hopefully, we can talk about that with other artists that wanna do stuff. I think this is why this has taken a long time, we've been piecing these puzzles together."
Things are definitely coming together, and it leaves Magick Mountain free to move to the next chapter of their immersive journey.
Weird Feelings is out now.