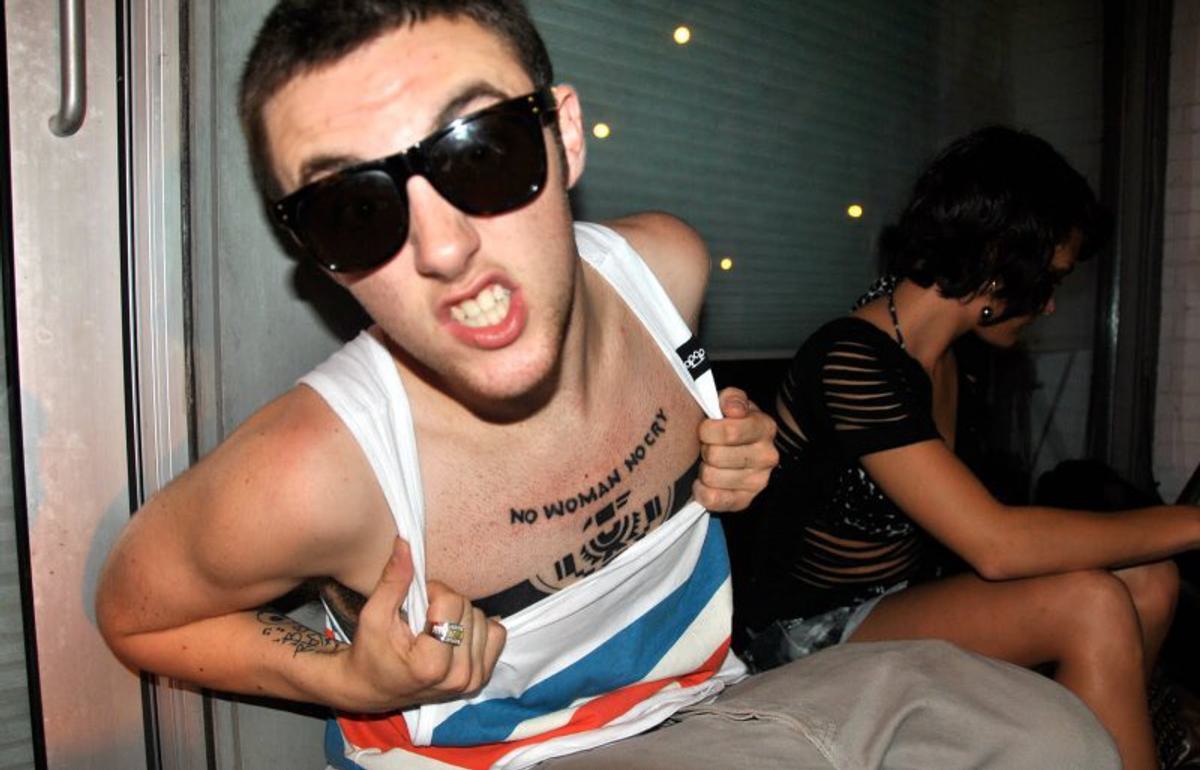 Mac Miller: "One day kids are gonna learn my songs"
20 June 2012, 09:40
Riding high with the release of his debut record, Jen Long talks to Pennsylvania's newest hip hop star Mac Miller about chicken, tattoos and sampling.
It's a sunny morning in central London and I'm sat in the dark lobby of a slick and swanky hotel talking to Pittsburgh musician and MC Mac Miller about chicken.
Later this evening Miller will be live on Zane Lowe's Radio 1 show name-dropping for a Nando's Black Card, but right now the idea of free food is just a dream between us both
Twenty years old and already sporting some impressive ink, we join Mac ahead of a small run of UK tour dates in support of his debut record Blue Slide Park, a fun and vibrant collection of bubblegum rap and subtle but accomplished musicianship.
Right now though we're talking chicken, chicken and tattoos:
"I've got to finish this sleeve right here" he tells me, pointing to a spread of blank skin on his bicep. "This gap is bothering me more than anything in the world. So I gotta fill this up." He spreads his hands to his neck, the words 'most dope' spread across his fingers. "I mean, I'm gonna be covered…I'll probably stay off my face and stay off this under-chin area. If it wasn't for my Adam's apple I'd already have this whole thing done though. I don't understand how they tat on my Adam's apple."
"We got in yesterday morning," Miller explains, with eyes that look fresher than they should. "The flights were long, but I did get the privilege to fly first class and that was like…I didn't even sleep because it was so awesome. First you get a big survival kit in case you want to brush your teeth or anything like that, then all the food and drinks. We had two flights and then a flight overseas, so the first flight at six in the morning. I had a Bloody Mary and was drunk."
Pittsburgh, Pennsylvania isn't a town you might naturally associate with hip-hop, despite also being home to Wiz Khalifa, an associate of Miler's. I ask what it was like to grow up there. "I think it's cool because you learn to work hard and mind your business," says Miller. "There's no big shopping districts or designer anything. You don't know about any of that when you're growing up. You just know about trying to hustle to make some money. It's not a flamboyant city at all, it's very gritty and people there work hard. I liked it. I loved growing up there. It's peaceful to some degree."
Tonight Miller will play to a sold out crowd in North London at Kentish Town's Forum. I ask him if he ever thought he would get this far as a musician when he was growing up. "I was sure of it from the time I was ten years old" he asserts, absolutely. "I was sure that I was going to be doing music. I used to just play guitar and sing and I remember I was sure because I would always write songs.
"Like, when I was six at piano recitals I would never play Beethoven or Mozart, I would play my own shit, which wasn't as good as Beethoven or Mozart, but you had to respect the effort. I was sure of it because here I am learning a Jack Johnson song, or learning a John Lennon song. One day kids are gonna learn my songs. I didn't think I was going to be a rapper until I was 15. But before that, I had this transition where at ten years old I was playing just guitar and singing and then as it grew, it became awesome G Love shit where it was singing, guitar, rapping, and then I couldn't bring the guitar with me everywhere so then it just went to rapping."
Talk turns to sampling and how much of the record is Mac playing live instruments. It's a subject that animates him. "I got back from tour, and it was my first tour and the first time I had some money in my pocket. So I went and got a car and then I went right to the music store and dropped like, twenty thousand dollars on getting drum set, new guitar, different pre-amps and plug ins and stuff to work on the album. I wanted to make live instruments an aspect of the album.
"I think that it's great to experiment and find new ways to make music whether that be using live instruments but never lose the art of sampling because sampling is how hip-hop started and it's also really fun and creative. People outside of hip-hop will be like, sampling – you're not making music, you're just stealing. And it's like 'nah, when did you hear Earth, Wind And Fire sound like that? For (mixtape) Best Day Ever, we sampled, I believe it was an Earth, Wind and Fire interlude sound, and it made the beat. You know what I'm saying? It's like taking something and building on it and taking it to a place that it never was before."
On the track 'Party On Fifth Ave', Miller samples DJ Mark the 45 King's 'The 900 Number', a loop made infamous by DJ Kool's 'Let Me Clear My Throat'. Did he have any concerns about doing that? "I sampled the most obvious sample in the history known to man," he roars. "I sampled dun nu nu nu nu nu nu nunu. That's the biggest sample ever. But my decision to do that, it needs to happen for our generation. Our generation needs this sample as well. I just wanted to take that and put a spin on it."
The essence of Blue Slide Park is undoubtedly fun. It seems to be an album focused on cutting lose and having a good time with no worries. "My music is pretty much a mirror of what I'm going through at the time, as I feel people's art should be," he explains, leaning in. "It should reflect what they're going through at the time. I came into the game when I was sixteen years old, so in the beginning, from sixteen to eighteen, I didn't have much to say to the world.
"I'm just a kid that's excited to be here so my music is just that – have fun, have a good time, don't worry about anything. Go out and just be free. Run free. Run wild. And that's just like how you should feel when you're that age."
"But then I feel like I hit twenty and I've been doing this for half a decade and the flashing lights don't get to me anymore. It's like, the first time you go to New York City you look up, just looking at the skyscrapers and everything's so crazy. Second time, same thing, third time, same thing. But as you go to New York the tenth time you stop looking up. You've seen it. So you just get to where you need to go.
"I feel like with my music, I've grown to a place where all the fancy shit doesn't excite me anymore. Now I'm working on digging deeper and doing something, because all my favourite artists stand for what they stand for and they work to change the world so that's what I'm doing. Lennon reached the fucking president. I want people like that to know who I am and I want to start a movement that's that big and I want to do something and grow and have something to say."
Released in the US last November it seems as if Blue Slide Park is already a record Miller has moved away from. "At first with Best Day Ever, the thing was, can you believe this shit? I'm fucking touring around the world, can you believe this shit? Sold out shows everywhere. Then Blue Slide Park is me. I came home off the road and I was home for three months and I had three months to make an album. And whatever, I work fast. I'll make a whole album in two weeks. But I'm home for three months and I'm just like, man, I love being home. I don't want to leave again. I just love being at a place that I can remember.
"So Blue Slide Park was me holding on to that. Me being afraid because you can just lose your head. It's very easy to get caught up in the shit going on around you and forget everything.
"If I wanted to, and I'm not saying I am by any means, but if I wanted to, I could be a complete dickhead all the time and everyone would have to put up with it. And that's how it is. I could walk in here two hours and late and be all meh muh muh, I don't give a fuck. That's not how I roll. But a lot of people can get into that thing. So at that point it was me being afraid to become that and wanting to hold on. I'm from Pittsburgh, Pennsylvania. I'm nothing. And always tell myself that I don't mean shit, like I'm regular as hell. I'm not better than anybody else, right? So it's me being scared and staying there.
"The next step for me is you can't be afraid. You've got to just step in and see what happens and hope that you can handle it. Now it's the transition of me not being at home anymore. I left Pittsburgh. I'm living somewhere else now. I'm going to go out and explore the world and see if I can handle it or if it defeats me.
I ask if he's going to turn into a dickhead. "I'm not," he smiles. "That's never going to happen!"