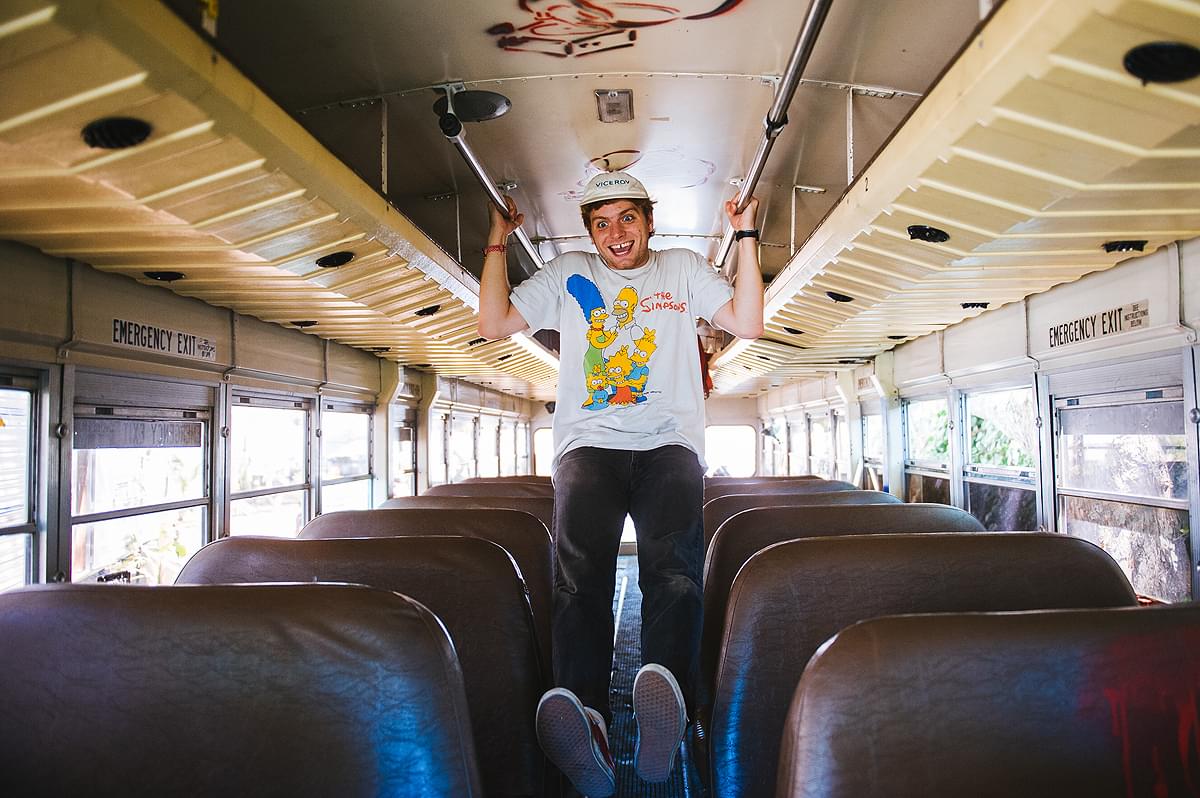 Mac DeMarco: "It's all love songs this time"
03 August 2015, 09:00
Mac DeMarco might not be your stereotypical heartthrob, but the dungaree-donning, Viceroy-smoking Canadian has stolen more than a few hearts. "It's all love songs this time," DeMarco teases of his latest work. "And it's not only just "I love you, I love you..." It's like, kind of, the whole spectrum of love.
"The last album, Salad Days, was kind of the album where I'm like, "oh, I'm this serious songwriter guy,' and I told everyone exactly what each one of the songs was about. But this time, the songs ring true with my life and they're very personal, but because of the nature of love songs I feel like it doesn't really matter if people know exactly what I'm talking about. You can take them and do your own thing with them."
Ever the crowd-pleaser, DeMarco has crafted a release that anyone can relate to. From heartache to heated excitement, Another One has it covered. "For the most part it's usually from my own life experiences, and my own emotions, or how I'm feeling at the time," the artist says of his provocations. "The funny thing is, often I'm not really that great at portraying... I mean…" Trailing off as he tries to acknowledge his emotions, it's easy to see why DeMarco's work is so evidently heartfelt.
"I can write a certain style of song. I can write something a little bit sad or something. But I think that it's usually just dictated by how I'm feeling at the time, when I do start to actually record. It's always gonna be a little different because I'm usually feeling a little bit different. I just sit down and try and write some songs 'cause I feel like writing songs, and however they come out is the way they come out, y'know? I just kinda kick it from the chest."
Three albums in, DeMarco is still crafting music out of his bedroom. But he wouldn't try it any other way. "I've thought about this a lot actually, especially now that I'm reaching a bigger audience, 'cause people are like 'what're you doing mannn? You're making these lo-fi records...' And it's like 'Yeah. I'm doing it on purpose. I like doing it this way,' he chuckles. "It's something I've always done. And I've gotten a lot better at it over the years. My recordings used to sound pretty screwed up, but now they sound, y'know, okay. Pretty good, I think. Maybe class, even, sometimes?" he questions. "I think people can appreciate it." Bashful though the musician may be, there's no stopping him when it comes to his passions. "It's gratifying too," he continues, "'cause I learn more about recording - which is really interesting to me - and how to make things sound good. I'm kinda developing my own engineering style, or something like that I guess. I'm not on the clock, and it makes me more comfortable, 'cause I can do it in my underwear. I can write something and then record it right away, demo it. And I play all the instruments myself, so I just do it in here."
"I'm not saying that going to the studio's a bad thing," DeMarco contravenes. "It's just not for me. I feel like when an artist or musician makes something in their own… It doesn't have to be their living space, but on their own terms and their own zone, as opposed to a sterile studio… it brings it closer to it's inception, instead of being this this thing that's passed around. There's something to be said about adding some kind of personality or maybe, like, an organic thing to the music. It's like a living thing at that point, not like a taxidermied animal."
There's a lot to be said for character in music, and this is something DeMarco does well. "As far as my experience goes, it's kind of like an extension of yourself in a way. It's like 'this is me, these are my songs.' It's like drawing a portrait of yourself in a way. Even if you think about soundtracks to movies or something - like John Williams or Danny Elfman, you can always tell that it's them. I'm not saying 'yeah, it's really important to have a big, goofball, YouTube personality!' That doesn't fucking matter. But it's an identity within the music. It's hard to explain."
"The way that I interpret music, and the way that I enjoy music, is on a very human level. I don't really know if that makes any sense. But for me, a lot of it is the personality behind the music, and if that's prominent, then often the personality's infused within the music, and the heart of the music. It's hard to quantify what makes anything "good" - especially in art. But if there's something that my whatever wants to connect to… It doesn't have to be perfectly recorded, doesn't have to be perfectly played, perfectly written, nothing."
"And what does any of that even mean anyway? There's gotta be something there. I don't know what it is. I think that's why I find music interesting."
There's no ignoring the passion DeMarco has for his craft. And it seems there's no shirking the passion the fans have for it either. "I put out the title track, "Another One", and then I released this video where I show kids how to play it on the piano," he explains. "So I said, "you make your own version, I'll give 69 cents to the winner." And there's like - let me see how many..." Quickly checking online, he resumes the conversation. "We've got, like, 124 on YouTube, a bunch more on Soundcloud… so there's a lot of kids having a good time out there, y'know? [laughs]"
"That's not even the thing. I mean, dudes, who would do something for 69 cents? Nobody! That's the kind of money you find lying on the street! I didn't set a deadline, so, it could just go on forever. Who knows? I'll pick the winner when I'm, like, sixty years old or something," he jests. "I think it's more about connecting with the people that are listening to the music, and everybody having a good time. I think they have been, so it's cool."
Having a good time is very much at the heart of everything DeMarco does. "I think that mainly what we try to do, especially nowadays, is just make everybody feel comfortable," he states. "I want people to enjoy themselves, and feel comfortable around us, and feel comfortable around the people that they're with in the crowd, and just have a good time. Sometimes, at big shows especially, people can get a little grumpy, or there's fights that break out, yadda yadda yadda. So, I think it's just like, I want people to just be them, and relax, and enjoy, and not really worry about anything else, y'know? Just, take a load off, on my behalf. No problem." Speaking of his live shows, DeMarco is every bit the entertainer. "We're not super great musicians or anything. We don't rehearse that often..." he chuckles. "But I try to keep a balance. There's a lot of people that come that just wanna hear the butt jokes, then there's probably more people that come that wanna hear the songs. So we try to keep it so we're playing the songs, but we're also having a good time. I think it helps keep us sane in a way," he continues.
"I think if we were the kind of band that just got up on stage and were like "hello, welcome..." and then played the exact same way every single night, it would probably drive us crazy. Especially with the amount that we tour. So we try to keep it as fresh as we can."
With a new release imminent and tour dates pending, the Canadian musician is showing no signs of becoming tired any time soon. Devoting himself to his music, and his music to whoever wants it, DeMarco has his heart on his sleeve and his audience on his side - and that bond only looks set to become stronger.
Another One is released via Captured Tracks on 7 August. Photos of Mac DeMarco by Gaelli Beri.
Get the Best Fit take on the week in music direct to your inbox every Friday