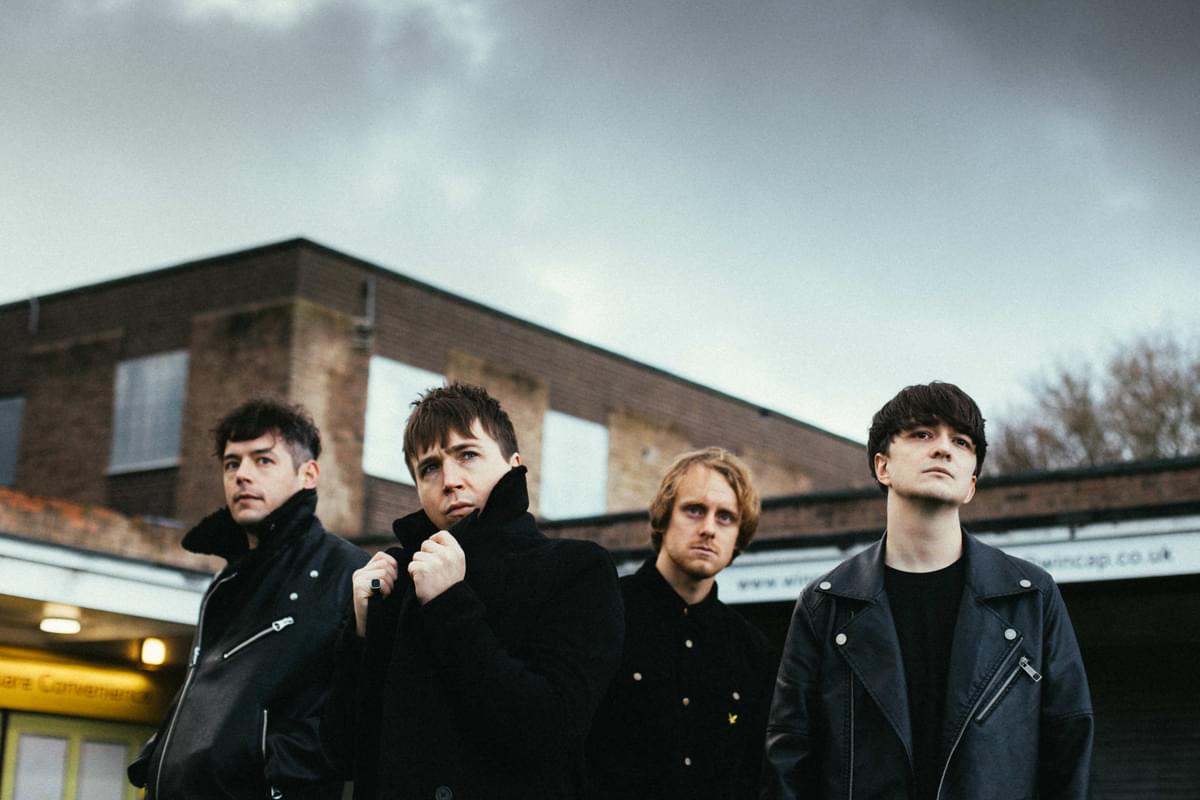 On the Rise

The Luka State
15 February 2022, 09:15
Combining the claustrophobia of small-town life with pandemic-born frustration, The Luka State returns with a fierce new direction.
"Exactly a year to the day, the same fucking thing's happened to us," spits Conrad Ellis across the Zoom line. It's been a trip 'round the sun since the Cheshire band released their debut album Fall In Fall Out, without the support of playing live shows. Now, returning with new single "Oxygen Thief", a gut punch of frustration-fuelled guitars, the band are yet again facing cancelled tour dates.
"How the fuck are new artists gonna break onto the scene at the moment if this is constantly happening?" he asks, on a tea break from working in his dad's garage. "The goal posts are forever moving. There's a real sense of anger and frustration, and that's where this new sound of ours has come from."
Growing up in Winsford, a small town Ellis describes as being "evidently left behind," he formed The Luka State with childhood friend, bassist Sam Bell. After a couple of singles and a lineup change the band began to move forward, guitarist Lewis Pusey and drummer Jake Barnabas completing the quartet. "It's more of a brotherhood than a friendship," continues Ellis. "We'd follow each other to the end of the earth. As much as we want to kill each other at times, we are the best of friends."
For several years, the band prioritised touring, schlepping up and down the country and out around Europe in search of any stage that would have them. "We just cut our teeth on the road. Getting in the van and trying to get a hundred gigs a year," smiles Ellis. "We became like travellers, because we'd pack the van and head off to Europe and do as many gigs as we could."
Even when they couldn't find a stage, the band would still search out a gig, putting themselves out for house shows and parties wherever they were welcome. "We thought we'd just do something a bit different and put the feelers out, and if anyone wanted us to come and play their party, we would. We will literally play anywhere," Ellis laughs.
Their tenacity paid off, and after years of slowly building momentum, The Luka State signed a record deal. "Signing to a major label was a dream as a kid, signing a big record deal and putting a record out. It's what dreams are made of," Ellis smiles. "And then the universe went, fuck you, that's not gonna happen because there's gonna be a pandemic. You can sit back like everybody else and not have your own way."
For the band, it felt like all their years of hard work faded away as lockdowns dragged on and live shows disappeared into distant memories. But if there was one silver lining, it was the rehearsal space which they'd renovated into a studio using their advance. As it qualified as their place of work, the group were still able to meet up and write. "We found solace in that, otherwise we would have gone batshit crazy," laughs Ellis. "It's opened a new headspace for us, having a studio where we can record what we're writing and then listen to it back. We're constantly evaluating how to make ourselves better, make the songs better."
Their debut album was pushed back to January 2021, in the hope that touring may return. But as the aftermath of Christmas kicked in, the group found themselves stuck at home. From the days spent with, as Ellis puts it, nothing to do but "pick up the guitar, write songs and watch Netflix," the band persevered within the confines of their studio. "In hindsight, you can say what if this and what if that, but you're in danger of becoming bitter and twisted and that's not something we are. We weren't born with a silver spoon so we can face harsh realities," he says.
Instead of resentment and regret, The Luka State emerged with around sixty new songs, and a newly honed approach to their craft. "It made us more detailed at what we do and more focused to write better songs and come up with better ideas and become better musicians," Ellis explains. "That's what it did for us more than anything."
Armed with their new material, during an easing of restrictions the band booked in time at Liverpool's Motor Museum, a prestigious studio that's played host to the likes of The Coral, Oasis, and in recent times The 1975. "It's a great desk, a great live room, and there've been some great records made there that sound immense. And it's forty minutes down the road," laughs Ellis.
There, they worked with longtime collaborator Jamie Evans. "He's a very hands-on producer, and that's what we like," smiles Ellis. "Someone who picks up a guitar and goes, 'No, like this. How about this?' We like to be put straight and put in our place, and he's very good at doing that."
What came out was "Oxygen Thief", a rush of dynamic rage and emotional catharsis. Ellis' voice is pushed to breaking point, his delivery intimidating and immediate. "I'm quite a method singer in that I channel a lot of my energy and my thoughts into lyrics I'm singing," he explains. "You've got to imagine that the person you're singing to is in front of you, and it becomes a method acting process. That's what I love about working with Jamie. I learnt that from him on the first record, and that's ingrained in me now."
The middle-eight is an expletive-heavy distorted diatribe that encapsulates the energy of the song. While it may feel like a culmination of the band's ruined plans and enforced stasis, it was actually a joke gone right. "We don't swear in our songs, right? Unless you really need to swear in a song, I don't see a point. So as a joke, when we were doing that song, I put in as many swear words as I could in one middle-eight for a laugh, to see if the lads would be like, 'What the fuck are you doing?'" explains Ellis. "But because it was a really angry song, and it was about one particular person that I really don't like, and I'd had a really traumatic time with, I thought, fuck it. I think there's about eight fucks in it. Then when it got sent off to our managers, they were like, that's great!"
With live shows returning and more music on the way, there's plenty to give a fuck about here.
Get the Best Fit take on the week in music direct to your inbox every Friday