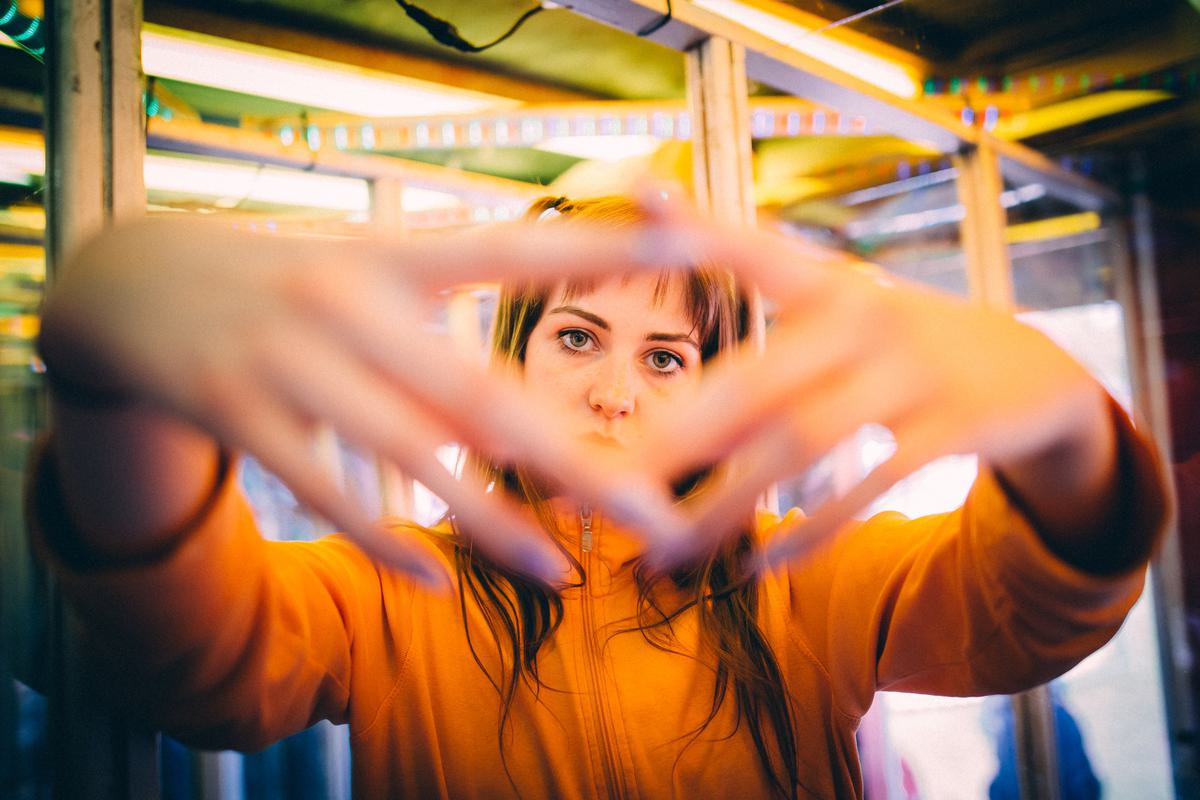 On the Rise

Biig Piig
15 March 2018, 17:43
20-year-old Jess Smyth, aka London-based singer and rapper Biig Piig, has only released a handful of tracks - all evocative, romantic slices of life over beds of languid hip-hop beats - but her singular artistic commitment combined with an experimental, collaborative spirit already marks her as one of the most exciting artists in London's DIY scene.
Smyth's path to making music as Biig Piig – a pseudonym she found on a pizza menu – started when she moved to London from Spain aged 13. Inspired by watching videos of acoustic covers on YouTube, she started making her own videos and attending local open mic nights. At college, she was introduced to a whole world of music outside of her folk bubble, leading to a fateful meeting with producer Lloyd MacDonald, and Ava Laurel – aka musician and MC Lava La Rue – founder of the Nine8 Collective, a West London-based group of underground musicians, artists, and designers. Smyth has been a part of the collective ever since, collaborating on projects spanning music, filmmaking, and clothing design.
Her move into hip-hop was sparked by a chance visit to a party with Ava: "There was a soundsystem with hip-hop beats, and people just flowing over a mic – I'd never seen that kind of thing before. They put on a Dilla beat and someone handed me the mic. I was off my tits and I just took it and started singing – I thought 'fuck! I don't even know what I'm doing!' but I kept going and the crowd were really into it. Ava looked at me and said 'Jess, you need to get into making this kind of music'. So I met up with Lloyd and we started messing around with beats and putting melodies over the top. At first I wasn't very confident because it wasn't my field, but eventually it started coming easy."
"It's really cool to be able to sit down with a bunch of other young people and be inspired...it's so important that everyone is in the same age group, with the same energy, so we can all relate to each other."
All Smyth's tracks to date are collaborations with Lloyd, who – under the pseudonym Mac Wetha – acts as a kind of in-house beat maker for Nine8's roster of singers and MCs, producing and mixing in his home studio known affectionately as 'Complimentary Tea Studios'. This collaborative way of working comes naturally to Smyth, and it's why the Nine8 Collective has become such an important context for her work. "It's really cool to be able to sit down with a bunch of other young people and be inspired," she says. "It's so important that everyone is in the same age group, with the same energy, so we can all relate to each other."
A reflection of how the group works is the video for Biig Piig's single "24k", a hyper-real film that follows Smyth and a live-in partner around a colour-coded house, perfectly mirroring the track's juxtaposition of domesticity and romanticism. When asked about the video, Smyth recalls, "I went to Jay [Green, filmmaker] with the song and the idea and then all the Nine8 art people went over to Ava's flat and redid it as the house you see in the video. The whole budget was just two or three hundred quid. It was amazing how good it turned out on such a low budget!" The song itself, dripping in beats and saxophone, radiates with the intimacy of cohabitation – "I like it when we're late because we're making love / and afterwards my skin smells sweet just like your cologne..."
Outside of her immediate peers in the collective, Smyth's influences are as idiosyncratic as a typical 20 year old, and it's fascinating to hear how she brings different aspects of the music she loves to her work as Biig Piig. "With all the artists I love there's one thing that drives me to them. I love Leonard Cohen, and with him it's the lyrics of course – A song like "Lady Midnight," it's fucking beautiful. When I was younger, I listened to a lot of pop punk, like Bowling For Soup – I wasn't a massive fan of the lyrics but it didn't matter, I just loved the energy and that was enough."
"Each EP is going to reflect a part of myself; an age that I lived through that I feel led up to who I am now."
When discussing musical influences, her distinctive self-assurance is clear: There's a strong sense that the most important music to her is the music she's making herself: "When I'm working really hard at my day job I'm forced to listen to shit music all week, so when I have time outside of that I just want to create the music I want to hear."
This was the case when working on her last single "Vice City", written and recorded in between long shifts working in a casino. "When I was writing it there was only a tiny pocket of 10 minutes per week when I wasn't sleeping or working that I could sit down and write. Writing that song was a way of stress relief after working so hard." The track oozes comfort and gratitude, tripping between paying tribute to a lover, reflecting on her drive to make music, and – sweetly – nodding to the sacrifices her parents made when raising her ("Pockets empty / still you gave me something to believe in...") all delivered in Smyth's gorgeous lilting vocals, draped over layers of slow beats and bass.
Next for Smyth is the biggest Biig Piig project to date: a trilogy of EPs, the first of which – the incredibly-titled Biig Fan Of The Sesh Vol.1 – is set for release on 6 April. "Each EP is going to reflect a part of myself; an age that I lived through that I feel led up to who I am now," she explains. "Vol.1 focuses on a teen character I play called Fran, a hard partier coming out of her first serious (and somewhat toxic) relationship, finding it hard to cope alone in the city. There are dark sides to London that are easy to slip into - young people here grow up quickly because of it. I hope anyone that feels they're in a situation like that can find some solidarity in some of the tracks."
A teaser track from the EP, "Flirt", can be heard now, and acts as an intriguing introduction to her persona as Fran. On the track she's messy but self-aware, distancing herself from a potential love interest, and lamenting that "Maybe if my head was in the right place / and if you and I were on the same page / we could find something that's worth keeping...". Characteristically, Smyth's vision for the EP outstretches the music itself: "Because there's a narrative running throughout, we've made a short film to run alongside it. It's the biggest project I've worked on and the most personal thing I've made so far."
For someone who is instinctively private, the revelatory nature of the new material is challenging: "I'm not very open on social media, and it's not very often that I'll reveal a part of my life. In the tracks that I've released so far there's little bits that reflect my life, but the EP and the film are a real insight into who I am." Ultimately, her drive to create authentically overrides any fear she may have about taking this next step: "I'm really excited. There's been so many stressful moments, but it's only stressful because it's so important to me."
Biig Piig plays her debut solo show at Electrowerkz in London on 17 April; Biig Fan of the Sesh Vol.1 is released on 6 April.