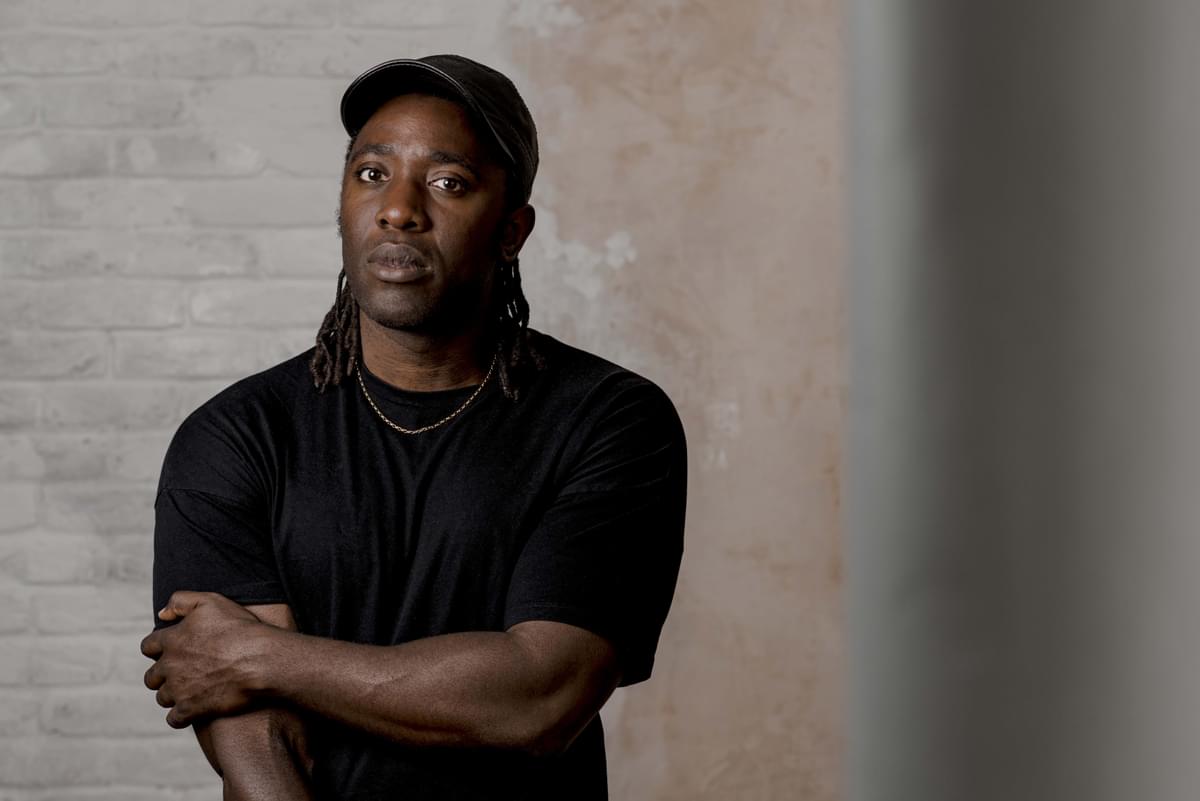 Kele Okereke and his personal reset
22 July 2021, 12:00
"Can you hold on one second? I've got a naughty four year old who doesn't want to go to bed." It's a weekday evening and like most parents across the country, Kele Okereke is balancing work and childcare in the midst of an on-going pandemic.
Okereke has just returned from a sunlit evening walk home from the gym, after spending most of the day in an underground studio recording new music with Bloc Party. Despite his full schedule, he's generous with his time, graciously talking about recent album The Waves Pt. 1: "I always knew when making this record that it was probably going to be somewhat of an acquired taste," he tells me, "given that most of it is instrumental, but it's been encouraging to see that people have been listening to it and going on a journey with it. That's the thing that I really, really wanted."
This journey sits in stark contrast to the one listeners encountered on his previous album 2042. Released in 2019, it was a breath-takingly direct exploration of racism, identity and accountability, which forced Kele to expose a visceral level of discomfort and trauma in public and personal spheres. Throughout The Waves Pt. 1, Okereke is equally as candid and open, but this record offers emotional space and reconnection in a completely different way.
Leaning on music throughout 2020 and creating his latest solo record is something Okereke is deeply grateful for. "I just feel thankful that I have a document for the person that I was in the last year, the conversations that I was having and the things I was seeing," he explains. "It's all gone into that record. The last year has been a hard year for lots of people for obvious reasons. People losing livelihoods, losing their homes, it's been a massive period of uncertainty and anxiety for people. I just feel blessed, I guess, that in that period, I was able to carry on doing the thing that I love to be able to get through it. This record is a document to me of how I got through a very dark time."
Described as "literally" the sound of himself, Okereke worked from his music room at home almost completely solo on The Waves Pt. 1. The initial idea for the record came to him after he joined Instagram and began sharing live videos so he could feel connected to an audience. When asked whether working truly solo was a daunting prospect, he approaches things diplomatically. "It was daunting, but I didn't really set out to make a record," he tells me. "After I joined Instagram, I started to realise I wanted to be creative as well, I didn't just want to feel like a Jukebox. Once that process started, I began amassing these short, 1 minute 40 sec loops of things. Then I realised I had the kernel of the record and it was going to be a very different record to everything else I'd done. So that was daunting, but it was also kind of exciting."
This juxtaposition of fear and anticipation has been present throughout all of Okereke's solo efforts. "That's the kind of the modus operandi, I guess, of every solo record I've made. I have to feel like I'm in a place where I don't know how I'm going to get out of it, or I don't know how I'm going to navigate it. But, you always find out how you're going to make it work. I think all of my solo records have felt like different branches of the same tree." As he previously mentioned, these branches have extended into instrumental territory on The Waves Pt. 1, a change that meant Okereke was able to capture his emotions during the time he was recording more succinctly.
"I think the desire to make instrumental music came from the fact that, although I'm principally a songwriter, or a storytellerI do enjoy the incredible journey that instrumental music can take you on," he says. "I've been listening to a lot more classical music in my house in the daytime and I've been listening to lots of ambient music and post-rock music. I think there was a sense that I just wanted to say something different, and what better way to say it than through music and through notation? It's a different way of writing, a different way of composing. If you're not thinking about a vocal or a top line, you can find yourself led in very different directions. Again, it was something that was exciting to me because I hadn't done it before. I'm realising as I get older, I feel like it's important for me to challenge myself."
Okereke's mature instinct for knowing when, and when not to add lyrical content permeates the record, and his emotional resilience and intuition for this is captured beautifully on "They Didn't See It Coming," which is currently his favourite track on the record. "I mean, my favourite track always changes," Okereke says. "It's funny, I haven't listened to the album for a few weeks, because Bloc Party have been working on a new record, so I need to focus on that. But walking back from the gym today, I knew I would be speaking to you, so I listened to the album and it's interesting, because different things start to jump out at you once you once you have some distance from it.
"All of the songs are imbued with personal memories, so they all feel special, but 'They Didn't See It Coming' is one I think really encapsulates where I was mentally when I wrote it about eight months ago. As I said, I was spending a lot of time making these loops in my music room and going out for long walks after the kids were asleep, when we were only allowed one walk outside each day. I would listen to what I'd recorded on my iPod and rearrange the songs in my head. Listening to that song today takes me back to those days. Right at the first lockdown when everyone was freaking out, there was so much hysteria in the air, but there was also something quite magical about that time, because it felt like we might be hitting some kind of cultural or social reset. So that song to me describes a fear, but also an optimism that potentially maybe life is going to change."
The pandemic may have provided an unexpected cultural reset for all of us, but something that provided Okereke with a personal reset before Covid hit was a weekly visit to his local Gong Bath, which he describes as "a kind of a guided group meditation with wonderful percussion and gong-based drone sounds that just takes you somewhere else...it's funny, I realised that's the only kind of regular, communal musical experience I have these days. I don't really go to shows so much anymore and I don't go to clubs anymore since having my two children. This is the one way that I enjoy music with people and I think that is important."
It's so important in fact, that Okereke asked Cathy who leads the Gong Baths to speak on his track "Intention". It's a beautiful, reassuring listen that reminds listeners to take a deep breath and remain present, focusing on how they can move past what might be standing in their emotional way. "The dialogue she speaks is actually a guided intention that she uses at the start of her sessions," Okereke explains. "She has such a beautiful centred speaking voice and her presence is very calming. Each week when I would hear her speak this combination of words, it was so powerful. I was very thankful that she allowed me to use it on the record."
Whilst a sense of gratitude and peace permeates The Waves Pt. 1, it's tinged with melancholy too. Okereke's re-working of the iconic "Smalltown Boy" by Bronski Beat, which follows "Intention", encapsulates these two moods so well. "I covered it on Instagram and although I was proud of the version I performed, I felt like I didn't want to leave it alone," he explains. "I thought I could take it somewhere else. There's so much sadness in that song, you can hear it through the speakers in Jimmy Somerville's voice and the arrangements and the beats. I've always had a space in my heart for that song, so I felt like I wanted to have another go and really tap into the sadness. Jimmy got in contact to say that he liked it, so that was nice. You never know how people are going to feel when they hear covers of their music, but I was just really pleased that he heard it and he liked it."
Will this combination of melancholy and soothing affirmations filter through to the record's second part, which Okereke says he is tentatively working on? "I have a sense, conceptually of where it's going," he tells me. "I don't want to give too much away, but in my mind, I'm seeing these records as a kind of Yin & Yang thing, so the follow up is going to be very different. If the sound of Pt. 1 is the listener drifting off to a happy, peaceful place, Pt. 2 is the sound of being woken up very loudly."
Whilst this noisy awakening is something fans can look forward to, Okereke's main focus right now is on Bloc Party's next record: "We finished demoing music at the start of 2020 a week before we went into the first lockdown, so we've been sitting on it for a while. I'm excited that we're finally getting a chance to get into the studio and get it down and get out of our heads."
Although the future of live music and touring for bands is still uncertain, there will definitely be an appetite for the new Bloc Party record live when the ti4 me comes. Okereke is aware of this and has mixed feelings about what this will mean for the family life he has helped to nurture over the last year. "I'm obviously excited about potentially getting in front of people and sharing that kind of energy again, but there is a part of me that has enjoyed being at home with my family this past year," he explains. "At the start of the first lockdown, my partner and I had our six month old son and our daughter, who was three and a half years old at the time. I've been a stay-at-home Dad really and I've enjoyed doing the nursery run, cooking meals and waking up in the same bed every day. I've been a touring musician for almost 20 years and I've been very lucky. I've seen the world multiple times over and that's a gift, I know that. But when you're spending so much time away from your family you miss them. So actually having to be at home for the last year is something I've really enjoyed, if I'm honest. There is a part of me that's slightly worried about what it's going to feel like to leave my kids, travel and be away for months at a time again. I'm not really looking forward to that."
It's one thing to have seen the world, but it's another thing to have created your own private world within it that centers around your loved ones, so Okereke's hesitation is entirely understandable. "I just know that I can't be absent in these children's lives," he affirms. "It won't be fair to them if I'm not here. But right now I'm not really thinking about that. I'm just thinking about potentially making the best record that we can as Bloc Party."
Kele Okereke's livestream, The Waves Pt. 1 Live is available to
pre-order now
and will be available on 4 August
Get the Best Fit take on the week in music direct to your inbox every Friday