On 6 June 2019, Dundalk in Co. Louth, Ireland, witnessed a power outage that affected nearly 800 homes and businesses in the small, industrial town. A month after grabbing drinks with Dundalk band Just Mustard, one's incendiary wit can't help itself but to let one say, I'm sure the lost electricity is hurtling into their second album.
There's a lot of musicians in Dundalk, I'm told, which is, as vocalist Katie Ball puts it, a border town. "It's halfway between Dublin and Belfast. You just need to drive ten minutes or less and you're across the border."
Although a country town, it's evident that the creativity contained in Dundalk was strong enough to permeate the burgeoning creative minds that make up the five-piece as it is now. Rounding out the lineup alongside Ball are guitarist and vocalist David Noonan, guitarist Mete Kalyon, drummer Shane Maguire, and bassist Rob Clarke.
Just Mustard have been a band for three years. They started off as friends who shared the same musical social scene and who then began to noodle around together with their respective instruments. "We just woke up and were like, 'Oh. We're a band now.'" Ball explains. Of course, like a lot of bands, there was the usual 'feeling out period'. Equally, like a lot of bands, they also went through a few changes. Those changes being, unsurprisingly, when it came to drummers.
Like a revolving door, Just Mustard cycled through a couple of temporary drummers who just didn't fit the flow. Like drumsticks through the hourglass, it wasn't until Maguire joined that the sound started to flow as well as the name.
"I was a really big fan of the band since it started," Maguire tells me. "Like, they were probably my favourite Irish band at that stage, and every single gig was just getting miles and miles better. Then I got asked to join the band and was like, 'Fuck!'"
"You waited until we were shit, though," Ball jokes dryly from behind a smirk.
"I think once [Maguire] joined, we started actually figuring out what kind of songs we want to write and what kind of music we were trying to make," David Noonan jumps in to add from behind his glass. "When we didn't have a drummer, it was kind of hard to get songs together."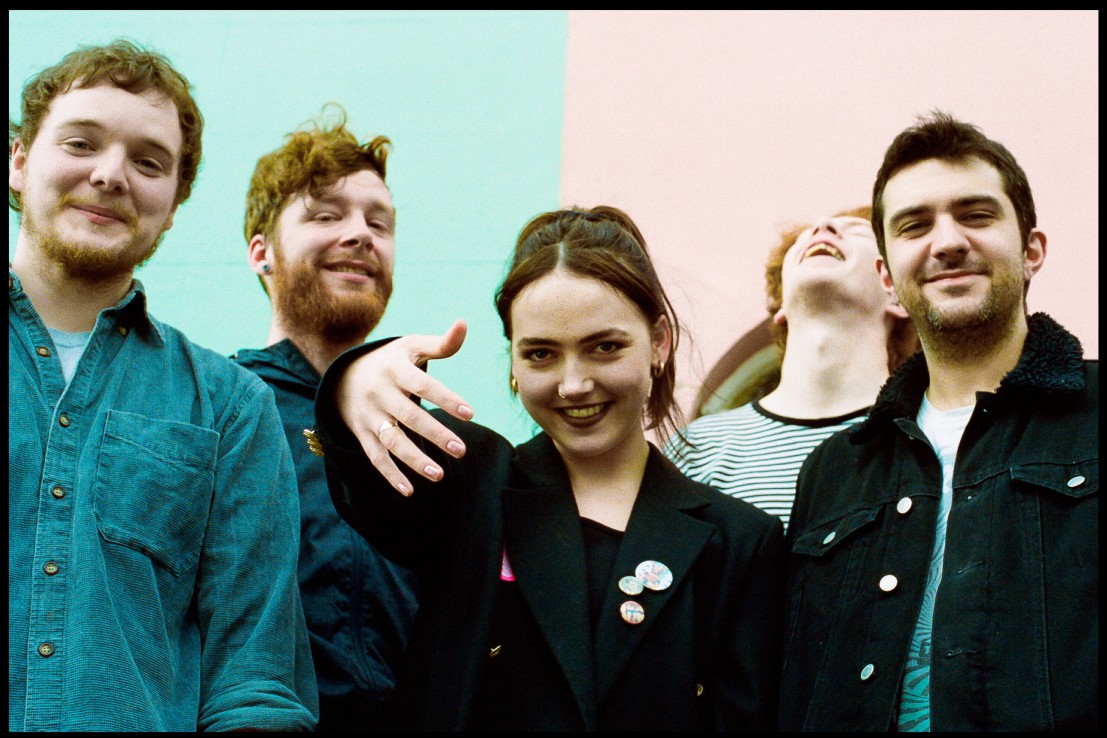 For Dundalk being an extremely musical town wherein most people are in bands and making different types of music, Maguire mentions that there's actually only a handful of drummers. "Everybody's always asking me, 'Will you play drums with me? I've got this new project coming up ...'"
"I think drummers are always the hardest part," Noonan says. "If you're looking for a specific type of drummer, it's quite hard to find someone that fits."
Luckily, Maguire's style of drumming complimented the music and vice versa, and as of April 2017, he was formally inducted into the band.
Plenty has been said about the Dublin music scene. Just an hour's drive north, however, Dundalk is rapidly catching up. Home to DkIT, a technical college dedicated to music, an iconic venue that pushes itself to give homegrown, local bands the opportunity to get up on stage, the Spirit Store, and legions of budding musicians many of whom attend both, it's the community in Dundalk that's responsible for nurturing and encouraging itself.
"It's a very tight music scene," Ball says.
"You get to know everyone pretty quickly because it's so small," Noonan adds. "If you're playing a certain type of music, there's only certain local venues you can play, so you end up on bills with people from all over the country. It's great."
"There are loads of people from all over the country just kind of living in Dundalk, playing music there."
"You just get stuck there. You can't leave," jokes Ball. "Careful if you ever visit."
Whether Dundalk the 'Hotel California' of Ireland or not, one of the music community's strongest supports is its DIY collectives. Just Mustard are signed to Pizza Pizza Records, an independent collective label founded by Shane Byrne and helped by Dundalk sound engineer and Just Mustard's co-manager, Joey Edwards. In a feature on The Thin Air, Byrne spoke of the record company's aim to fill the void of independent artists having their music released on vinyl.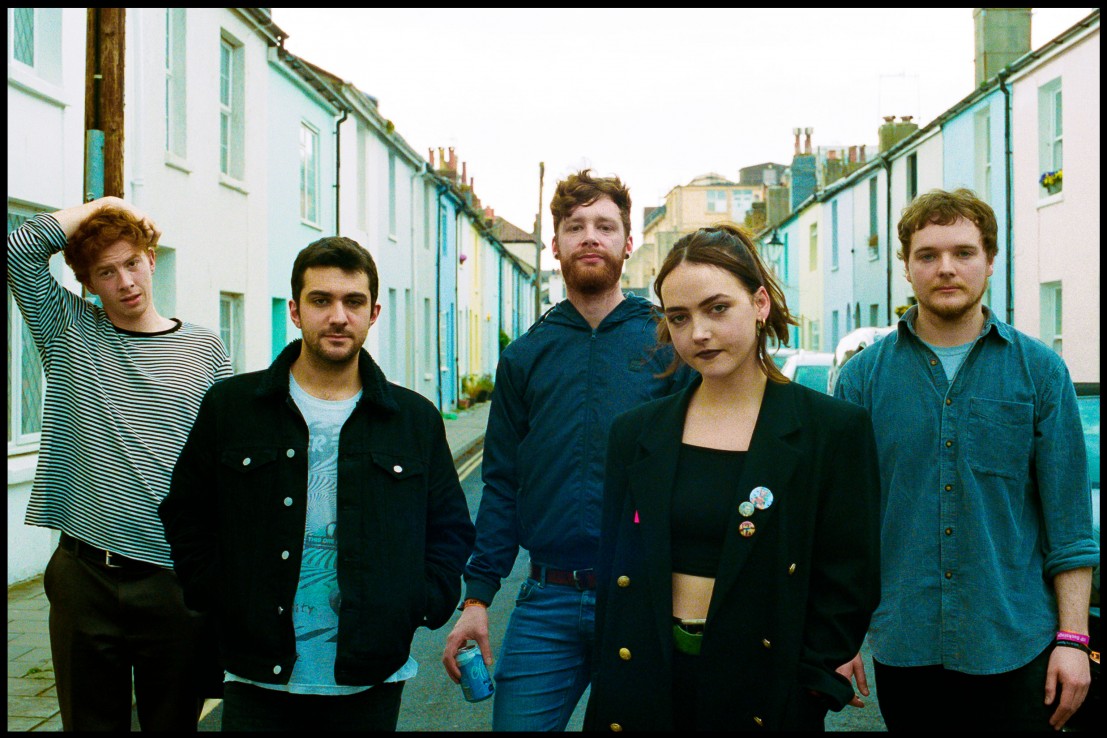 Just Mustard's debut album, Wednesday --recorded in Belfast with Chris Ryan of Robocobra Quartet - was Pizza Pizza Records' first release for which they held a vinyl fundraiser. It was through this spirit, not-so-ironically held at the Spirit Store, that the band were able to fund the press required for the album including posters and feedback. All of this is then fed back into the machine, reinvesting the money into further art.
"At the minute, in Ireland, there's a few DIY collectives," Ball mentions. "There's one in Limerick called DIY LK. They'll let you stay in their house and they'll bring out food and show you around. And even whenever we've played Limerick and not one of their shows, they still let us stay in the house."
"They're kind of showing that Irish music isn't just centralised in Dublin," says Maguire. "There's little pockets of DIY collectives all around, supporting their own town's music."
The day I'm scheduled to meet up with Just Mustard, I scour the Internet to see what others had to say about their sound. "Shoegaze-y": I get it; they do indeed strike the early 90s iron that would allow them to fit seamlessly into a lineup alongside Mazzy Star and the Cocteau Twins. They also fit equally as snugly into the modern day sounds of Chromatics and Best Coast and with tracks like "Frank" and "October", stand out from both of those crowds in a way that can only drum up excitement.
They themselves have different ideas of their sound. With influences from industrial to hip hop drum beats and the music of artists from Portishead to Angelo Badalamenti, it's not easy to pin them down and let's face it, that's a good thing. At a push, the widest umbrella term they'll use to describe themselves is "alternative rock", but are they? Other artists they cite as inspirational-but-not-influential include Warpaint, the Pogues, OMD, and DMZ. The biggest spot in their hearts, however, is reserved for Irish music.
"My favorite music festival line-up this year is all Irish bands called KnockanStockan," Ball says, animatedly. "The bands I'm most excited to see play are Irish bands."
"Trick Mist is amazing," Noonan imparts. Trick Mist, an artist from Cork, is also part of the Pizza Pizza family. "I definitely think a lot of our influence comes from Irish bands. It's what I see live the most."
Just Mustard are good. In fact, Just Mustard aren't just good; they're a force set to put Dundalk on the map and they're understandably proud of their home. Dundalk has an expansive history beyond the output of fascinating musicians it has today. During the Industrial Revolution, its position on the Northeast coast of Ireland made it a prime location for factories. It was an industrial town now set in the wake of plenty of jobs.
"Maybe that's where the industrial influence comes from," Maguire cracks. "From Dundalk in the city. Cigarettes and Harp Lager, the best beer in the world."
It's also, after all, small, industrial towns that breed musicality and art. Manchester had The Fall and The Smiths; David Hockney was inspired by Yorkshire, and Leeds exhilarated the early noughties with the emergence of Arctic Monkeys and that other band. It also makes sense when Ball explains that their favourite place they've toured in England so far has been another with a history steeped in trade and industry: Leeds.
"We supported the Fontaines on their UK tour and we did Brundell Social Club," she says. "[It was] my favourite venue on the tour. The sound was just perfect."
"You can tell the whole crowd there are just all massive music heads," adds Noonan.
Ball then deadpans, "We just put on Leeds accents for the rest of the tour. Any place we were in." She cracks a smile. "Even in Glasgow."
Maguire chips in. "Being on the road makes you go a bit mad."
"The hostel we were staying in, in Leeds, we turned up at one o'clock when we had to check in for eleven," Ball adds. "It was one of the first nights of the tour, so we didn't have any idea at all that we had to call and he just started shouting at us." She then says, honestly, "He was lovely."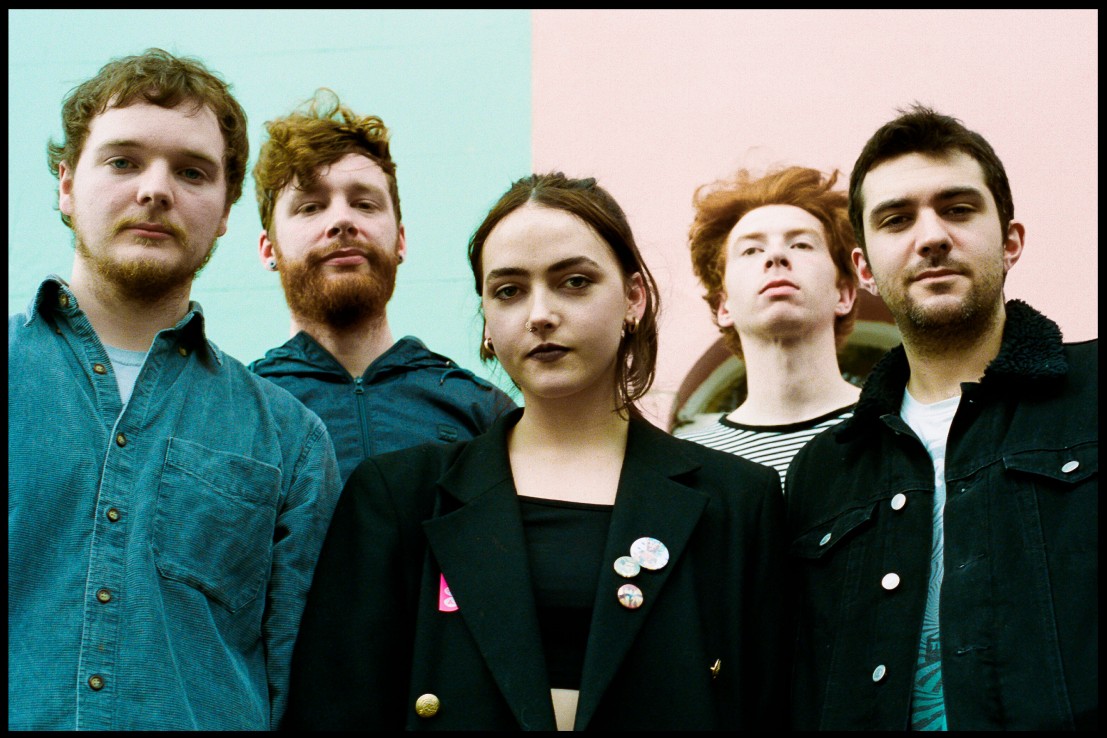 As of now, the band have recently released their latest single, "Frank" // "October", a double a-side the pull from the hook of which there really aren't words for. The accompanying video for the first track has a frantic energy and together, Just Mustard have created a psychosomatic organism David Lynch would be proud of. Their next step, they say, is the next album which is silently brewing as they play their way through this leg's remaining shows.
So, assuming the quintet are back in their tune dactory, that blackout might very well have been one section of the future of Irish music.