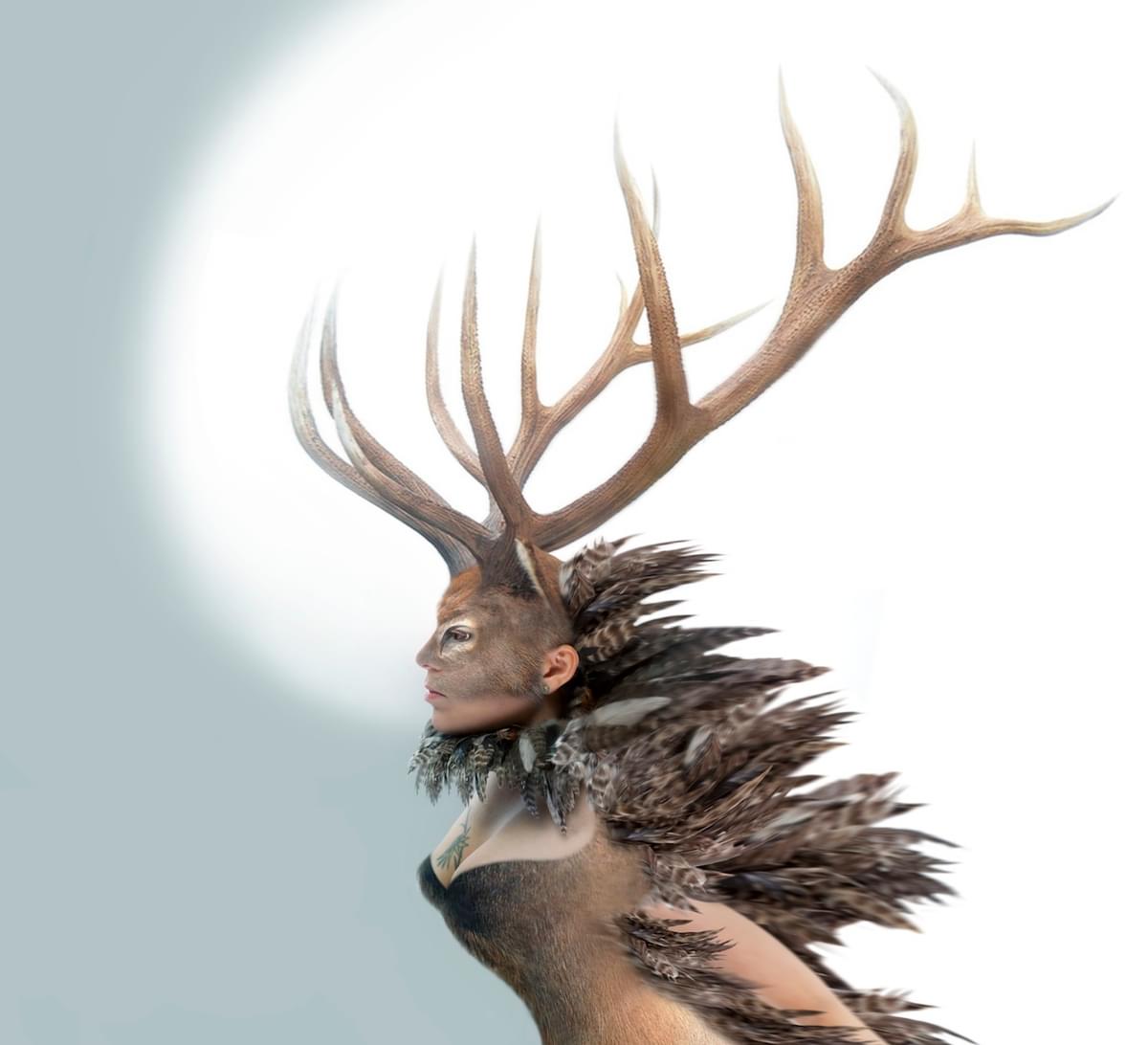 Tanya Tagaq: "It's an issue having people coming and telling you how to live from so far away"
26 January 2015, 14:00
Arcade Fire, Drake, Mac DeMarco, Owen Pallett…stay in your seats, chaps, because the star of Canadian music in 2014 was a woman by the name of Tanya Tagaq. Hailing from Nunavut, the largest and least populated of the Canadian territories, situated in the far, frozen north of the country, her brand of aboriginal folk music – throat singing adapted to make sure she could perform it solo rather than in the traditional duet form – stunned the audience and panel of the Polaris Prize so much that she walked deservedly away with the award ahead of her more well-known and glittering fellow Canucks for her incredible Animism album.
During her performance on the night, Tagaq showed that being on such a public stage wasn't going to dilute her highly personal and political brand of music. As she unleashed her lethal vocals on the watching throng, the names of 1,200 missing or murdered aboriginal woman in Canada over the last 30 years scrolled past on the big screen behind her. The personal is the political. It's always been the case for Tagaq, ever since she released her debut album Sinaa in 2005, shortly after being discovered by Bjork and being taken out on tour with the Icelandic genius, and if anything has changed it's that Tagaq now has a wider audience not just for her musical genius, but for the things she believes so vehemently in.
So, over the worst Skype connection in the world between Glasgow and the outer reaches of Canada, where else could I begin other than asking Tagaq if her life has been changed by winning, so unexpectedly, the Polaris Prize. She delivers the most obvious answer to the most obvious question: "Yeah, of course!" exclaims the singer. "Winning Polaris was kinda pivotal because it gave me a wider platform and a lot of opportunities opened up because of that, so I'm just so thrilled…it was really awesome!" And unexpected? "Yeah! I didn't think I was gonna win, but I'm happy I did!"
Fuck PETA. Those were (not the only) two words that jumped out from Tagaq's acceptance speech at the awards ceremony, as part of a justifiably impassioned defence of the hunting of seals for food and clothing in her home of Nunavut, something that has gone on for generations in her community and that she feels should continue without the input of PETA. For the sake of balance, PETA insists they don't oppose the Inuit tradition of sealing, although the EU ban on seal products will clearly still have an impact on Tagaq's community. The defence of her community's way of life was always something Tagaq was passionate about, but now it is very much part of every single day thanks to keyboard vigilantes: "Well, I'm just trying to help out because I was reading [a criticism of the Nunavut way of life] on a Facebook page yesterday," she begins. "My community is very, very far up north and there's a lot of hunters going out and hunting so that everyone has a lot of good food to eat over Christmas because not everyone makes enough money to pay the exorbitant food prices. So, it's just sad when you have a group of people trying to get hungry people not to eat! It's not very open-minded or kind, because we're still living on the land up here. It costs a lot to ship up the groceries...they think there's avocado trees all around us!"
Tagaq goes on to point out what she feels is a flawed logic in the argument of PETA and others who oppose this traditional way of life: "It's difficult because everyone is walking around eating beef or wearing leather, or killing chickens like it's no problem..." I ask Tagaq if she means western culture in general, and not just her critics. She affirms: "Yeah! It's actually way more harmful the damage we're doing to the animal's habitat and environment. That's the pressing problem; the east coast of Canada is not ostentatious either, that's a demographic that could really have a lot more help and more going on if we could lift the seal ban. It's just so much propaganda; we've been living alongside the seal for thousands of years." And is there a bit of hypocrisy at work too? "Yes, especially when there are slaughterhouses probably with 100 miles of whoever is doing the typing!" agrees Tagaq. "It's just a little silly, and a little illogical. When I go home and I'm substitute teaching and I see some kids that are hungry, you just feel really bad because you know there could be a good economic solution for people."
I attempt to draw some comparisons with poor areas that I know well, such as the east end of Glasgow, where we're seeing the rise of food banks alongside unemployment, thanks in no small part to the ideology of a government that appears to take no interest in the wellbeing of a certain part of the population. It's actually something that Tagaq understands, outsiders telling you how to live when they have no experience of that way of life: "In Nunavut, there are food insecurity issues for sure within the demographic," she explains. "You don't take food away from people because of your ideologies, especially if you're comfortably fed where you are and you can walk down the street and get all the vegetarian and vegan stuff." She points out that such luxuries simply aren't possible where she and her family live: "Nunavut is past the tree line in Canada and there is zero vegetation for a lot of the year due to permafrost...it's just an issue, having people coming and telling you how to live from so far away."
We really should talk about Animism; Tagaq's fourth album is a powerful and often unsettling listen. It's not particularly comparable with much other pop music, perhaps partly due to Tagaq's throat singing, but it's one of the most physical and uncompromising records you'll hear all year. Combining the traditional throat singing of her home, booming strings and horns, guttural howls and roars that draw comparisons with NYC's Pharmakon, opera, metal and dance music, it's a melting pot that never overcrowds or spills over. I breathlessly say all this to Tagaq, explaining that it's a record that I'd often file alongside metal or industrial music, even though it's one of the most connected-with-nature albums I've heard in a long time…
"Oh, right on! Thanks!" she laughs, allowing me to ask if any of what I mentioned was an influence on Animism: "I was influenced by growing up at home for sure, and that will always be a part of me and my music," says Tagaq. "So that's the number one influence I have, my home town. But it's lovely then to be influenced by all the travel." So leaving Nunavut behind, going on tour, that broadens the musical palette? "Sure!" she agrees. "You can go to some place and observe and absorb culture, find out the political structure of that country or its history. You get to see how the world works by travelling, and it's nice to be able to do that – I'm happy it's a good part of the job!" And what of the oral tradition in her part of the world; is Tagaq's music a way to keep connected to the story telling that's existed through the generations? "Well, yeah!" says the throat singer extraordinaire. "Isn't it part of everybody's culture? It's a strong thing, passing knowledge around…but maybe we're getting worse at it now we're online all the time!"
Animism begins with a cover of Pixies' "Caribou", transforming the song into a creepy, thunderously symphonic anthem and a tribute to another animal vital to the Nunavut way of life. Was that the thinking behind the choice of cover? "Well, the song...when I left my little home town and I heard the Pixies," explains Tanya, "I couldn't believe someone was singing about caribou! I grew up with them around, eating them and it was great!" Did it give Tagaq confidence that she could leave her home behind for a time and take on the world? "It made me feel so much like I could get out into the world," she states, "so it was a big influence on me and I'm always excited about doing covers. It's fun to put a northern Canadian slant on modern pop songs!" That northern Canadian slant has served Tagaq well, as her collaborations with Bjork and Mike Powell are testament to...so does she have plans for more collaborations in the future? "I'd love to work with Bjork again! But we've already done three projects together [the albums Medulla and Drawing Restraint 9, and time on the Icelander's 2000 world tour] and I don't know how greedy I'm allowed to be! She's a wonderful artist and a big influence, she's brilliant."
Animism's UK release will signal the start of a busy 2015 for Tanya Tagaq, but the singer explains her song writing talent isn't about to rest on any laurels just yet: "We already have an idea for a new album, and we'll be touring all year all over the place. Just keeping up and getting more and more done, getting a video or two out there. Making albums is pretty fun!" And what of the tours? Is the throat singing something that draws people into the live performance…or is it so much of a shock that people head for the exits? "I don't know!" confesses Tagaq. "I think some people leave during the shows! It's not for everyone, and I don't mind that at all…I'm aware that it's not something I'm making for people to like. I'm just something I'm making and if people happen to like it then right on!"
Animism is out today on Six Shooter Records.
Get the Best Fit take on the week in music direct to your inbox every Friday