It's disarming to discover that Indigo De Souza used to suffer from crippling shyness. On her newest album Any Shape You Take, she is unflinching and forthright in displaying all her emotions, leaving nothing hidden from her listeners. It doesn't matter whether she's singing about past relationships, new friendships, or even death; she's always intensely present with her feelings in the songs. When speaking to her over Zoom, very little of this previous shyness still lingers.
This is all to say that the story of Indigo De Souza is one of perseverance. She grew up in Spruce Pine, a very small conservative town in the middle of the North Carolina mountains. Her family had considered moving to the bigger city of Asheville but it proved to be too expensive at the time, leading them to choose a town that was close to it. "Spruce Pine just happened to be very different from Asheville in the end," De Souza laughs. As one of the very few mixed race students, she suffered from bullying; feeling like an outcast. Her family unit – her father, a Brazilian bossa nova guitarist, her mother, an eccentric but passionate creative artist – didn't fit the typical Spruce Pine mould. Music and songwriting, then, were her way out of her shyness. "Music definitely helped," she tells me. "I would probably be in a very different position if I didn't have music to give me some sort of tool to connect with people through."
De Souza would eventually land in Asheville, moving there at the age of 16. "My grandfather had moved in with us about a year before I moved to Asheville," she recalls. "It kind of became tense in the house because I was so young and didn't understand the violence and confusion that comes with dementia. My mum felt like I needed to go somewhere else because I needed to be free of that tension and I also just wasn't having a good time in Spruce Pine. She knew that I needed a broader music community to experience as well, so I moved out of my mom's house and into a house with my sister, who was I think 24 at the time, in Asheville."
After lacking love and compassion in Spruce Pine, she endeavoured to find it for herself in Asheville. She soon found herself in the music community she had been craving for so long. "It's a really beautiful music community though with so many talented people. There's a lot of people under the surface who only play places in the original Asheville scene. It's been changed a lot by tourism and development. So the original Asheville people hang out in the original places." It's also why, when I ask if she sees herself moving up in the world again, perhaps to a music hub such as New York City, she's immediate with her answer. "No. I had wanted to before the pandemic but not anymore. After the pandemic, I moved out to the woods and now I have such a giant community here. There's no reason to leave, I love all the people here. I love the landscape, the river, the trees. It's a really good climate here too, even in summertime it's not super heavy. I love it here."
During this time, De Souza released her debut album, I Love My Mom, in 2018 and it's decidedly DIY, winsomely ramshackled and raw. She went through several life changes in the following few years – relationships coming and going, indulging moments of existential crises and even signing with Saddle Creek. The move to that label afforded De Souza access to luxuries that she could never have previously imagined. "I Love My Mom was recorded in more of a bedroom situation," she says. "We didn't have a lot of resources and I didn't know a lot about recording back then. So a lot has changed. This album is much more hi-fi in general and there's so many fun synths and instruments on it. I'm grateful for that and for being able to go to the total opposite end of the spectrum in a recording sense." But she maintains that the DIY energy is still present though: "I think that next time I'll want to take more elements from the DIY side into the album and kind of split the difference. Using all that fancy stuff brings with it a lot of pressure!"
Mostly raised by her mother, the continuing bond between mother and daughter is never more striking than on both of De Souza's album covers: her mum designed the artwork for both I Love My Mom and Any Shape You Take; an endearing mix of their creative passions. "Both of the [album covers] were visions that came to me in a moment and I knew that those were the images I wanted," she reveals. "I explained the imagery to my mom and she then painted it from what she could understand. I asked her to paint an apocalyptic grocery store aisle before the pandemic even happened! Then once I saw the pandemic I realised that I'd told the future," she laughs.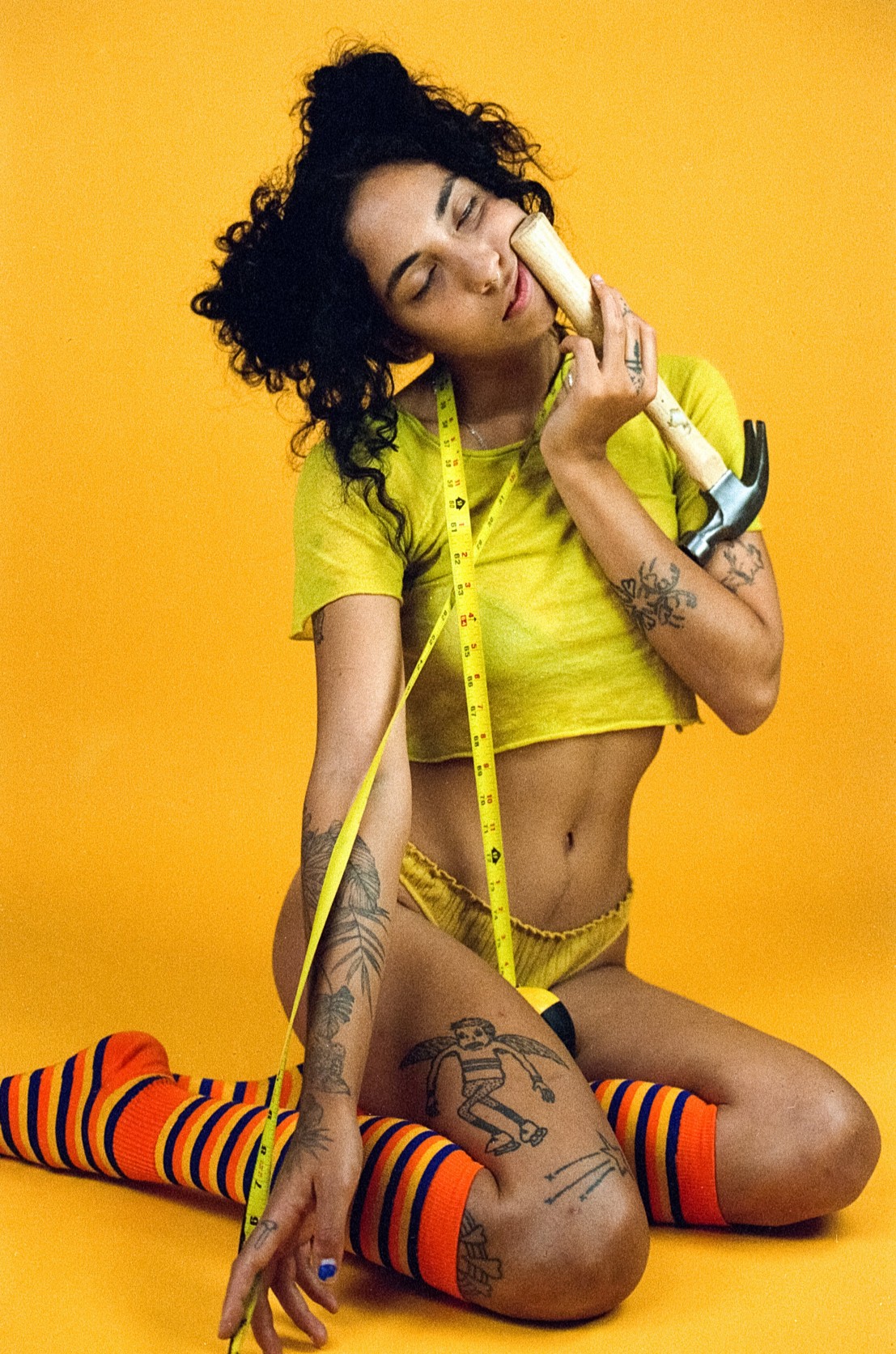 When the pandemic did come along, bringing a time of struggle for most, De Souza luckily managed to create positivity in her life. "I became aware of a really beautiful community of people," she remembers, smiling warmly. "I also had a hand in building a really wonderful community too. I moved into this church building during the pandemic," she laughs, beckoning to the huge arched windows behind her that had perplexed me at the start of our interview. "It's this huge church and I just live here with one other person. We've made it a safe place for artists and people to gather. Before I was never really in one place long enough to have a really grounded community."
Her mental health improved during this time too, in no small part to the new community place she had honed. "The pandemic gave me a lot of patience for life," she reflects. "Everything slowed down. The music industry slowed down, my relationships with people slowed down. Everything was in slow motion. So I think I gained a lot of patience and awareness of the way I was living my life and the energy I was giving to things. That break from the fast pace of the world was very helpful. I feel much better calibrated."
Many of her songs reflect the care and compassion that has bound De Souza with her community. The middle part of "Real Pain" features the voices of De Souza's fans stacked with hers after she asked them to send in audio clips of them screaming. "The idea just came to me. It felt poignant because of the way we were all experiencing collective pain and fear. It was so palpable this feeling that the whole world was experiencing something similar and that people could relate to each other for the first time. There was a really common denominator. That idea really inspired me, mostly because I barely relate to people in the world ever. I wanted to give people a space to scream and yell and let out all their frustration and anger. I just wanted to connect with my audience and give them that moment in a song."
The full spectrum of De Souza's emotions are always on show. It's why she thought of the title Any Shape You Take for the album. "It came from the way things sonically move and change but it especially relates to the way things move and change for me emotionally. I think I wanted the title to be that because that's how my brain is. I'm constantly moving through happy and heavy feelings." So, as well as moments of love and care, a startling awareness of death and mortality pierces the album. Has that always been the way for her? "How can I not think about those things?" she laughs. "But the funny thing is some people really don't think about it. The reason that I think it's such a symbol in my work is that it's the driving force that keeps me present and loving and compassionate in the world. I'm very aware of death and mortality in a way that gives me the space to be forgiving to myself and the people around me." Such a sense of compassion is revealed when she cries: "I'd rather die before you / Before you die, before you die" in the depressing love song "Die/Cry".
De Souza is 24 now. Many of the songs on Any Shape You Take, having been written at the same time as I Love My Mom, have bookended the first half of her 20's. She has an innate knack for capturing the turbulence of this period of one's life, when we seemingly feel everything and nothing all at once. The close-knit community that she herself created and fostered helped get her to this point. As our conversation draws to a close, talk turns to the music industry at large, which she says she wishes was far more compassionate and humane. I wonder how she thinks this might come about: "It's hard because the music industry is kind of focused on money first rather than people first," she considers. "It maybe doesn't seem that way to people on the outside. If there was some sort of change in the way that people treat each other that would be good. If mental health was a bigger priority. I think that's the main thing that needs to change. Management and artists also need to be treated as people, there has to be a mutual respect between people working with each other. I think it's about prioritising wellness above money."
This matters just as much as Indigo De Souza's music does. With the wider music community divided more than ever, it's pleasing to realise that, as she moves into the second half of her 20's, there are artists like her who are aware of the rising need for compassion and communication. It's why what really ties Any Shape You Take together is the importance of communication. "People need to voice their needs and have their needs met and respected," she says firmly. "You can only give as much as you can give and people should never be pushed beyond their limit."
Any Shape You Take is out now via Saddle Creek.