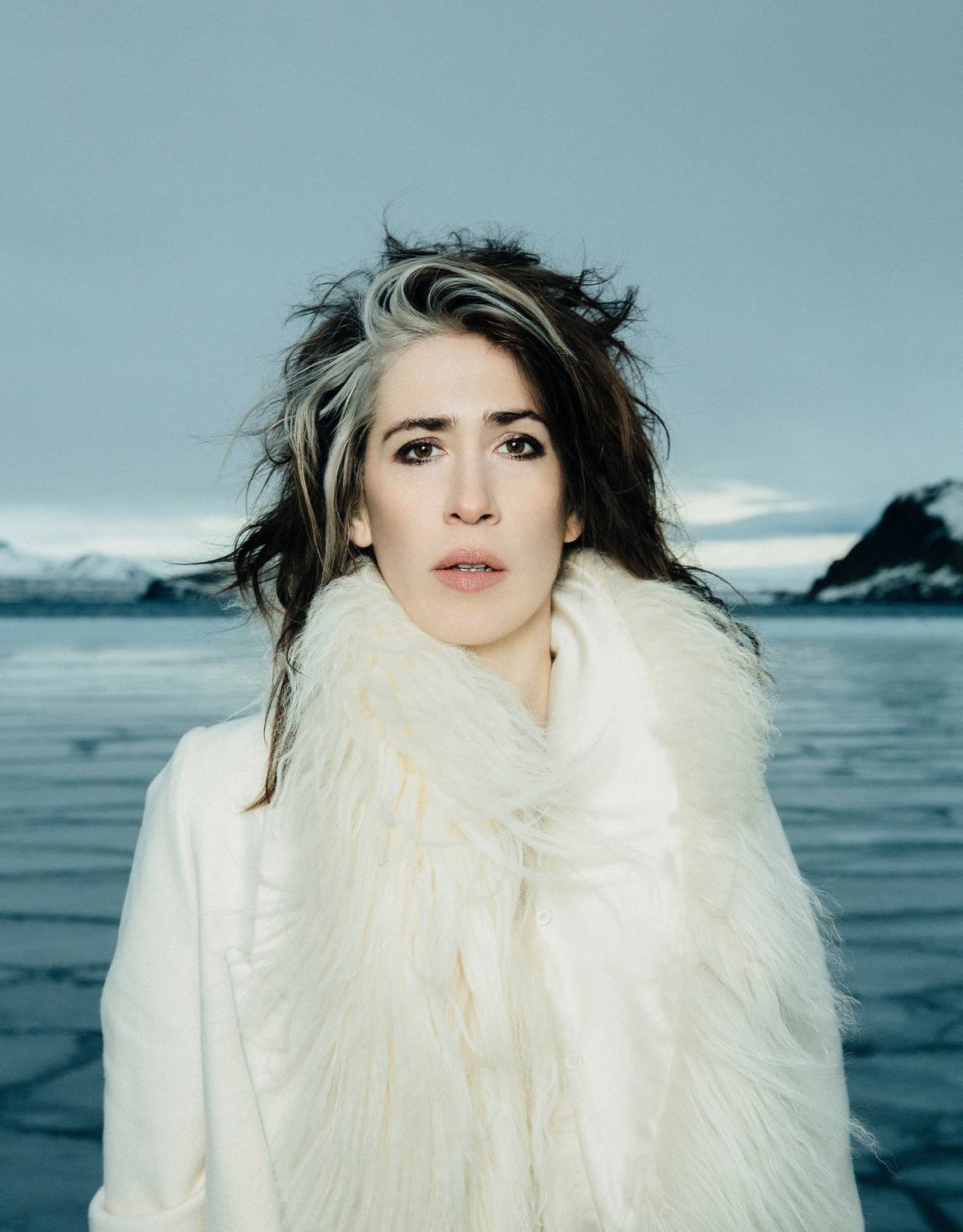 Imogen Heap on Sparks and technology: "This was the first time I'd experienced the afterlife of me in code"
22 August 2014, 16:00
Imogen Heap has, over the past fifteen years or so, carved out a place within our minds and hearts. From her initial solo gambits that drew comparisons to PJ Harvey, to her electro-pop work as one half of Frou Frou, to the immense cinematic grandeur of "Hide and Seek", Heap has proven nigh impossible to pin down. For her first record in half a decade, entitled Sparks, she once more fulfils our expectations as one of the most surprising and ambitious artists Britain has ever produced.
The record has been a labour of love for Heap, who made it part of her m.o. to never compromise for the LP; the only things going onto Sparks would be projects she has/had a genuine passion for, or that have real meaning. All killer, no filler, as wise Canadians, Sum 41, once posited. Recorded over a number of years, each track is a vastly different endeavour: there are instrumental paeans used on documentaries, a cut built as part of an app, found-sound compositions, big dance collaborations, songs built with gloves and a ditty sculpted in 3D. She's worked with Intel, Deadmau5 and her entire fanbase. This is a high-concept scrapbook, documenting the breadth of her past five years, straining at the barriers of technology, and creating tools, advancing ideas (gestural and generative music, for example) in pursuit of her interests. Though organic, it's a wildly futuristic record.
A lot of talk has surrounded this record, primarily around the use of her magical, Mi.Mu gloves. Dipping toes over the borders of current technology, and borrowing concepts from the theramin, it's a piece of sonic hardware ripped straight from the pages of sci-fi comic books. Conjuring sounds, seemingly from nowhere, as if conducting a cyber-orchestra, á la Fantastia, Heap and the rest of the team are able to redefine composing and performing. An ultra-modern marvel, there's indescribable potential to alter the creative world as we know it.
Heap speaks with fervour, conviction and a hyperactive instability, ideas and clauses and trains of thought cascading from her lips; it's as if there's a think-tank comprising wide-eyed freshers, giddy with noble ambition and outlandish notions, crammed in her cranium. Given, arguably, her most famous export is the doleful reverence of "Hide and Seek", it's a jarring contrast.
There's an impression that she could probably gush for hours about the myriad projects she's working on, but, alas, we have but a fraction of that. In our all-too-brief time talking, she divulges the story behind "Lifeline", her views on 'corporate patronage' and the future of her Mi.Mu gloves.
So you've got a new record coming out in August. It's had quite an unusual process – could you run us through the idea behind it originally?
Well, previous records were me going into studio, either my own or with some other people. Usually, if it was a solo record, I'd do takes on my own… I'd write, produce, program, fix it when it all goes wrong…it took a year at least. It's an in-depth process, and I didn't want to do that again. I learn a lot in the studio, but I miss out on life and I just didn't want to do that again. I wanted to excite my life with music rather than put it on hold. I decided I would just take projects as they came my way; I made an app, worked on the gloves, did some shows. I just did what I wanted to do, and I didn't restrict myself. Sparks is gonna be amazing: it's heavily based around the community, and how we can interact and share better… I made a chair! I went to China and India… I'm curating Reverb Festival at the Camden Roundhouse; it's a contemporary technology festival, with installations people can play with. Oh! I climbed the Himalayas, renovated my barn and made a rehearsal room, adding toilets and stuff… I'm having a baby! I have a boyfriend – I got myself a new one. There's been massive emotional and personal shift over the past few years.
How do you feel the record differs from Ellipse? Has there been much evolution?
Sparks definitely explores lots I've never had the chance to. I listened to lots of generative music, and it inspired me to do a song based on that, called "Run-Time"... It's warm, starts 120bpm in 6/8 and trails into a 160bpm 4/4. I'm proud of that. With it, I feel confident and playful, and I guess where I'm older now, I'm not so worried about conforming, so I'm comfortable doing those things. I just wanted to learn and have people throwing things at me. I did another song, and it's about sex, love… there's quite a raunchy video that no-one's seen yet. I'm not showing any of my rude bits though, it's all above board. It's about me and a mystery man in bed… I got fit! I got unfit again though… I ran a marathon! Well, I was going to do it until I found out I was pregnant.
So how was it [Sparks] different musically?
More than ever, it's a celebration of each song rather than honing into a cohesive sound. My fanbase is very accepting. I've never felt I've had to conform. Of course, everyone would love another "Hide and Seek", but I won't do that 'cause there's only one. I always strive to never repeat, always push, to the point of exhaustion sometimes. I'd never used movement before, and with the gloves, this the first time I've sculpted sound by hand. I've always used synthesisers. There's these big crescendos that actually happen as I move around the stage, so it changes levels. I've never done two instrumental on a record before. I released those the other day, and there's been loads of great feedback. I was worried that people would pigeonhole them as world music, and it's hard to embody the nature and culture of a country without having it sound like a pastiche of that country, but I think I managed to do it right.
You asked fans to send in samples – did you use many in the end? What were some of the most interesting ones?
So, so many! Everytime I do the washing up I hear the sound that someone sent in – it's water in a pan, its this 'DOOOOINGK'! I love it, and every single time I hear it I almost burst into song 'cause I just expect it to launch into the chorus. This guy – Steve Henderson I think is his name – had an insanely squeaky dishwasher door, which I fed through massive reverb… it's eerie, and it sets the theme for the entire song. Someone sent me a good one of a slinky going down the staircase which had this perfect beat, which I used with my brother's – no wait, hang on… within four hours of that slinky sound arriving my brother, at about midday I think it was, sent me a sound. He was in hospital because his partner, who was about to give birth, and he recorded the sound of Robyn's heartbeat, r-o-b-y-n - robyn's my niece - and it synced perfectly with the slinky! Later that night I did a livestream over the Internet to some people with the slinky and heartbeat sound backing me, as well as some other samples, and my brother was online, so I played over it, created a short song for him with his new daughter's heartbeat, to celebrate this new life. I improvised a melody. I ended up singing the first lines of "Lifeline" and it the first time in my life, that real private moment where you discover a melody was shown in huge public way. I love the connection to my family, but also the global connection to the Sendai earthquake. When I'd asked people to send in samples, I also asked them to send feelings and stuff like that. It was surreal, and a bit harrowing. People had been sending in all these words an ideas and samples, saying things like 'tidal', 'seismic' 'wave' and stuff like that. You could tell what was on everyone's minds across the globe at that precise moment, and the song is born from that and my niece's heartbeat. It's got hope.
There have been other collaborations, and not just with musicians. How did the work with Intel come about for "Run-Time"? It seems like an unlikely pairing!
It's becoming more common. As there's less money for us lowly musicians, it becomes difficult to make money just with music, so we look to other means. I've done it a couple of times, if I've seen something we can both work on – it's not like me going away to do some horrible thing with an alcohol company, or something that I don't have a relationship with just to get sponsored, but Intel is something I use all the time. They shape our world. But even so, to be honest, it came later. They came to me after I was already working on the app with RjDj, and I asked if they'd be interested in financing it, and it came from there. Sennheiser are great as well. They're funding this light-up tree going into the Roundhouse for Reverb, and sorting speakers and PA systems and everything, which is such a massive help. They're brilliant. It's been a new way to work, and I think creative sponsorship is like going back to the old ways – like a king might be a patron of Mozart (not that I'm comparing myself to Mozart in any way) but it's like Sennheiser are being patrons to musicians. Record companies just aren't stepping up these days – they want control you can't give as an artist, and more and more of the money that results from whatever you make. I hope the way I'm working with Intel and Sennheiser happens more – they've got serious cash! To be involved as an artist with great companies like those is amazing. Like in the Roundhouse, there's this girl who's making a Human Harp, something she'd never be able to do without outside funding. It's the new way forward. In the beginning it was a bit dodgy, and I was like "NO - I'm not doing that because I am an independent person who can do everything myself!", but now there's these partners that mean I can do more than I ever could before.
What was it like using the 3D technology for "Propeller Seeds"? What do you feel it added?
That was the first time I'd experienced the afterlife of me in code. For the first time it occurred to me that I could create without music being static, in that it has a rigid start, middle, and end; obviously music's not static cause it flies through the airwaves, but it's rigid and exists as a finished article. I discovered this idea that music can grow and continue, and the algorithms that we can set off and it can learn. The future of computer music excites me. There's music with humans that can be finished, which is great, but imagine music talking to the person. It learns when you're sad and happy, like it can recognise your facial expressions, or your pulse from a touchscreen, and it can emulate the style of your compositions. Imagine this computer, writing, learning from me, advancing my style, performing Imogen Heap-style compositions it's created from things I've taught it. It can evolve, it can react and become a being that can work off you and stabilise your day, play calming music when you're angry or happy when you're sad.
"The Listening Chair" is almost like a sonic biography that you're going to add to as you get older, is that right? How will it keep evolving? Where do you see it ending up?
That came from an actual physical chair that I made-slash-butchered with some students from Middlesex. I wanted to find a song that people thought they'd never heard and I began to ask people. I went to Australia, northern England and everywhere in between… I even took it to festivals… I was just asking people what they wanted to hear a song about. Everyone said different things, and I though that was annoying, 'cause I thought there'd be this grand theme everyone wanted, like a song about the environment or something, and I'd write it and heal the world with this song that was always missing from everyone's hearts - [deep sigh] but no.
I was on the train to Wales, where I had to write it, this big song, the song, for the Proms that were a week away. And I hadn't even started. I was making notes, and it came to me when I heard this guy talking about being in the wrong relationship, wrong job, wrong home, wrong country. It resonated with me at that moment, as I was then in a state of flux, worrying about my love life, wondering if I should even be doing music anymore, wondering "where is my life heading?" I realised that it was the same age groups saying similar things: 7-13 wanted something to move to, 14-20 wanted emotions, they wanted rebellion, 21-27 wanted to be clever and different – that's not a criticism, and that's exactly what I wanted to do, to skip away from the crowd…and this 28-35 year old group was saying the same things as me. I wrote it in my 35th year, about these stages we all go through, the shit we crawl through, the doubt, the hate, the finding of partners, friends. I wrote as far as I could, and then I was thinking I can only do what I can do, I can't write from the perspective of a 90 year old! I can only write what I can see in the headlights. I though maybe the next stage might involve kids, and hey-ho, whaddya know? I'm pregnant! I'm so looking forward to writing in 7 years about my 7 year old child.
Another technological element – perhaps the biggest one – is your use of the gesture-based gloves. Can you tell us briefly how you've used them? How do they work?
Go to mimu.org.uk! I really need to find a quick way to explain this question, ha! The gloves came out of frustration, of desperately wanting to pull out the sounds from my laptop screen as opposed to having to use a keyboard or a synth. I wanted to do it on the move, not stuck at my computer. Probably 50% of my day is behind a PC, I wanted to move - humans have legs! I want to gesture with my PC and make music on my feet. Thank god for Skype and not having to type everything! I think the future will be exciting. In 20 years we'll have phones burrowed under our skin and I'm excited for that. I feel I have a handle on my direction with my love and resources in technology. I can't wait for the machines to come closer to us as opposed to us having to get closer to the machines. Why do we have to go and sit at a desk to use a computer? Why can't it come to us?
Following on – do you think there's scope for them to be used in the wider world of performance arts, like dance, or theatre or opera? Or mime?
Sadly we didn't make the Kickstarter goal for the gloves to be made en masse, but that turned out not to matter. We did get the top 12 people who paid top whack in the Kickstarter to collaborate with us and help design things: there's one who makes music while making guacamole – don't ask – another is a woman in the US Army, she's an Air Force pilot, and she wants to use the gloves while storytelling, augmenting her voice and stuff. I've used them with videos, like "Me and The Machine" – that was our first attempt at getting signal and coding it and attaching it to video and generating visuals. Soon, I hope, maybe not for Reverb, I hope to be controlling DMX, the language of stage lights. It's in early stages, it works a bit but yeah, we're still testing it all out. We're gonna open source all the hardware and software, and we're excited to see when it goes. We want to see people dancing. There's similar stuff around, I mean like Kinect is great, but you don't get the real control you get with the gloves. It's good for big body gestures, but you never get the same focus or hi-def control as you have in subtle finger movements.
Are you hoping to do more things like Reverb festival or is this a one-off?
Everyone should come! I've spent the best part of two years creating it, and every time I went abroad I saw things and collected this line-up and gathered interesting people. I'm sure people won't recognise 90% of acts on the line-up but that's exactly why they should come! with every piece we aim to blow everyones' minds!
Imogen's Reverb Festival is currently taking place at the Roundhouse - head here for more information. Sparks is out now.