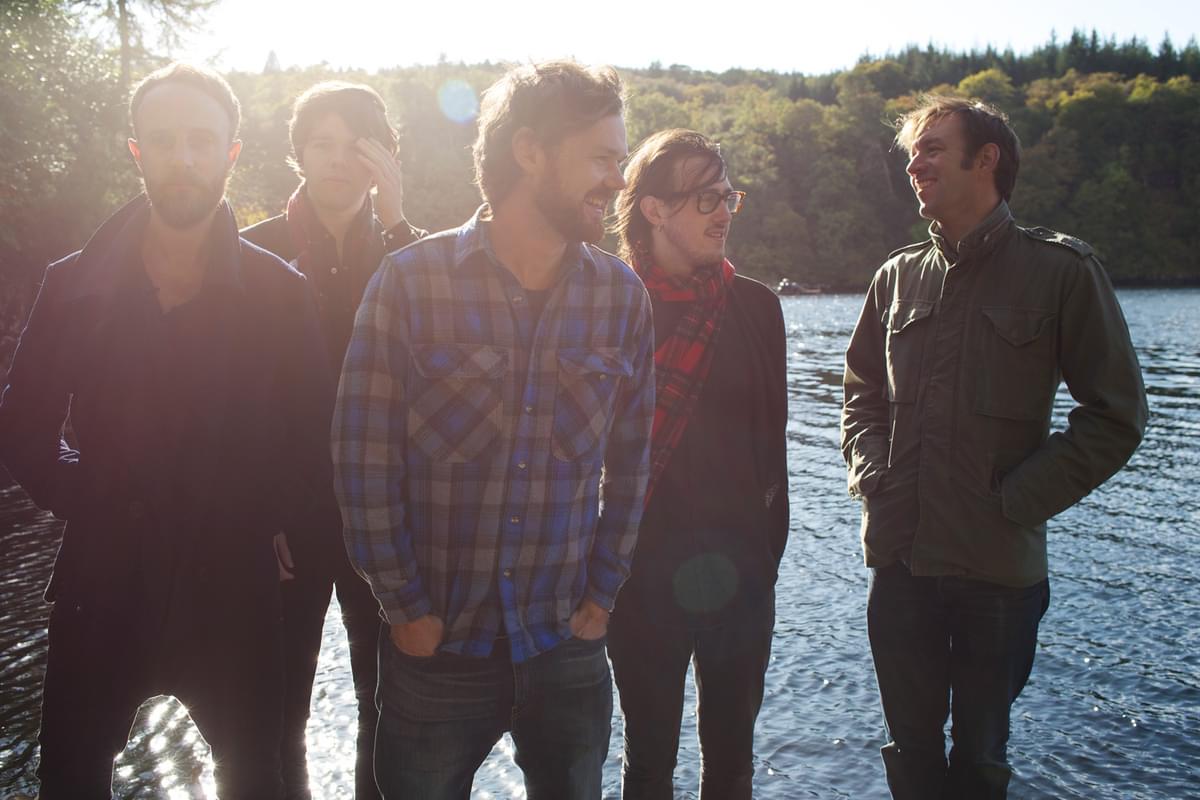 Idlewild: "It is easy to lose perspective when you're playing Barrow-on-Furness on Tuesday night"
13 March 2015, 14:30
We've spent a considerable portion of this decade sans Idlewild; once touted as the UK's R.E.M., with a string of Top 10 releases and significant critical acclaim, the indie-rock/folk troupe, who left indelible marks on the likes of countrymen Frightened Rabbit, surreptitiously vanished.
Myriad side projects cropped up, with lead vocalist Roddy Woomble exploring his folkier interests and guitarist Rod Jones forming The Birthday Suit. It genuinely looked like the history of Idlewild was written, left for dust to gather.
Tonight (13 March) Idlewild are playing London's Roundhouse. Even if the world was unsure whether or not the feted Scots would grace our stages once more, or release any more new music, they seemed fairly confident in a return. It was a matter of 'when' rather than 'if'.
Lo and behold: Everything Ever Written, widely accepted as their best album in many years, was released this year. Critics praised the forward-thinking exploration of new sounds, reflective themes and the band's innate knack for rock hooks.
"We always knew that we would make another record again together," lead vocalist Roddy Woomble says. "We just needed to step away from the band for a while until we felt that we had something to say again - musically, lyrically, metaphorically…" there's a beat as he carefully considers his next sentence. "Idlewild is a great band and people still want to hear our music. I think it took us a while to realise that. It is easy to lose perspective when you are playing in Barrow-on-Furness on a Tuesday night."
Leaving the spotlights behind, despite a pick-up in attention and critical plaudits – Post Electric Blues – saw the band regain some of the adoration they'd experienced earlier in the '00s, wasn't a mistake though. Woomble's firm about that, explaining that it was "the right thing to do". Distance has been instrumental. Time heals all wounds an' all that jazz. "I am not really interested too much in regrets... I doubt that had we went straight into doing another record in 2009 that it would be nearly as good as Everything Ever Written has turned out. Time and space are great for that reason."
Even though they'd been busy little bees, gallivanting around doing their own thang for years, the crew managed to keep in contact. When they did finally re-emerge, it meant there was little awkwardness – at least far less than you'd imagine in the Blur camp when they cracked The Magic Whip. "There was only a period of perhaps two years when we all didn't see much of each other," Woomble remembers. "We still kept in contact by phone and email even then, so it was not as if I treated Rod and Colin as strangers when we started work on the album in 2013. It felt totally natural, the way it always does with good pals." He ponders, then adds: "better than before actually, as there was no external pressure to make a record. We just wanted to make one. Lucci [Luciano Rossi, keys] and Andrew [Mitchell, bass] joined us, and their input and perspective gave the whole band and album a much needed freshness also."
The result has staggered the outside world. There seemed to be a bizarre pre-consensus that they'd falter, but that never came to fruition. Instead, a carefully created labour of love appeared. Everything Ever Written is the sound of a band reinvigorated, plagued by early successes, and deciding to move past it all. They don't linger in the past, preferring to gaze into the future:
"I think it the best album we have made, along with 100 Broken Windows and Warnings/Promises – two records it also has the most in common with. Sonically it is quite a different record. We were recording it ourselves so it is a lot more ragged than other Idlewild albums… in a good way though!"
The band have always been candid about their inspirations, whether American college rock, '80s post-punk or '90s Britpop. This time around, things that have influenced them are far more varied than just music: "W.G Sebald, German experimental rock for the '70s, the Carsaig Arches, Dylan & The Dead, my How To Rap book, Lew Welch poetry, The Hebridean summer, American pale ale, getting older, seeing Neil Young and Crazy Horse live, swimming in the sea, watching Northern Exposure, Fellini and Bergman films, the mountains of Mull…"
These points of reference all congeal to help form a sound drenched in American and Scottish folk traditions, while still managing to retain a sense of acidity. "I don't really think in terms of 'folk' elements or 'rock' elements. Whatever ideas we had for the song, and whatever felt good, we went with. I guess my melodies always lean towards a certain folkiness, and I have a Scottish accent which gives it another dose of the medicine."
Everything Ever Written wasn't about just making another record; it was about making another record that mattered. Another vital cog in that process towards greatness took place on Woomble's home of Mull. "It was written mainly in a cabin in Carsaig and at An Tobar in Tobermory. We also did a bit of writing in Edinburgh at Rod's little studio space, which is where we did a lot of the recording, as well as Chamber studios, which is a proper studio. This was all done over an 18 month period. It is like a scrapbook, this album."
One of the highlights on this 'scrapbook' is recent single "Come On Ghost". In our review of the record, we said that the track has "swaggering, festival-poised licks that squirm and writhe with the best of their back catalogue".
"It was not so much a story as a loosely structured series of thoughts," he explains. "I have a book of early supernatural photography, which is basically about when people were trying to pretend that ghosts existed by elaborately staging these photos in the 20s and 30s. I was thinking a lot about that and there was a line in my notebook that read "by the banks of the loneliest river". The lyrics are made up from a mix of those thoughts and lines. Musically it was quite simple to begin with, but Rod and Lucci just kept adding instruments! I think it sounds great though."
Conversely, one of the most frontier-smashing tracks they display on the record is "So Many Things To Decide", which sees Idlewild drift away from their roots. "We wrote this song in Carsaig on the island of Mull, in the cabin that we hired. It's positioned on top of the cliffs so commands quite a view over the Atlantic, with the islands of Colonsay and Islay in the distance. There is no one about for miles, so at night it is very dark and very quiet. One evening the moon was so bright that you could read outside. It looked so beautiful reflecting on the sea. We came up with that song pretty quickly after that. We also played this one live a bit before we recorded it, so it was recorded very 'live' - first take sort of thing. The lyrics are quite straightforward. You don't need me to explain them."
The band will showcase material from this vaunted return-to-form tonight at London's Camden Roundhouse. As other stops on the tour have so far proved, it's not something to pass up lightly. "We have 30 songs on the setlist and it's a real mix of old and new. We've done some re-arrangements and Hannah [Fisher - violin, guitar, vocals] will be joining us onstage too, so we are a six-piece which is exciting and gives the band a lot more diversity and power. I don't think any Idlewild fan coming to the shows will be disappointed."
They don't plan to bow out after this current run either. Everything Ever Written is by no means a one-off. Summer promises "Festivals, hopefully", and the band have already planned more shows later in the year and "maybe a trip to the US or Japan". After that is more uncertain, but they intend to linger. "I think we will see how the album does and how the tour goes and take it from there. Regardless we are already working on songs for another album, so we are sticking around for quite some time yet."
A lot has happened to Idlewild in the last half decade, and Woomble is concise in summing it all up. He pauses, then says: "I moved out of the city and to the islands. I had a family. I made two solo albums. I went fishing. I climbed hills. I made bonfires."
Everything Ever Written is out now on Empty Words.
Get the Best Fit take on the week in music direct to your inbox every Friday