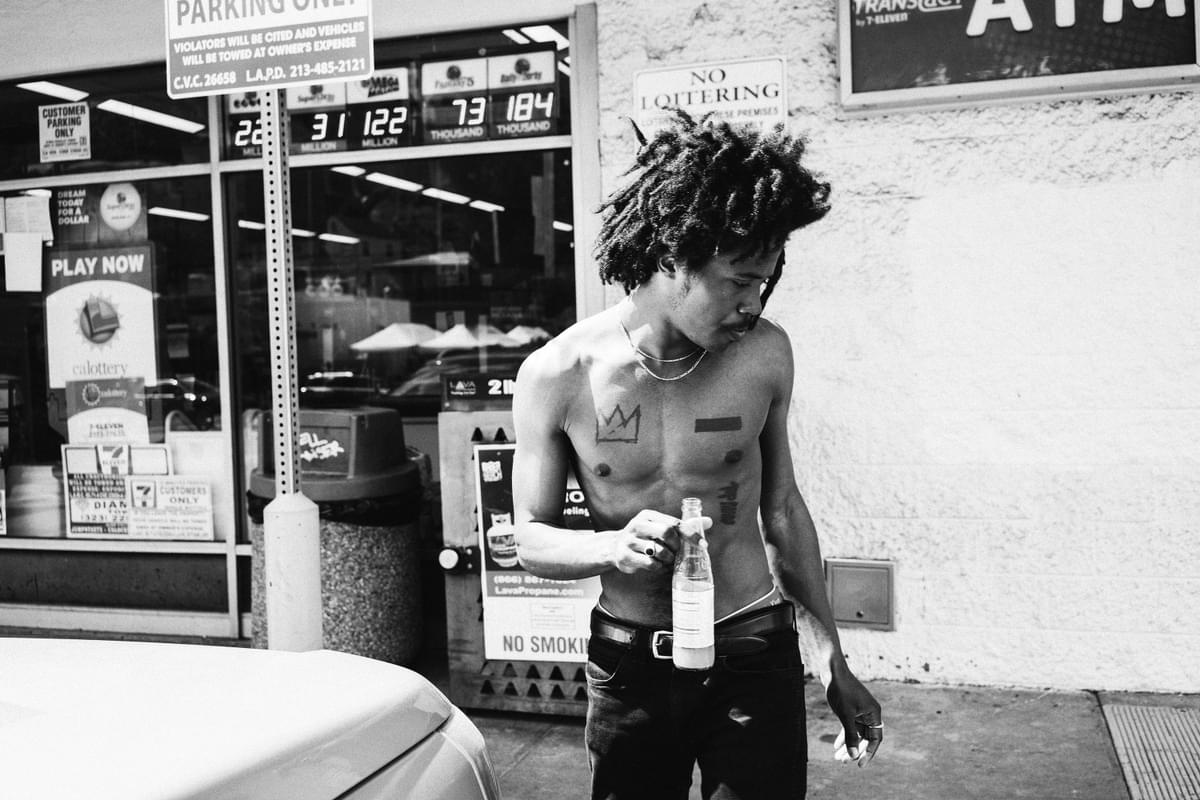 Rap renegade De'Wayne has found a home in rock and roll
07 July 2021, 09:15
"I'm a pretty brave person, but I think that was my peak of being brave. I didn't think of how hard or how scary it would be, how many jobs I would have to get, or how I wouldn't know any music people. I just went for it." De'Wayne is reflecting on his move from Houston, Texas to Los Angeles, California at the age of 19. Four years later, the pop punk renegade is buzzing to share his debut album STAINS, which is set for release on the week that we speak via Zoom. His excitement for the whole process is palpable and his energy transcends the screen, making it hard to imagine him in a time of uncertainty.
"It was a really hard time, but it literally just gave me a story. Being from the south, by the time you're 18/19, you're not really thinking of doing anything else other than what you already know. For some reason, I was an optimistic kid and I was like, 'I want to do something different.' Not that I was mad at my parents for what they were doing or anything, but moving to LA really is how I became De'Wayne. I found rock music and I found myself. I'm just very thankful for that transition. I feel like I did the right thing," he says.
It's more than bravery and ambition that pushed a teenage De'Wayne towards the streets of LA though. His talent for blending rock, rap and pop into raucously catchy alternative anthems is helping to redefine what it means to be a pop punk artist in the 21st century. Discovering rock music in his late teens helped define his creative path, but his love of performing was nurtured back home in Houston when he began singing at church aged 12.
"I hate to say it - because I was in church - but I got so turned on by it. I really did! Just holding the mic and seeing people, making them smile with my voice, I had never done that before. That was really when I stepped out and I was able to just put it in my music. It's not like I stepped out of my shell and I was talking every day after that, but I was more like, 'Oh, I'm going to do art now,' and that's how I speak my mind. I've done that every day since then, pretty much."
De'Wayne's candid, fearless attitude permeates STAINS. It's a debut record that he says turned out exactly how he wanted it to. "I went in every day and created it like it was going to be my last record; my last song ever," he explains. "I'm signed for another album, but I was still like, 'What if something bad happens or if people don't dig me?' I went in just trying to make really good music and make really good art and it felt great. That was the best part, just being unafraid and thinking 'if I leave tomorrow after I put this out, I'll be proud of that.'"
A passion for authenticity has pushed De'Wayne into both the rock and pop music spheres, claiming his rightful place in both. He's aware this isn't the case for everyone, and the battle to be accepted for himself and for others is an ongoing one. "I was talking to some people last week about how great it is that there are so many places for artists to exist these days. For example, as far as a few years ago, in terms of POC artists, you could have, like two, right? And then you would have 82 bands who all had the exact same haircut and the exact same music and nobody will say anything, and those two POC artists, or those two women artists have to kill each other to get to the top. It's not quite like that now."
De'Wayne experienced a lot of rejection from spaces and labels who weren't open to the idea that rock music could be spliced with other genres, but as some of the most loyal, tenacious music fans out there, rock lovers are more open than labels often think. It's no secret that the music industry as a whole is crying out for diversity at all levels, but in alternative spheres and the pop punk sphere in particular, the push to see someone other than a white, bearded man wielding a guitar is undeniable. De'Wayne knows there is space for everybody, and that's something he consistently had to explain in conversations with labels, prior to his signing with Hopeless Records.
"[I would say to the labels] there's a whole different thing over here with these new kids in rock music. We're mixing everything because we grew up with the internet' but a lot of the time they were just like 'Nah, fam'. I had soul music and hip hop for the first 19 years of my life and then for four years I had rock music. I've studied it every day and now I have that blend, so you get an album like STAINS. I think that's fucking sick. But hey, there's no shade if you don't want to mix everything up. I also love straight pop punk and rock music too – that's my favourite shit. I'm here for it all, but I think it can all exist," he says.
Speaking about his experience of trying to bring his music to the attention of labels who couldn't see his potential – which is what his album's title track "Stains'' is all about – I ask what kind of advice he would give for aspiring artists in a similar position. "I'm a little bit crazy," he grins, "but I think you just can't listen to them. If you stick it out and you keep working every day, you will find your corner of the world and you'll dig in, and then it'll go somewhere. I just didn't listen even when they said no five times. I was like, 'Alright, y'all are stupid' - I didn't say that at the time, I cried - but I got to create something I'm very proud of. I didn't stop, so I just hope that's what other people do. That's the best thing to me. Nothing comes overnight, so please keep going."
On his unapologetic, visceral opening track "National Anthem'', De'Wayne said it was the first time he didn't feel "bad" for mixing musical genres together. I ask him to elaborate on what he meant by this. "That's a good question," he begins. "So since about 2017 I've been trying to do rock music, but not in the way that I've figured out how to do it now. When I made 'National Anthem', I always thought that this is something that's accessible, but then it has that driving guitar with the drums and I can rap & sing over it and I thought, this is a good formula. It didn't feel corny or cheesy. With 'National Anthem', it was the first time I found that right mix and since then I've just been making alternative music, because that's what I love. But I wasn't as welcoming to that type of thing at the time."
Having found a home on Hopeless Records (Sum 41, All Time Low, Avenged Sevenfold, Waterparks, The Used, Yellowcard) it seems as though De'Wayne is set to achieve his musical ambitions. Naturally, he is thrilled to be in their company. "It's beautiful. They have legends on their roster and they just signed Travie McCoy! They're very innovative and supportive of new alternative music and I love that. I really dig them. They give me the chance to exist every day and just create art, and, you know, be able to eat food." Although he laughs at his final point, it's a candid one that doesn't get acknowledged as often as it should. De'Wayne said he was "dirt poor" when he moved to L.A. as a teenager, so having the financial backing of a label must be a huge relief for him.
"I think it's a beautiful thing. It's something artists don't talk about much. Me and Awsten from Waterparks, who people know is my best friend, we talk about this a lot. I think for so long in rock music, fans would look up to these artists and almost be mad, or upset with them if they were being successful. But it's like, we want to exist and make good art, but we can't be poor our whole lives. Working towards music, you know, it's not the way to live. It's really not and it's not healthy. I'm glad people are starting to change that, but I thank Hopeless Records so much for that. I think I make better music when my stomach is full."
STAINS is out now via Hopeless Records.
Get the Best Fit take on the week in music direct to your inbox every Friday