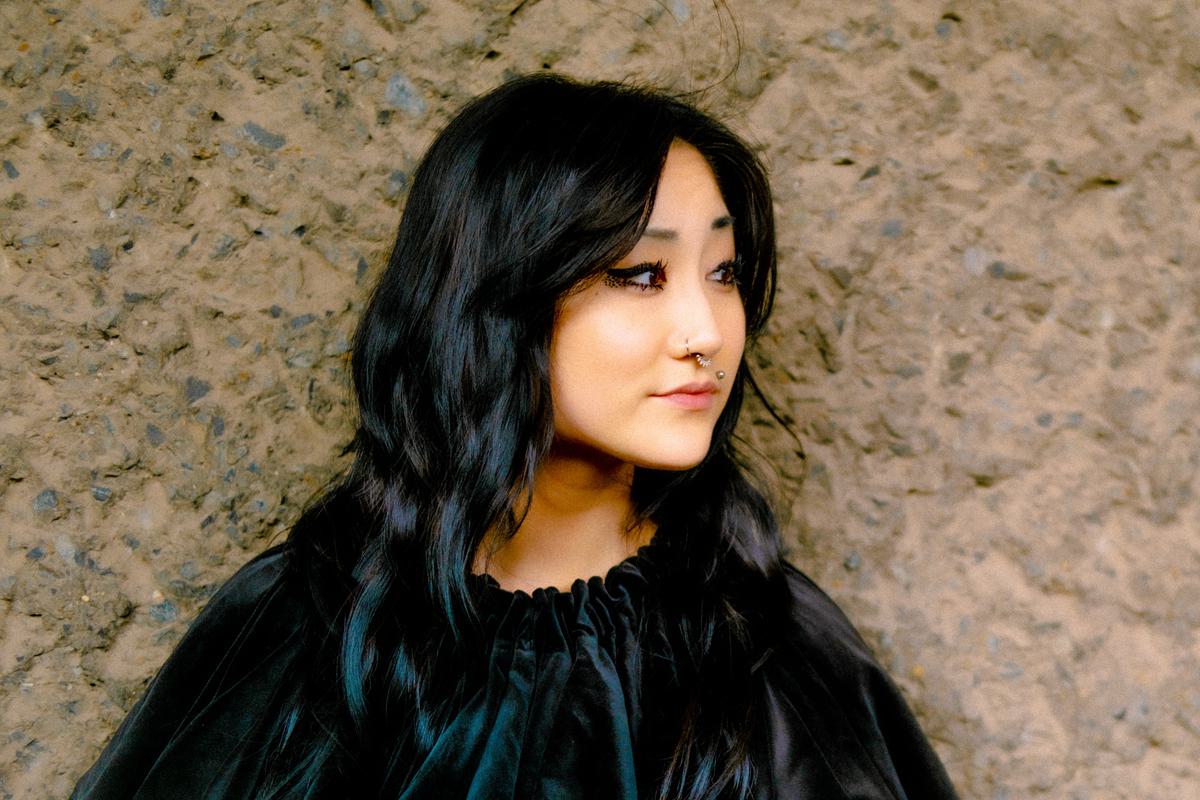 On the Rise

Hinako Omori
25 October 2023, 10:15
Japanese-born Londoner Hinako Omori makes music that comes face to face with her shadow self and surrenders to the magic of the unknown.
"I've just come back from L.A. a few days ago. My astral body's just about caught up with me," says Hinako Omori. Having playing in Floating Points' ensemble at the Hollywood Bowl days prior, the ambient artist isn't attempting to force acclimatisation now back on British soil.
"I feel like if we don't focus on the time that you're supposed to be, then it becomes very fluid and just exists in the moment. But then the physical side sometimes catches up with you; it's a small price to pay for the lovely experiences you have in your travels."

Omori is no stranger to traversing the globe, her musical career having seen her tour in the bands of EOB, James Bay, KT Tunstall, Georgia, and Kae Tempest. Born in Japan, her family moved to South London when she was a child, with the capital being where she still resides. Each year, she makes the pilgrimage back to the family homeland to visit loved ones during the festive season and reconnect. Such an international upbringing has seen her unique perspective shaped by cultures both East and West.
Humbly soft-spoken, Omori talks to me at her studio surrounded by synthesisers, a conceptual habitat open to uprooting yet where she feels most at home. For Omori, creating music is an intrinsic necessity as opposed to mere pursuit: the creation of stillness, softness... has been a true exploration of self.
"When I write, the music and lyrics come separately for me, and most of the time it comes from experimenting and like a diary of how I'm feeling that day," she explains. Writing this way and returning to her lyrics has shown Omori what she needed to address within herself. Partly written at her grandmother's house in Japan, the seamless flow of the album's tracks is important in showing the narration of what Omori's brain was processing at the time, with the meaning of her creation only emerging after completion. "It became a mirror for figuring out things I needed to process, and I want to portray the fluidity between our thoughts," she tells me "Maybe then, when you uncover one thought and spend time processing it, it opens doors to other thoughts."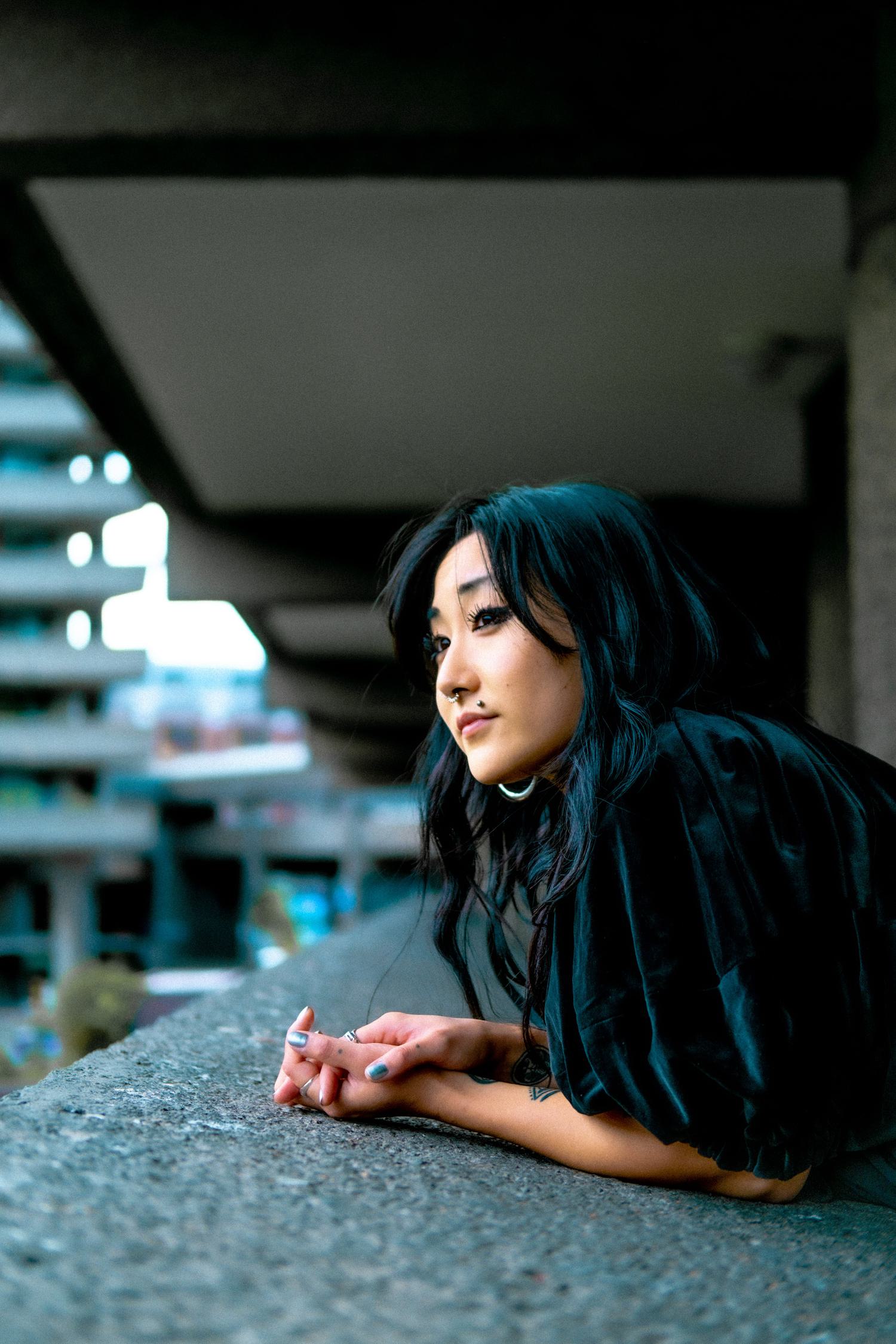 These thoughts and each song on stillness, softness... represent what Omori coins as a "memory room", connected by neural corridors. In making a continuous album, Omori shows how different memories can be accessed which inform another to emulate a stream of consciousness. While music is a collaborative experience for many, Omori is an artist who can only create alone. This solitary endeavour manifests as a pensive meditation, the sonic palette of stillness, softness being all at once melancholy and hopeful, before finding peaceful equilibrium. However, when it came to sharing the clutch of singles preceding the album, – the pensive "ember", introspective shift of "foundation" and "in full bloom", and the propulsive "cyanotype memories" – the prospect of vulnerability became daunting.
"When you start sharing it with other people, I have noticed that I definitely feel more vulnerable because there were more lyrics this time and that perhaps has a certain energy around these songs now," Omori explains. "But, at the same time, there was something inside me that felt I needed to share this. We are all existing in this world together. It's almost like a puzzle where we're figuring out certain situations. There is a sense of togetherness; vulnerability can be a really beautiful thing."

Omori's weapon of choice when exploring her inner world is a synthesiser, specifically analogue synths: the Prophet '08; the Moog Voyager; the UDO Super 6. While such synths are inspired by the classic sound of their original '80s counterparts, these newer iterations – created in the late '00s – deploy a subtlety arguably missing from their predecessors. That Omori successfully conjures an emotive palette from instruments that can sound so stoic and estranged, due to their synonymity to future-thinking and otherworldly science fiction, is no mean feat.
The juxtaposition of deep notes and atmospheric ripples in "ember", for example, encapsulates the confusion of loneliness and isolation where there was once warmth – and the spark of hope it may return. "stalactites" imparts better in headphones, its glacial sharpness dancing between the ears and emulating the aforementioned knitting of "neural pathways"; elsewhere, and "in limbo" captures a melancholy unfurling, meandering from presence to a sensory weightlessness, descending into a whirlpool of chaos before being reassembled, darker than before on "epigraph".

While the beginning of the album deals in darkness, "foundation" marks a turning point. "My foundation is stable," Omori incants, as the six-minute opus swells into an atmospheric centrepiece underpinned by poignant beats and imbued with faith and endless limitations. Omori describes the overall experience as learning to observe herself without judgement and taking time to understand the root of a situation. Twinned with "in full bloom", the track's sombre tone accepts the importance of time and strength in facing your shadow self in order to heal.
"The beginning of the album was addressing the ugly sides of myself that perhaps [I] had suppressed or hadn't really processed, but coming to terms with the fact that I need to shine a light on them in order to heal them." From tumult to peace, stillness, softness captures the unending cycle of human emotion, bringing up difficult themes and sitting in the feelings to regenerate. "The first half of the album does sound a bit more abrasive compared to the second half, but I see it more like a sine wave: it's up and down, and then peters to still."
While stillness, softness... deals with the healing of Omori herself, her 2022 debut album, a journey…, focused on the healing of others. Originally written for WOMAD Festival's online programme during lockdown after receiving an invite by organiser and producer Oli Jacobs, whom Omori studied alongside at the University of Surrey, Omori explored ways to bring nature's therapeutic qualities indoors. "In Japan, we have a phrase called 'shinrin-yoku', which is forest bathing. Time outside and within trees has such a beautiful, calming effect on us [and] our bodies; I wanted to make an aural representation of that." Incorporating sounds from the scenic abode of Real World Studios, where the project was finished, its lightness is at odds with its successor.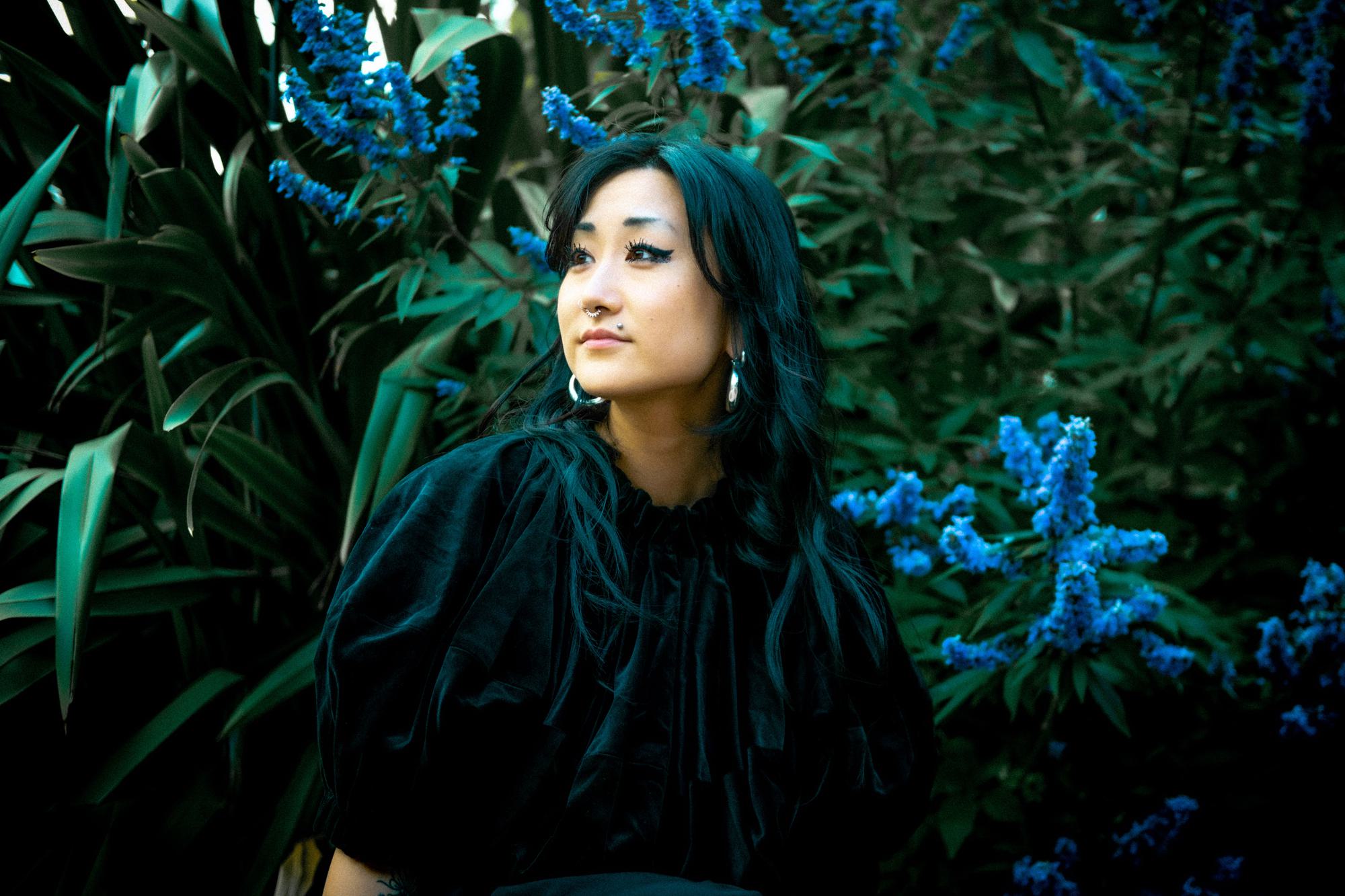 Omori's intuitive playing is propelled by the emotional connection she feels with her synth, a sentiment she first explored as a college student when her teacher leant her a classic 80s SH101. Adverse to manuals, she instead displayed an inquisitive naivety in learning its workings and describes the instrument's dynamic range as a "treasure box" to explore, with a lot of love imbued into it by its creator. "What were they thinking and feeling when they made it? Each [synth] has its own sonic character; getting to know that is like getting to know a friend. The more time you spend with someone, the more intimately you get to know the inner workings."

It is a curiosity that has never left her, but Omori finds comfort in not being tied to the outcome, and stillness, softness... has opened a lot of doors in her mind in regards to listening to her own intuition. "Ultimately, we have all the answers within; we can surrender to the unknown and have faith that things will unfold in the best way. There is magic in the unknown."