Tired of their gendered experiences in the studio; the transcontinental musicians, songwriters and producers who make up the Her Songs collective are scrapping the rules and creating new ways of making and putting out music that prioritises collaboration over competition and reiterates that womxn can create, start to finish, relying on no-one but themselves
You might be fooled into thinking that Her Songs' causal bopping home videos are a glimpse into their lives in lockdown, but this five-strong female collective were making homemade apartment videos before it was cool. With members living across the world in London, New York and Christchurch, NZ, a conventional dynamic simply isn't on the cards. Their creative solution? Short but intense writing camps where they write, record, produce and mix whole records.
Clearly, group isolation, remote video calling and frenzied WhatsApp groups are no sweat for Her Songs, so it's only fitting that we speak over Zoom. They are so in tune with each other on a group video call that it's hard to imagine they've spent little more than two weeks together in total. They met for the first time in LA, where their debut EP Los Angeles was created over just seven days in an Airbnb. Toronto was the destination for the second meeting, where they recorded another two full EPs.
Her Songs is a modern-day fairytale, a 21st-century love story: five female/non-binary artists from around the world come together organically through the power of social media. "It was everyone's equal initiative," Marie Dahlstrøm, London-based singer, songwriter and producer from Denmark explains. "We knew each other mutually through Instagram". In fact, it's a beautiful coincidence that Marie and her counterparts - Colombian-American singer Dani Murcia, Kiwi guitarist Emily C Browning and French producer The Naked Eye - hail from different corners of the world.
Los Angeles, made with Canadian bassist and producer Maddie Jay, was a showcase of the collective's soulful style and musical fluency, whilst Toronto Vol. 1, which features London's multi-instrumentalist and producer Emmavie, has a more giddy feel - the band catching up in a new city, bouncing off a fresh dynamic and playing around with beats and synths. Toronto Vol. 2, also featuring soulful beatmaker Emmavie, is a testament to the power of healing through collaboration, with luscious harmonies, romantic Spanish-language hooks, dreamy, reverbing guitar riffs and deeper, more emotional lyrics.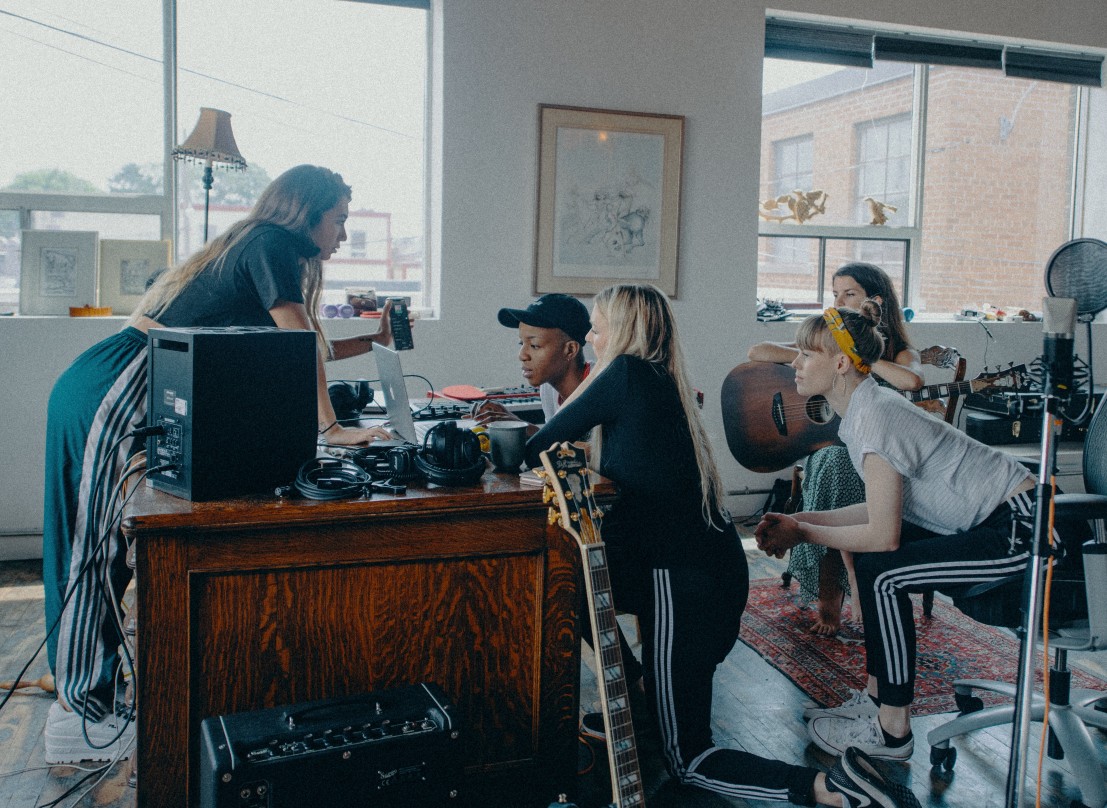 Intensely sharing a creative space where you also sleep, eat, wash and cry; Her Songs meetings are more than studio time. Murcia affectionately refers to the recording sessions as 'camp', bringing to mind summertime camaraderie, personal development and lifelong memories. With this in mind, I ask if tensions ever got high. "With all women in a room, there's a lot of oestrogen, there's a lot of emotion, but I think that was almost injected into the last couple of songs and maybe you can hear it - there's all sorts of good that comes from that energy," Browning tells me.
"Lost A Little" on the brand new EP feels like nostalgia on an early autumn breeze. The feeling of changing seasons conjured by the lyrics transports you to this point of time in years passed and launches you into the future - all in one calm, bittersweet moment. It recalls that '90s R&B sound, but it's toned down and mature. "Halfway to the Moon" presents a difficult love that holds out although it may well be unrequited, and in a similar vein, "Love Fatale" has a darker, sadder edge, speaking of the inevitability of falling for someone you knew was bad for you: "Drowned in whiskey / only had a few / I've been captivated but what they said was true / I should have known / how the fire feels 'bout burning," they sing.
Speaking from the heart, we humans tend to be quite lyrical. And these moments of intimate conversation that the girls shared together in Toronto served as material for the EP. "It was all fresh. In that moment, none of us had anything prepared. What made it really special was that every day we'd start with nothing and then end with a song", Frenchie, A.K.A. The Naked Eye, recalls. Each song is rooted in a particular moment of their time together - a particular topic of conversation or emotion.
"The conversation was quite deep. We were peeling away a lot of layers," Emmavie explains. Sharing her experience of a harrowing heartbreak, Emmavie's story fueled some of the songs on the record. But it wasn't Emmavie writing the lyrics. Browning, Murcia and Frenchie sat down to write her story, using the words of Emmavie's that they'd digested that day. "Even though it breaks my heart / even when there's sabotage / everytime we get upset / it's easier to leave I guess", they sing on "Halfway to the Moon".
Bringing a prism of experience, skills and tastes to the table, Her Songs have created an open space for collaboration and learning, where each musician has their own access. "My experience as a black woman in music is completely different from Dani's experience as a Latina in music, or Emily's experience so far away in New Zealand", Emmavie explains. And this enriches the project.
"Yes we all have things in common, but actually what I've found really inspiring is that this is so much of a learning space," Frenchie opens up, "There are things I really wasn't awake to, that I hadn't understood and that's inspiring about the space that we hold for each other. That reflects in the songwriting too." The themes, lyrics and technical writing weaves together colourful patchwork thanks to the diversity of each member's experiences in the industry.
Gender is another key element in furnishing this safe space. "If there were equal parts men and women in the group, I truly don't think I would be able to open up as much," Browning explains. "I feel really safe in that space. It's nice to feel like you don't have to be embarrassed for feeling certain things like being girly, or about writing songs that empower women. I feel I'd be more self-conscious of that and therefore less open, in an environment with men." For Emmavie, this safe space allows for gender expression to be questioned and liberated. With Her Songs she feels comfortable expressing her own kind of fluid gender identity: "I could identify wholly as a woman and more", she explains, "It had never happened before."
Free from the male gaze of the studio, where all members of Her Songs attest they are ever the minority and regularly the sole woman, there's less pressure to "puff up", display one's masculine side or even perform femininity. In the standard recording studio, "You have to buckle down and show off what you know and not show any sort of weakness because of anything they could pin on you as 'the woman', 'the girl'," Murcia explains. With Her Songs, Dahlstrøm can sit in the production chair and do her thing without 'casual' jokes and jeers flying her way.
The fact is, women are treated differently in the music industry, and if you're female and non-white, queer, trans, there are so many further aggressions, discriminations and closed doors. Just googling the phrase 'women in music' brings up disheartening statistics: "2.6% of US producers are female"; "14% of US songwriters are female"; "1 out of 25 mixed-gender category nominations went to a woman at the Brit Awards" - not to mention its all-white nominations in 2016 - and then there's the dubious associations: "Women, pop music and pornography"; "rock, discourse and girl power". It's tiring, to say the least.
"There's a reason there are so many blonde wigs in black music - it makes you so much more accessible..." - Emmavie
From her time swapping stories with Her Songs and talking to female musicians in general, Emmavie concludes that there's a standard experience that women go through in the music industry. As women aren't normally expected to be the artist, the producer and the songwriter, they can be on the receiving end of some ignorant assumptions: that it's their first show - despite being a professional musician for years; that they need help setting up equipment - despite having a clear idea of how they want their sound to carry; that they don't know what they're talking about - despite a degree and oodles of experience. "They'll undermine you 'cause you're a woman", she summarises. "We can all say we have that in common but I also recognise all of the nuances in our individual experiences. And what people expect of you because of the way you present."
Effectively, the way a womxn presents themselves dictates a number of factors that will place them in particular spots in the industry - this of course includes race and gender, but goes beyond that in a number of intersectionalities too. "If you're then queer, or present in a particular way - even just the way you dress, your hair colour - there's a way people will treat you," Emmavie illustrates.
"There's a reason there are so many blonde wigs in black music - it makes you so much more accessible, so you can navigate this industry more easily if you make certain decisions about your appearance. This is the reason people bleach. Which is crazy! This is just to be given the opportunity to go through the door." It's staggering to think of artists who've radically changed their image to be included. Producers like Catherine Marks have opened up about purposefully presenting more masculine in order to have an easier time in the studio. To avoid being looked at a certain way, Marks cut her hair off and wore "drab, boyish clothing" in the studio, she told journalist Ann Lee.
Emmavie attests that she had to "become like a boy" to survive her Sonic Arts degree. Her experience on the course illuminated the deep-set sexism and bias in the music industry at every level, including the first and most important step - education. "We tend to become what we see, to create what we know already," she explains. This was reflected in the number of women on her course: herself and one other, in a class of 300.
She sheds light on an important and perhaps under-researched factor in the low numbers of female producers in the industry: gendered and elitist teaching. "There's a way you can teach that makes people believe they're not going to actually learn", Emmavie explains. For one, music production is technical, mechanical, and it's a science. It's imperative that the students understand how things work. But by using inaccessible language or refusing to answer legitimate questions, students will become alienated, embarrassed.
For Emmavie it felt purposeful, a weapon used against certain students so that they wouldn't understand and would be kept out of the business - "to remind us it wasn't a place for us," she says, "being patronised in educational spaces doesn't make it easy for you to want to stay". After the first year, Emmavie was the only woman left on the course.
Exclusion is then reinforced by keeping the industry competitive. People don't want to be replaced, so they'll very rarely give away the tricks of the trade. All of the musicians in Her Songs have stories of being kept in the dark through the reluctance of hopeful, would-be musicians refusing to share contacts and knowledge. "We'd see the boat pushed so far if we shared", Emmavie affirms, "We'd have time to actually focus on creating rather than breaking down doors. You'd just be in the room, making the music".
This is effectively what Her Songs have done: they are proving, worldwide, what women can create, start to finish, through collaboration. "Their overriding goal for the project is to shine a light on female producers," their PR agent affirms. The vast majority of music on their roster is produced by men, even when the artist themselves is female. "In that way, Her Songs is quite unique, which is a huge shame." But through sharing their project with the world, they are able to contribute to our re-education and to inspire women to get into the studio as their own producers. Their troves of video material give an in-depth look into each stage of production, serving as inspiration, promotion and organic marketing and their power-femme playlists amplify contemporary female voices and talents.
As a female guitar player, Browning's mission statement is to become the idol she wishes she could have had growing up. "All I had was John Mayer and Jimi Hendrix. I didn't realise at the time but I was already feeling like I didn't exist in that space". It is perhaps quite subtle, "a deeper thing", as Browning says, the way that Her Songs inspire and hold space for women in music.
For Her Songs, it's less about narrating injustice than it is about taking action against it through what they do - and what they don't do, for that matter. We speak at the height of recent global Black Lives Matter protests and it's hard for Her Songs to feel like being creative is the best course of action. "There's a real need for everyone to band together and make some changes in terms of racial injustice in every industry. But every time I've gone to my computer to write a song about this it just doesn't feel particularly appropriate," Emmavie explains. Dahlstrøm has postponed the Instagram live concerts she had in the diary, to give space to other voices online - a space where racial injustice is being fought now more visibly than ever.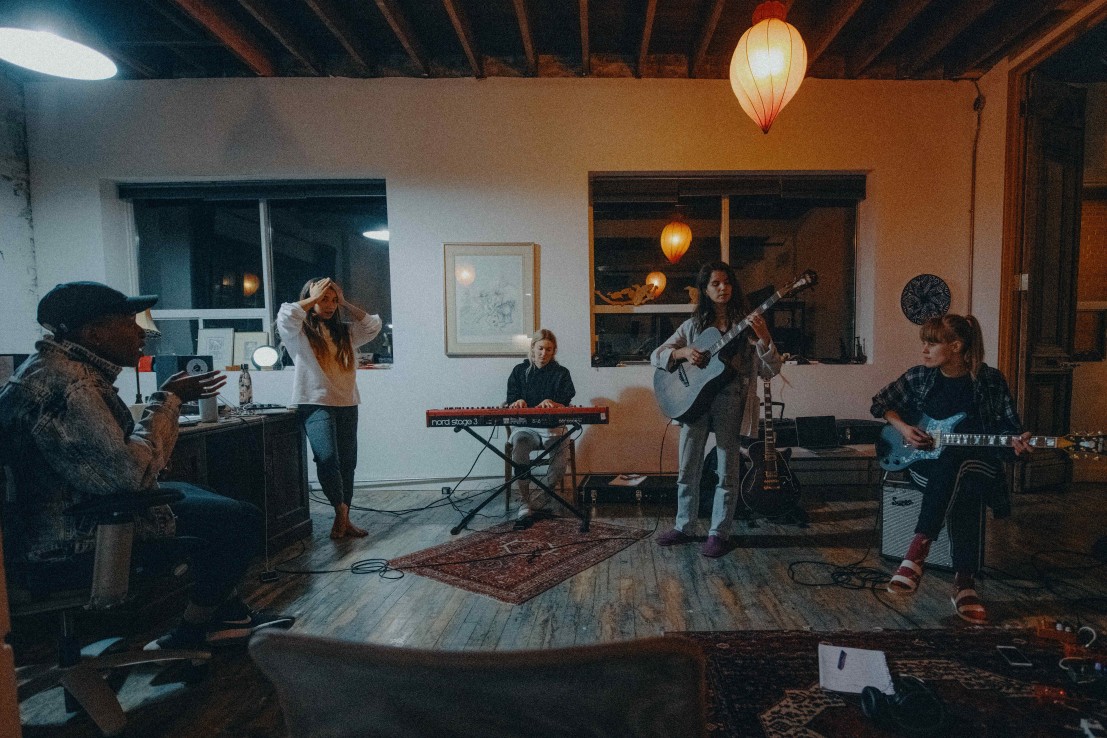 I ask the band what this project has taught them and I feel overwhelmingly inspired by their answers. "For me it was about showing women of colour what you can do", Murcia states. For Frenchie, letting go of perfectionism was a beautiful lesson. It's rare that you have a day to write a song, record it, then never touch it again, but also quite a release. You know it will be finished. Dahlstrøm, who rarely writes things down, preferring to turn on the mic and record straight away, learnt patience and spent time contemplating imagery. Having control over creativity was another great lesson - learning how much stamina you really have, how to bounce off each other's energy and organise yourselves to keep the pace.
"Her Songs gave me some confidence in that when you're not feeling as inspired, you can still get it done. Just with your own initiative," Dahlstrøm affirms. For Murcia, it was wild to see how quickly you can make a project. "After that I started calling my friends like: 'Let's make this in 11 days' - and we got it done! That was purely inspired by this project and the work ethic we built."
For Browning, calling the tune and taking a new approach to making music is exhilarating. "The Her Songs equation is made up of breaking a couple of rules. Who says that five random independent artists can't randomly be a band, get together and create? Who says five different artists can't all sing on one song? We're responsible for making those changes in the industry as independent musicians," she tells me. And, as Murcia points out, the initiative to switch things up and create a new dynamic was all their own: "You can create opportunities for yourself, you don't have to wait for someone to offer you something" she states, with Frenchie adding, it's about creating all from their own source. "Got this feeling like I'm holding my own / and I'm colouring my palette alone / and it's flattering to see how I've grown", they sing on "Holding My Own" from the Los Angeles EP.
For Emmavie, an artist who's used to only relying on herself - a position a number of female artists choose to take, perhaps in resistance against the male-dominated space, and now also frustratingly a gendered expectation of female artists - she's learned that there's strength in numbers. "I've learned that I don't have to do it all myself," she admits. "As independent artists, we all have to band together, we have to promote and celebrate each other, we have to help each other finish our songs. I've learned to trust others and share my stuff more. Collaboration can take my music further; competition keeps us at the same point but collaboration projects us further."
And it looks like they're on a positive trajectory, engaging with fans online, publishing a remixes album and continuing each with their own careers. "I've gotta get something more / I've never been so sure / about what the future holds", they sing on "Lost a Little," the final track on Toronto Vol. 2 - and we share the sentiment.
Toronto Vol. 2 is out on 14 August