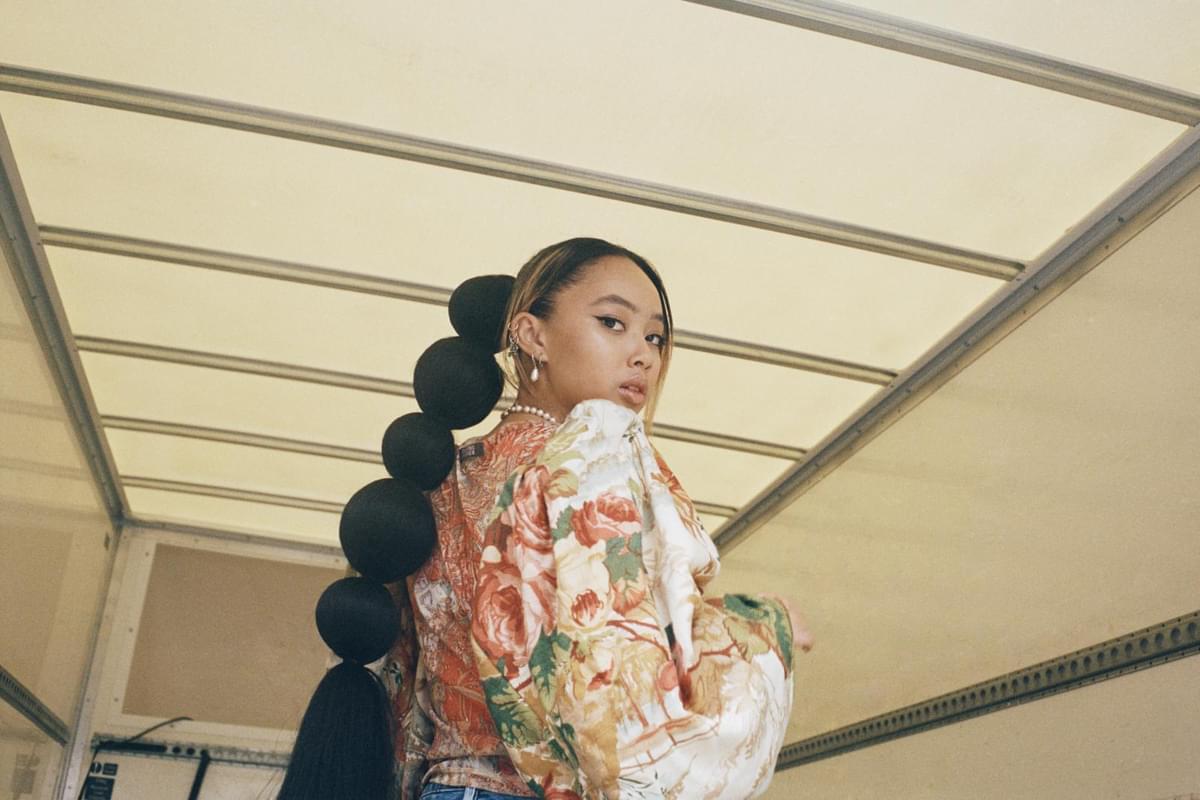 On the Rise

Griff
18 January 2021, 19:31
With a Taylor Swift co-sign, a BBC sound poll spot and a Zedd collaboration under her belt, 19-year-old bedroom pop star Griff is embarking on her break-out year.
Sarah Griffiths is learning to collaborate. "I think basically I'm a control freak," she explains. "I'm quite clear about what I want but trying to articulate that and getting other people to understand it is a whole new challenge."
A singer, songwriter, and producer; Griff is by definition, an auteur. She also counts DIY fashion design and music video directing among her skillset. The Hertfordshire native makes bedroom pop, typified by sparse electronic production, R&B inflected vocals, and the evocative visuals she pairs it with. An intuitive pop melodist and relatable lyricist, Griff's influences span the gamut from Stevie Wonder, to Lorde, and Taylor Swift.
But, as a Warner Records signee with a career in constant ascent, the opportunities to collaborate that come in tow can be a boon. For instance, Griff recently teamed up with producer SIBA, and songwriting supreme Lostboy (Dua Lipa, Rita Ora, Little-Mix), for new single "Black Hole" – a punchy, pop-melodrama exploring the lifeless gaze you view the world through after you lose someone.
According to Lostboy, Griff is a better co-creator than she lets on. "Honestly, my favourite sessions of 2020 were with Griff,'' he tells me via email. "She's one of those rare artists who can really do everything, which, as a co-writer and producer, simultaneously puts a load of pressure on, and takes a load off!" He says that as a partnership, the pair effortlessly mesh. "We have very similar instincts with songs I think… and it helps that we really get on as mates first."
The flip-side for a new artist like Griff, however, is the challenge to retain the autonomy that gave her earliest work it's charm. But, thanks to a moment of childhood acuity, Griff isn't shy about remaining in control. "I think from a young age, I sort of realised that no one knows what they're doing," she laughs. "Once you realise that no one knows what they're doing — even grownups don't know what they're doing — you kind of become a bit more confident in yourself."
"I would love to be that artist who you know every single detail [about]."
Griff's input across all aspects of her work perhaps explains how poised she appears as the prospects of pop dominance stand before her. "Same old really", she answers when I ask how she's doing at the start of our chat. A few days prior, she was named on the longlist for the BBC's Sound of 2021; had recently released the single for Disney's first Christmas advert; and a month prior, dropped "Inside Out", a team-up with DJ behemoth Zedd. "It's weird, but because we are in lockdown, all these exciting things are happening from my bedroom —you don't get the full effect of it," she explains.
She was equally cool in summer when none other than little old Disney requested that she sing on their Christmas advert. "I was like 'sure they do, we'll see', and before you know it, I'm actually recording the song, and it's out." The campaign has since been viewed over 70 million times, with the track giving Griff her first Radio 1 playlist spot, and at the time of writing, sits just outside the UK Top 40.
Despite donning Disney character costumes as a child, the films themselves didn't really pull Griff in. "I just wanted to skip straight away to the reality shows," she confesses. However, more recently she's been let in on the magic. "My family fosters children - and we've always had young girls - so we always put on Frozen. That has this ability to make young girls suddenly turn into magical princesses."
Sadly, her foster-siblings are less phased by Griff's Disney role, than Elsa's: "Kids just don't give a crap," she laughs. "If they want their milk now, they want their milk now. It doesn't matter if you are writing a song, or if you're on Disney." Tepid reactions like these similarly drive Griff's humble demeanour. "Because there's so much going on in the house, the idea that there is a spotlight on me just doesn't exist. It's more when you meet old friends, or your parent's friends, or your brother's friends."
Within the bustle of Griff's home, a serene spot has always been her music room, where she first honed her songwriting, and from the age of 11, production skills via her older brother's Logic software. "All [my foster siblings] know is that I'm always in here making songs and telling them to be quiet," she smiles. "I don't think they realise that this is a job, and this is what I do for work."
However, the two elements of her life can and do collide. Last year's single "Good Stuff" saw Griff detail the grief she experiences when her foster siblings move on to new beginnings. In the plaintive piano-ballad, she sings: "Why'd you leave me with the good stuff, babe / and forget about the mess we made? / Oh, I wish that my mouth didn't smile when I think of you."
Griff's ambiguity in the lyrics meant many fans assumed she was lamenting over a break-up. However, for her, this was an intentional move. "When you're just starting out and you're trying to get people to get what you're trying to do, and listen to what you have to say, I think it definitely helps when people feel like the voice is speaking to their lives and their situations too.
"But it's also the only way I know how to write a song because I can't just write about these really niche situations that not everyone can relate to." A more granular approach isn't something she rules out for the future though. "I would love to be that artist who you know every single detail [about]," she says. "I think with Taylor Swift's Folklore, that for me was really inspiring because it wasn't necessarily about her, but it was so detailed with the story and she had everything mapped out. I think eventually it probably will happen; just according to where I am in my life."
Griff's love for Swift goes way back, with the 2008 sophomore album Fearless being the first album she remembers really connecting with. Today, a limited edition Taylor Swift guitar hangs behind her in the music room as she speaks. Now also behind her, is an endorsement from the woman herself.
Last month, Griff and fellow-riser, Maisie Peters, recorded a cover of "exile", taken from 2020's Folklore, and picked up praise from Swift on Twitter: "I'm a huge fan of these two already," she wrote. "But seeing them create magic in the studio together just makes me even more excited to hear what they do in the future."
A dumbfounding moment like that, would for many feel like a gift from God, and Griff especially uses her faith to navigate the surreal situations she's finding herself in: "Growing up in church and putting my faith first has been a huge thing," she tells me. "And really believing that whatever I'm pursuing in music is not just about me, but about putting my trust in who God is, and his plan for my future." Music was heavily integrated into services at Hillsong – the church Griff attended – and it was here she received her first taste of performing live.
After refining her songwriting independently at home, Griff played her work to fellow musicians in the congregation, who subsequently introduced her to industry contacts. From there, aged just 13, she scored a management deal but held off releasing her debut single "Mirror Talk", until she left school five years later.
Playing it characteristically cool, she refrained from telling her teachers or classmates when she later signed a record deal. "I think it's the competitiveness in me", she says. "I think I always thought it was cooler if people found out, not because I told them, but because they heard it on the radio or saw it on the TV, or something." In the years prior, she did branch outside her music room into studio sessions, whilst doing her A Levels. In this induction into the industry, she discovered a distinguishing mark that she hadn't even noticed she had.
"People were like, 'Wow, you produce?' And, I was like 'Do I?, I dunno!'" she explains. "I think as a kid, you just do it. I was just making beats. I didn't realise that was what production was. I was just trying to make songs that sounded nice because I was bored."
Whilst others were impressed by Griff's versatility, what struck her was the absence of fellow women sitting behind the studio desk. "You would just never be in with a girl producer — there just aren't many." In her hunt for more female producers, Griff came across Jayda G and TSHA who remixed her 2020 singles "Forgive Myself", and "Say It Again", respectively. "When there are really badass girls who are really bad at what they do, it is great to work with them," she says.
Griff credits her close-knit team for allowing her to always work in a space that is free of obstacles. A cornerstone being Joe Kentish, her A&R, who in his role at Warner Records was responsible for signing Dua Lipa. He tells me: "Young artists can be steamrollered creatively at the start of their careers, but as a self taught producer, Griff brings such brilliant original ideas to the table that I think a big part of my job is to make sure she's encouraged to develop her skills and define her sound."
Griff's visual identity is permeated by her flair for art and textiles when she's not making music: "I might be sewing", she tells me. She casually made her own prom dress and an outfit for her debut headline show, which was showcased last September on British Vogue's Inside The Wardrobe series. Her outfits are complemented by her augmented bubble-ponytail, a trademark hairstyle fit for an icon-in-waiting, that is inspired by her love of pearls. Its length knows no bounds, and can sometimes be found trailing on the floor behind her.
Griff's livestream performance in October at the TATE Modern Tanks, exhibited her aesthetic in all its splendour. "We were just trying to think of something cool to do for a live show because everyone and their nan had been on Instagram Live."
Trumping awkward living room performances, and then some, she transformed the barren concrete space into her own pink cosmos, complete with a bed adorned in satin, fuchsia sheets – which at one point she sang from. She even recruited artists from 2BorNot2B, a BIPOC life-drawing collective, to chronicle the event.
Last year was also a key moment for Griff's personal identity, as she processed the international Black Lives Matter protests. In a childhood spent in the predominantly white middle class village of Kings Langley, she suppressed her Chinese and Jamaican heritage in an attempt to fit in: "I just wanted to be this middle class white girl with long, blonde hair," she says.
"I think now, it's just nice to be more conscious of things that have shaped my childhood, or things that have made me the way I am, and realising that growing up and being the only coloured person in my school or friendship group has changed everything about me."
Now she would like to begin recalibrating with her heritage. "I think it just starts with asking more questions and figuring out more about where all of my ancestors were from, and their exact stories, because I think all of that was never important to me."
"I just want young girls to feel inspired and know that they can do it..."
The prospect of inspiring younger artists from under-represented backgrounds also excites Griff. But, at the same time, she hopes she won't need to be that role model. "I don't want to be the reason that suddenly young girls, young producers, or young Black girls, Chinese girls, wanna pursue what they wanna pursue," she says. "I just want young girls to feel inspired and know that they can do it, just because they can by themselves, without having to know there is a whole generation before them who have."
Professionally, however, it is 2021 that looks set to be Griff's moment. Commencing with the announcement that she bagged 5th place on the BBC Sound of 2021: "It's absolute madness," she says. "It's probably one of the most surreal things that has happened in my journey in music so far."
The honour notoriously comes with a weight of pressure, and so too does the unmapped path a new artist like Griff finds laid ahead of her. "I think I have like a quiet fear that it could all just erupt tomorrow; like tomorrow I could get dropped," she says. "I think there's just that constant looming of unknown whenever you're an artist and pursuing something creative like this." But, with her classic composure, she adds: "But, I think that's the fun of it. So, I'm not scared of the unknown."
She hopes that future Griff will remember an artist now, who is only merely getting started. "Hopefully I'll look back and think [that] where I am right now, I have so much more to give. I'll look back and be like 'oh, she had no idea, she's got so many more songs in her, and so many more adventures."
Black Hole is out now.
Get the Best Fit take on the week in music direct to your inbox every Friday