Ahead of his long-awaited memoir, Verse Chorus Monster!, Graham Coxon discusses the gateway songs of his life with Alex Wisgard, taking in self-improvement, "Hampstead modernism" and "naughty jazz".
Once the world's most reluctant pop star, Graham Coxon seems to have settled into his status as a Swiss Army guitarist.
Even if you take Blur out of the equation, his discography touches on wistful folk, taut power pop and squalling noise rock, whether playing with a warehouse's worth of pedals, or an unplugged acoustic guitar. Put it this way - Graham Coxon is surely the only person to have collaborated with both Bert Jansch and Duran Duran.
But with Verse, Chorus, Monster!, the guitarist explores his life with a rare level of depth and candour - no small feat, considering his original plan was to make a coffee table art book. "I didn't really want my book to be about Blur. It's much more selfish than that", a vest-clad Coxon explains to me via Zoom from the comforts of his North London home studio.
However, a series of upheavals in 2020 - some global, some far closer to home - led to Coxon ending his short spell in Los Angeles and returning to London to regroup during that strange spring. "It was a strange flight," he says, with typical understatement. "Dinner was a mini-Crunchie."
Collaborating with Rob Young, author of the peerless Electric Eden, the memoir was written at a time when no musician was sure their career would ever be the same again and is understandably heavy on self-reflection as a result. "It was also a good time for me to re-evaluate in a lot of ways. I was having therapy every day at this point during that year, and it seemed like my life as I knew it had come to an end."
Mostly light on '90s anecdotes - although there's an incredible account of a stoned bowling trip with The Jesus And Mary Chain, Dinosaur Jr and My Bloody Valentine - Verse, Chorus, Monster! is clearly the work of a man who's spent a lot of time working on himself. Where he'd once use songs like "Who the Fuck?" or the more chaotic moments of Blur shows to "get [anger] out of my system," Graham Coxon the writer is comfortable taking time to unspool himself on the page.
"The rest of the time I zipped it." he confesses. "I didn't feel allowed or deserving of my emotions, particularly, and that causes a huge amount of anxiety and feelings of shame and all the rest of it. So it's actually quite good to externalise your anger, because I realised that I didn't know what feeling angry was until it was pointed out to me. But I wasn't like John Cleese, hitting a car with a branch of a tree. I was just feeling extremely anxious. I didn't know what anxiety was. I just knew that it went away after a bottle of wine."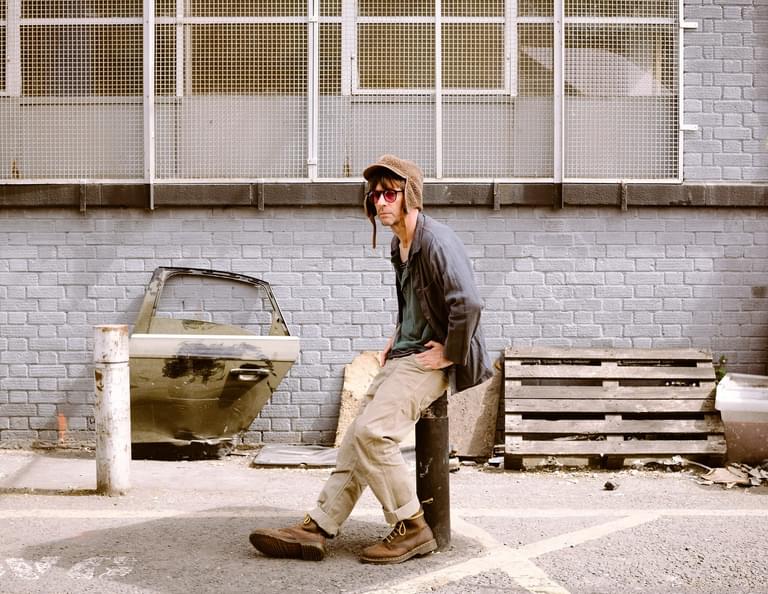 As a fan, reading these revelations put certain cornerstone moments of his career into sharp relief. I genuinely junked my entire wardrobe after seeing Blur's Starshaped documentary, a Monkees-gone-Cinéma-vérité film showing the band's antics on the Modern Life Is Rubbish tour. Coxon is the film's standout - he comes out with its most quotable moments; "We're on in an hour?!" he mutters blearily from a European hotel room, before the film cuts to his dishevelled presence in the back of a van, teacup rattling in his shaking hands.
Watching it as a teenager, it all seemed cool as fuck. However, hearing him recount that period of his life first-hand brought those illusions crashing down to earth somewhat. Coxon doesn't sound embarrassed by his past as he discusses it - more like he wishes he could have given himself a bit of a talking to.
"We were just inside out. We didn't have any restraint. Especially in Starshaped, perhaps we showed a little too much of ourselves - we were a bit warts-and-all. Bands now are a bit more uptight, a bit more chic and a bit more professional", he explains. "I grew up thinking that if you were a band, you'd behave like you were in The Who, and that was what being in a band was. Whether or not anyone else at the party was behaving like they were in The Who was a different matter, and that was part of the problem. You were unaware that everybody around you was actually not being drunk and mad!"
"In a lot of ways, we know our roles in the band, and that didn't help my reputation as being a slightly out-of-control, emotional individual. A lot of the time, they were the funniest bits, when I was losing it a bit. But no one can be like that all the time."
Coxon always found solace in music, though, and his Nine Songs reflect his voracious appetite for new sounds, and a constant quest for ear candy. Describing his choices as "gateway songs", in part as an apology for some of his more seemingly obvious selections, they reflect the interests of a musician who's always eager to learn but, most importantly, a listener who just wants to be challenged and entertained.
"Going Underground" by The Jam
It was very intelligent, rhythmic, advanced, brilliant music that The Jam made. A lot of The Jam stuff is really based around the rhythm section, and Paul Weller's vocals and his guitar playing are very rhythmic. "When You're Young" or "The Eton Rifles" have this brilliant, urgent, clipped energy, which of course makes you want to dance.
They were by far my favourite band when I was a youngster. I don't know what excited me so much about The Jam when I was thirteen. It was almost Ray Davies-like - it's kind of the idea of this very young person's worldview who's like a forty-year-old, you know? It sounds incredibly advanced as a teenager - when was "Going Underground", 1980? So he was probably 20, 21 years old?
I used to go down The Townhouse on Colchester High Street on a Tuesday night, which was like a big youth club. And down in the basement, there was a disco on Tuesday night. There'd be mods from all over Essex who'd go there and dance. I remember sitting there at the side in my Jam shoes and boating blazer, watching this boy in a Parka dance to "Going Underground", and it was one of the best things I ever saw. And all the girls were dressing totally proper '60s, black miniskirts, white tights and groovy tops and bobbed haircuts.
It was a really great scene to get on the bus and go there every Tuesday, and this song reminds me of that. I think with a lot of mods, when you're sixteen, you feel slightly better than everybody else. And I think The Jam made me feel kind of better than everyone, or a little more intelligent than people that were listening to Simple Minds.
But the only problem with going to The Townhouse was that you had to leave The Townhouse when it finished. There were often skinheads waiting for the mods to come out and chase them up the High Street, which was never very nice. This was a time when, if you wore a stripy jacket or a Parka, you were liable to get chased down an alleyway by skinheads.
"Wuthering Heights" by Kate Bush
You took it for granted that songs like this could be popular, because that was just how it was. I wasn't going "Well, good music can be number one", good music was number one every week then. If you think about when "Start!" by The Jam was in the top 10, you also had "Ashes to Ashes" in amongst the Buzzcocks, Rainbow, Chic, The Bee Gees.
Then Kate Bush appeared in '78, '79, and to suddenly see a woman that I thought could only exist in the realms of my imagination, it was a very different beast to what I'd normally be seeing on Top of the Pops, and things were very, very glamorous, unless it was Jilted John.
Some of that album, The Kick Inside, gets slightly rock and roll, but it gets rock and roll in the way that Andrew Lloyd Webber sort of got rock and roll. It was not quite from a grassroots rock and roll place, rather like Nick Drake it doesn't come from anywhere other than a very, fragile, beautiful English place, which is almost devoid of the influence of rhythm and blues, and blues and all of the rest of it. It comes from almost a 1930s modernism - like a Hampstead avant-garde, rather than Muddy Waters.
There's something wonderful about her voice, the twisting chord progression, the weird time signature in the chorus, the way the string section swells in the second verse, and then that beautiful, amazing guitar solo at the end. It's got everything for me - great drum sound, great production. It's bloody marvellous. It's an amazing piece of genius.
Best Fit: In the book, you single out The Kick Inside as a record that you prefer to listen to in isolation…
I think I say in the book that was part of how I process the world. I got that input that I wasn't getting from human beings from music, and from singers and their lyrics. And I expressed how I was feeling in my sketchbooks and through drawings. It was that… transaction. I would feel like I felt, and then there would be a song that was almost appropriate for that. I carried on doing that with my own stuff. I would write about things that were a bit tricky - depression or desolation or whatever - knowing that there's people out there who were feeling like that, and maybe feeling a little alone, because that's what I got out of that.
And Kate Bush is something that I find awkward to listen to with other people - like Peter Hammill or Van Der Graaf Generator. I don't know whether I'm embarrassed about how dramatic that music is. Van Der Graaf Generator is pretty dramatic, mad stuff, and there's nothing worse than playing someone a song that you really like, and they're like, "Pffft. I hate this."
But then you just realise that they're idiots, and you're a more advanced human being. [laughs]
"Happiness Is Easy" by Talk Talk
"Happiness Is Easy" was definitely a gateway track for me to go further into Talk Talk with Spirit of Eden. Laughing Stock I got into a lot later - more like 2020 - but I'm so glad I waited until then to delve into it. Talk Talk has helped me so much through my more recent anxiety than any other group, I think.
It's just the sound of it, it's that woozy synthesiser sax thing, or an acoustic guitar suddenly strumming a chord, and the subtle key changes. And again, the clipped groove of the drums, and the dryness of it.
Around this time, I was listening to The Who, The Jam and The Beatles and learning the guitar. I wasn't listening to much chart music, but my sister was into it. She'd get a Spandau Ballet album or a UB40 album and the Level 42 album. I did like the Human League, and Damon was really into Heaven 17. You can't really avoid it, you had to sort of glean something from it that might be helpful or at least inspiring.
But when we got The Colour of Spring, Damon and I, and James Hibbins from our school, who was a King Crimson and Marillion nut, that definitely dragged me out of my Kinks/Who/Beatles/Jam/Smiths cage. There was a psychedelia to it, and I think I need a lot of entertaining from music, because unless there's something really happening within the music that will keep me interested I'm just, "Oh this is an average afternoon's work, innit?"
I think "Today" was the single that I really liked before that, but I suppose I dismissed it a little bit as just being synthpop. And around that time, what else was going on? Off the Wall and Thriller, my neighbours would have Culture Club albums and things like that, the mainstream was a bit dull.
Best Fit: And then, flash forward almost forty years, and you find yourself joining Duran Duran for a bit.
I know! That's kind of weird, trying to drag them back to planet Earth. Not quite doing it… but trying.
"Blow by Blow" by Duke Ellington and Paul Gonsalves
My dad had this strange album that was on a Goodyear label - like the tyres - called Jazz Concert, and it was Duke Ellington and Bobby Hackett. It had this track "Blow by Blow" with this geezer Paul Gonsalves, who I didn't know anything about. My dad was pretty trad when it came to jazz, but when I listened to Paul Gonsalves soloing on that it seemed so far out. Free jazz was in full swing by that point, but not really within the realm of Duke Ellington, so it seemed like a nutjob had gotten inside Duke Ellington and was just going mad.
It was such a naughty, hectic, harmonically challenging solo, and it had a huge effect on me. I can sing it from start to finish - I listened to it that much when I was a teenager. When I was 11, I started playing the saxophone and jazz was the only thing really that was getting my mojo going. There wasn't really much else - there was "True" by Spandau Ballet or "Never Let It Slip Away" by Andrew Gold, but there wasn't an awful lot of really good sax stuff going on. It was all a bit pleasant and '80s.
And again, jazz was stuff that people hated, so you didn't talk about it really. My friend Paul hated jazz with such a passion that I could never really understand. He was into U2 and things like that and hated jazz. And I was like, "Well, what's the point in hating something so much? There's so many different types of jazz, what exactly are you talking about?" It's a bit of a broad statement.
I liked the dirtier saxophone stuff, but it took me ages - up until the '90s - to really get into anything modern, like the bebop stuff, or Charlie Parker, and then into the free stuff like Jackie McLean. But jazz is always saxophone for me. Jazz is never guitar for me. And then Mike Smith, who does keyboards for Blur, played me The Shape of Jazz to Come by Ornette Coleman, and then it was like "Yeah, this is what I'm into." But then that can be a little too free at times.
"Jubilation" by Davey Graham
I was sitting in a pub with an old friend of mine, and he asked the landlord to put this collection of Davey Graham songs on, called Fire in the Soul. He put "Babe It Ain't No Lie" on, which I started doing at my own gigs. We were listening to this whole album in this pub, not knowing that around the corner in Lime Street, Davey Graham was probably in his house, not two minutes' walk from where I was discovering this bloke, and two doors away from where I would meet him in the haircut place on Camden Lock.
He burst in and handed me this Hohner guitar and I played him a few things that I'd learned from his records, and he gave me a quick lesson. Quite often, he was unreachable, and he'd be off shouting at lampposts, but I had some really good times talking with him and trying to follow his train of thought, which was kind of impossible.
I realised that I'd gone a bit stagnant with the electric guitar - I don't sit down and try and get better or suddenly learn scales, but that's a whole other compartment that I don't go near publicly. But that's the problem with liking so much music - it's all usable within pop music or alternative music or whatever.
I think that's why I feel more comfortable within music than maybe I would have done in the art world. You can't take from many, many sources and then put everything that you've learned into one space - I mean, maybe you can, but I wouldn't know how to do it. But I can do it with music, you can pervert some '50s kind of guitar and put it into a Blur song, you can take some Link Wray and can squeeze it in.
I was in my place in Kent at the time when I tried learning "Jubilation". I'd got tired of my own self-reproach, so I decided "Fuck it, it's 11 at night, I've got nothing to do, I'm going to learn that bloody song." So I sat there with my guitar and played the CD and stopped it, and by about half 4 in the morning, I could kind of stumble through it. So in 2005, I started to practice all day, no plectrums, just using my fingers.
That exercise was totally separate from what I was doing on the electric guitar, and I was doing it for my own personal satisfaction and musical development. I didn't really know that I would start to write songs or make albums that were based on that kind of stuff, and I always felt somewhat fraudulent in a way, because these people were incredible, amazing guitar players, and I was struggling along in my thirties trying to play what they were playing in their twenties.
I like to get better in all areas of my life - even if it's washing up, I'd like to wash up a bit better than I did yesterday.
"Fohat Digs Holes in Space" by Gong
I got into prog through Julia, my girlfriend when I was seventeen, and her record collection. I'd got out of the mod music a little bit, I'd had a bit of Human League, a bit of Talk Talk and I'd watched South Bank Show about Van Der Graff Generator and The Velvet Underground. But Julia had Relics by Pink Floyd, a couple of Van Der Graaf Generator albums, Patti Smith albums, all of that stuff.
I started to play saxophone with a band called The Curious Band, which were an improvisational band. Someone gave me a tape which had "God Song" by Robert Wyatt on it, and "Ladies of the Road" by King Crimson, which has my favourite guitar solo of all time on it. Incidentally, that tape got broken when I was a teenager, and in about 2011 or 2012, I bought Islands by King Crimson and rediscovered that song, which is amazing. That's one of my favourite songs ever, it should be on this list really.
So the prog thing started with that - drinking wine, eating olives, listening to Van Der Graaf Generator, and it was odd for me because there's not really many guitars in their records - that sonic space is taken up by organ. It's fairly intense, dramatic music - it isn't the sort of thing that I'd get to play full blast in the car in a traffic jam.
It's covering so much ground in one song. You could almost think that it has some Fairport Convention and then it will go into Public Image Ltd. And it's doing something insane rhythmically and sonically, it's quite startling at times. You're getting psychedelia and jazz, and psychedelic music is a real norm for me, because I grew up with The Beatles, and maybe that's why I get disenchanted quickly or bored easily if I don't get entertained in a song. Because I'm so used to what they call 'ear candy', I suppose. Stuff that has been created purely to entertain the drugged ear. It's there to entertain you when you're in altered states and that's become sort of a norm.
I mean, you don't get it in "What Do I Get?" by the Buzzcocks, but there's an urgency and an intelligence and wit that gives you enough to get through it and not be bored. So it's got to have something, and I suppose that's where the prog thing came from, with things like Matching Mole and Soft Machine, and then into Kevin Ayers, who probably should have been on this list too, Whatevershebringswesing changed my life.
As for Gong, it's just so bloody funny! It was recorded in France and I don't know how they managed to make those records sound that way in 1970. I like natural sounds, and on Camembert Electrique, there's the song "Tropical Fish / Selene", and it gives away a lot about the production - you can hear the guitar being plugged in, and some half-arsed lead playing in one speaker. And then there's this really loud birdsong in the other one, while Gilli Smyth is just whispering these words.
It's a really incredible sound, and Daevid Allen is so full of mischief and fun. If anyone wanted to get into Gong, definitely start with Camembert Electrique - but I would start with side two, and do side one afterwards, because there's some really funny shit. I always used to think that side two was side one, because it starts with these funny little pixie sounds before "Fohat Digs Holes in Space", and I think it works better that way. And they're brilliant musicians. It's just awesome fun to listen to.
"Black Cow" by Steely Dan
I was driving out to Ramsgate quite a lot in 2017 - quite recently - and I was like, "Oh, this bloody Steely Dan stuff, I should really listen to this." I got a Best Of and started listening to it all the way through and realised I recognised a lot of it - "Dirty Work" and "Reelin' in the Years" - but when it got to songs like "The Boston Rag", "Bodhisattva", and "Any Major Dude Will Tell You", suddenly I was like "Woah", and it really hit me heavy how fucking amazing it was.
Then before I knew it, I moved to Santa Monica in 2019, I was going to the NAMM Show and I had to get across Los Angeles. I hired this car, I'd never driven in America before and I had to drive right across Los Angeles to Anaheim, where Disneyland is, and I was like "Man, this is just ridiculous. I'm like bouncing down a huge freeway listening to Steely Dan, this makes so much sense."
I instantly found "Black Cow" incredible. I love the wit, and I don't always understand the private jokes that I suppose only witty New Yorkers appreciate a lot of the humour in. But the caustic wit of that song is flipping great. It has some really excellent, harsh, harsh sentiments. And just the way it sounds - the girls singing the backing vocals and the production is absolutely perfect.
I don't know whether I would have got into Steely Dan as much if I hadn't started to appreciate production. I'd always appreciated production on a surface level, which is why I like Talk Talk, Gong and stuff like that, but when I started to make recordings at home, then Steely Dan suddenly made sense. I'd just be saying "Cor!" at how things are produced, and "Black Cow" is perfect for me because it has that incredible horn arrangement, a bit of sax going on, and it's got that mean sentiment - very resentful. And I love how Fagan delivers that wit - no one does it like that.
Best Fit: It's interesting how Steely Dan made more sense to you when you were getting into recording at home properly, since now you can make a record that sounds like them without spending however many thousands of pounds on studios, session musicians, and cocaine…
Yes, just slap some plug-ins on it and hope! Obviously, you're never going to get anywhere near it, but you can try. And at least you're in control of whether you want something to sound mega professional, and you can look on YouTube for a tutorial on how to make the bass sound like Steely Dan. Or you can make something sound really weird, like Jockstrap, where suddenly there's a little section that sounds like it was recorded in the bathroom, and then it'll go back to a fuller sound.
That stuff really does it for me - half of a verse sounding like someone's singing it while they're washing up. Or Steely Dan will have this little bit of absolute mischievousness, or these beautiful backing vocals by Michael McDonald, to do these mad close harmonies.
I watched the documentary about the making of Aja, and God, it's hard work. I can't help thinking what I would have done if I'd have gone in to have a go on the solo of "Peg"? Maybe they'd say, "This idiot can't even play!" The solo in "Peg" isn't technically insane, it has moments where it gets a bit like that, but their original guitar player, who did the solo on "Bodhisattva" - I love that, because that's the kind of sax playing that I like. I hadn't heard a bebop guitar player until I listened to Steely Dan.
The solo they ended up with isn't exactly mega technical, but it's just got the vibe, and that's what my job as a guitar player has always been - it's not to play 100 notes, it's to channel the drive of the song and do something that's appropriate.
"21st Century Schizoid Man" by King Crimson
It was probably James Hibbins again, at school, who got me into In the Court of the Crimson King. There was a lot happening in Colchester - it was a weird mish mash. There was a lot of improvisational bands like The Curious Band that sounded like Gong and Soft Machine mixed together. And there were also strange post-punk bands that sounded a lot like Black Midi - very agit, contrary, rhythmic, weird music, but quite technical as well.
I felt very at home with all of that, and I love how there's that rhythmically stupid drum break in the middle of "21st Century Schizoid Man". I like how wilfully difficult they made life for themselves and the listener. Who said music had to be a doddle to listen to? Sometimes you have to do the work yourself as well. And then the next track on this album, "I Talk to the Wind", is so beautiful. For me, it was like getting in a chair that was just as comfortable as the Pink Floyd chair. It didn't feel that much different.
Robert Fripp is hugely influential on me - I don't know what I'd have done without him. I probably would have actually done something similar anyway, because I was trying to make my guitar sound like other things. Like, if you use several fuzz pedals in a row just so you could have one note going on forever, like a synthesiser.
I had to pick a Syd Barrett track. A lot of these choices may seem quite obvious, but they're gateway songs and "Bike" really was a big 'Who's this?' moment when I was listening to it in Julia's bedroom. There's a lot of great songs on Relics, and maybe my favourite is "See-Saw", which is a Rick Wright one. But "Bike" was definitely the [makes explosion noise] one.
It's like Nick Drake or Kate Bush - it couldn't have come from anywhere other than some bookish area of England, because there's not an ounce of rock and roll in it. It comes straight out of Grantchester - big flat Cambridge with cows outside.
Like I said, it comes out more like Hampstead modernism than New Orleans or anything like that. It's peculiarly English. And Americans really can't do that very well. It's a strange bucolic, melancholic English thing.
And the end of the song always reminds me of what it's like to faint. I fainted quite a lot growing up, and when you come around, you don't know where you are, and you're having a quite strange auditory loop. So the insane goose sound that grows in intensity made me go a bit off-balance when I first heard it.
But then the chorus - "You're the kind of girl that fits in with my world" - is so lovely, and it's exactly how you feel when you're in love with someone, but that was really his own language, really surreal, playful and dark.
Get the Best Fit take on the week in music direct to your inbox every Friday