Tucker's agreement with his bandmates' sentiment can be picked up by a subtle smile and a shift in movement. There's a sense of cohesion that flows between the two and remains obvious in every way – whether on a stage in front of millions, or harmonising each other on record. The group have come a long way, with over eight years in the game. "It feels good to still be here, feels great," remarks Tucker `It's been a journey, and we're still trucking."
Girlpool's artistic evolution has seen them expand their perspective in every sense of the word. As collaborators, the two LA-based best friends became spearheads of indie-pop, making music that contrasts swelling synths with an intensity fuelled by a deeply personal storytelling. Their time together has brought many lessons too: "Being in a band is an emotional business," Tividad reflects. "It's your expression as artists, but we also have to make so many choices together that have nothing to do with music. All the time. So in order for it to be sustained and healthy, you have to be very conscious of each other," the duo give each other a fleeting, yet knowing look.
"We write songs separately, which for us is more natural, because it's a way we can still have a creative outlet separate from the band," she continues, before Tucker jumps in. "Over time, we've had to navigate keeping Girlpool satisfying enough for both of us," he admits. "There will always be compromise inevitably. It was a question of how to keep it fulfilling because it's our only kind of, like, main creative outlet for both of us. We just write songs as people, there's no boundary. Some days I'll have an idea that I'll bring to the band, some days we'll collaborate on one track together."
Tividad smiles at her bandmate. "It's just whatever's intuitive," she concludes. "Basically, we have to treat the project like a breathing relationship, you know?"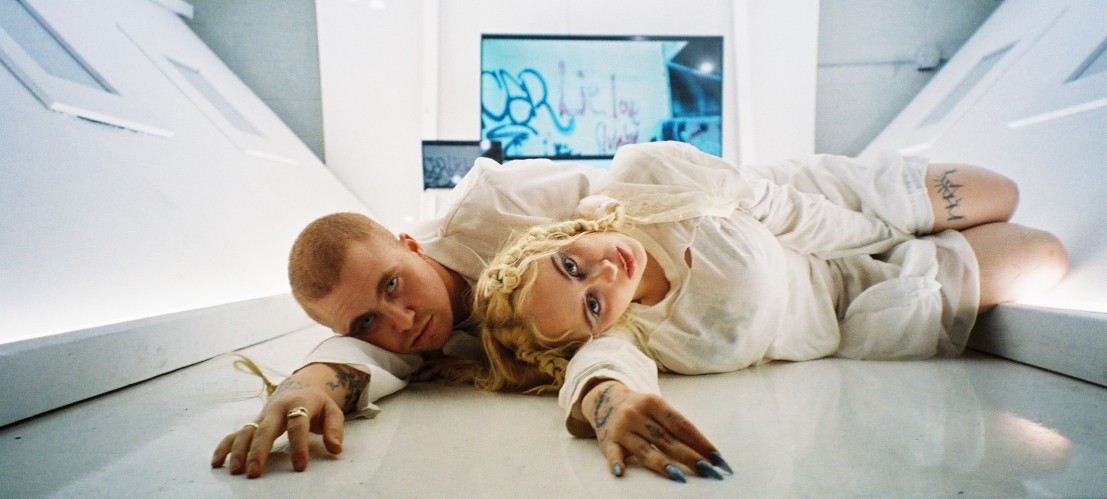 True to their fluid approach, the duo's personal lives have impacted their ability to create. A two-year stint on the East Coast notably shaped their composition style going forward. "I adapted a little bit writing wise to the seasons there," confesses Tucker. "It's an older America there and I feel like I did lean into the history and seasons of these areas." Tividad agrees" "Yeah, that affected my writing. I was mostly influenced by the darkness of the East Coast."
Returning to LA, they found an ideal setting to start working on new music. "LA is home," the pair tell me. "I feel like in California, there's darkness but it's like, sunny and dreamy. It matches our style, which makes sense as we have lived here for so long. So for this album, it really just felt like clicking back into what's natural."
Carved from their growth over the years, and truths learnt on the way, Girlpool's fourth album marks a maturity, in both tone and storytelling. Released today, Forgiveness pushes the group's sound into a darker place, with an edgier tone and a new-found confidence that uplifts and shines throughout. Opener "Nothing Gives Me Pleasure '' introduces this new world from the very start, with grating synth samples paired with the duo's gliding vocals. Album highlight "Country Star '' builds its foundations from a grounding drum machine and brooding melodies, conjuring the grittiest number in the band's discography so far.
"The way we make things is always different, and evolving," Tividad spills. "But, with this record, we had so many demos. We went through every song and decided which were the best ones for the record. But there wasn't a set method when it came to production. Every track was different, basically," she smiles "I think that we finally had enough time and space, to make sure we could be as understood as we could possibly be. I feel like that was an amazing part of the evolution of what made this album able to be what it is."
Tucker nods alongside her: "I mean, we don't really set out with any plan. For better or for worse, we just kind of naturally put songs together," he carries on "Once a song is written, myself and Harmony can always imagine how the track could be fleshed out, wether it be a fucked up intrumental, or how heavy the track will feel. Then it's a case of messing around," he laughs. "Playing with synths and clicking buttons until we find something hot."
Forgiveness is more than just a retelling of journeys the pair have taken. It's also about the shifting nature of pain, loss, pleasure, and amidst it all, identity. "I feel like our intention was to express how we were feeling as best we could while still maintaining the complexity of these feelings," remarks Tucker.
"Completely," Tividad adds. "When Avery and I are writing, we tend to describe trauma as if we're in the moment, recounting the feelings that we had as if they're still present. Even though something could have happened months ago, by reflecting on a past emotion like that, like it's still running through me, it reminds me of the pain, but also provides a sense of catharsis. Then, suddenly you have an album filled with songs about heartbreak," she laughs at this. "but it's just a case of clearing out the trauma in order to move past it."
The band seem less focused on set meanings, true to the ever shifting ideology that seeps throughout the album as a whole. "I don't want to dictate what people get out of our music," Tividad says. "There was never any set thesis, and I feel like there's a lot to unpack in the album. So I don't want to control their narrative."
Tucker agrees: "I just want everyone who wants to hear the songs to feel them just as they are. Whatever they take from the tracks is theirs completely."
Forgiveness is released today via Anti-