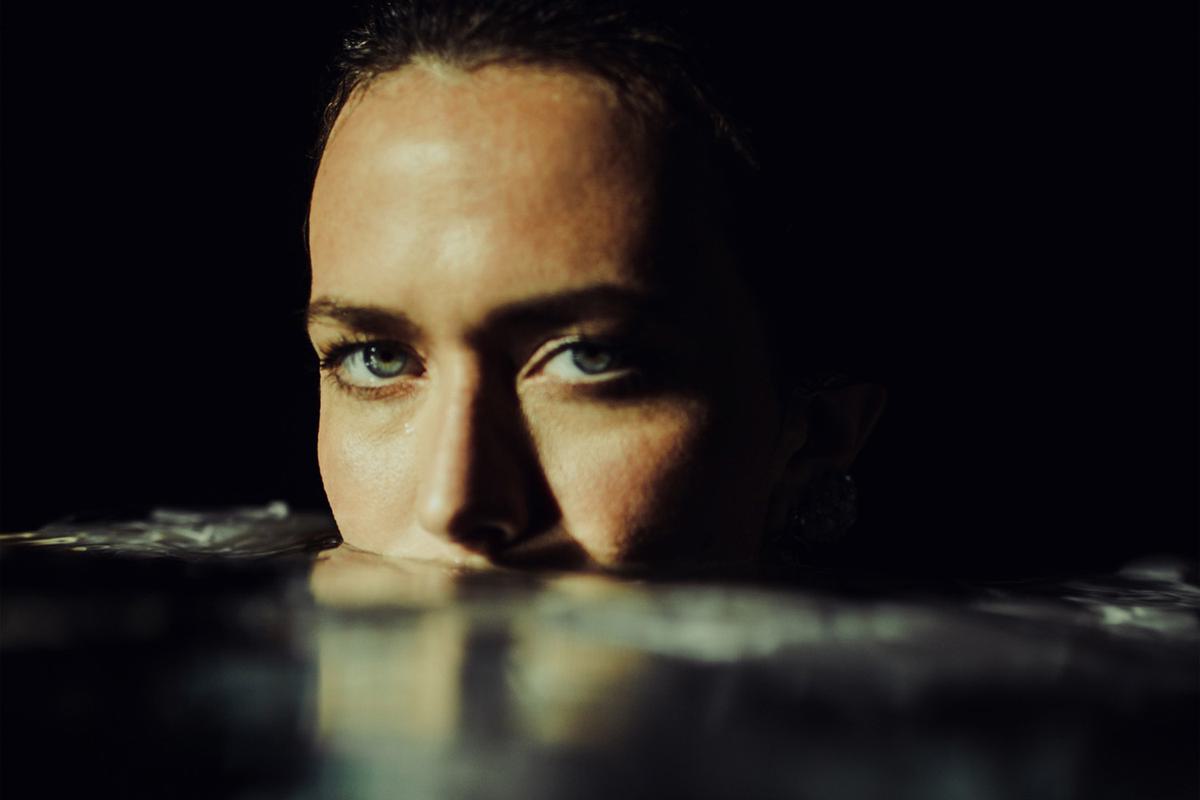 On the Rise

Ghostly Kisses
31 March 2022, 12:00
As Ghostly Kisses, French-Canadian singer-songwriter Margaux Sauvé is crafting an ethereal sound built around poetic tales of unrequited love.
"I sing in the green dusk / Fatuously / Of ladies that I have loved" - So begins "Une Ballade des Femme Perdues", William Faulkner's ode to feminine beauty.
"Call them with soundless love songs / A sort of ethereal seduction / They hear, alas / My women / And brush my lips with little ghostly kisses / Stealing away" - Margaux Sauvé carries an affinity with Faulkner, both in his fluttery verse and as a purveyor of 'ghostly kisses'; after all, it is after his work for which she garnered her name.
The poem captures the dreamy atmosphere of Sauvé's music, first on her 2019 EP Alone Together, and now with the Ghostly Kisses debut longplayer Heaven, Wait. In the artwork, she is submerged in water, though whether she is drowning or floating to the surface, we do not know. Fittingly, Sauvé's music captures the same juxtaposition, her ethereal voice flitting across tales of uncertain love and self-discovery, delicate as a lit candle flame flickering in the breeze. Sauvé's vulnerability is the poignant feature that threads throughout.
"In the past few years, I had to seek help from professionals to be able to understand certain aspects of my life and be better with myself," Sauvé shares. "This personal work definitely got me to be more grounded in my personal life, but also led me to be more grounded in my artistic life and in my writing and composing. All these things, in time, led me to write about difficult events but with an outside view, becoming more and more at peace with what I was expressing in the songs."
These difficult events of which Sauvé is referring are ones she has discussed in the past and which have left a great impact on her life, a bad relationship ultimately leading to intangible personal growth. "The creation of Heaven, Wait really helped me to get closure with these events and with parts of myself, all of it instrumentalised in an album. It was a very powerful experience, and I really feel like I've moved on and evolved from a lot of things."
On this side of professional guidance and introspection, Sauvé is able to consider her experiences with a frank perspective on how her past and her creative endeavours have aligned with time. "Uncertainty and unrequited love are recurring themes in my writing," she reflects. "I think it comes from insecurities in my growing up and it really influenced my way of seeing relationships, like I've always had a romantic way of seeing a relationship, almost believing in fairy tales. I've had my heart broken many times when I was younger," Sauvé continues. "Looking back now, I realise that I was so afraid of rejection that my own behaviour was ultimately leading to rejection, all caused by my own insecurities and not respecting or loving myself enough to be well treated."
The uncertainty led to album opener "Heartbeat". Grounded by a sturdy beat at its core, the track slowly unfurls for a pulsing smorgasbord of quaint electronics, underpinning Sauvé's soft coos; all at once, it captures the bubbling intensity of new romance, and the tenuous anxiety by proxy. "'Heartbeat' was written with this younger version of myself in mind and is about the first moments of a relationship, all the insecurities and the fear [of ending] up alone, like I needed the other to pledge their love."
These imbalanced views on love have left Sauvé with much to ponder in the time since the toxic relationship that left her in a living situation she was not able to escape, but this newly detached manner of viewing events has left her able to reframe her innate response. "I think the main thing that I've realised, with a lot of work and a bit of maturity, is that the most important thing is to actually love yourself. This may sound cliché, but it's really not." She adds that being a young romantic may have led to distorted ideas of what it means to be 'in love'. "Unconsciously, I had a desire of being 'one' with the other and co-dependent, but this was mainly because I didn't love myself enough and I didn't think I was enough.
"Now I really see relationships and love as a collaboration, a way of giving, to yourself and to others, of loving and being loved, of communicating, all of it with the aim of accompanying each other to become the best version of oneself. I see love as a symbiosis in independence and being able to be stronger together.'
This newfound perspective mirrors a remarkable switch between her new work and the sorrowful nature of her earlier output; whilst Alone Together was rooted in a palpable sadness, Heaven, Wait is grounded in strength alongside Sauvé's willingness to confront memories and feelings that hurt her in the past. Recent single, "Don't Know Why", recounts a tale of being close to another who is suffering with mental health issues; over gently plucked guitar, Sauvé recalls trying to help before coming to the realisation that the person wasn't ready to receive it. "There was nothing I could do. It was a really hard decision to break apart from that person and I've felt a lot of guilt, but I felt like it was the right thing to do in the situation."
It wasn't a conclusion she made lightly, with Sauvé herself experiencing a major episode of depression in her late teens that left her bedridden in her last year of high school, without friends, and consumed by loneliness. "For various reasons, I was not diagnosed at the time and didn't receive treatment for it; this led the depressive state to be longer than it should have, and it dragged on for years before being resolved, after consultations with professionals."
And loneliness, itself, is a recurring theme in Heaven, Wait. "For years, I felt misunderstood," Sauvé continues. "It got me really lonely and I had a lack of self-esteem. It wasn't until years later that I realised it was depression and it didn't define me as a person. This realisation was an incredible relief and it was the first step towards remission and true fulfilment in my life. Still, that period was really difficult for me, especially at an age where you become an adult, and it really was associated with the fear of being left alone."
Captivated by the universal emotions that we find most difficult to express, often for fear of being shunned or dismissed, it is near impossible for us to see ourselves for how we truly are, whether it be with a lofty grandiosity or - more often - a crippling self-doubt. "I've seen different kinds of light in many lovers' eyes / as if they fear to shine", whispers Sauvé on the tender "A Different Kind of Love", succinctly capturing the intrinsic human need to be accepted for who they are. It is something Sauvé can regard from both sides of the coin.
"Sometimes, I have the impression that we see things in others very clearly, that others have difficulty seeing in themselves - as if the distance with what the other feels allows us to see more clearly," she explains, adding that we are often our harshest critic. "When I wrote these lines, it was mainly in reference to self-confidence. Sometimes, I feel like a lot of people doubt themselves and aren't 'gentle' or 'loving' enough with themselves. As much as I sometimes think I know myself better and better, the people around me see me in a way that also helps me to see more clearly and give me other points of view".
Born and raised in Quebec to a family of musicians, she first picked up the violin at the age of five before later joining the city's conservatoire and lending her talent to local bands. Flipping between unimaginably intimate compositions to experimentations with electronic production and beats, Heaven, Wait encapsulates Sauvé's classical training and a yearning for new sounds. "I think my background as a violinist mainly influences my way of creating a melody. For this album, we really worked on the core of the songs which is the song structures," she adds that the electronic arrangements of Heaven, Wait were a great way to have more pop-oriented song writing. "We realised that once this is settled and really clear, it gives more room to the sound design and to create a dreamy atmosphere on top, but mainly it gives more attention to the message of the song, the lyrics and the emotions."
One of the tracks where all of this comes together most poignantly is on "Carry Me", its quivering undercurrent interjected by bright synth tones and capturing a buoyant happiness despite being bittersweet. "I've lost people close to me in defining moments of my life. Strangely, I still carry them with me in my heart, and writing songs gives me a place to talk about them and express things that I wouldn't necessarily do otherwise: it really helps me to grieve, and move up from difficult emotions."
Heaven, Wait is out now via Akira Records; Ghostly Kisses plays a sold-out show at Omeara in London on 11 April